Disk Space Analyzer displays the list of volumes presented in the system. For every volume displays its free size and total size.
At the bottom of volumes the list there is a panel with detail volume information. Toggle panel state using ⌘+V shortcut.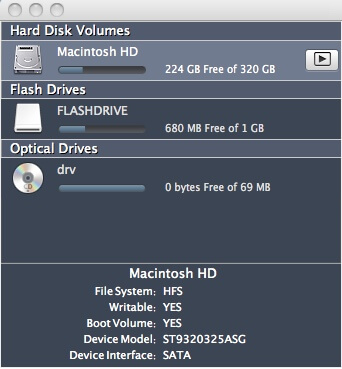 Disk Space Analyzer displays volumes of types: Hard Drive volumes, Flash Drive Volumes, CD & DVD disks, external storage disks. All volumes being displayed are grouped by type.
If a volume is mounted or unmounted in your Mac, Disk Space Analyzer handles the system notification and refreshes list of volumes. Nevertheless it is not recommended to eject or unmount disk during scanning process.