Airplane Mode can be useful when you want to preserve your MacBook's battery life, avoid distractions, or comply with flight regulations. In this article, we will show you how to turn your Mac's Airplane Mode on and off and explain some of its benefits and drawbacks.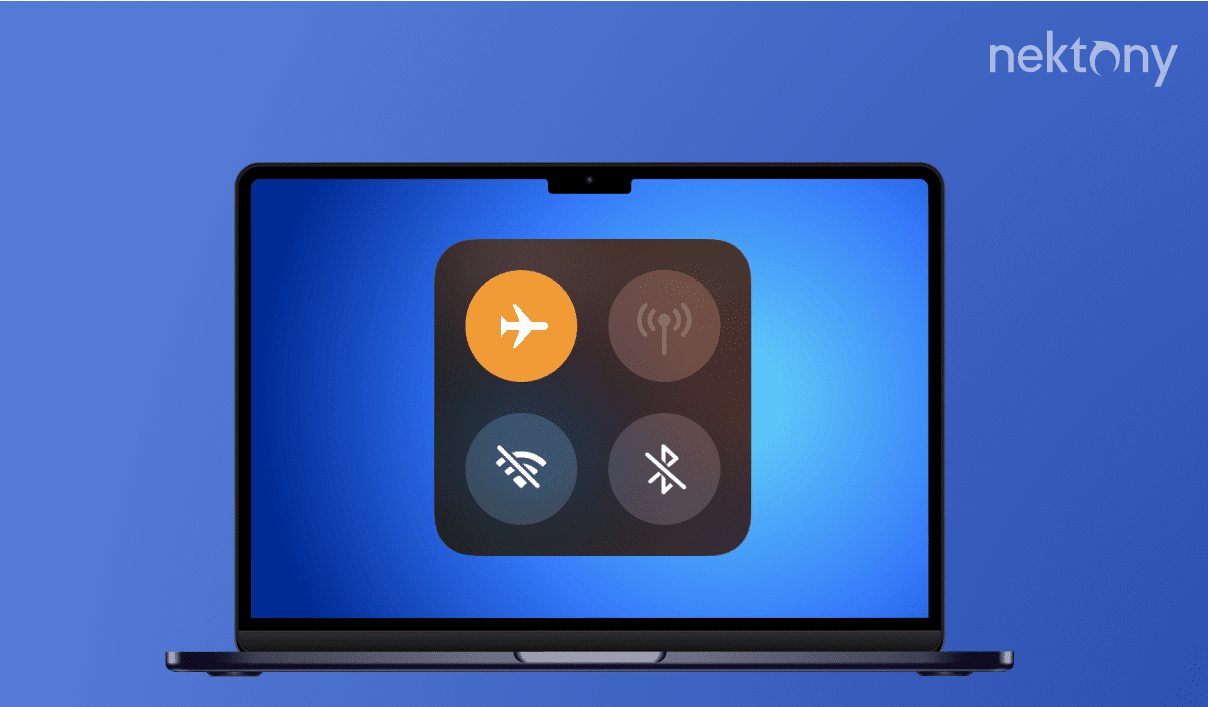 Contents:
Below, we will explain everything about Airplane Mode on a Mac. But first, we want to introduce a must-have application for every Mac user –
MacCleaner Pro
.
MacCleaner Pro helps you keep your system perpetually clean of junk files and running smoothly, as well as preventing any system issues. You can remove cache files and leftovers from removed apps, find duplicates, uninstall unused apps, optimize RAM usage, and more. The application provides a free trial.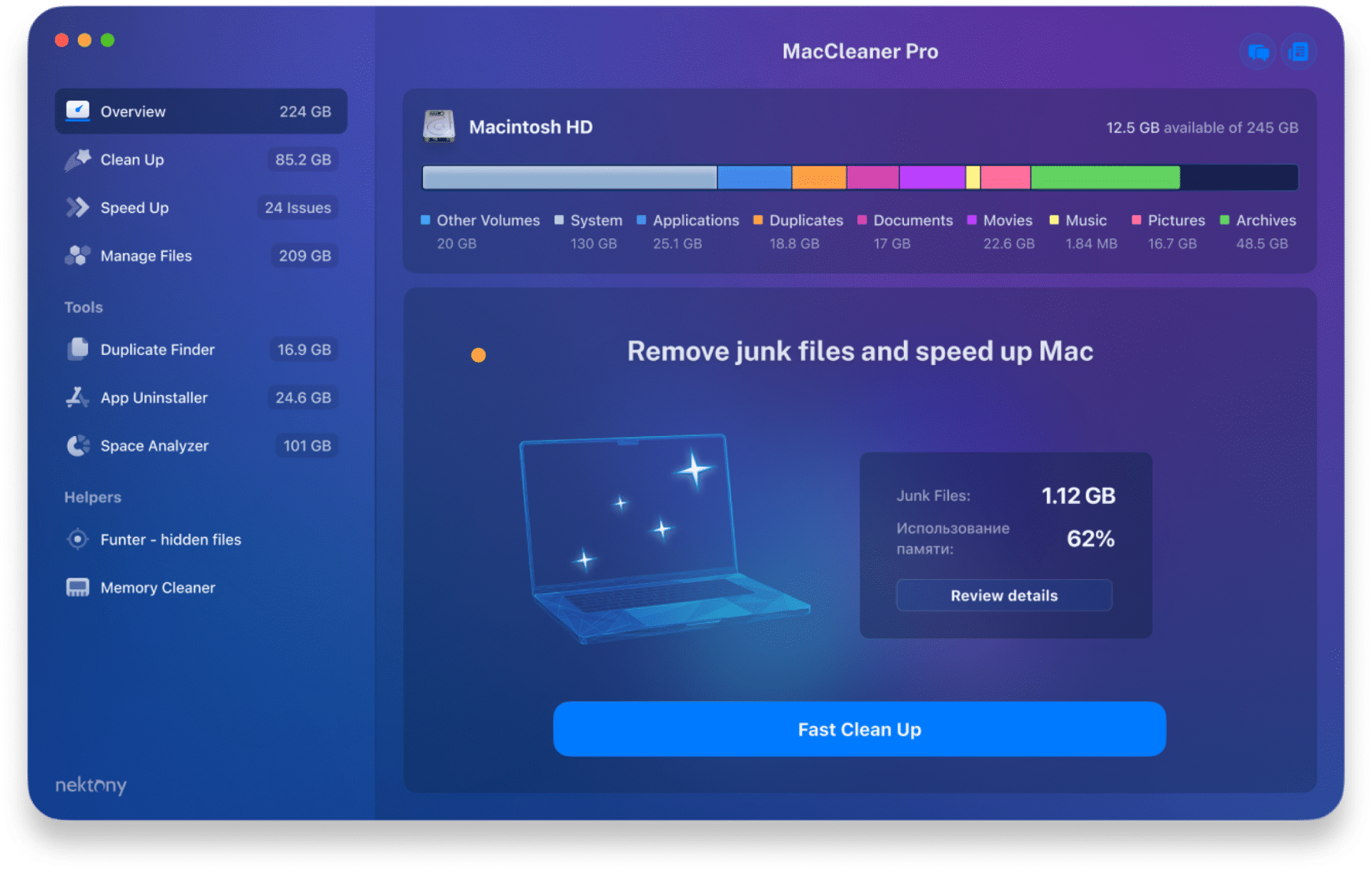 MacCleaner Pro
What is Apple Airplane Mode?
Apple Airplane Mode is a feature that allows you to use your device without interfering with the wireless devices on an airplane. When you enable Airplane Mode, your computer turns off Wi-Fi, Bluetooth, and cellular data (if applicable). This way, you can still work on your device offline, but you won't be able to access the Internet, send or receive messages, or use wireless accessories.

In addition to using Airplane Mode during flights, you can use it in the following situations:
When you are in an area where wireless signals are restricted or prohibited. This can help you comply with regulations and, if you are flying, avoid interference with the aircraft's navigation systems.
When you want to preserve battery life on your MacBook. Turning off the wireless functions can reduce the power consumption of your device and extend its battery life.
When you want to minimize distractions or interruptions from notifications, messages, calls, or other online activities. Airplane Mode can help you focus on your work or enjoy some offline time without being disturbed by wireless signals.
---
How to turn on Airplane Mode on a Mac?
Finding Apple Airplane Mode is easy on the iPhone or iPad. But where is Airplane Mode on Macs? If you have been looking for it, you may be wondering if there is actually Airplane Mode. Let us clarify.
Apple doesn't provide any Airplane Mode on Macs. This may be changed in the future since Apple is working on making Mac System Settings more similar to the Settings app in iOS and iPadOS. A built-in Airplane Mode function could offer Mac users more convenience and control over their wireless connections. However, as of today, the best way to put a Mac on Airplane Mode is to simply turn off its Wi-Fi and Bluetooth.
Here are several ways to turn off Wi-Fi on Mac:
Locate the Wi-Fi icon in the menu bar and disable the toggle button in the drop-down menu.
If you don't see the Wi-Fi icon there, click the Control Center icon and choose Wi-Fi. Then switch off the toggle button.
Open Mac System Settings, then click Wi-Fi in the left panel. Switch off Wi-Fi from there.
To turn off Bluetooth on your Mac, use one of the following methods:
Click the Control Center icon in the menu bar, then click the Bluetooth icon. When the icon is grayed out, it means that Bluetooth is turned off.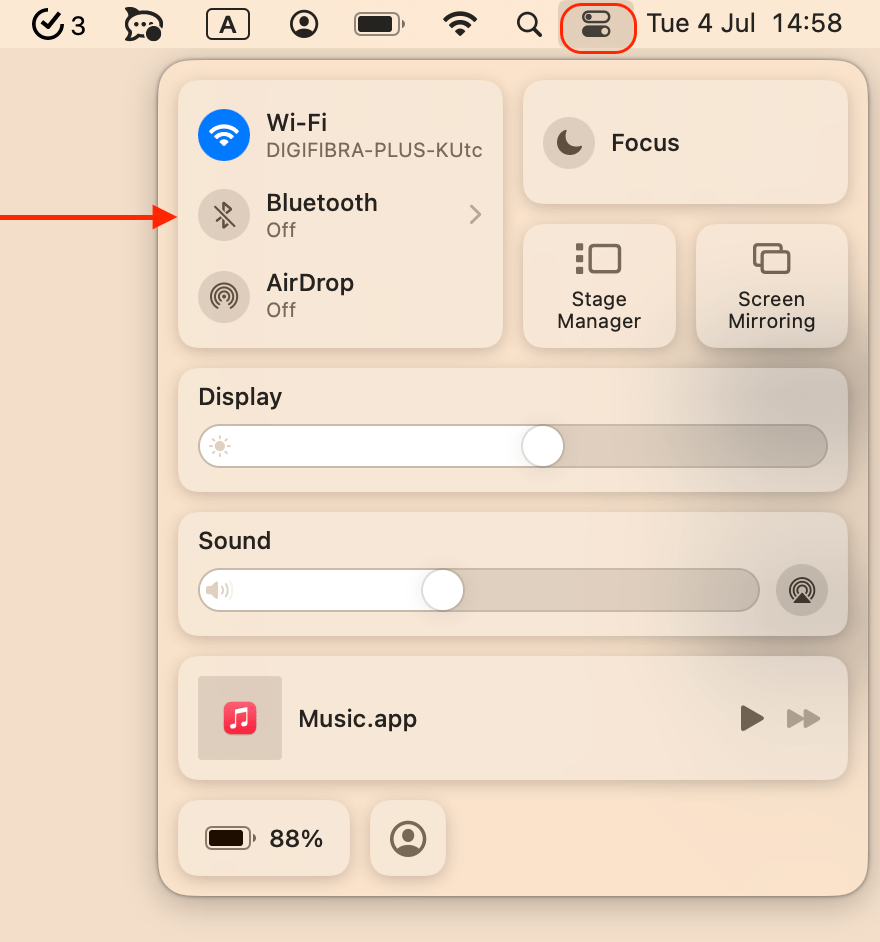 Open System Settings, then click Bluetooth in the sidebar. Switch it off from there.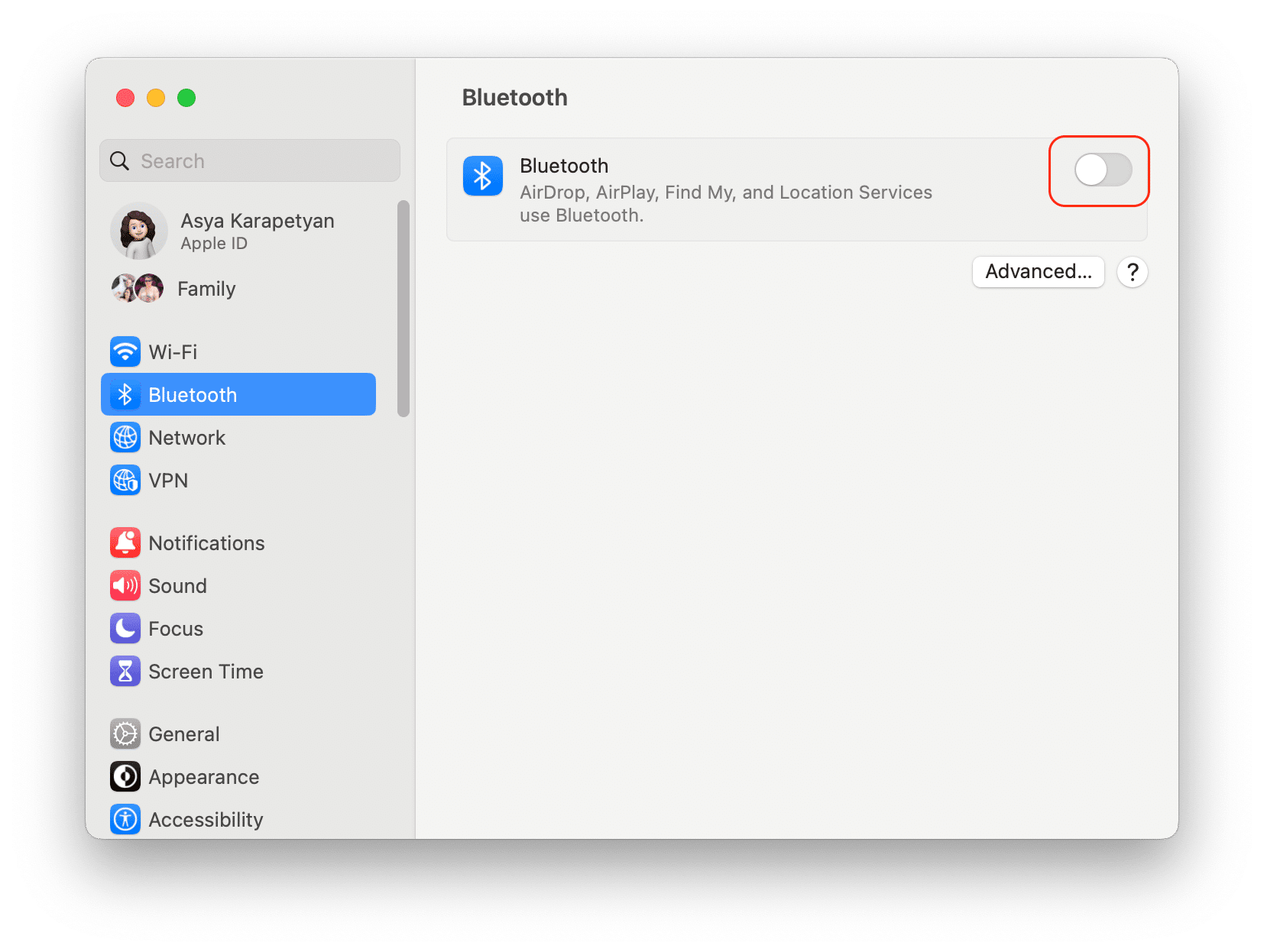 Note:
When you disable Bluetooth, you won't be able to use AirPods or any Bluetooth headphones with your Mac.
Once you turn off Wi-Fi and Bluetooth on your Mac, you have essentially turned on Airplane Mode. Now you can enjoy your flight, preserve battery life, or focus on your work without any online distractions or interruptions.
---
How to turn off Airplane Mode on a Mac
To turn off Airplane Mode on a Mac, you simply need to reverse the steps above. Go to System Settings, and then turn on Wi-Fi and Bluetooth by clicking on the respective buttons. Alternatively, you can do the same by opening the Control Center. When your Mac's Wi-Fi and Bluetooth are turned on, their icons will be blue in the menu bar, indicating that both wireless connections are enabled.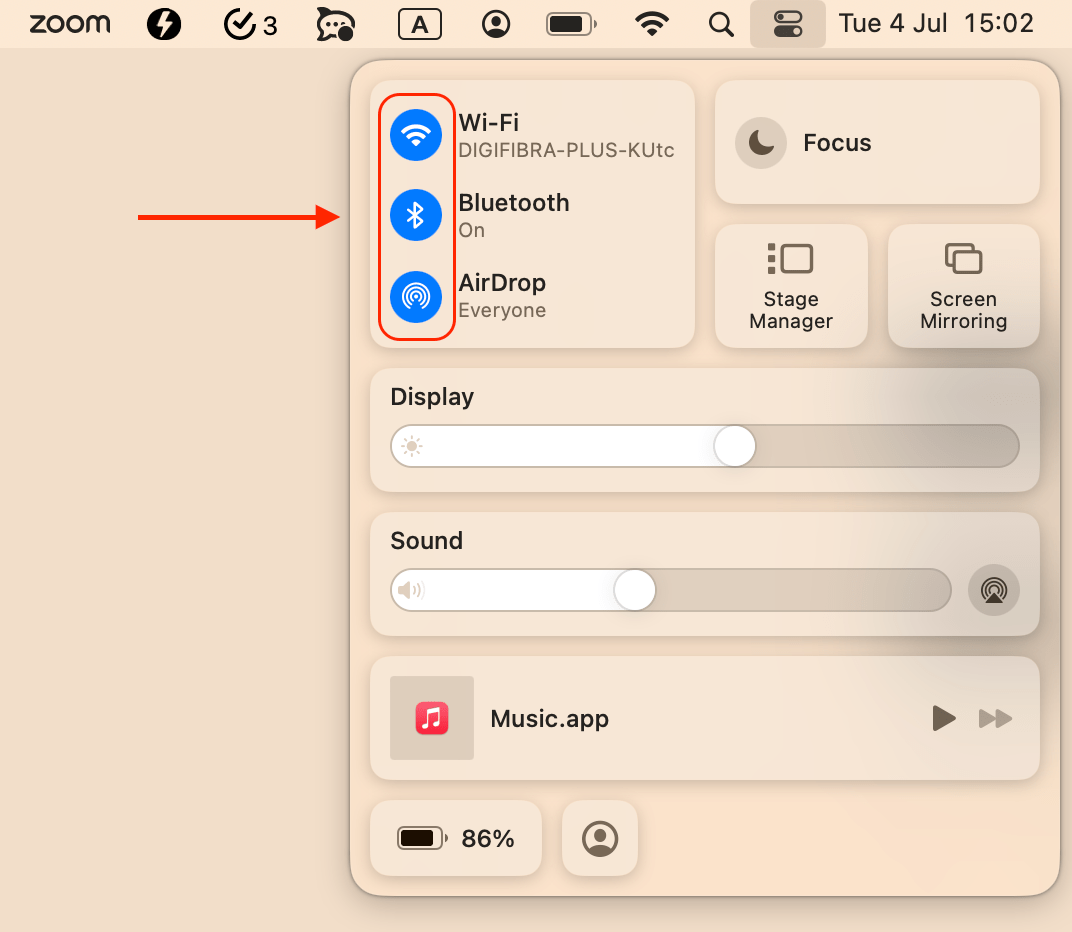 ---
Conclusion
There is no Airplane Mode on Macs, unlike iPhones or iPads. However, this does not mean that Mac users cannot control their wireless connections when they need to. We showed you how to turn on and off Wi-Fi and Bluetooth on a Mac. By following these steps, you can easily adjust the wireless connections in accordance with your needs. And don't forget that, in Airplane Mode, you lose access to online services and are unable to use Bluetooth devices.