Apple gives users 5GB of free iCloud storage space for all possible purposes. However, all Mac owners may face the problem of duplicate photos filling up their storage space. Day after day, these duplicate and similar photos take up a lot of space on your cloud storage. This article will explain how to find duplicate photos in iCloud and free up space.
What is iCloud?
iCloud is an online storage service from Apple that includes iCloud Drive, Photo Stream, iTunes Match, iCloud Photo Library, and even Apple Music. Not only does it store multiple file types, but it also automatically syncs your contacts, documents, music, photos and videos across all your devices.
The more files you have in iCloud, the more space you need to buy for new ones. But before you upgrade your iCloud storage, check it for duplicates and remove all unneeded files. This might free up a significant space in your iCloud.
How to find and delete duplicates in iCloud on Mac?
If you need to find duplicate photos and other types of duplicate files in iCloud, Duplicate File Finder is the best software solution for you. Duplicate File Finder is a free application that finds and removes duplicate files on a Mac, as well as on any external storage source.
You can take a look at this short video guide on how to delete unneeded duplicate photos from your iCloud Photos in a matter of a few minutes.
Guide on how to delete duplicate photos in iCloud Photos library
Before you begin searching for duplicate photos in iCloud, make sure that you have iCloud photos downloaded to your Photos library.
Open the Photos app on your Mac and go to its preferences.
Switch to the iCloud tab and enable the iCloud Photos option.
Enable the Download Originals to this Mac option.

As long as synchronization is enabled within

iCloud Photos

, the feature backs up every photo or video you add to your Photos app, and vice versa, all changes made in your Photos app will sync to your iCloud storage.

Wait until the Photos app finishes downloading all the iCloud photos to your Mac.
Now you can use Duplicate File Finder to remove duplicate photos.
Launch Duplicate File Finder.
In the application's window, click Choose Folder → select Photos Library and click the Scan button.
Within a short time, you will see the list of all duplicates in the Photos library.
Select unneeded duplicate files. You can use the Auto Select button, which intuitively designates copies for removal. Or you can check all the duplicate photo groups and choose which you would like to delete manually.
After selecting files for removal, click the Review & Remove button and confirm their removal.

If you see the pop-up window asking to grant Duplicate File Finder access to Photos, click OK to continue with the removal process.
Duplicate File Finder will move all photos selected for removal to a Duplicates album in the Photos app.
Switch to the Photos app and go to the Duplicates album in the sidebar. Select all photos in that album, make a right-click on any selected item, press the Command key, and select Delete Photos. (If you use the version of macOS before 10.15, you don't have to press the Command key to see the Delete Photos option).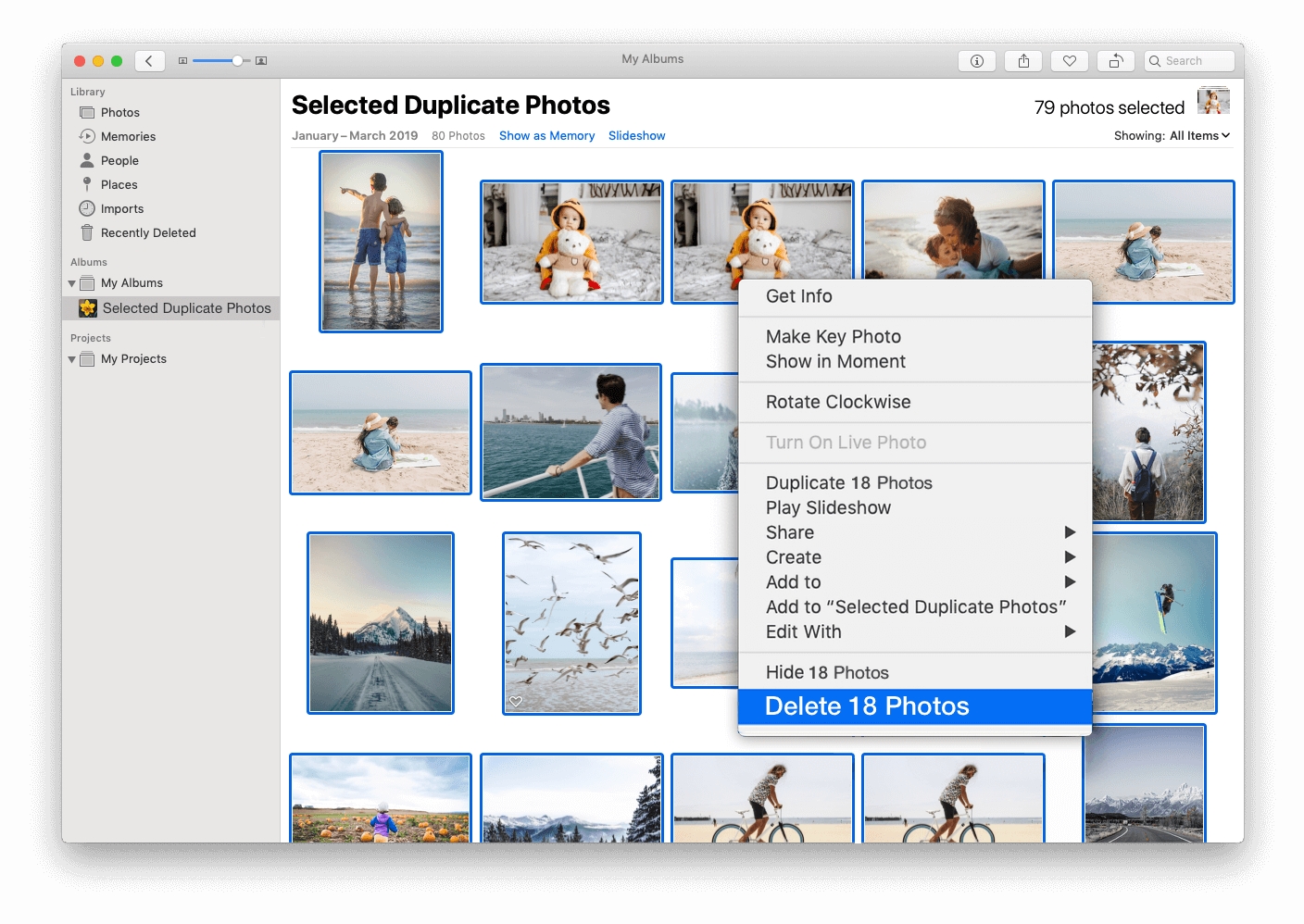 Note, that when you remove photos in the Photos app, they are moved to the Recently Deleted album. By default, Apple keeps files in the Recently Deleted album for 30 days, allowing you to recover the files during this period of time. To remove duplicates permanently, don't forget to remove the files from that album.
How to delete duplicates of other file types in iCloud
iCloud works in a special way. Every application that synchronizes with iCloud creates there a separate folder and stores files in that folder. For example, you can't store TextEdit files in the Pages folders in iCloud. Applications do not have access to the folders of other applications in iCloud. That's why you need to firstly download all the files to your disk so that Duplicate File Finder can scan these files for duplicates.
If you want to find and remove duplicates of any file types in iCloud, follow the guide below.
Open System Preferences.
Go to the Apple ID section.
Click on the iCloud option from the sidebar.
Disable the Optimize Mac Storage option.

Please note, that Duplicate File Finder compares files from iCloud that are locally stored on a Mac's hard drive. That's why it is important to make sure that your iCloud files are downloaded to your Mac. To check whether the files and folders are downloaded, look at the icon located on the right of the item in Finder. If you see this icon , the item isn't downloaded to your Mac. To download a file from iCloud, do the step below.

Go to your iCloud folder, right-click on an item you want to download, and select Download Now.
Now you can use Duplicate File Finder to find duplicates in iCloud.
Run Duplicate File Finder.
Add the iCloud drive or its separate folders to the app and click the Scan button.*
Select and remove unneeded duplicate files.
Please note,
that when you drag and drop folders to the Duplicate File Finder window, don't drag folders from the Finder's sidebar. In this case, you just stop the folder being displayed in the sidebar.
---
Conclusion
That's all. Before too long, all changes will sync to your iCloud Photo Library and all duplicate media files will disappear from your cloud storage as well as if the Photos app did. If photos on your iPhone are also synchronized with iCloud, then when you remove duplicates in iCloud, these photos get also removed from your iPhone. Using Duplicate File Finder to scan your synchronized Photo Library or other files in iCloud is the easiest and fastest way to find unnecessary duplicates in iCloud.