In this article, we will explain how to uninstall Anaconda completely and safely on your Mac. You can remove Anaconda manually or do it with a special uninstaller. We will explain both options for managing Anaconda cleanup.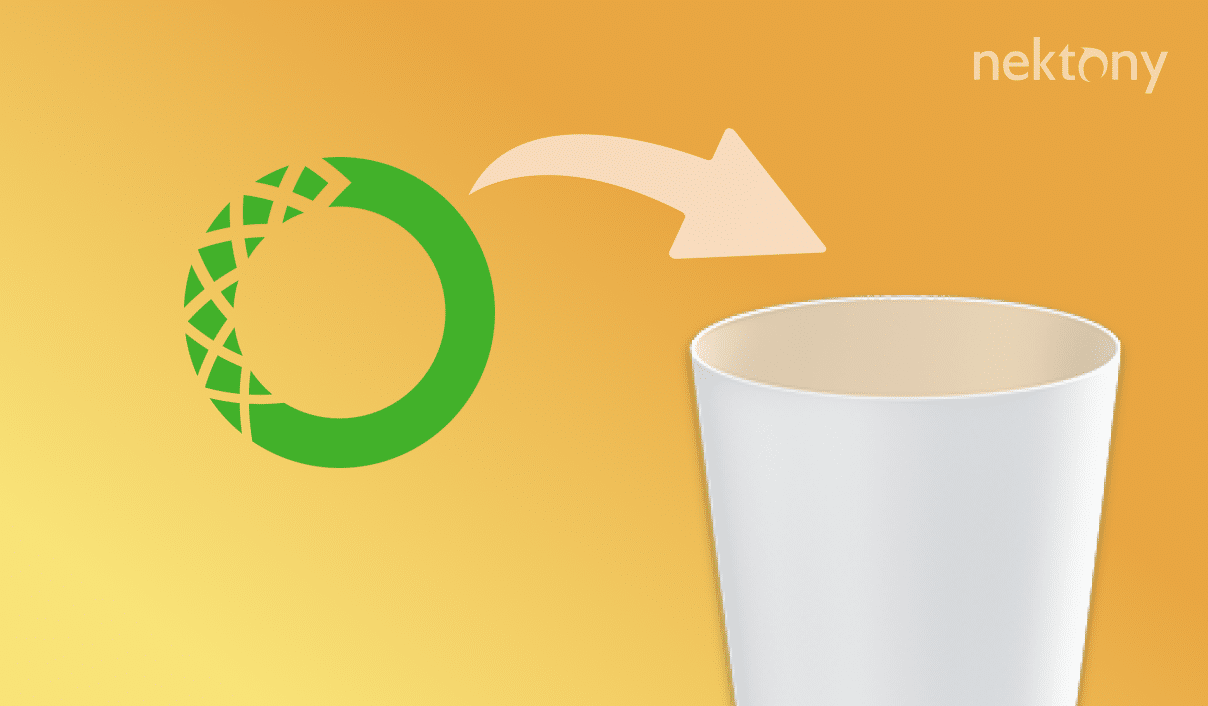 Contents:
What is Anaconda?
Anaconda is the most popular distribution of the Python and R programming languages. It is available for various operating systems, including macOS, Windows, and Linux. Anaconda provides everything you need to solve data analysis and processing.
If for some reason you came to a decision to delete Anaconda from your Mac or simply need to reinstall the program, we will explain how to do this safely and correctly.
---
How to uninstall Anaconda on Mac manually
Generally, there are two possible ways to uninstall Anaconda manually.
You can do it via Terminal as suggested on Anaconda official website.
Or use our complete step-by-step uninstallation guide with screenshots.
Uninstallation way recommended by Anaconda official website
Anaconda's official website recommends uninstalling their application using the Anaconda-Clean application that can be launched via Terminal command line. To do this, you should follow the steps below.
Go to the Applications folder and remove Anaconda icon into the Trash.
Open Terminal.
In Terminal window, type the following command:

conda install anaconda-clean

Press the Return key
Then enter the following command:

anaconda-clean –yes

For removing Anaconda directory which can be named either anaconda2 or anaconda3 enter the appropriate command:

rm -rf ~/anaconda3

The last step is to remove Anaconda-Clean backups. For this type up the following command into Terminal:

rm -rf ~/.anaconda_backup
Please note that this removal method may leave Anaconda related files on your Mac. That is why we recommend that you use our detailed guide that is given below. Since we have specialized in Mac cleaning applications for many years, we regularly check which files Mac applications create and where they are stored. Based on our experience, we have compiled for you a detailed guide on how to remove Anaconda from a Mac completely. There we have listed all the places where you need to look for all the traces of Anaconda's configuration files. This method is presented below.
---
Steps to uninstall Anaconda completely from your Mac:
Quit the Anaconda application.

Open the Activity Monitor app and in the Memory tab, check whether the Anaconda app or all the processes are running on the background. If so, сlick the Сlose button in the upper left corner to terminate the processes.

Open Finder and from the Applications folder remove Anaconda .

After that, it's time to find out where Anaconda keeps its package service files and remove them. Most of them are stored in the Library folder. However, the Library folder is the hidden one, so to find it you have to open the Finder window → click Go in the menu bar → choose Go to Folder.
On the search panel, type ~/Library and press Enter.

Navigate the following directions in the Library folder and remove Anaconda related files.
~/Library/Receipts/io.continuum.pkg.anaconda-client.bom
~/Library/Receipts/io.continuum.pkg.anaconda-client.plist
~/Library/Receipts/io.continuum.pkg.anaconda-navigator.bom
~/Library/Receipts/io.continuum.pkg.anaconda-navigator.plist
~/Library/Receipts/io.continuum.pkg.anaconda-project.bom
~/Library/Receipts/io.continuum.pkg.anaconda-project.plist
~/Library/Receipts/io.continuum.pkg.anaconda.bom
~/Library/Receipts/io.continuum.pkg.anaconda.plist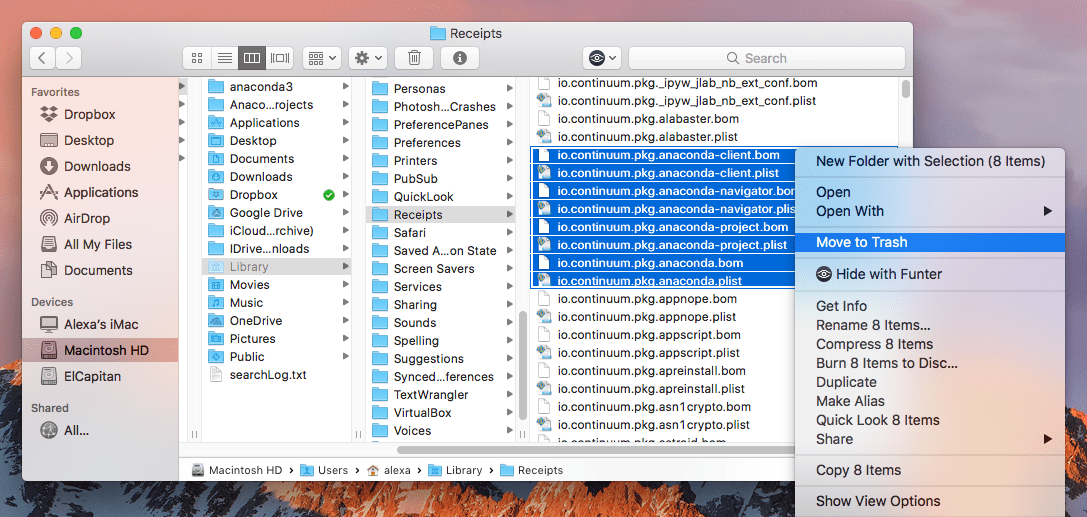 Depending on the user settings and operations you performed with Anaconda, some other Anaconda accosiated files may be left behind. Therefore, it is better to check the following Anaconda directory and remove all files related to Anaconda.
~/Library/Containers/
~/Library/Application Support/
~/Library/Logs/
~/Library/Application Scripts/
~/Library/Caches/
~/Library/Preferences
Not to searh in Anaconda path and fill all files manually, you can save your time by using a free tool from Nektony: Funter.
To find Anaconda remaining files with Funter you should launch the app → enter the word Anaconda into the search line → check the results and delete all hidden files that are related to the Anaconda application.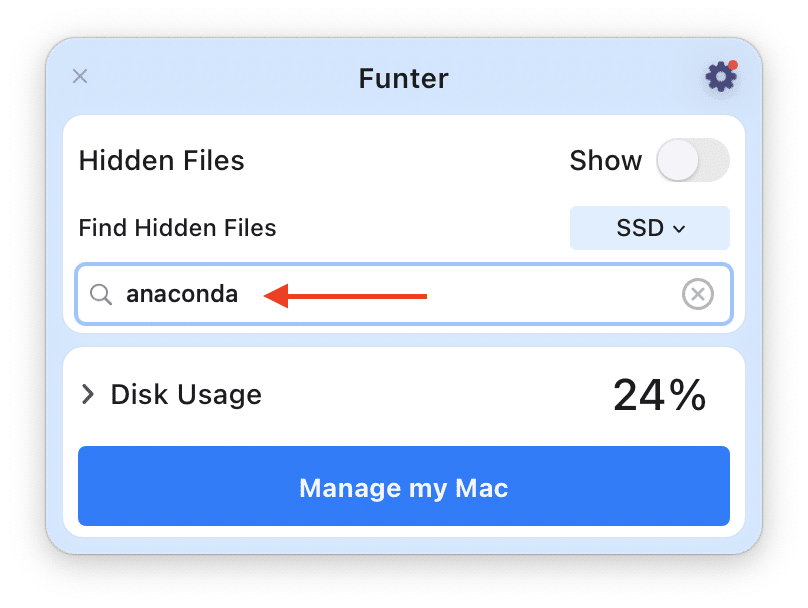 With the help of Funter, we managed to find this list of useless Anaconda remains:
~/anaconda3
~/.bash_profile-anaconda3.bak
~/.condarc
~/.conda
~/.anaconda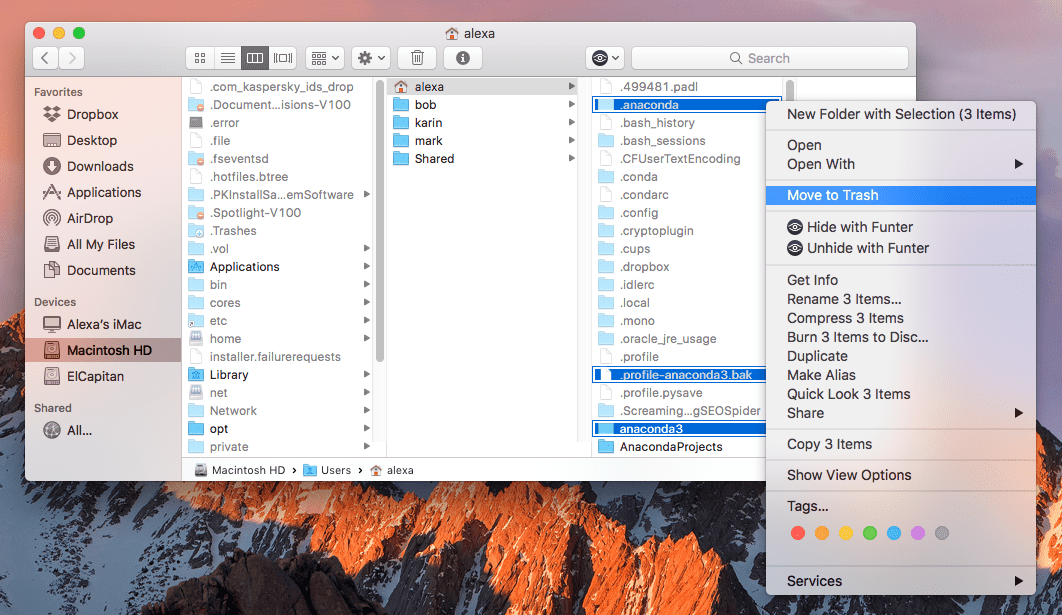 Finally, you need to empty the Trash folder. This is the last step to completely uninstall Anaconda.
---
Safely uninstall Anaconda using App Cleaner & Uninstaller
The manual search for apps' accosiated files, especially if they are scattered on a hard drive, is inefficient. You may miss some files and it takes a fair amount of time. That's why we recommend that you uninstall Anaconda automatically.
The automatic method requires using a special free cleanup utility application – App Cleaner & Uninstaller. This software automatically collects all the service files of each app and allows you to uninstall them with one click. Here is how to use it to uninstall Anaconda (Python 3):
Launch App Cleaner & Uninstaller.
Find Anaconda in the left panel.

If you switch on the Expert mode, you can see all the Anaconda app's support files in the right section of the window.


Click the Remove button, and in the next window confirm the deletion.
In case you previously removed Anaconda manually and you are not sure whether you removed all of the leftover files. The Remaining Files section of App Cleaner & Uninstaller will help you. Moreover, you might use this feature to find the remains of other previously-removed apps as well. Just switch to the Remaining Files tab to find all applications' leftovers stored on your Mac.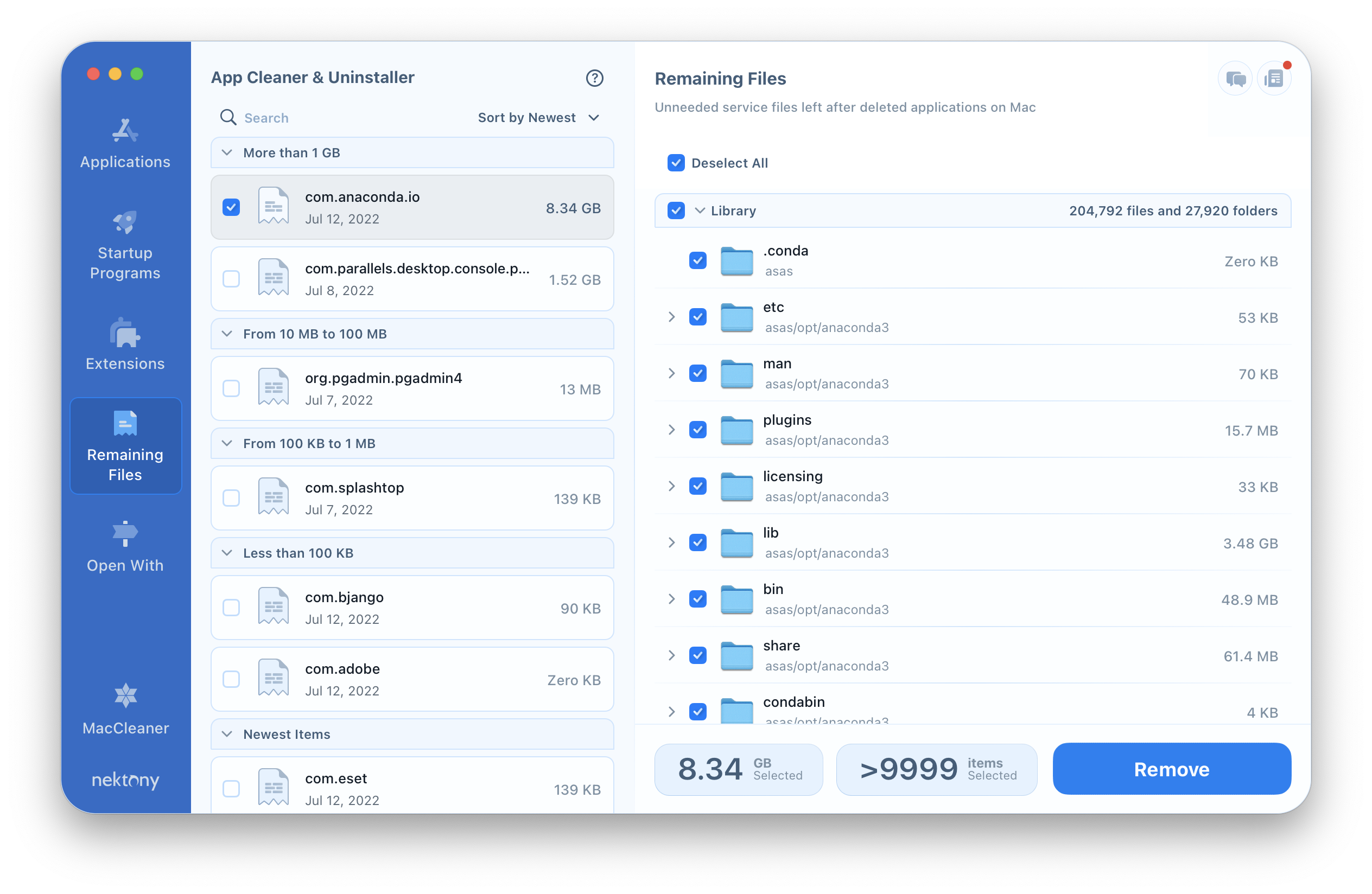 ---
Video Guide: How to uninstall unneeded applications on a Mac
---
Conclusion
The manual way of uninstalling Anaconda is quite time-consuming. Moreover, it never guarantees that you get rid of all the service files, because sometimes they can be spread all over your hard drive.
That is why we recommend you using a professional uninstaller App Cleaner & Uninstaller. This software will help you if you can't uninstall Anaconda manually or just prefer not to waste your time, and work on much more interesting tasks.
We hope this exhaustive guide has answered all of your questions about how to uninstall Anaconda on a Mac. However, if you'd like to know more, just ask our support team.