Avira is a popular antivirus program available for Mac. However, it should be noted that if, for some reason, you want to delete Avira from your Mac, you cannot simply move it into the Trash like you do with other apps. So, we have prepared a detailed guide on uninstallation of Avira entirely from macOS thoroughly and safely.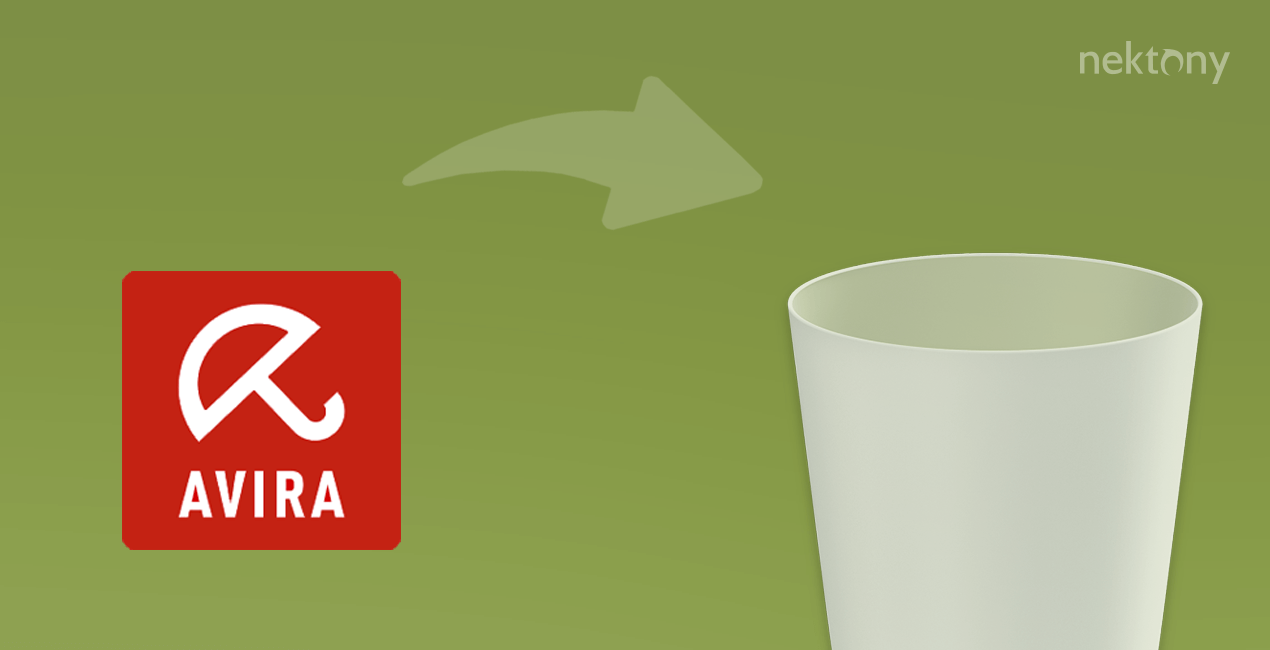 Contents:
Important notes and the methodologies used to uninstall Avira Antivirus from Mac
To completely uninstall Avira from Mac, you need to find and remove all of its support files that we call leftovers or remaining files.
Before writing this guide, we uninstalled the antivirus using Avira's help page's official uninstallation guide. However, this method does not uninstall the application completely.
This article will explain how to uninstall Avira antivirus with all of its service files completely.
We used App Cleaner & Uninstaller from Nektony to find Avira's remaining files and thoroughly remove the antivirus.
---
How to uninstall Avira antivirus from Mac manually
Please, don't miss any step from the uninstallation guide to remove Avira from your Mac entirely without leaving any remaining file behind.
Steps on how to remove Avira from Mac
Open Finder and go to the Applications folder.
Find Avira and drag and drop it into the Trash.
If prompted, confirm the action by clicking Ok and typing your user password.
The removal process will start.

Note:

According to the official Avira removal guide, after these steps, Avira will be completely uninstalled from your Mac. However, this is not correct. We checked Mac and found its remaining files. So please, keep reading to learn where to find its support files and remove the antivirus entirely.

Now, you have to find and remove Avira's support files. By default, they should be stored in the Library folder. To open this folder in Finder, press the Shift+Command+G shortcut and navigate the ~/Library location.

Here in the Library folder, check the subfolders below for Avira's leftovers and remove any file associated with Avira:

~/Library/Application Support
~/Library/Caches
~/Library/Logs
~/Library/Preferences
~/Library/Containers
~/Library/Cookies

Once you delete all Avira's remaining files, empty your Trash bin and restart your Mac. Uninstalling antivirus can be tricky. When you uninstall it, it is crutial to restart your Mac.
---
How to remove Avira's leftovers with the Avira Uninstaller
Another way to remove Avira's leftovers is to use the Avira Uninstaller. It can be downloaded from this page.
Download the Avira Uninstaller.
Double-click on the Avira Uninstaller zip file.
It will launch the Avira.Uninstall.command in the Terminal application. If prompted, enter your Mac user password and press Enter.
The Terminal will automatically run the command to remove Avira's service files.
Once you see the message about successful removal, you can close Terminal.
We explained how to uninstall Avira from Mac and then how to remove the antivirus leftovers. Now, we will share the quickest and easiest way to uninstall Avira from your Mac completely.
---
How to uninstall Avira using App Cleaner & Uninstaller
App Cleaner & Uninstaller is a utility to uninstall any application from Mac completely. It automatically finds the applications' service files and removes them with a few clicks.
Here are the steps on how to uninstall Avira with App Cleaner & Uninstaller:
Open App Cleaner & Uninstaller. It will scan all applications on your Mac.
Select Avira from the list of applications.
Click the Remove button and confirm the uninstallation.
Empty your Trash bin, and Avira will be uninstalled entirely.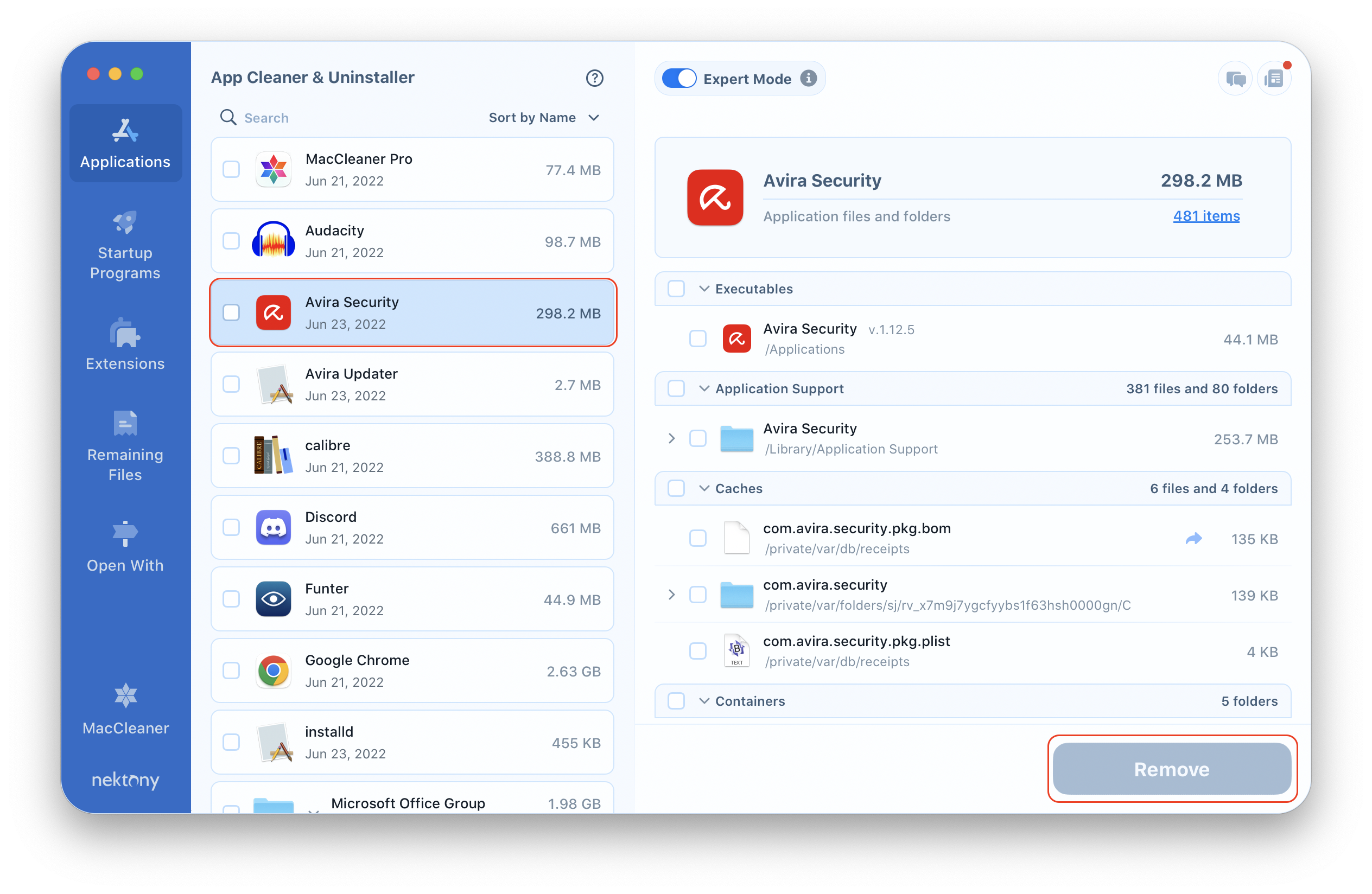 If you have already remove Avira manually, you can find its leftovers. Just switch to the Remaining files section, select and remove Avira's leftovers.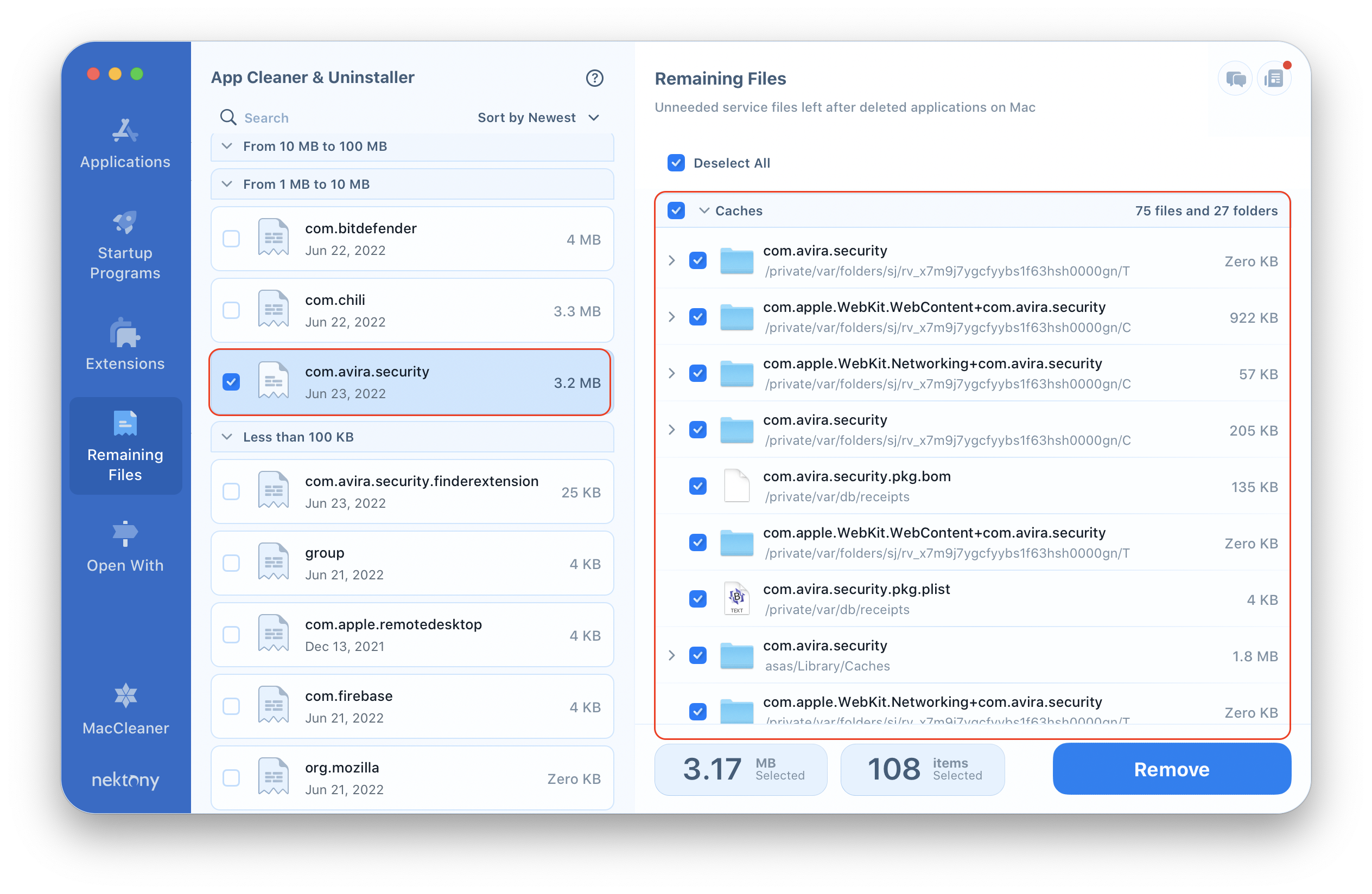 Note, App Cleaner & Uninstaller can reset applications by clearing their cache and preferences. In the right section, you can view information about each application's service files – cache size, support files, supported document types, etc.
Moreover, App Cleaner & Uninstaller can help you to change startup programs on Mac easily, remove extensions, and change default applications for different types of file extensions.

---
---
Frequently asked questions about Avira
Do I need antivirus for Mac?

The macOS comes with many built-in security features, and it is known as the most secured computer. However, those who make malware are starting to figure out ways to alter their attacks and focus on Apple systems more and more. Thus, if you regularly download files from the Internet, you should definitely protect your Mac from viruses with additional macOS features or third-party applications. Read also "How to secure your MacBook."
How do you know if your Mac is infected with a virus?

Here is the list of cases that might testify that your Mac has got a virus:

Sudden pop-ups and advertisement messages appear on your screen.
Your Mac starts to run slowly.
Your system and some applications crash.
Your browser and applications settings had been changed.
Your MacBook's battery charge runs down faster.
You found apps that you didn't download.
Bogus charges on your bill.
Does Avira detect malware?

Avira Antivirus holds multiple awards for being a trustworthy anti-malware solution. With Avira Antivirus, you can check your macOS thoroughly or individual files for various viruses and threats. All Avira processes are fully automated, and they regularly analyze how your system is protected.
How do I delete my Avira account?

To delete your account in Avira, follow these steps:

Log in to your Avira account.
Go to the "My Account" section. For this, click the triangle icon next to your account name and select "My Account."
Go to the Data & Settings. Here you can delete your account.