In our previous posts, we shared about how to uninstall antivirus software on a Mac and what problems may arise in the removal process. Today, we want to highlight another antivirus program for Mac – Intego VirusBarrier. This application protects your computer against malware programs. However, if VirusBarrier did not meet your needs and you want to remove it from your Mac, read on to learn how. In this article, we want to share three ways to uninstall VirusBarrier on a Mac, completely and safely.
Contents:
1. What is the VirusBarrier app?
2. How to remove Intego VirusBarrier using its native uninstaller?
3. How to uninstall VirusBarrier manually?
4. How to delete Intego VirusBarrier using App Cleaner & Uninstaller?
---
What is the VirusBarrier Application?
VirusBarrier is a complex application, which has several extra components for its proper performance. You may recall that when you installed the Intego antivirus program, you were asked to select additional applications to install along with the antivirus software.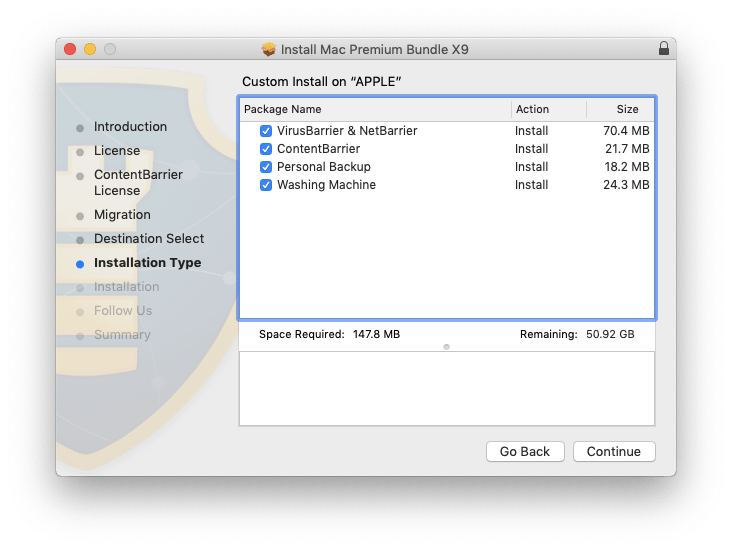 However, even if you only selected VirusBarrier & NetBarrier, the applications create plenty of service files on your Mac. It is important to understand that you have to remove all the app's files when you want a complete deletion of the VirusBarrier app.
---
Remove Intego VirusBarrier Using a Native Uninstaller
Considering the information above, Intego provides a native uninstaller, which promises to correctly and totally remove VirusBarrier and all its service files from your Mac. to start, open the Mac_Premium_Bundle_X9.dmg (your X version) file or download it from the Intego website and select Uninstall.app.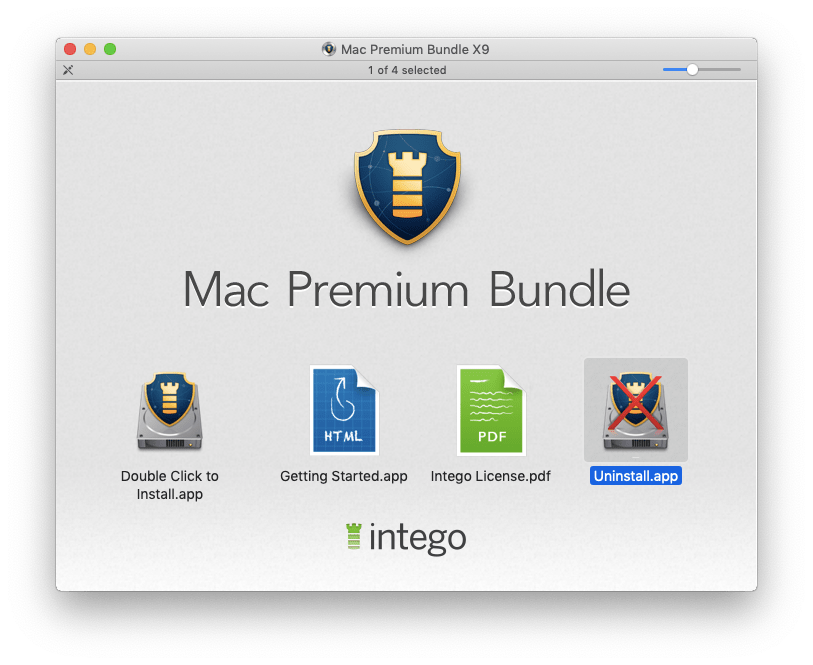 In the window that appears, select the VirusBarrier and the NetBarrier apps you want to remove and click on Uninstall.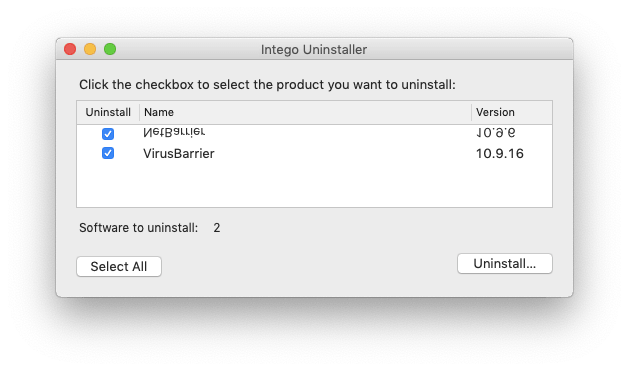 Despite their promises, most native uninstallers do not completely delete the applications and their leftovers. Therefore, we launched a free app, Funter, which helps to find files and folders with the app's name, including hidden files. We searched for both the VirusBarrier application and Intego developer by name. As you can see in the screenshots below, Funter found some of Intego's leftover files.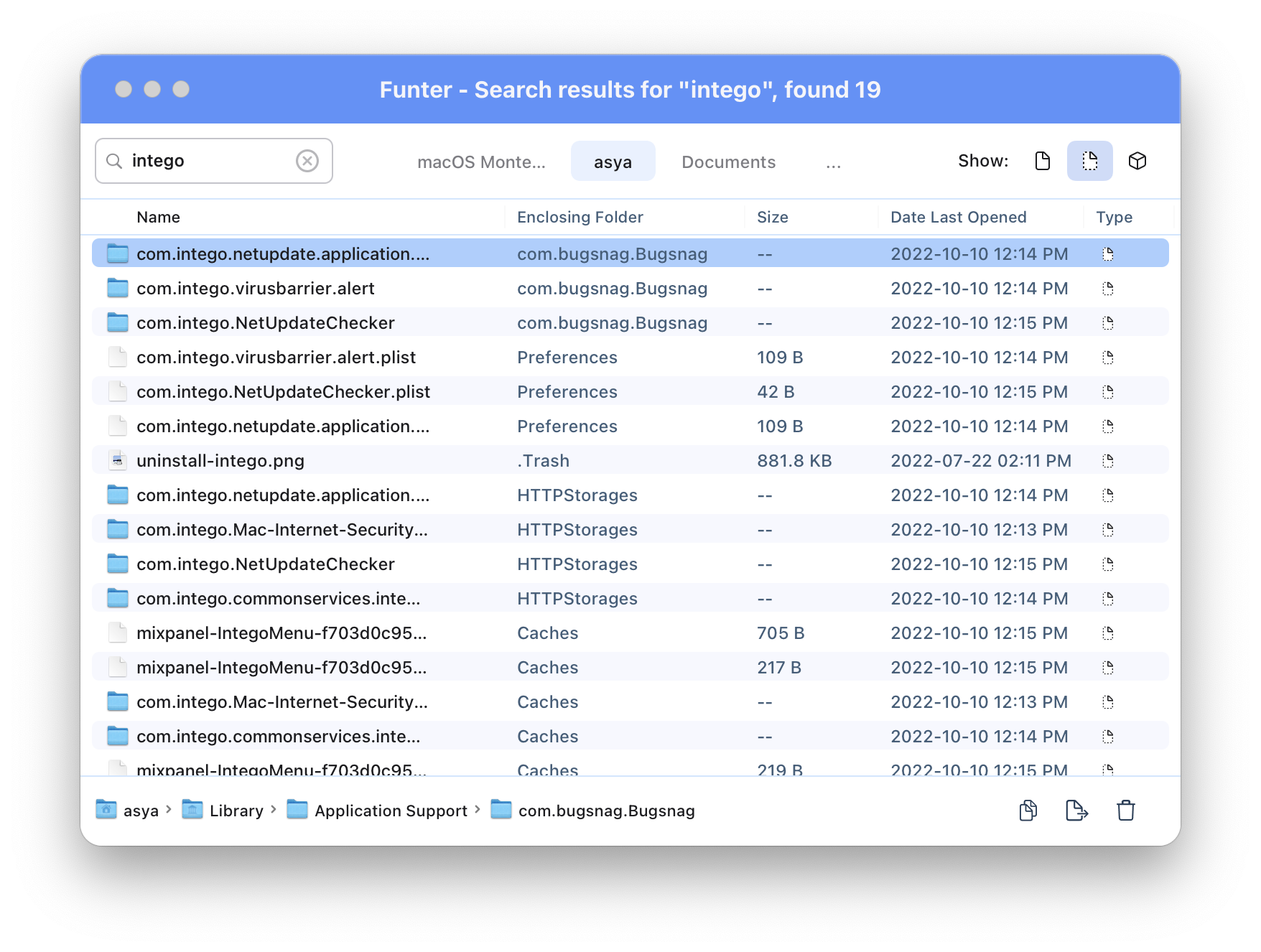 This means that you will have a lot of hidden app files, even after using its official uninstaller.
Due to this reason, we recommend using another method of uninstalling apps, which allows you to completely get rid of the antivirus program. Follow the instructions below to learn two methods of completely uninstalling VirusBarrier.
---
How to uninstall VirusBarrier from Mac manually
You can use the common way of uninstalling an app by dragging and dropping its icon to the Trash. But then, you should get rid of the application's remaining files step by step. The service files are usually stored in the main Library folder and the user's Library folder. Thus, to manually uninstall VirusBarrier on your Mac, follow the next steps:
Quit VirusBarrier.
Open the Applications folder → select the Intego folder, where the VirusBarrier.app is stored → drag and drop the folder to the Trash.
Open Finder → select your Hard Drive → choose the Library folder. Here, in the main Library folder, find and delete all useless service files related to the VirusBarrier and Intego. Check the following subfolders:

/Library/Intego

/Library/LaunchDaemons

/Library/LaunchAgents

/Library/Preferences/Intego
/Library/Application Support/Intego

Now go to the users' hidden Library folder. In the Finder's menu bar, click Go → Go to Folder → type ~/Library and click Go to get access to the user's Library Folder.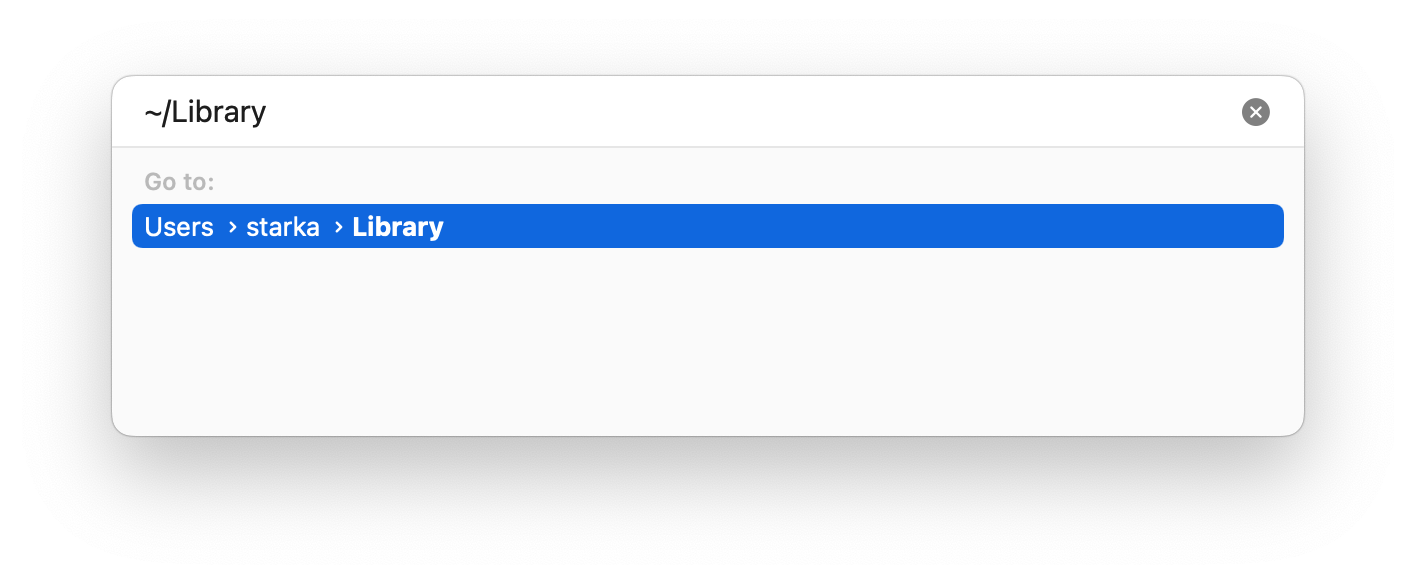 In the user's Library folder, find and remove all service files containing the name of the VirusBarrier app or Intego in their titles. Look for such files in the following subfolders:
~/Library/Caches

~/Library/Preferences

After that, empty the Trash bin to totally delete the VirusBarrier program from your Mac.
---
Delete Intego VirusBarrier using App Cleaner & Uninstaller
There are third-party uninstallers, like App Cleaner & Uninstaller, which help to delete applications automatically. App Cleaner & Uninstaller allows you to remove VirusBarrier and more than 1,000 different applications and their remaining files from your Mac, both quickly and entirely. So, to uninstall VirusBarrier from your Mac using App Cleaner & Uninstaller, complete the following steps:
Launch App Cleaner & Uninstaller.
Select all items related to VirusBarrier and Intego from the list in the Applications tab. All their service files will be selected automatically. In our case, we had the VirusBarrier, NetBarrier, NetUpdate, nb_alert, VirusBarrier Alert, NetUpdateAgent, Intego Uninstaller, NetBarrierMonitor and VirusBarrierRealTime_Legacy components on Mac.
Click Remove in the bottom right corner to delete the apps and their remains.

Review the items you are going to delete and click Remove. 

Empty the Trash bin to complete the VirusBarrier uninstallation on your Mac.
---
Conclusion
As shown above, when you decide to remove an application from your Mac, you should consider that each application creates and stores various service files on your Mac. Depending on the type of app and the amount of time you have, you may decide to use the manual method. We recommend using App Cleaner & Uninstaller if you want to completely and correctly delete any application on your Mac.