In this article, we will explain how to completely uninstall Firefox from your Mac. We will offer you two methods on how to uninstall Firefox correctly. You can choose the manual way or do it quickly with a special application. We will also discuss how to reset Firefox to make the browser work faster.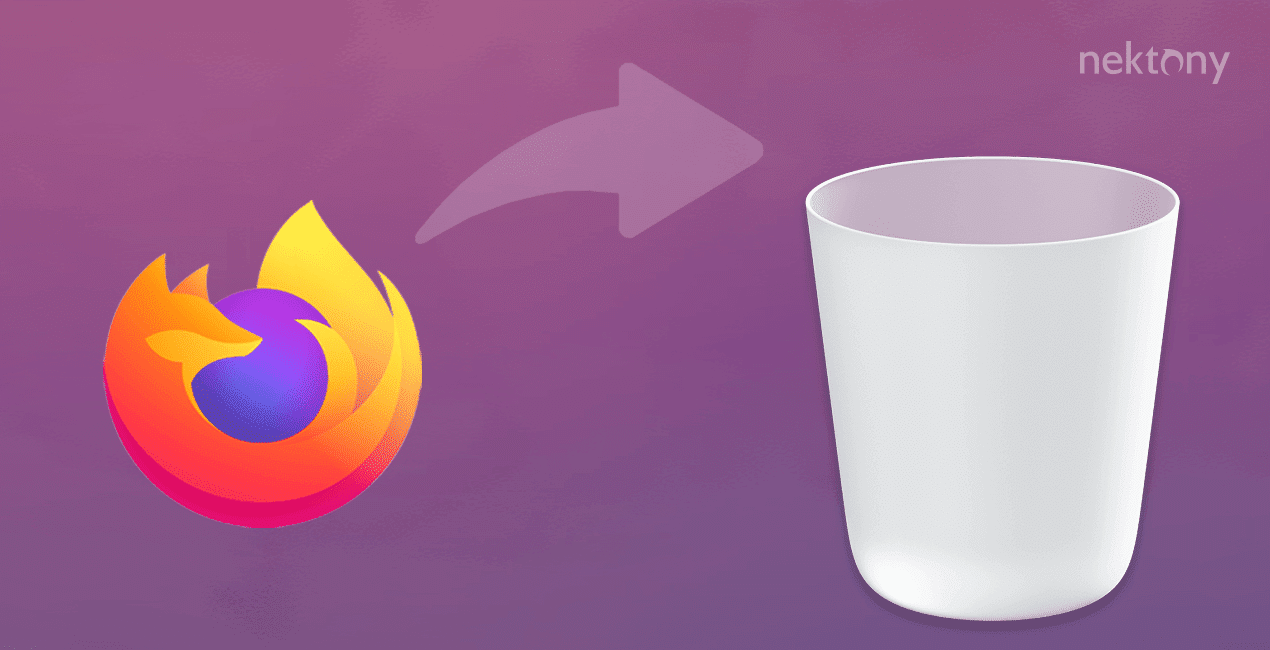 Contents:
Important notes about uninstalling Firefox from Mac:
Before writing this guide, we consulted the information recommended by the Mozilla support page, which says that you can delete the browser by dragging and dropping it into the Trash. However, if you only do this, all its leftover files will still remain on your Mac and take up your disk space.
To uninstall Firefox completely, you need to remove its support files as well. You can find them manually or automatically with a special application.
We want to point out that the manual way of completely uninstalling an app is more difficult and time-consuming.
To uninstall Firefox in just a few clicks, we recommend the App Cleaner & Uninstaller—a special application from Nektony that can completely uninstall any app from your Mac.
If you enjoy using Firefox but notice that it works inconsistently or slowly, you can try to reset it. We will tell you how to reset Firefox and optimize its performance below.
---
What is Firefox and why should you uninstall it?
Firefox is a popular open-source web browser from the Mozilla Foundation. Most users choose Firefox as their main web browser due to the developer's concern for data privacy. Firefox creators report that they collect as little data as possible about their users and do not track them. One of the strengths of this web browser is the variety of extensions that help to facilitate the work on the Internet.
Despite the benefits of Firefox, you may want to uninstall the browser because it has started to work slowly, or you just need to reinstall Firefox. In this article, we will explain how to uninstall Firefox on your Mac completely and safely.
---
How to uninstall Firefox manually
Often, Mac users do not know how to properly uninstall unnecessary programs from their computers. Generally, people simply drag and drop their applications into the Trash, forgetting about service files.
If you drag and drop Firefox to the Trash or simply delete it from your applications, specific supportive (service) files still remain on your hard drive. Usually, most of them hide in caches, logs, plugins, containers, and reports. That's why it is important to remove Firefox from your Mac correctly.
Follow these steps to completely uninstall Mozilla Firefox:
Clear Recent History and Caches of Firefox. To do this, go to the Menu bar → History → select Clear Recent History…
Select Everything for the Time range to clear and select all checkboxes. Confirm removal.
Open Finder → go to the Applications folder → remove Firefox from there.
Now, you need to find and remove other service files for Firefox. They are stored in the hidden Library folder.
In Finder, press Command+Shift+G and type ~/Library. Press Enter.

Find all files and folders related to Mozilla Firefox and remove them:

~/Library/Caches/Firefox
~/Library/Caches/Mozilla

Then, empty Trash to completely uninstall Mozilla Firefox.
Note! Removing applications from Finder does not completely remove them. It's important to delete all of its leftovers, as they build up on your Mac and take up a lot of space, which further makes your Mac slow. The App Cleaner & Uninstaller can easily help you optimize your Mac.
---
How to uninstall Firefox with the App Cleaner & Uninstaller
With the manual uninstallation method, you need to search for all remaining files manually. However, with the help of a special application, App Cleaner & Uninstaller you will fully delete Firefox with just a few clicks. The application automatically finds all service files of apps and uninstalls any app completely and safely.
Here is how to delete Firefox with the App Cleaner & Uninstaller:
Download and launch the App Cleaner & Uninstaller.
Select Firefox in the Mac applications list.
Click the Uninstall button.
Confirm removal.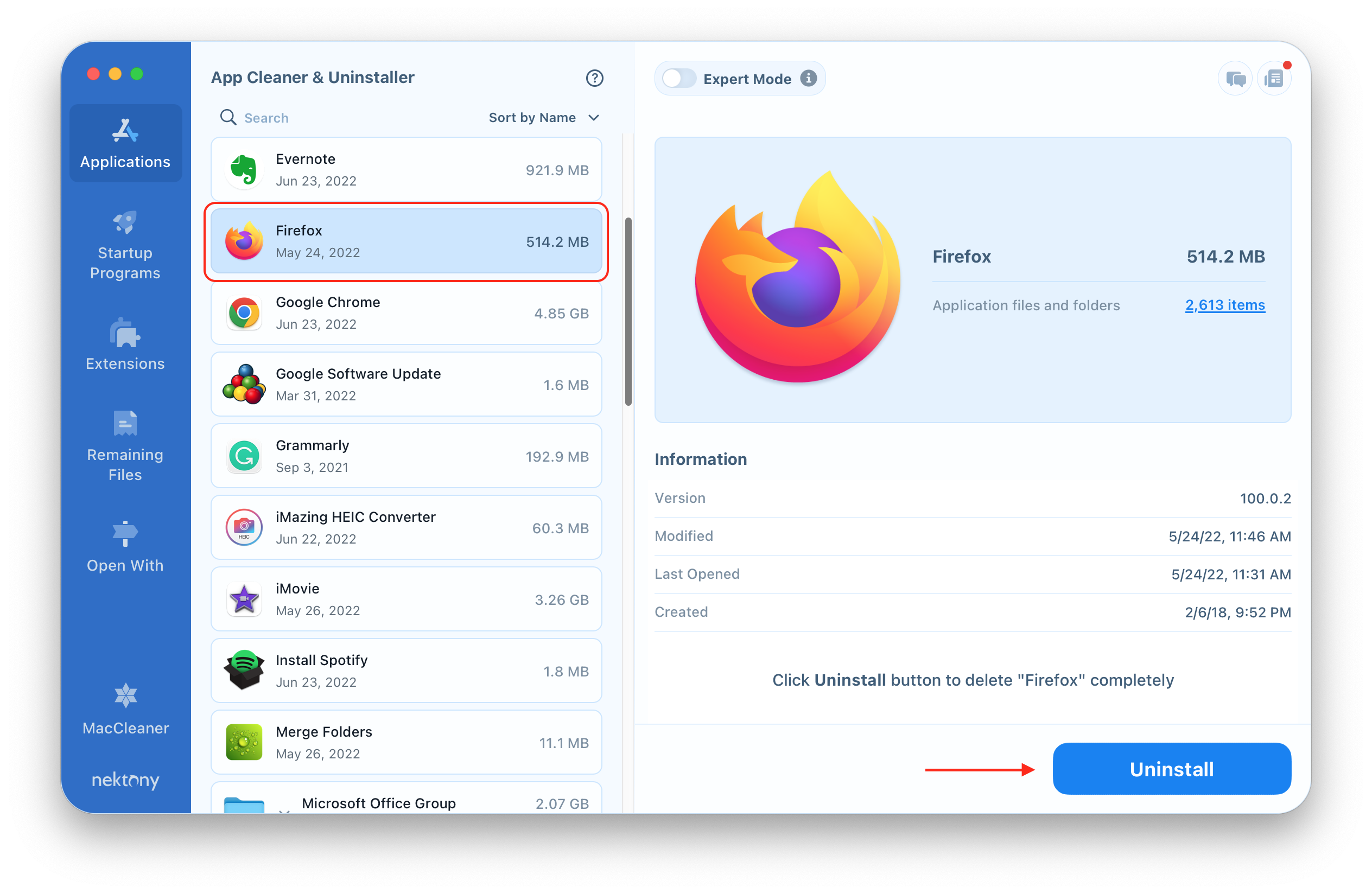 If you would prefer to delete Firefox the regular way, you can then find all service files with the App Cleaner & Uninstaller. Just switch to the Remaining Files tab. Here, you will see all the leftovers and service files of apps previously moved to Trash.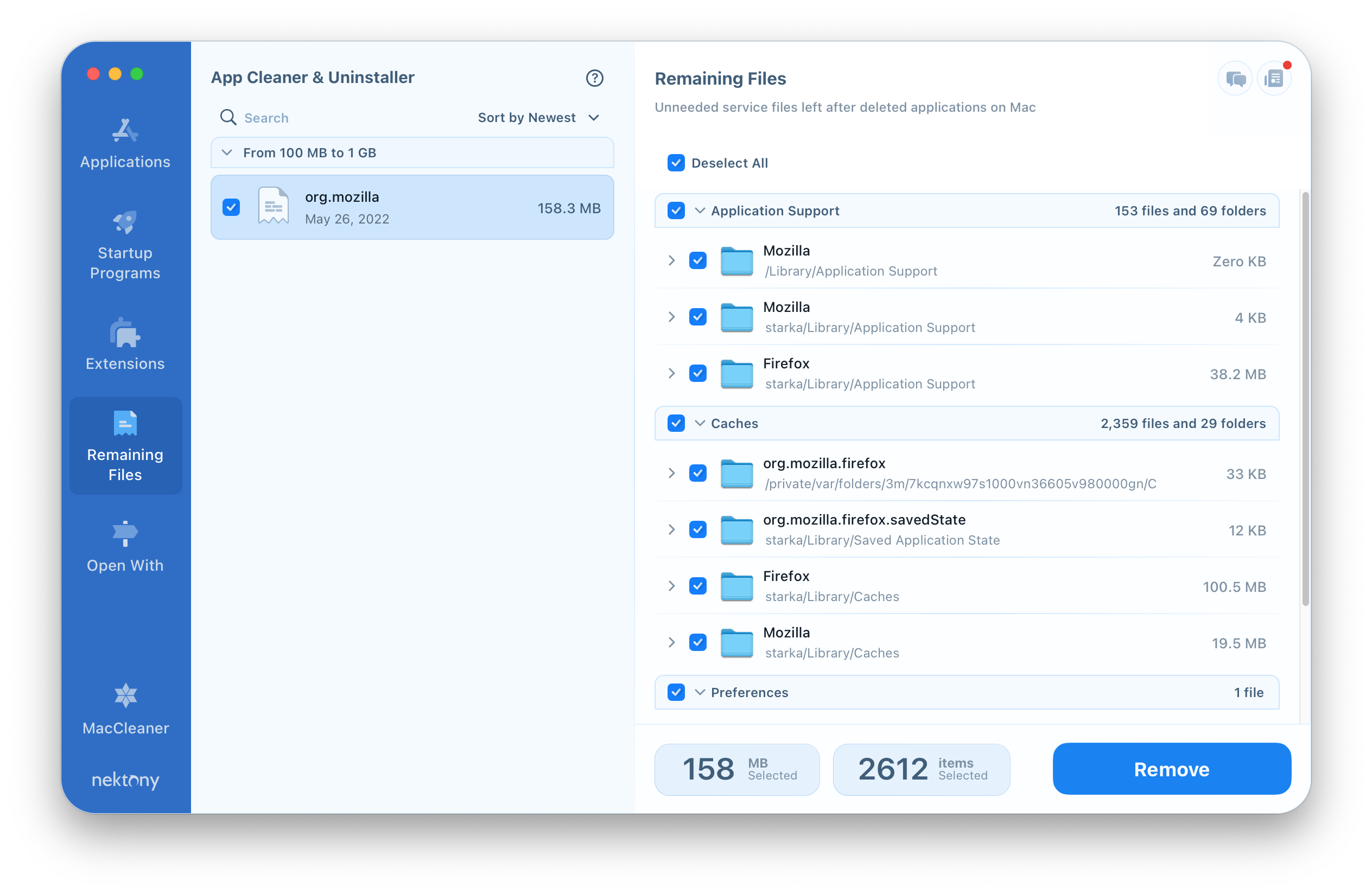 Now, you can be sure that the application was removed completely and didn't leave behind any service files on your Mac. By deleting all of the remaining files of your previously deleted applications, you can free up significant space on your disk.
---
How to reset Mozilla Firefox
If you want to continue using Firefox on your Mac but you have been faced with problems, such as the browser beginning to generate error messages frequently or no longer responding to your requests and needing to be forcibly closed, you can reinstall or reset the browser to fix these errors.
There are many reasons for a slow browser. Very often, the problem is in relation to a large number of open tabs when the browser gets stuck. Also, you might have accumulated a large number of caches, downloads, and other files. If so, then resetting the browser can help to solve the issue. You can use the App Cleaner & Uninstaller to quickly reset Firefox.
Here is how to reset the Firefox app with the App Cleaner & Uninstaller:
Launch the App Cleaner & Uninstaller.
Right-click on the Firefox app and choose Reset Application.
Confirm the removal of its preferences and some other support files.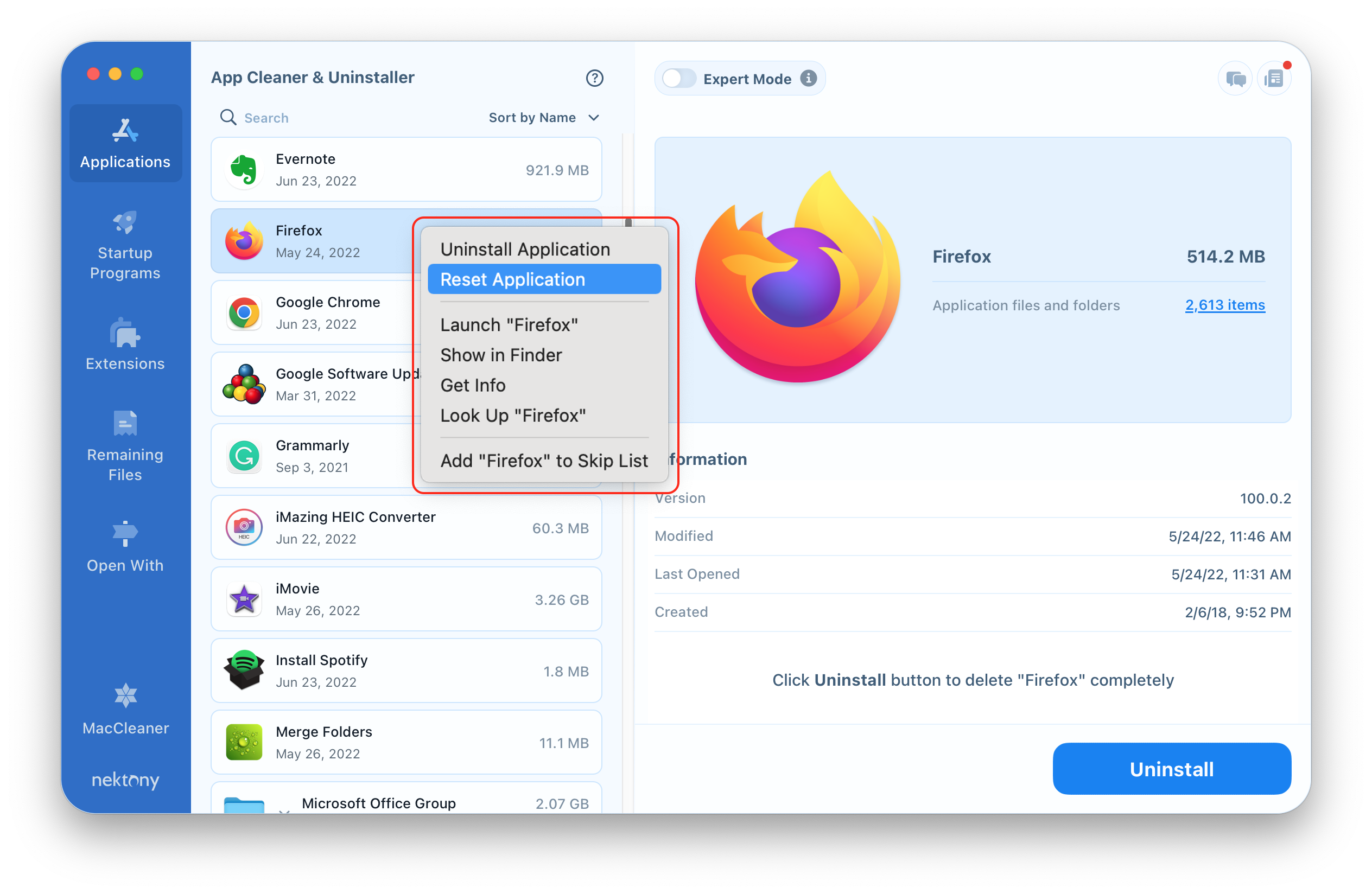 ---
Conclusion
We showed you two ways to uninstall the popular web browser Firefox. Once again, note that the manual method takes up much more time than the automatic way. The App Cleaner & Uninstaller helps to do this task in less than a minute effortlessly.