Tor's speed is slow in comparison with Chrome or Safari. That's why many users then want to remove Tor from Mac. From this article, you will learn how to uninstall Tor Browser from your Mac entirely and correctly.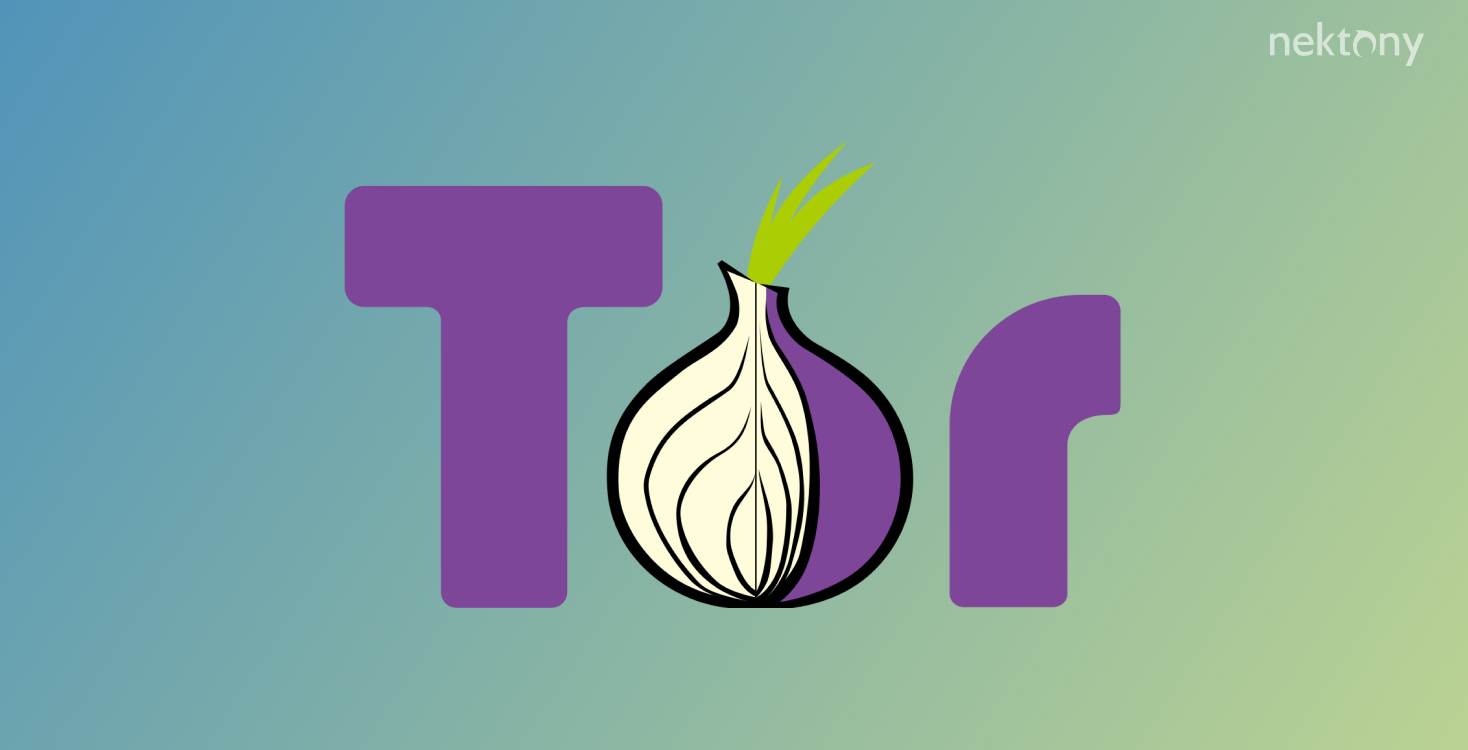 Contents:
Important notes and the methodology used to uninstall Tor browser from Mac
Each application on Mac creates tons of cache files. For their complete uninstallation, you need to find and remove its support files as well.
To automatically find applications' support files on Mac, we use special utilities from Nektony – App Cleaner & Uninstaller or Funter, that is designed to find hidden files on Mac.
This article will provide a complete guide on how to entirely uninstall Tor Browser from Mac with all of its caches and other support files.
If you have already removed Tor, you will learn how to check your Mac for Tor's remaining files.
---
What is Tor Browser, and why remove it?
Tor Browser is an open-source browser that hides the user's information about what websites he visits. It allows you to browse anonymously and confidentially. It disguises who you are and who you communicate with. Generally, it serves as a guarantor of the protection of your private data when you are online. There is also Tor Chrome Extension that allows using Tor ports while you are surfing the Internet.
Because of anonymous connection, many users prefer Tor instead of using popular browsers such as Chrome or Safari. However, many users claim that Tor Browser is slow and choose other ways to have a secure internet connection. If you want to uninstall the Tor Browser, follow one of the two methods described below.
---
How to uninstall Tor Browser from Mac manually
The manual method of application uninstallation consists of two steps. First, you need to remove the application's executable file. Then you need to get rid of its leftovers on your Mac.
Follow these steps to uninstall Tor Browser from Mac:
Quit Tor Browser. You can do it right from the Dock panel or go to the Tor's menu and select Quit Tor Browser.

Go to the Applications folder. Find and remove Tor Browser from there.
Now you need to find Tor's service files. They are stored in the hidden Library folder. To get to the Library, in Finder, press the Shift+Command+G shortcut and navigate ~/Library. The tilde sign before the folder's name means a reference to the home directory.

Once you got to the Library folder, check each subfolder in it for Tor's service files. Depending on the version of the Tor Browser installed on your Mac, file names may vary.

~/Library/Application Support/TorBrowser-Data
~/Library/Preferences/org.mozilla.tor browser.plist
or
~/Library/Preferences/org.torproject.torbrowser.plist
~/Library/Saved Application State/org.mozilla.tor browser.savedState
or
~/Library/Saved Application State/org.torproject.torbrowser.savedState


Note: some apps create caches and store them in folders outside the Library. Make sure there are no more leftovers on your Mac. You can use a free application from Nektony called Funter or App Cleaner & Uninstaller.
With Funter, you will need to search for Tor Browser's associated files using its name. Just type "torbrowser" in the search field and press Enter to start searching. Then select unneeded service files and remove them.


Once you remove all of Tor Browser's service files, empty your Trash. Now you can be sure that you uninstalled Tor from your Mac entirely.
With App Cleaner & Uninstaller removing Tor Browser with all of its support files is even easier. Keep reading to learn more about it.
---
How to uninstall Tor using App Cleaner & Uninstaller
App Cleaner & Uninstaller automatically scans all applications installed on your Mac and finds all their support files. All you need to uninstall applications completely is to select them and click to remove.
Steps on how to easily uninstall Tor Browser from Mac with all its support files:
Launch App Cleaner & Uninstaller.
Select Tor Browser.
Click the Remove button.
Confirm Tor Browser's uninstallation from your Mac.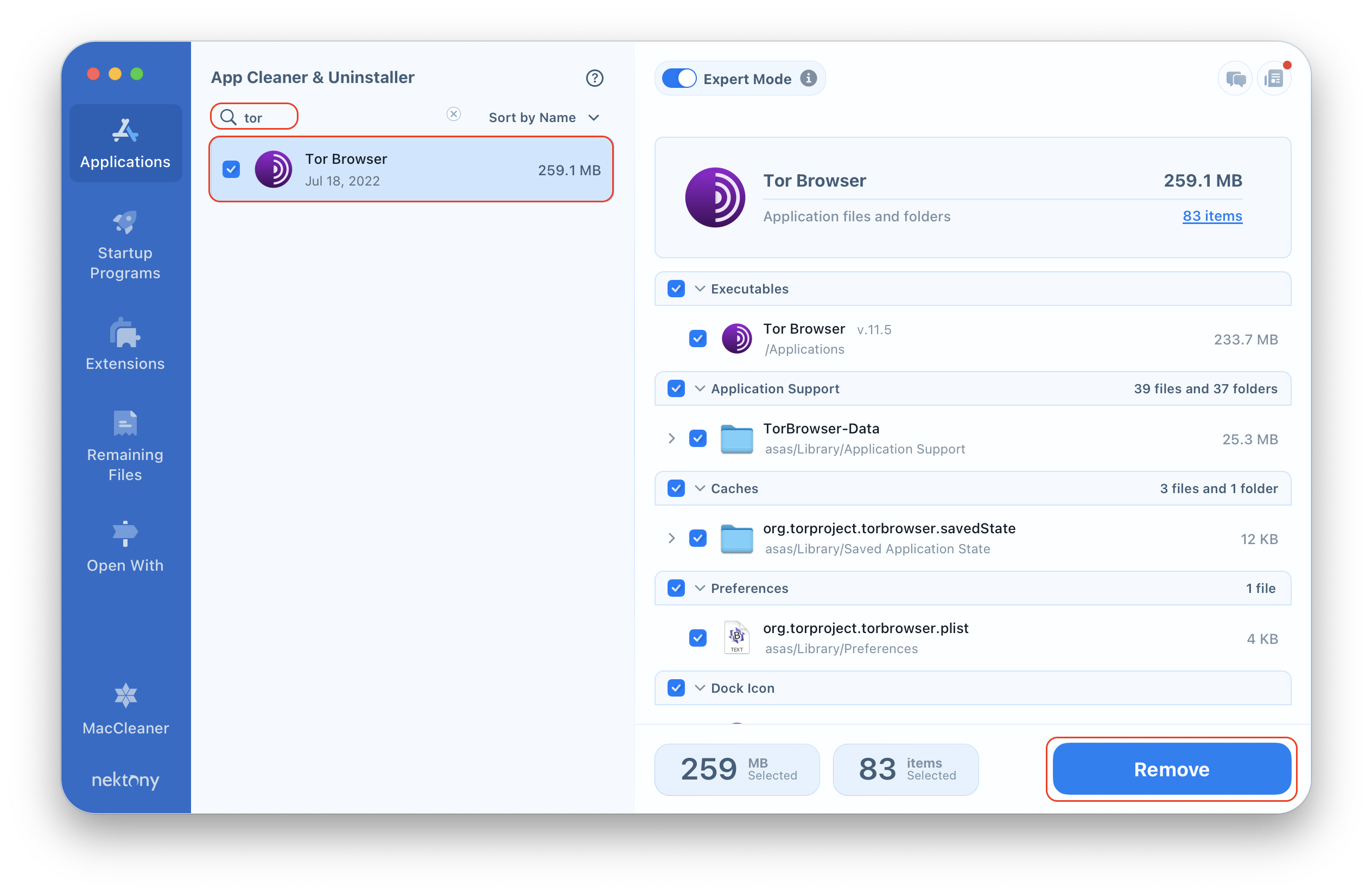 With App Cleaner & Uninstaller Pro you can see how much each program eats up disk space. The app allows you to delete service files, reset applications and even find leftovers of previously deleted files.
Suppose you have already manually removed Tor Browser, in App Cleaner & Uninstaller, switch to the Remaining Files section. Here you will see the list of all leftovers, including the leftover files of Tor Browser. Select and click to remove them.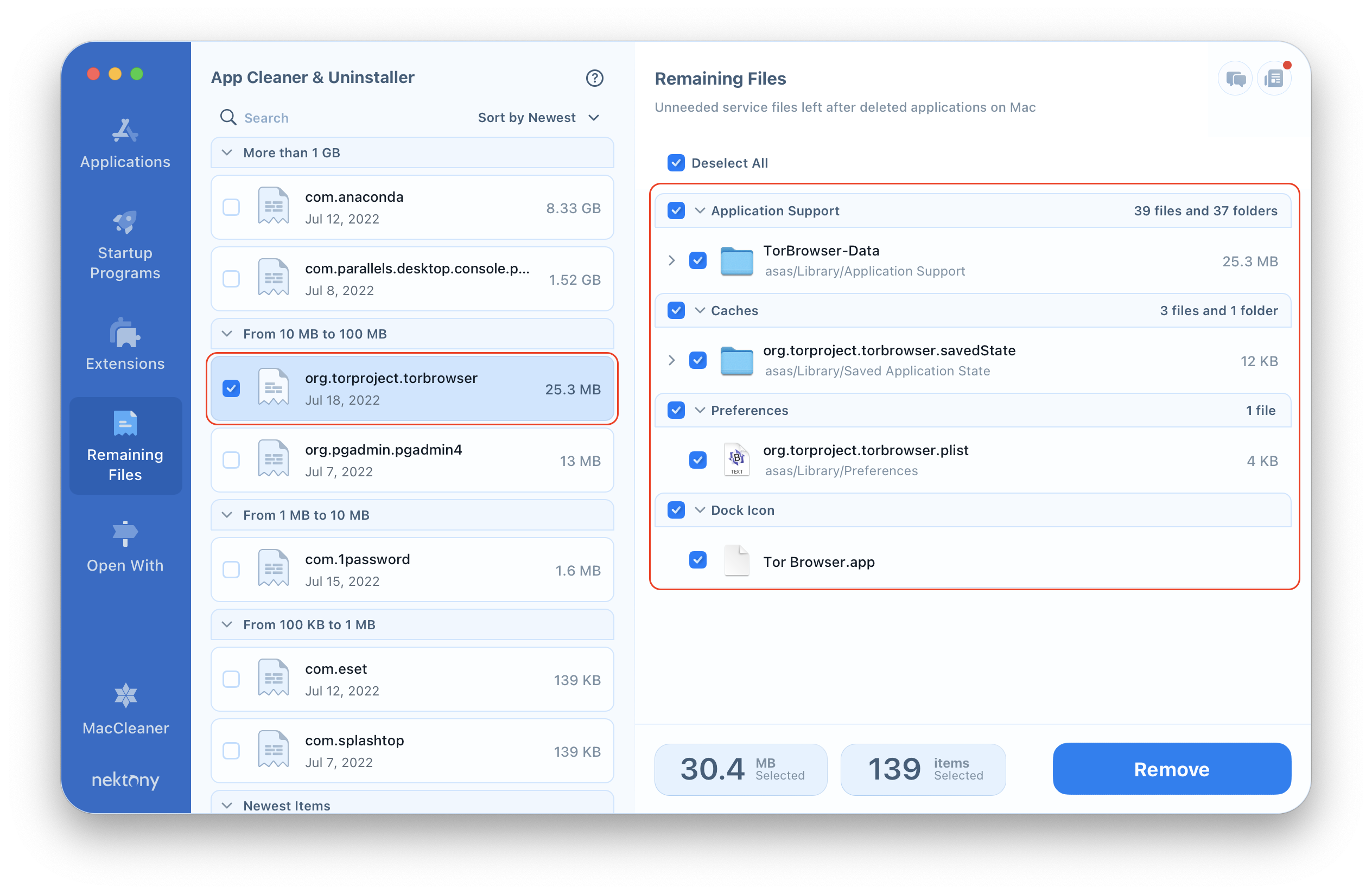 ---
---
Frequently asked questions about Tor Browser
Is browsing Tor illegal?

Protecting your privacy is not against the law. In some countries, including the USA, it's partly funded by the government as part of internet freedom programs. However, in some countries, using Tor may be prohibited. You should check the legitimacy of Tor in each country separately.
Is TOR a VPN?

When you use a VPN, your data gets encrypted, and your provider routes your connection through the server in the location you choose. When using Tor browser, your connection is also encrypted, but it is routed through a random sequence of servers run by volunteers.
Is Tor browser safe?

Browsing anonymously itself is a great way to protect the user's privacy. However, Tor Browser is open-source software and works with an open network of servers run by volunteers. That's why it can be unsafe to use Tor Browser.