Lots of current messengers have a desktop version for the user's convenience. WhatsApp is not an exception – it has a WhatsApp Web client for Mac. You can easily install it and synchronize it with your smartphone to be in touch on both devices. But if for any reason you want to delete WhatsApp on your Mac, this article will help you. Learn two ways on how to uninstall WhatsApp from Mac completely.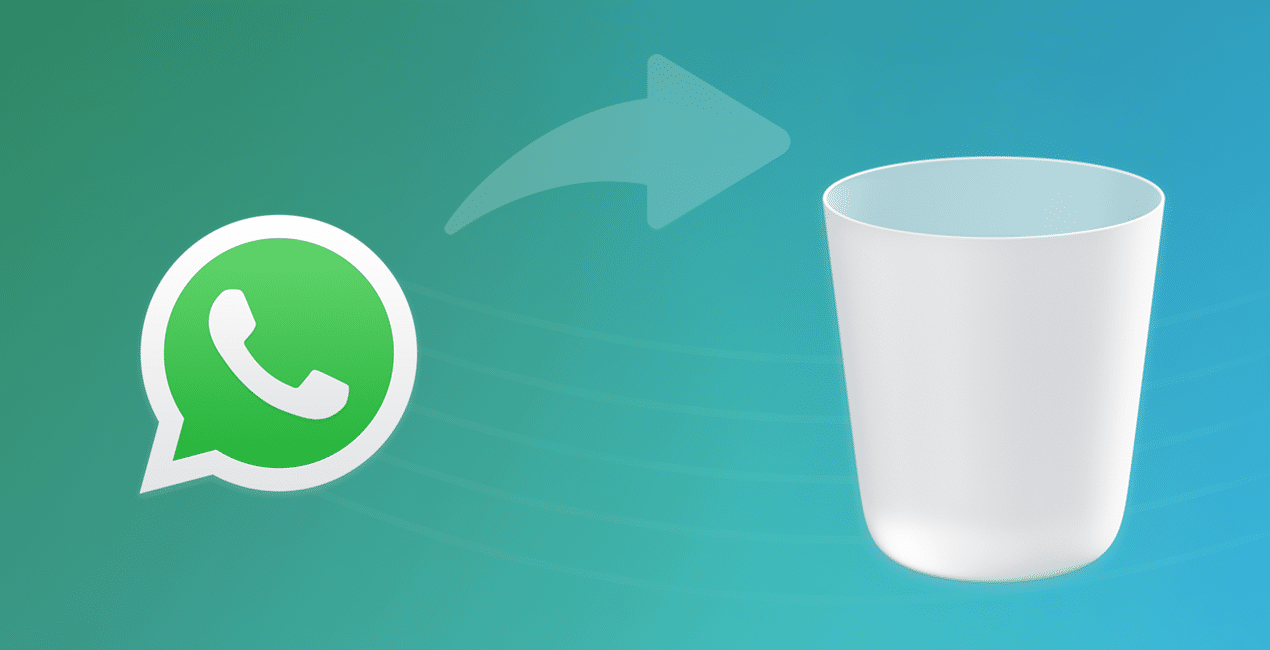 Contents:
Important notes about uninstalling WhatsApp from Mac
As you know, applications create additional files in system folders for proper functioning. Unfortunately, when you delete an app's executable file from your Mac, all its service files remain on your computer. Therefore, for a complete uninstallation, you cannot simply drag and drop WhatsApp into the Trash. You also need to remove all of the WhatsApp service files.
Before writing this article, we checked WhatsApp's official website for a removal guide and didn't find any solution. That's why we decided to provide a complete guide on how to uninstall WhatsApp from Mac correctly.
In this article, we used App Cleaner & Uninstaller to find WhatsApp remaining files. However, we also will explain how to find them manually.
Nektony's team has been developing Mac cleanup utilities for 10+ years. We are experts in all the questions about uninstalling third-party applications and clearing junk files on Mac. If you have any questions, feel free to contact our support team. We will be happy to assist you.
Tip 1: How to quickly uninstall WhatsApp from Mac
If you don't have time for learning the manual method and need a quick solution to completely uninstall WhatsApp, use special software called
App Cleaner & Uninstaller
. This uninstaller will automatically detect all of WhatsApp service files and uninstall the messenger completely with a few clicks. Click this
link
for a free download.
---
How to uninstall WhatsApp from Mac manually
It is not complicated to remove the WhatsApp Mac client. However, it takes some time because you need to find and remove WhatsApp's service files manually.
Steps on how to manually uninstall WhatsApp:
Quit WhatsApp.
Go to the Applications folder and remove WhatsApp from there. You can drag and drop it into the Trash or select Move to Trash in the context menu.
Now you need to remove WhatsApp's service files. They should be stored in the Library folder, which, by default, is hidden to prevent accidental deletion of useful system files. To open the Library folder, in Finder, press the Command+Shift+G shortcut and navigate the ~/Library location.


Here in the Library folder, find and remove all files associated with WhatsApp. Check the following paths:

~/Library/Application Support/WhatsApp/
~/Library/Caches/WhatsApp/
~/Library/Saved Application State/WhatsApp.savedState/
~/Library/Preferences/WhatsApp.plist/
~/Library/Preferences/WhatsApp.Helper.plist/
~/Library/Logs/WhatsApp/

Please, be careful and remove only the files that are related to the WhatsApp application. Removing important system files might damage your system.
Once you remove all of WhatsApp support files, empty your Trash bin.
If you have removed all of WhatsApp service files, then the messenger is wholly removed from your Mac. However, note that some applications might spread their files all over the disk. Even after finding support files in the Library, we recommend that you check other locations on Mac for remaining files. You can check your Mac for WhatsApp remaining files using a free tool from Nektony called Funter. Funter allows you to search for hidden files on Mac by a file name. Here is how to use Funter:
Launch Funter.
Click on Funter's icon in the toolbar.
In the search field type whatsapp and press Enter.
Funter will show you the list of all files, including hidden files, which contain the search word in their names.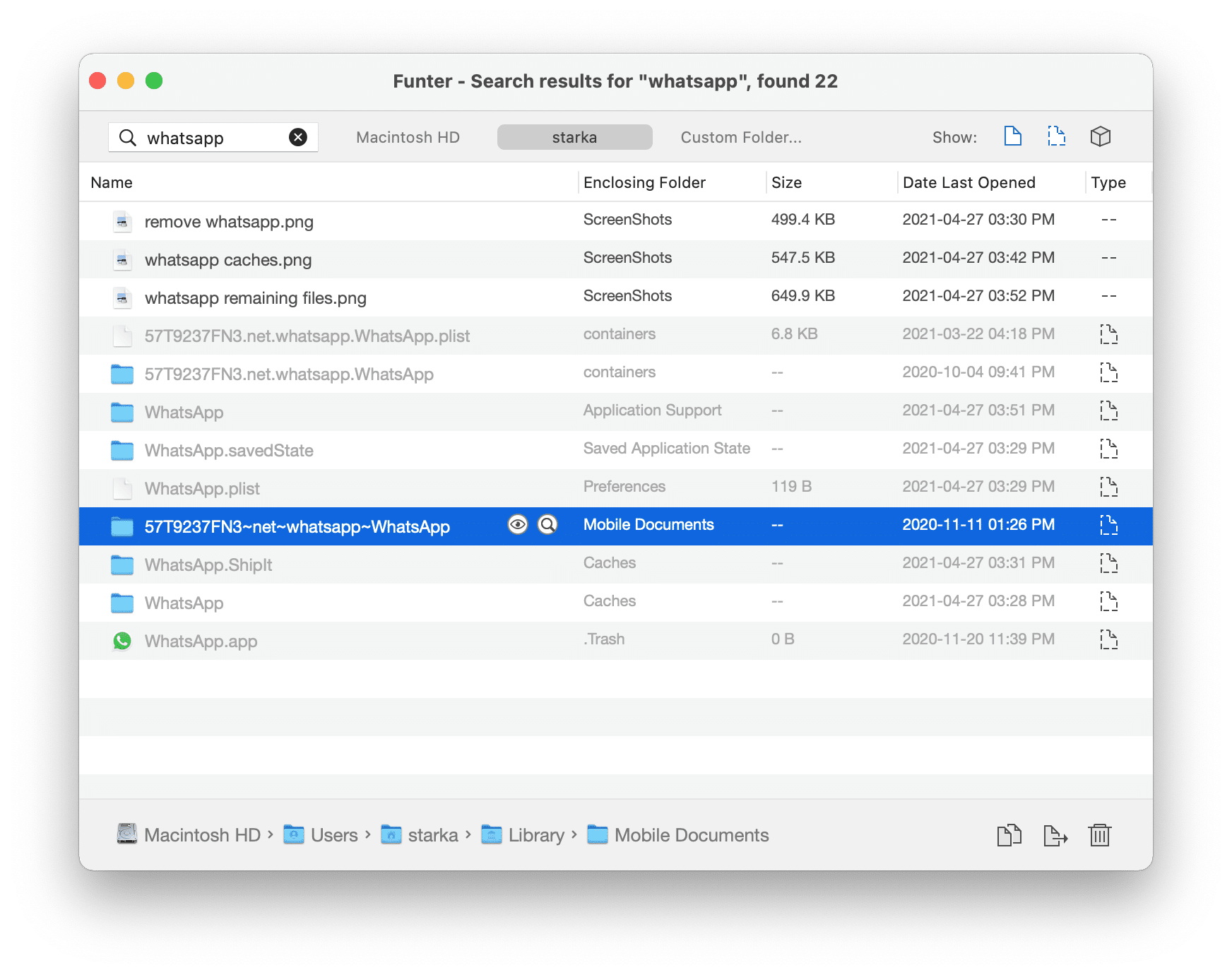 Once again, you can search for applications' service files manually, and you can use Funter. It is important to remove all of WhatsApp's service files for its entire removal. However, the easiest way to uninstall applications and check a Mac for remaining files is to use App Cleaner & Uninstaller. Keep reading. We will share the guide on how to use it to uninstall WhatsApp with a few clicks.
---
How to uninstall WhatsApp using App Cleaner & Uninstaller
App Cleaner & Uninstaller is a special software which helps to completely and automatically uninstall applications from Mac with all of their support files. If you are afraid of accidentally removing critical files on your Mac and you need an easier and safer uninstalling method, App Cleaner & uninstaller is the best solution for you. It supports more than 1K applications for complete removal from Mac.
Even if you have already deleted applications into the Trash, you can check your Mac for their remaining files. We will explain how to do this. But first, let's see how to use App Cleaner & Uninstaller to remove WhatsApp.
Steps on how uninstall the WhatsApp Web desktop client from Mac:
Quit WhatsApp.
Launch App Cleaner & Uninstaller.
Select WhatsApp from the list of applications. In the Expert mode, you can see the list of all of its support files.
Click the Remove button. If you use the simple mode, click the Uninstall button.
Confirm the uninstallation.
If you have deleted WhatsApp manually, switch to the Remaining Files section. Here you will find WhatsApp leftovers and other previously removed applications' remains. Select unneeded files and remove them.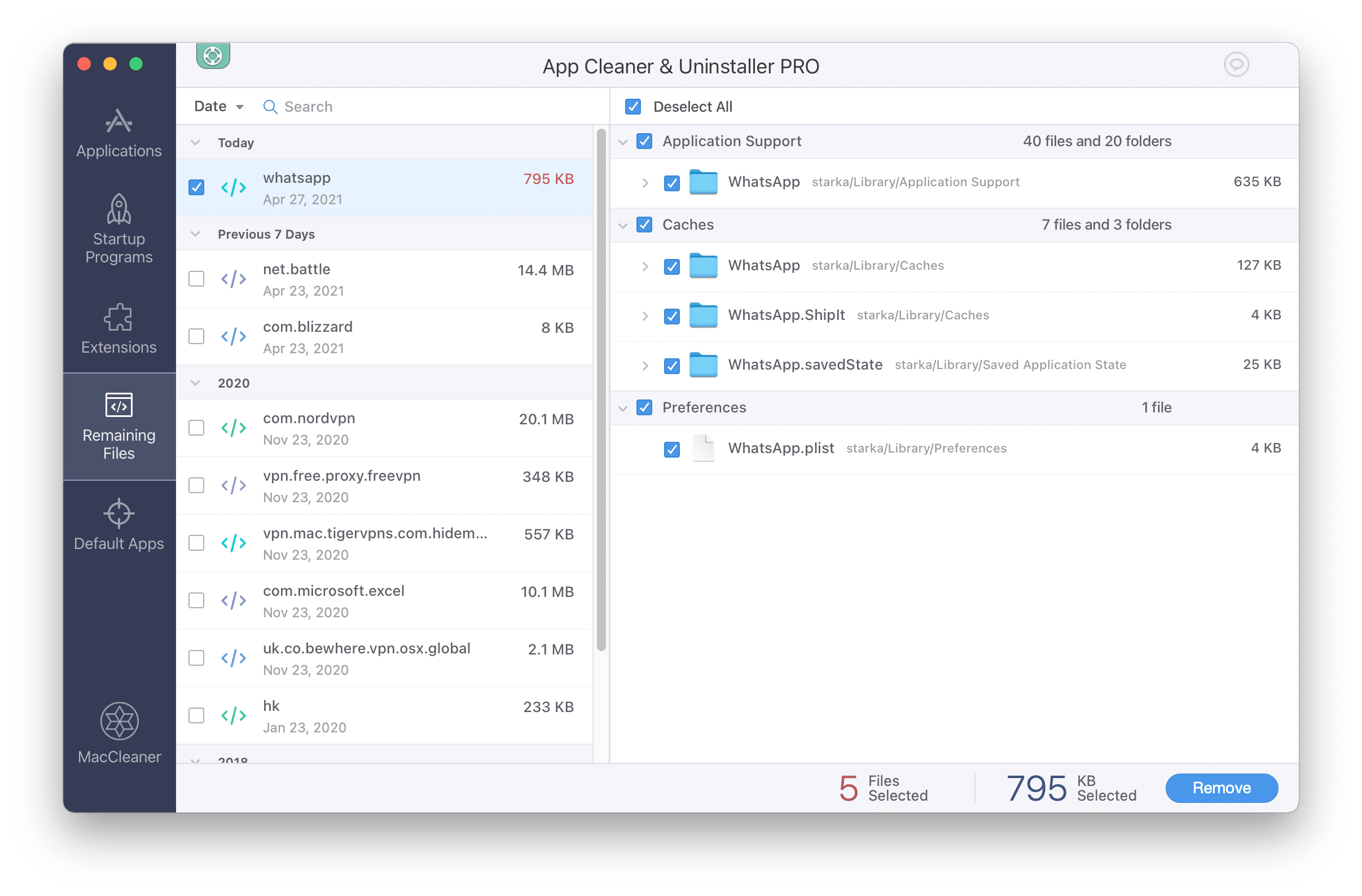 That's all! Easy and fast, as we promised.
---
Conclusion
You can uninstall the WhatsApp Mac app manually or automatically. It's up to you which method to use. The only thing you should keep in mind is to remove its service files and uninstall the application completely. Do not leave useless fragments of applications because they take up space on your Mac. The easiest and safest way to uninstall WhatsApp or other applications from Mac is to use App Cleaner & Uninstaller from Nektony. It provides a free trial for 7 days with unlimited features.