Storage space on Macs can be a struggle to manage, as many of the models come with smaller disk capacities than is comfortable in this age of 4K movies and high-definition photos that can soon fill up a drive. That's why it's a very good idea to use a software storage manager that can quickly and easily find and remove large files which are taking up too much room or haven't been used in years.
Here we will compare two of the best on the market – DaisyDisk and Disk Space Analyzer – to see which one you should choose to keep your storage space in order.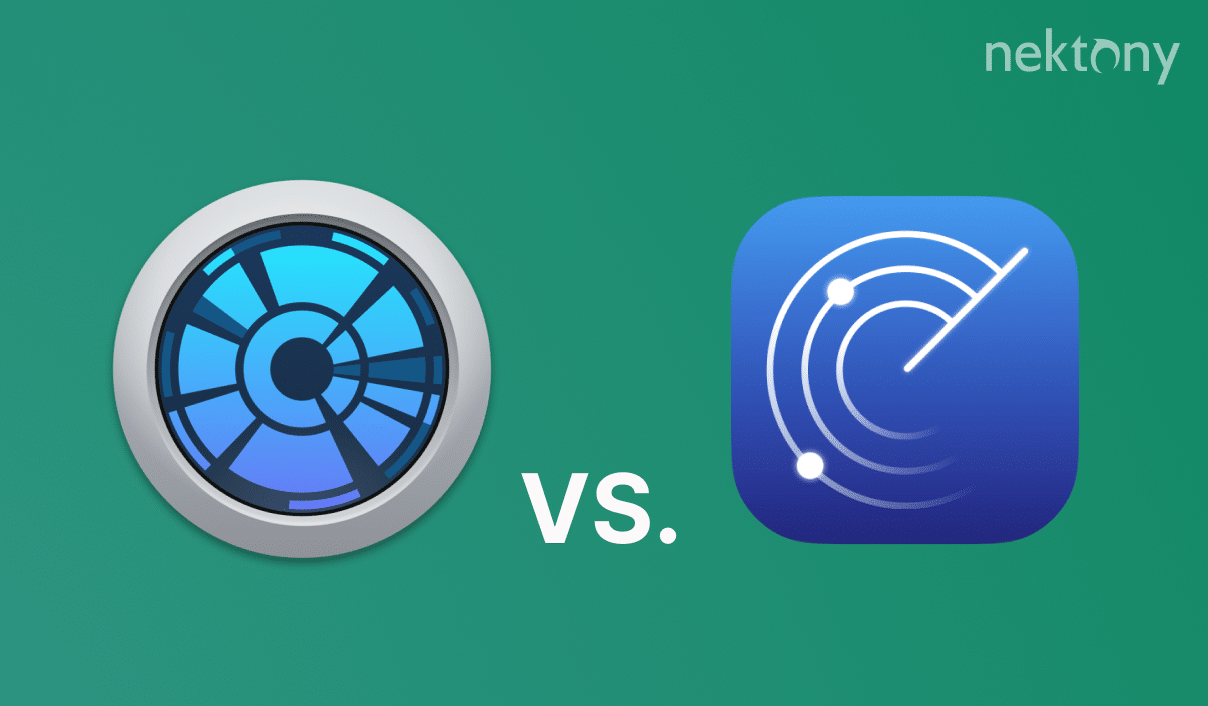 Contents:
---
DaisyDisk Review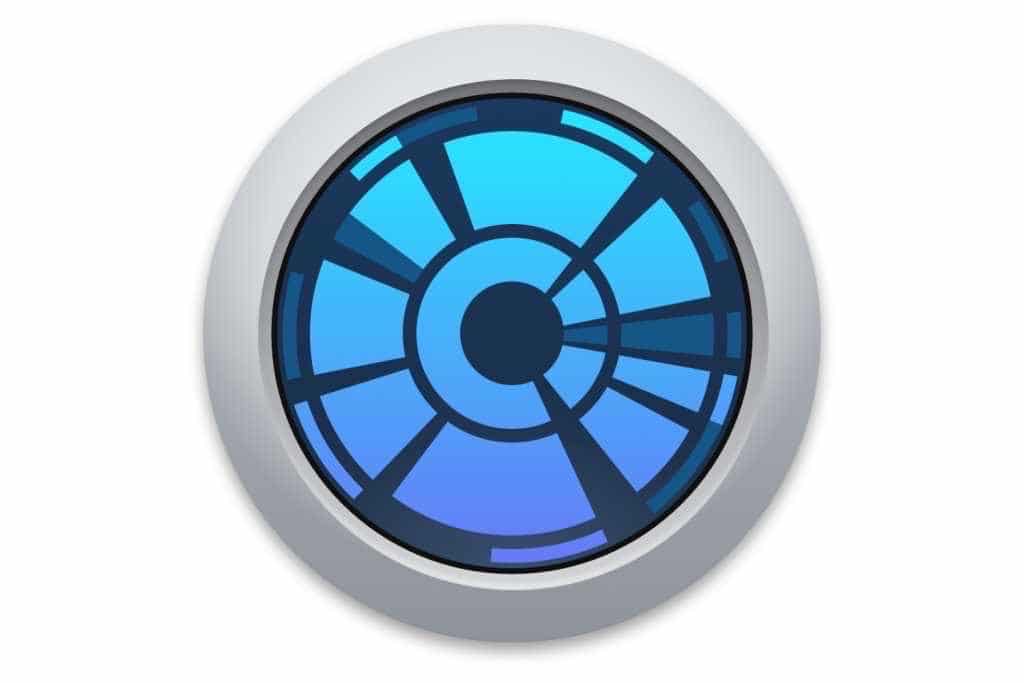 Price: $9.99
Free trial: Yes, with feature limitations
Distribution: Direct from DaisyDisk website or through the Mac App Store
Requirements: macOS 10.10 or later (legacy versions available for earlier)
How does DaisyDisk work?
DaisyDisk has a modern interface, in that it displays the contents of your hard drive in a circular graph that has colour coded segments of different sizes which represent the folders and data (Users, Library, System etc.). The larger the segment, the more space it takes up on the drive. Clicking on each segment reveals information about the contents, with individual sub-folders and files shown in a new circular graph so you can quickly see what's using the most storage.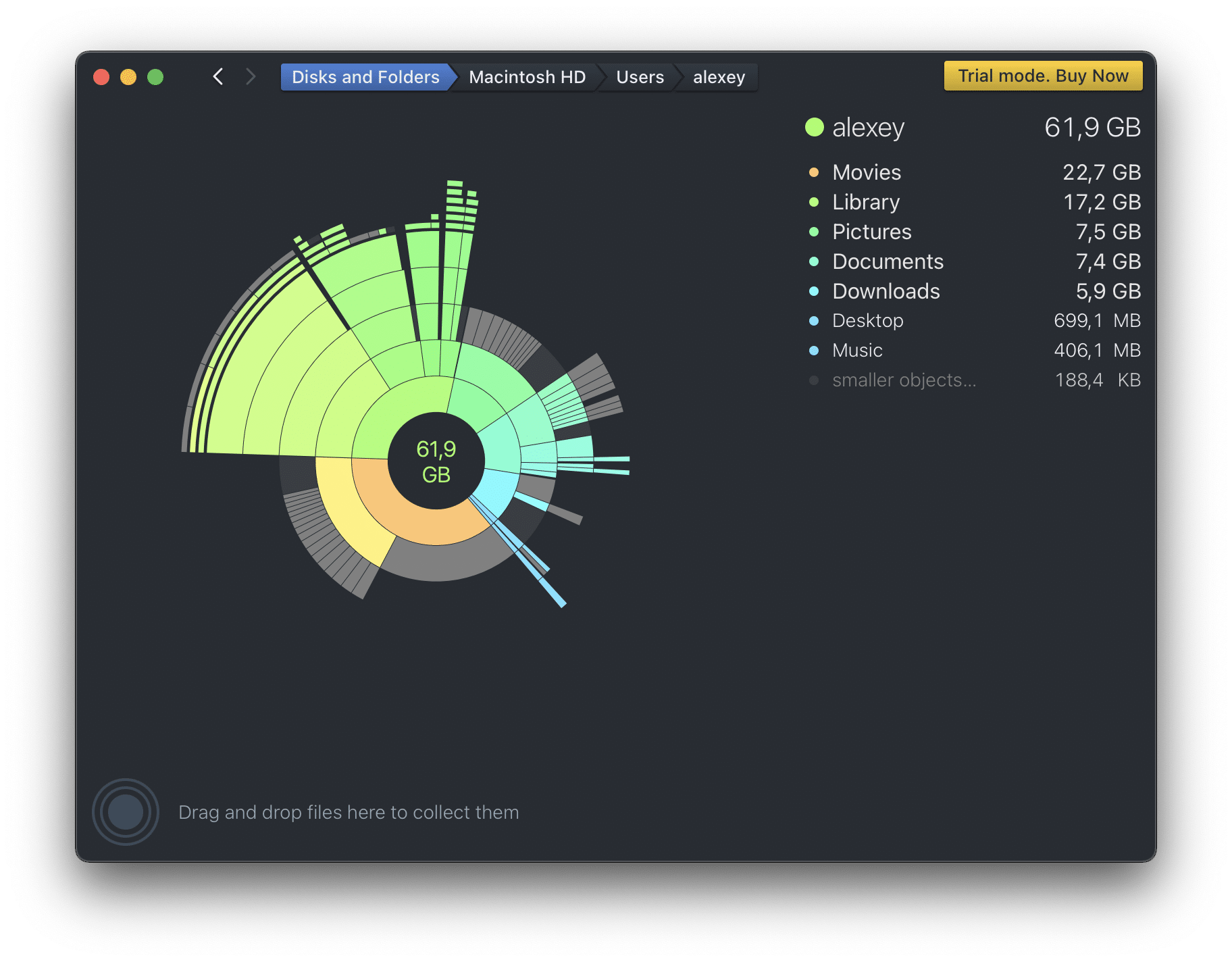 To help make sense of it all, there's also a list in the upper right corner that breaks down the contents of any segment you select, with the names of files, folders and their relevant sizes.
A nice touch is that you can simply drag and drop segments into an area in the lower left, where they will be held until you want to get rid of them all by clicking the Delete button. This makes it easy to prune the contents of your hard drive without having to repeatedly delete individual files. It also means that you can review the collected items before dispensing with them and remove any that you decide you want to keep. Each file can be previewed before you add it to the pile, just to make sure you're not about to delete something that you're mistaking for something else.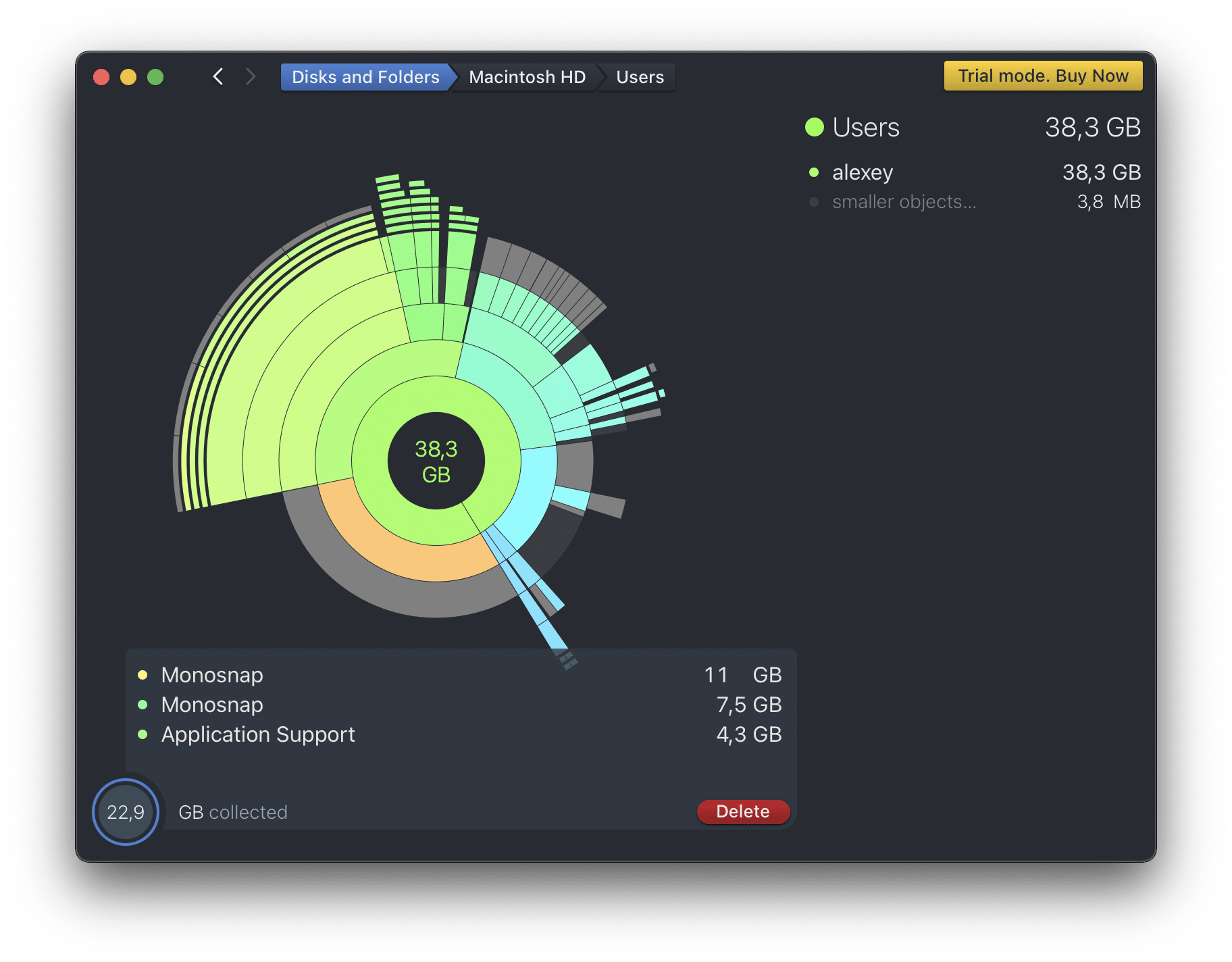 DaisyDisk is a powerful and well designed tool that can help you manage your internal hard drive as well as a range of external storage mediums, including Thunderbolt, HDD, SSD, flash and network drives.
It's intended very much as a manual app, in that there are no automated processes that will clear space for you. Instead you can use the interface to track down the largest offenders and quickly remove them to reclaim space.
Is DaisyDisk safe?
DaisyDisk is a well-known, popular app that's available on the Mac App Store and has been notarized by Apple. The developers, Software Ambience Corp, have been around for a while now and also offer a selection of other apps to use on the Mac. So, yes, DaisyDisk is a safe app.
Is DaisyDisk worth it?
With a one-off payment of $9.99, DaisyDisk is certainly an affordable way to optimise your Mac storage. The licence also entitles you to install the app on up to 5 different Macs that use your Apple ID. It's a solid combination that makes DaisyDisk good value for money.
DaisyDisk main Characteristics:
Modern graphical interface
Fast performance
Affordable
One-off purchase
Works with a range of external storage devices
Pros:
✓

Easy to identify large files and folders

✓

Quick preview of files

✓

Available limited trial version

✓

M1 Silicon compatible
Cons:
𐄂

No automated cleaners

𐄂

Mac App Store version has reduced features
---
Disk Space Analyzer review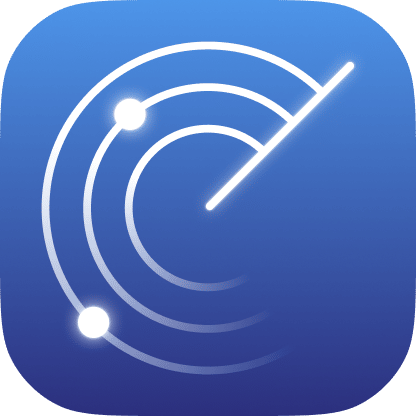 Price: $9.99
Free trial: Yes, with full options available
Distribution: Available as a direct download from the Nektony website or on the Mac App Store
Requirements: macOS 10.10 or later
As with DaisyDisk, Disk Space Analyzer opts for a circular graphical interface to display the current state of storage on your drive. Alongside the internal hard drive of your Mac, the app will also happily scan and manage attached USB drives, CDs, DVDs, flash storage and even cloud storage solutions.
When the application starts, you will see all existing disks and the most frequently filled folders, click on the Start Scan button to see the entire contents of the disk or folder. The drive name will be shown on the left side of the main screen, with the 'sunburst' graph in the centre and a breakdown of the folders by size on the right. The latter has two sections – Outline and Biggest Files – the first of which shows the folders and their sizes, while the other presents the largest files across all the drive or the section you've selected.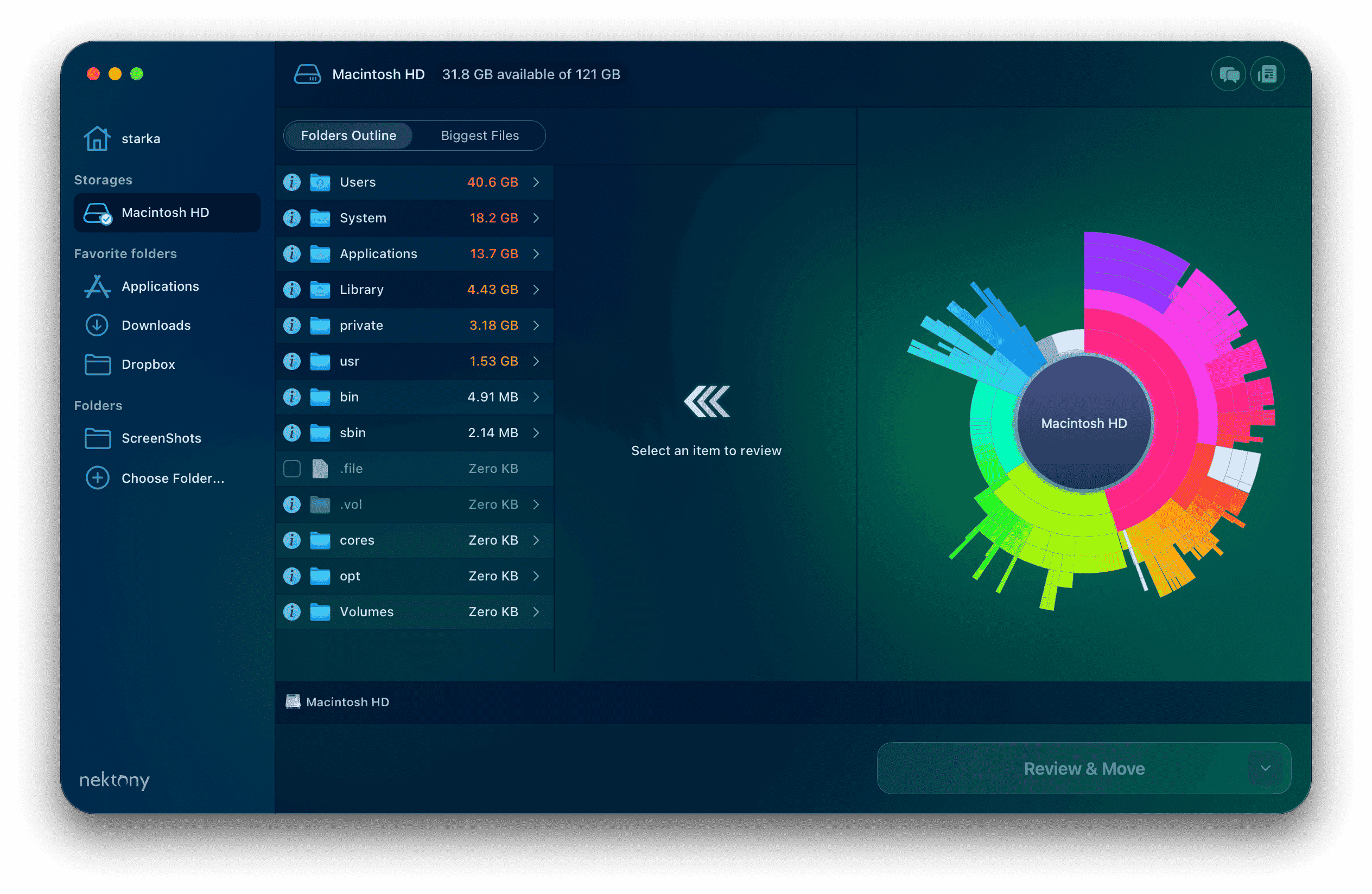 Moving the cursor over a segment will show a pop-up box with additional information, including its size, name and last time it was modified. Click on the segment and you move down a level to see all of the sub-folders and files displayed in another sunburst graph, with the list of the contents in the right column again displayed in descending order by size.
You can select files or folders and drag them to the section at the bottom of the right column. These will then be stored until you decide what to do with them. It's a similar arrangement to DaisyDisk, but with Disk Space Analyzer you have additional options. Not only can you delete the files, but there's also the ability to copy or move them to another location or storage medium. This gives you more control over your files, and makes it easy to quickly redistribute them across all of your storage options without having to delete any in the process. This is particularly useful if you need to create space on your hard drive, but don't have time to look through all the files to work out which ones you may require later.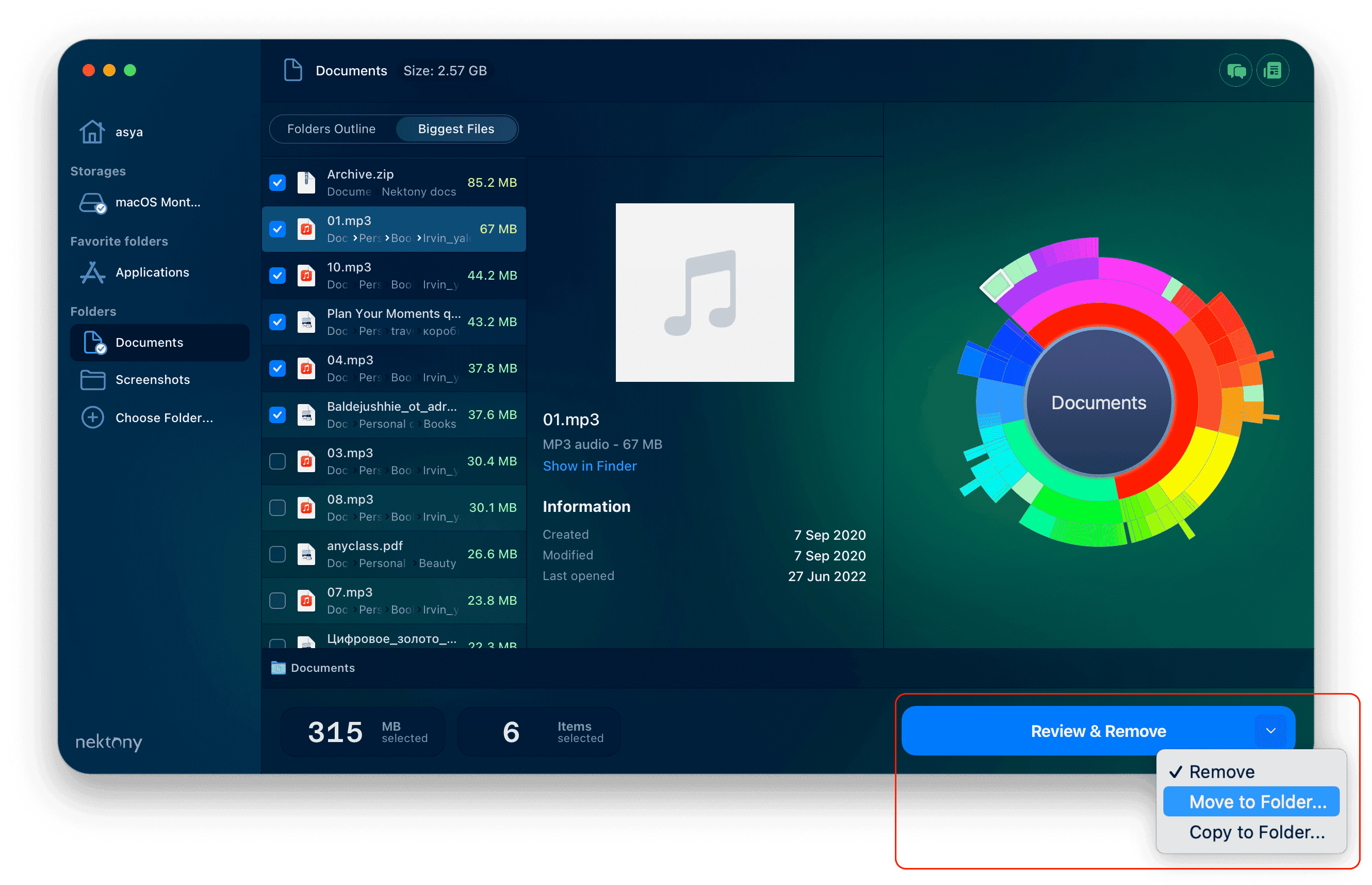 There's also the option to highlight a file then tap the space-bar to trigger the Quick Look feature that lets you preview the contents. This is another great way to eliminate any mistakes where you could delete a wrong file with a similar name.
If there are folders that you want to manage on a regular basis, you can create a Favourites Folder link to it which will live in the left hand column. This gives you instant access to it when using the app, so you can keep on top of particular areas of your hard disk that might fill up quickly.
Disk Space Analyzer can handle a large range of files, including scanning for hidden system items and those protected by FileVault. It also has a feature where it can clear out purgeable space on your disk that's created when the macOS Optimise Storage option is enabled.
With a comprehensive collection of features, Disk Space Analyzer is an essential tool that works quickly and efficiently to help you manage your storage.
Is Disk Space Analyzer safe?
Disk Space Analyzer is one of the many apps available from the well respected Nektony developers. It's Apple-notarized and can also be purchased in the Mac App Store, so you know that it's a quality product that's free from malware or any other hidden dangers.
Is Disk Space Analyzer worth it?
For the minimal outlay of $9.99, you get a powerful cadre of tools honed to keep your hard disks and other storage media free of clutter and space-wasting files. Should you want even more control over your system, you can move up to the MacCleaner Pro package, which includes Disk Space Analyzer as well as five other apps from Nektony that can automatically clear your drives, hunt down duplicate files, keep your RAM working at its optimum performance and uninstall apps cleanly – all fo $29.95 per year.
Disk Space Analyzer main characteristics
Clean and modern design
Scans drives quickly
Range of file management options
Great value
One-time purchase
Fully featured free trial
Pros:
✓

Sunburst interface makes it easy to see large files and folders

✓

Favourites link for quick access to regularly used folders

✓

Delete, copy or move files

✓

Quick Look to preview files

✓

M1 Silicon compatible

✓

Can scan for hidden system files

✓

Works with FileVault protected files

✓

Able to clear purgeable space
Cons:
𐄂

Mac App Store version has reduced features
---
Mac Cleaner Software Comparison Chart
Features
Disk Space Analyzer
DaisyDisk
Scans Mac hard drive
✔
✔
Scan external storage (including cloud)
✔
✔
Deletes selected files
✔
✔
Copies or moves selected files
✔

–

Works with Hidden System files
✔
✔
Clears Purgeable space
✔
✔
Displays contents of disks and folder
✔
✔
Preview files
✔
✔
Works with M1 Silicon Macs
✔
✔
Lists largest files across multiple folders
✔

–

Copies or moves selected files
✔

–

Free Trial
✔ (fully-featured)




✔ with limited features

(you can browse the sunburst disk map but cannot delete found files)

Price
$9.99 (per year)
$9.99 (one-time)
---
Conclusion: which Mac disk storage manager is the best?
Both DaisyDisk and Disk Space Analyzer are well equipped to help you remove large files that are taking up room on your hard drive or attached storage media. Either can perform their scans and present you the results quickly and accurately. The ability for the user to collect files together in a holding space, where you can then review and delete in one go, is a real time-saver. Disk Space Analyzer has the advantage here though, as it provides the ability to move or copy those files rather than just delete them, plus the split layout of Outline and Biggest Files makes it more efficient when it comes to tracking down the worst 'space-hoggers'.
We're sure that you'd be more than satisfied with either app, but thanks to those subtle tweaks mentioned above, we think Disk Space Analyzer is the winner here. The good thing is that you can try a fully-featured trial of Disk Space Analyzer for free, so you can test it out for yourself before spending any money.