Help
Memory Cleaner
Monitor memory usage
Memory Cleaner scans your system regularly and shows the memory usage for each application that is used.
Launch Memory Cleaner and find the memory indicator in the menu bar.

In the RAM monitor, you can see the amount of free RAM, the size of the RAM being used and the amount of memory occupied by active applications. General memory usage is displayed both by percentage and in GB.
Click Memory Cleaner icon to see the size of memory in use.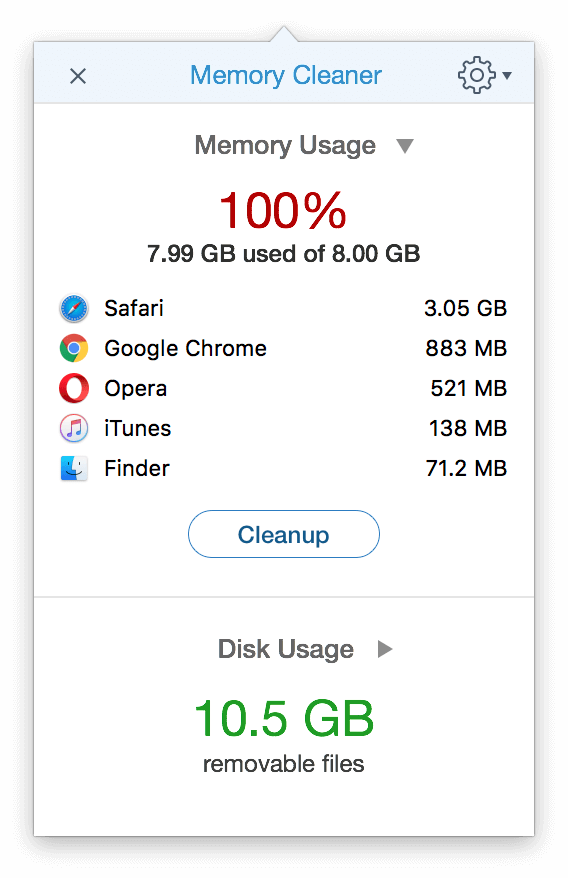 ---
Clean up memory
Memory Cleaner allows you to clean up your RAM memory, which in reality is free, however, the system shows it as occupied by apps. Just check the indicator periodically. If the amount of used memory reaches its peak point, click "Cleanup". After the cleaning process you will see the amount of cleared memory in the window and the time of the last cleanup.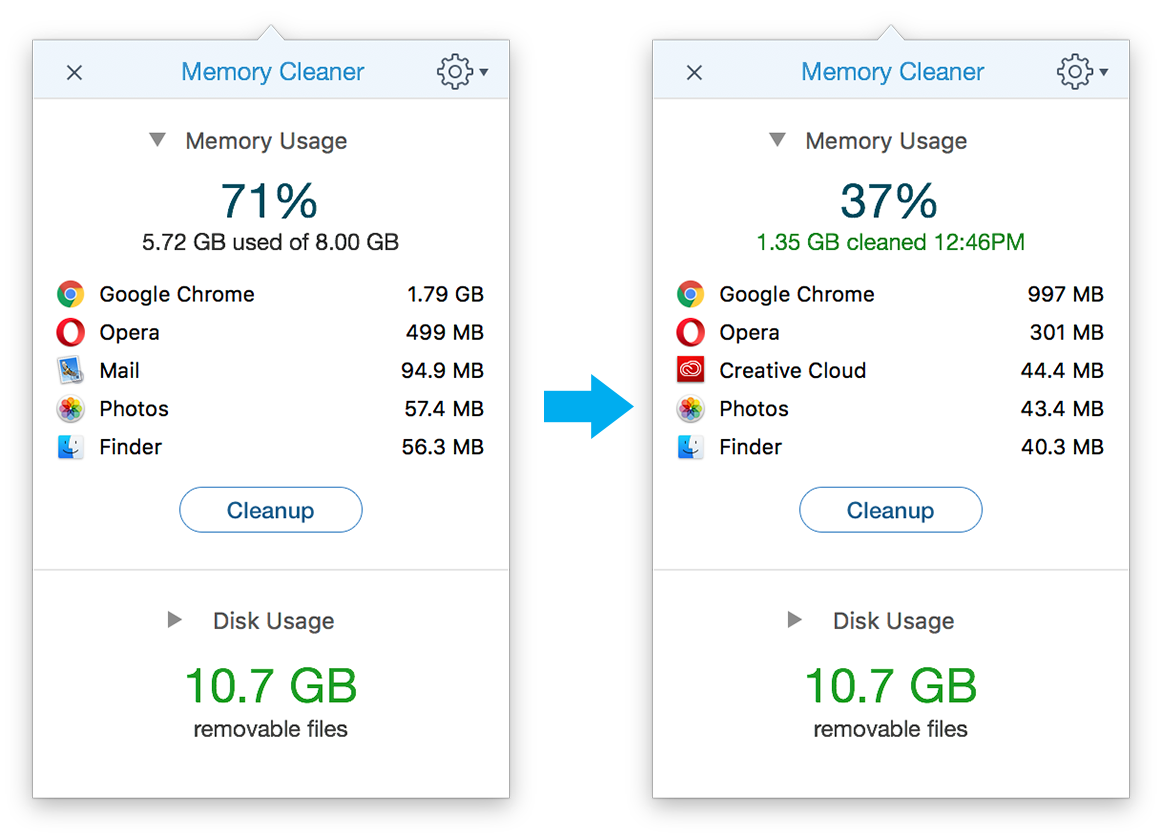 If you have freed enough memory, then go on with your work. Sometimes all of your RAM may be used for active processes and it is impossible to clear enough memory. In that case, close unused applications and then click Cleanup once more. By performing these two simple steps, your Mac will always have to operate at a high speed.
---
Automatic cleanup mode
Memory Cleaner allows you to setup an automatic cleaning of your inactive memory. You can change the settings in Preferences.
Go to Settings and select Preferences.
Enable the option "Clean up memory automatically."
Select a Frequency based on how often you would like the cleanup to occur. Move the cursor on the line.
rarely – every 8 hours
normally – every 40 minutes
often – every 1-2 minutes
​Memory is cleared automatically when all the specified conditions of this option are met at the same time.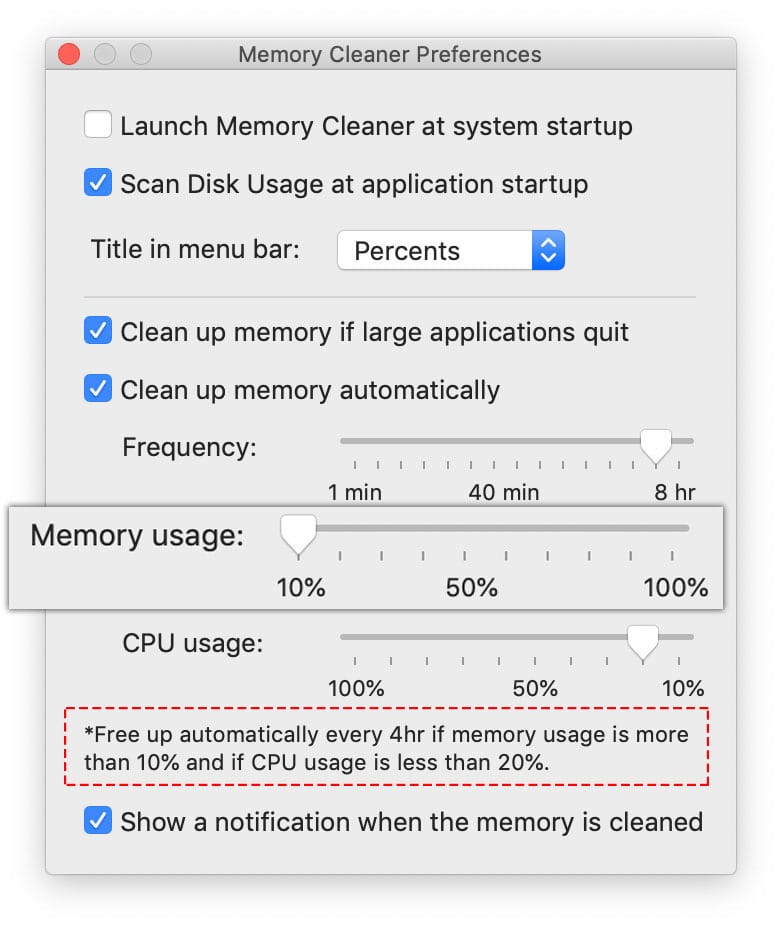 Here, in the preferences window, you can also enable the option "Clean up the memory of large applications quit." It will be useful to everyone who often uses such apps such as iMovie, iTunes, MS Word, Excel, and others.
---
Fast and soft cleanup
There is one more useful feature in Memory Cleaner, which is displayed below the Memory usage list. It is your Disk usage.
You may have a large number of junk files, duplicates, and caches that take up most of the space on your hard drive. You can find and delete all these unneeded files quickly and easily with this app, as Memory Cleaner synchronizes with other Nektony Cleanup tools.
Click on the Review button to find smart tips on how to free up disk space on your Mac with cleanup apps. You can follow these smart tips and clean up your Mac manually. Also, you can Download MacCleaner Pro from Nektony and you will be able to delete the caches, logs, downloads, duplicates and other unnecessary files automatically.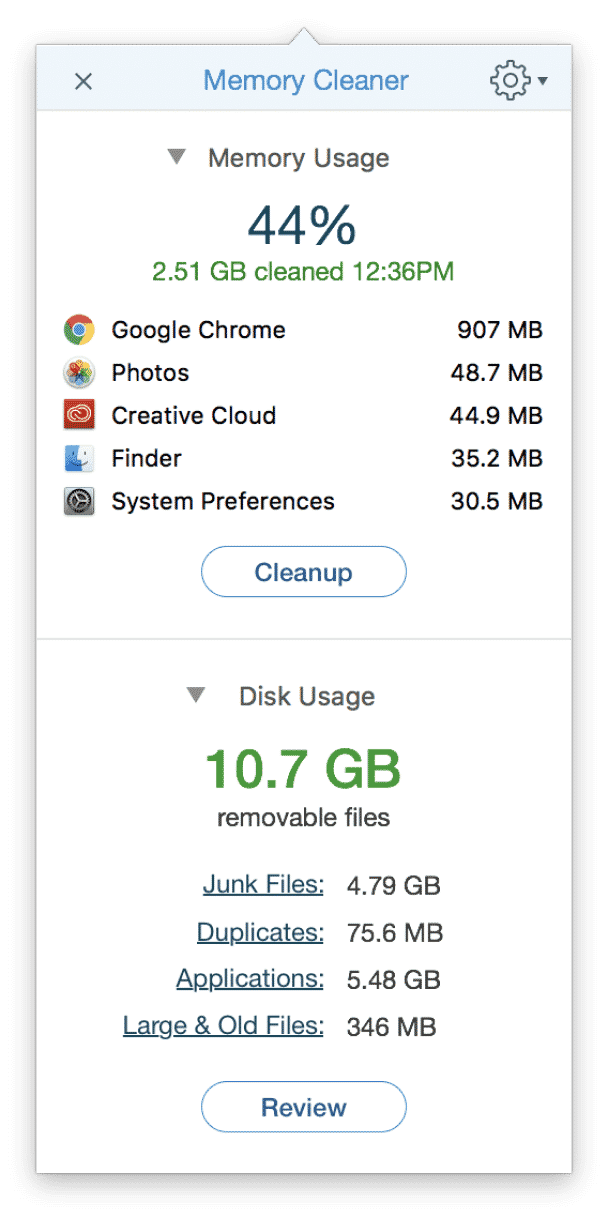 In the fast Cleanup tabs, you can see the size of the junk files, duplicates, unused biggest files and unused applications that can be removed from your hard drive with Nektony's applications.