Many Mac users experience Bluetooth connection issues on macOS, especially on macOS Monterey.
This article explains what to do when Bluetooth is not available on your Mac, how to open Bluetooth settings, and how to fix it when Bluetooth is not turning on your Mac.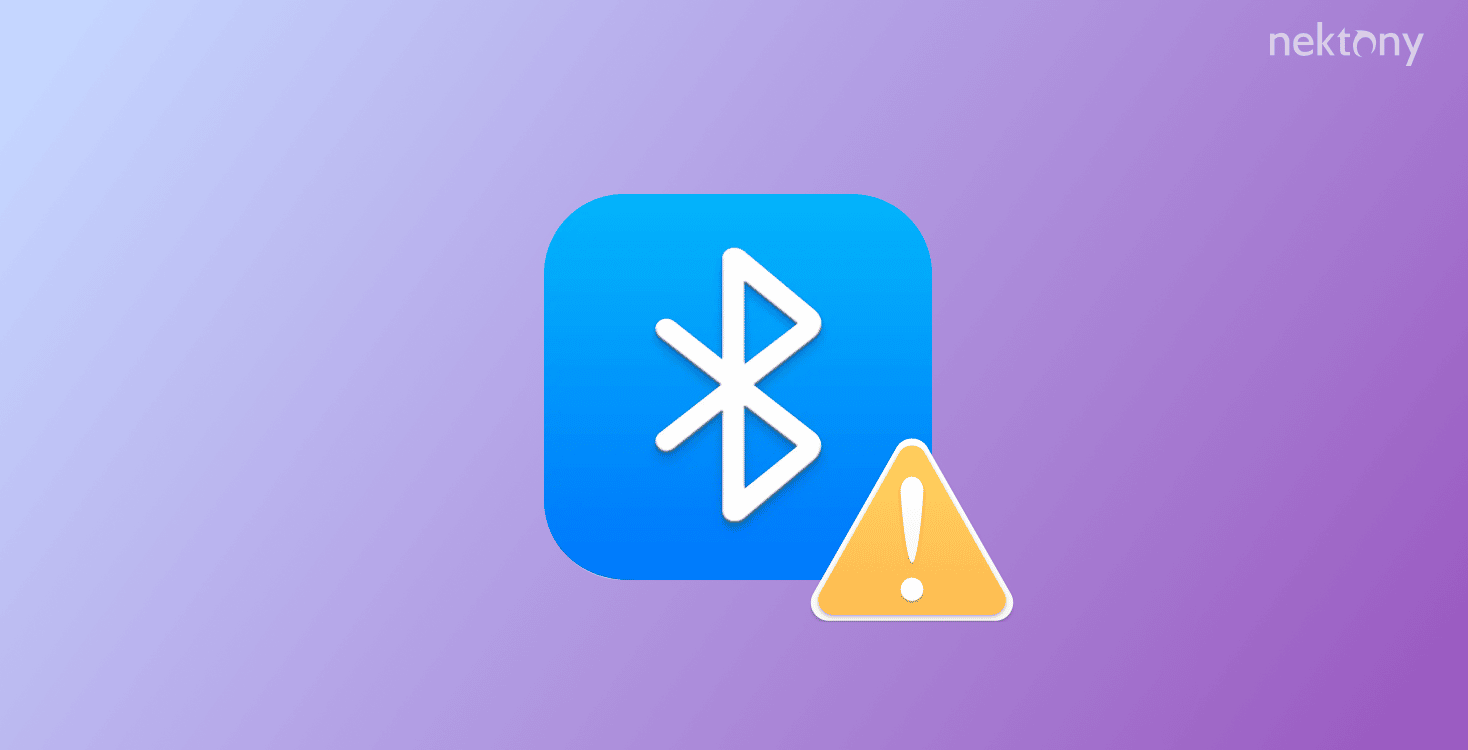 Contents:
Tip – How to prevent issues on Mac, including problems with Bluetooth
Below, we will explain what to do when Bluetooth won't turn on on your Mac. But first, we want to remind you that performing regular Mac system cleanup will help you to optimize your computer's performance and protect it from system issues, including issues with your Bluetooth.
You can clean up your Mac and optimize its performance with the software application MacCleaner Pro. This program will help you to remove all junk files from your Mac with just a few clicks.
MacCleaner Pro
How to turn on Bluetooth on a Mac
All modern Mac computers have a built-in Bluetooth module. And this means that Bluetooth on your Mac should work without installing any additional software. When your wireless keyboard or Apple Magic Mouse is not connecting to your Mac, first check whether Bluetooth is turned on. Here is how:
Click the Control Center icon in the menu bar.
Click Bluetooth in the drop-down menu.
Turn on Bluetooth using the toggle button.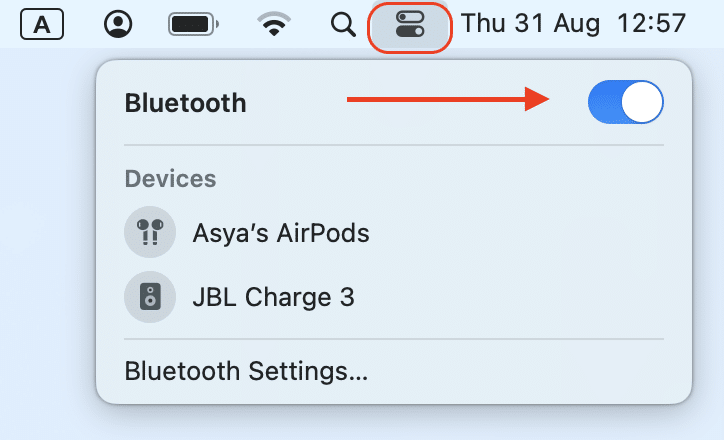 Once you enable Bluetooth, your Mac will start looking for Bluetooth devices and show them in this window. Choose the one you need from the list provided and click to connect.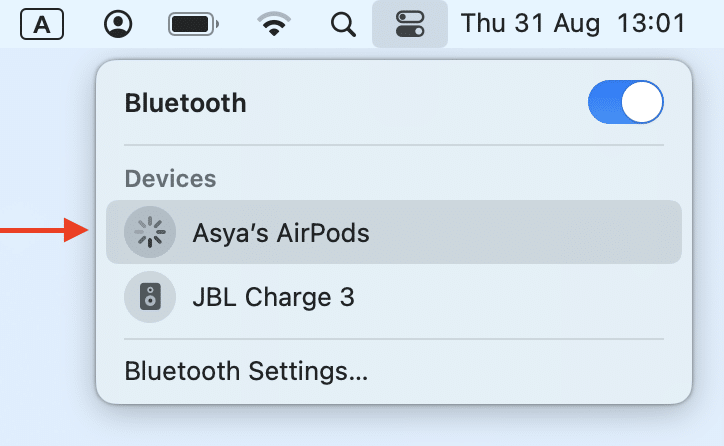 Another way to turn the Bluetooth on is to open System Settings, navigate Bluetooth settings and switch on the toggle button.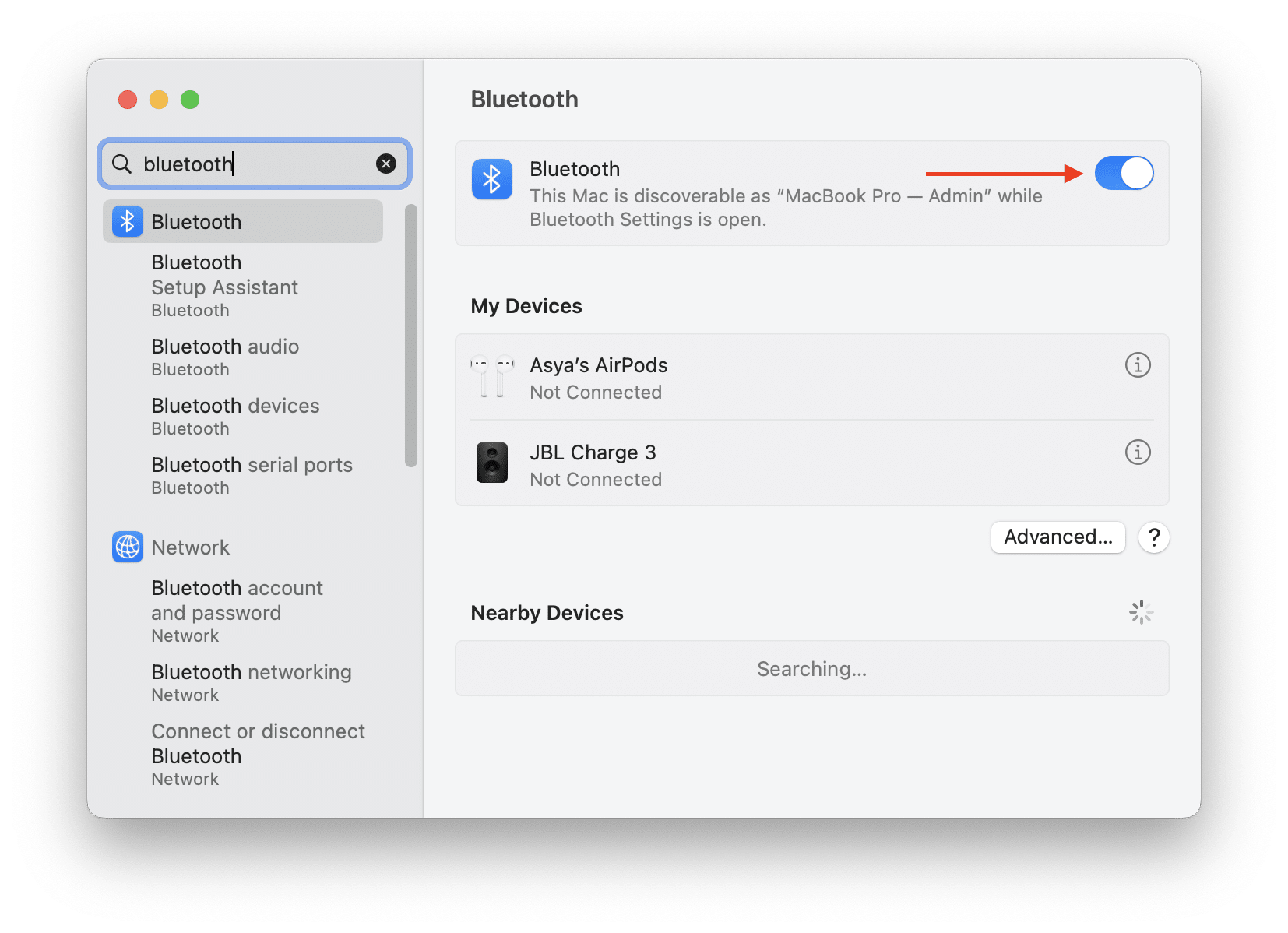 Also, if you use Siri, you can give her a command to turn on Bluetooth on your Mac.
---
Why won't Bluetooth turn on, and how to fix it?
The reasons why Bluetooth is not working can be divided into software and hardware problems. If your Bluetooth is turned on, but your Mac does not see the device, you need to check the following:
Check if the Bluetooth device is turned on. This sounds simple; however, you might have forgotten to turn the device on, or the power indicator may be broken.
Check if the device is charged. AirPods and other gadgets can ​​get discharged faster than you expect.
Check if your device works with other gadgets (phones, tablets, laptops) that support connection with Bluetooth.
Check if your Mac connects with other devices via Bluetooth.
If other devices and gadgets can connect and function stably, it's a Bluetooth problem on your Mac. Follow the tips below to fix the problem when Bluetooth is not turning on your Mac.
1. Restart Bluetooth
Try to turn Bluetooth off and on. It sounds too simple; however, in many cases, this has helped users recover the connection with a device. Click the Bluetooth icon in the menu bar and turn the toggle button on.
2. Reconnect USB devices
Try to disconnect all your devices and then reconnect them. Here is how to disconnect them:
Open Bluetooth Settings in the System Setting widnow.
Click to disconnect your device.
Restart your Mac.
Open Bluetooth settings again and connect your devices.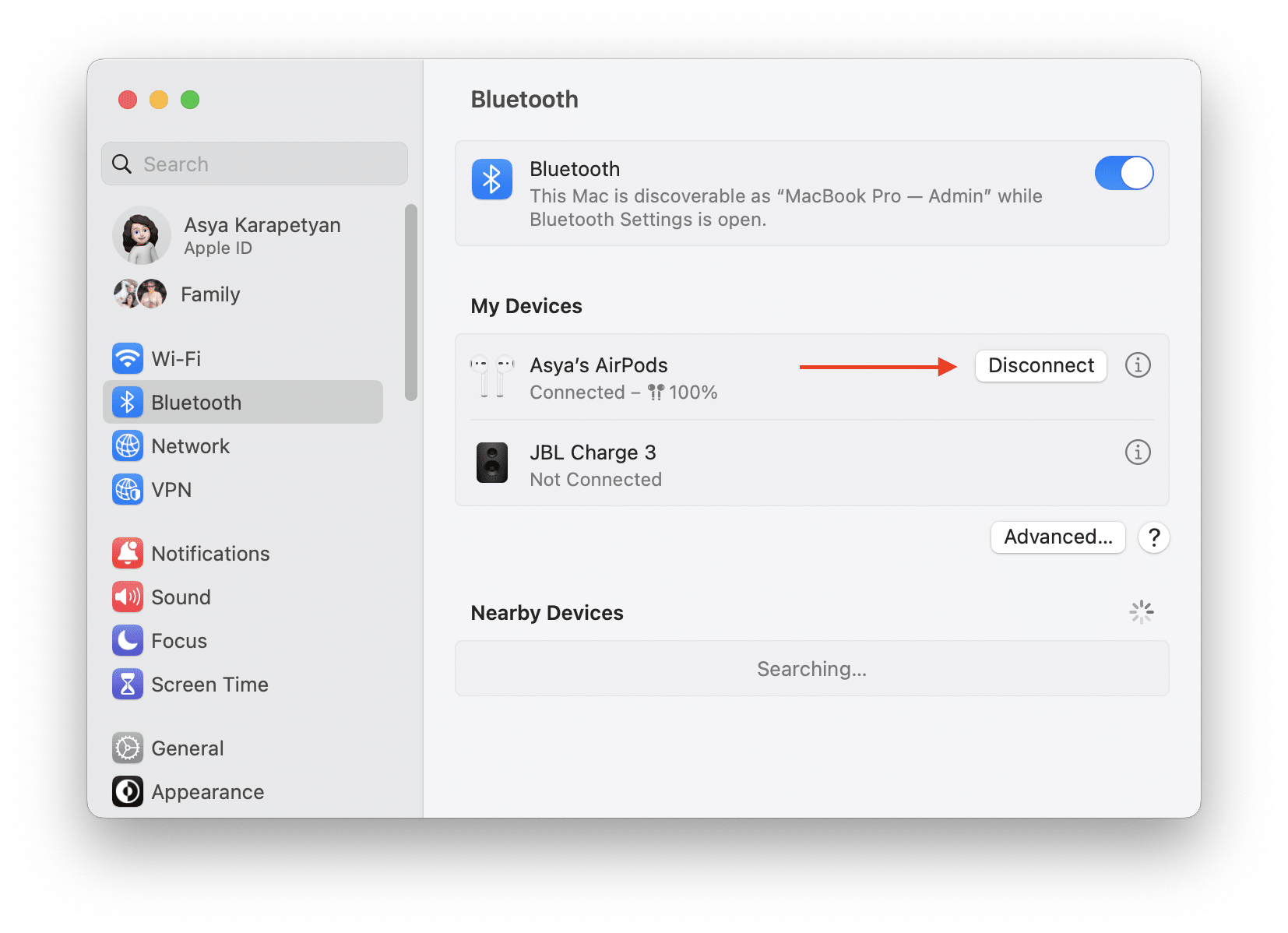 3. ​​Clear the Bluetooth .plist files
You may not know about these files, and you may never have cared about that. But now you should know that macOS automatically creates so-called .plist files that help the system to manage Bluetooth connections with other devices. Remove these files and let the system update them. This might help you fix Bluetooth issues.
Open Finder.
Press the Cmd+Shift+G shortcut.
In the search field, type ~/Library/Preferences/ByHost and press Return.
Here, find the com.apple.Bluetooth….plist file and remove it.
Restart your Mac.
Turn on Bluetooth.
Your system will automatically create a new Bluetooth .plist file and the issue should be solved.
---
Reset Bluetooth
Often, resetting the Bluetooth module can help you fix issues with the wireless connection to your devices. Depending on which macOS version you have, the steps to do this are different.
Here is how to reset the Bluetooth module on macOS Monterey:
Open a built-in Apple application called Terminal.
Copy and paste the following command in its window:


sudo pkill bluetoothd

Press Return (Enter) on your keyboard.
Enter your user password and press Return.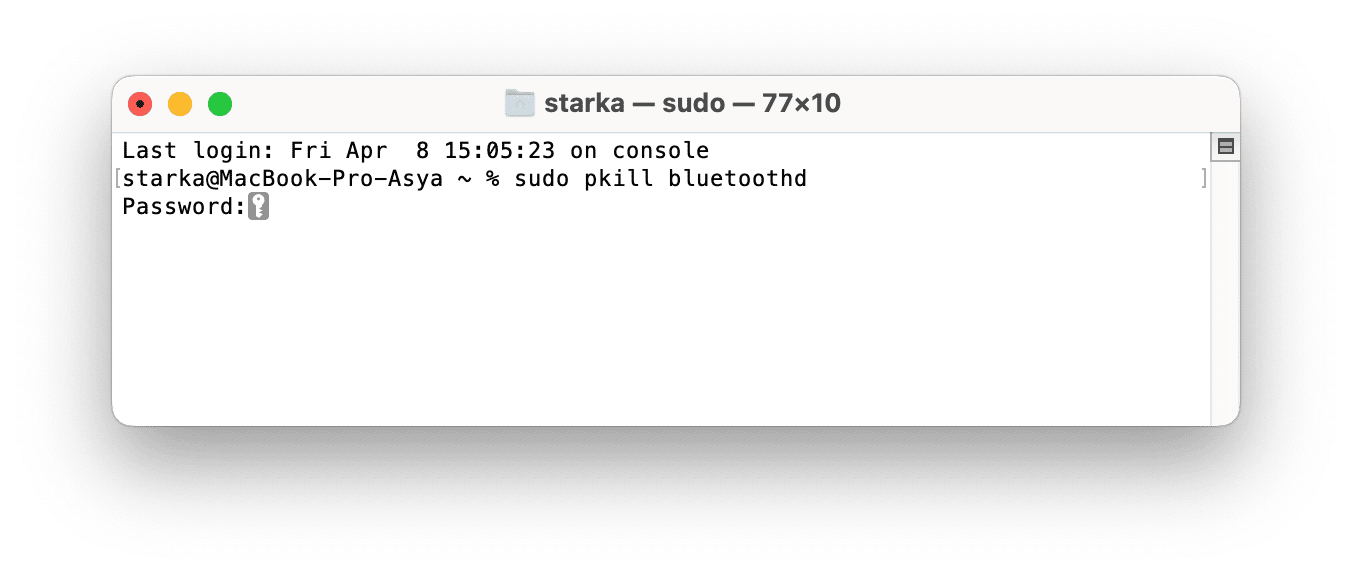 If you use an earlier version of macOS, resetting Bluetooth is much easier, and you don't need the command line for it.
How to reset Bluetooth on macOS Big Sur and earlier versions:
Press the Shift+Option keys and click the Bluetooth icon in the menu bar.
In the drop-down menu, click Reset the Bluetooth module.
Confirm by clicking OK.
Restart your Mac.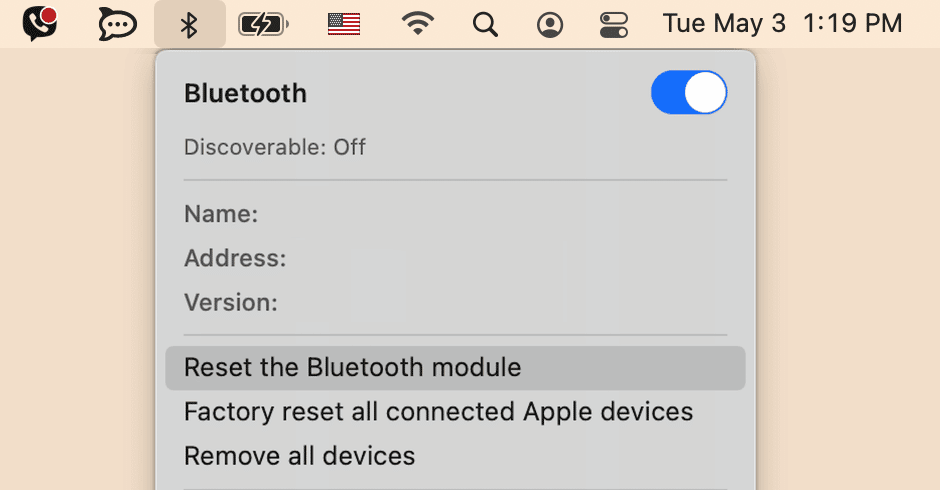 After these steps, Bluetooth should be working on your Mac.
Check your system for software updates
System bugs are possible even on macOS. For example, many users have complained about Bluetooth errors on macOS Monterey, and Apple has already fixed this bug. Please ensure your system is up to date and, if needed, update your system.
Open System Preferences.
Click Software Update.
If you see information that a new version of macOS is available, click the Upgrade/Update button.
Reset NVRAM
NVRAM stands for nonvolatile random-access memory. It stores macOS settings for quick operation tasks. Resetting NVRAM can help you fix many software issues, including Mac Bluetooth problems. Follow the steps below:
Shut down your Mac.
Press the Power button and immediately press and hold these four keys on your keyboard at the same time: Option, Command, P, and R.
After approximately 20 seconds, release the keys.
Your Mac will restart. Check the Bluetooth connection.
Reset SMC
SMC stands for system management controller, and it's responsible for many system processes, including Bluetooth connections. Try resetting the SMC when Mac Bluetooth won't turn on.
Note:
This option is not supported on M1 Macs. Apple's chip doesn't have an SMC.
If you have a MacBook, do the following to reset the SMC:
Disconnect everything but the power from your MacBook.
Press Shift+Control+Option + the power button and hold for 10 seconds.
If you have an iMac, follow these steps to reset the SMC:
Shut down your iMac.
Press and hold the power button for 10 seconds.
Restart your iMac.
The Mac computer will restart. Check if Bluetooth is working now.
Remove system junk files
As we mentioned above, junk files can cause system errors on your Mac. We recommend that you remove all junk, like caches, plugins, extensions, leftover files of previously deleted applications, and more. You can quickly find and remove all these files with MacCleaner Pro.
Download and run MacCleaner Pro.
Go to the Clean Up section.
Select all unneeded junk files.
Click to remove them and confirm the action.
Then run App Cleaner & Uninstaller from MacCleaner Pro and remove application leftovers with this tool.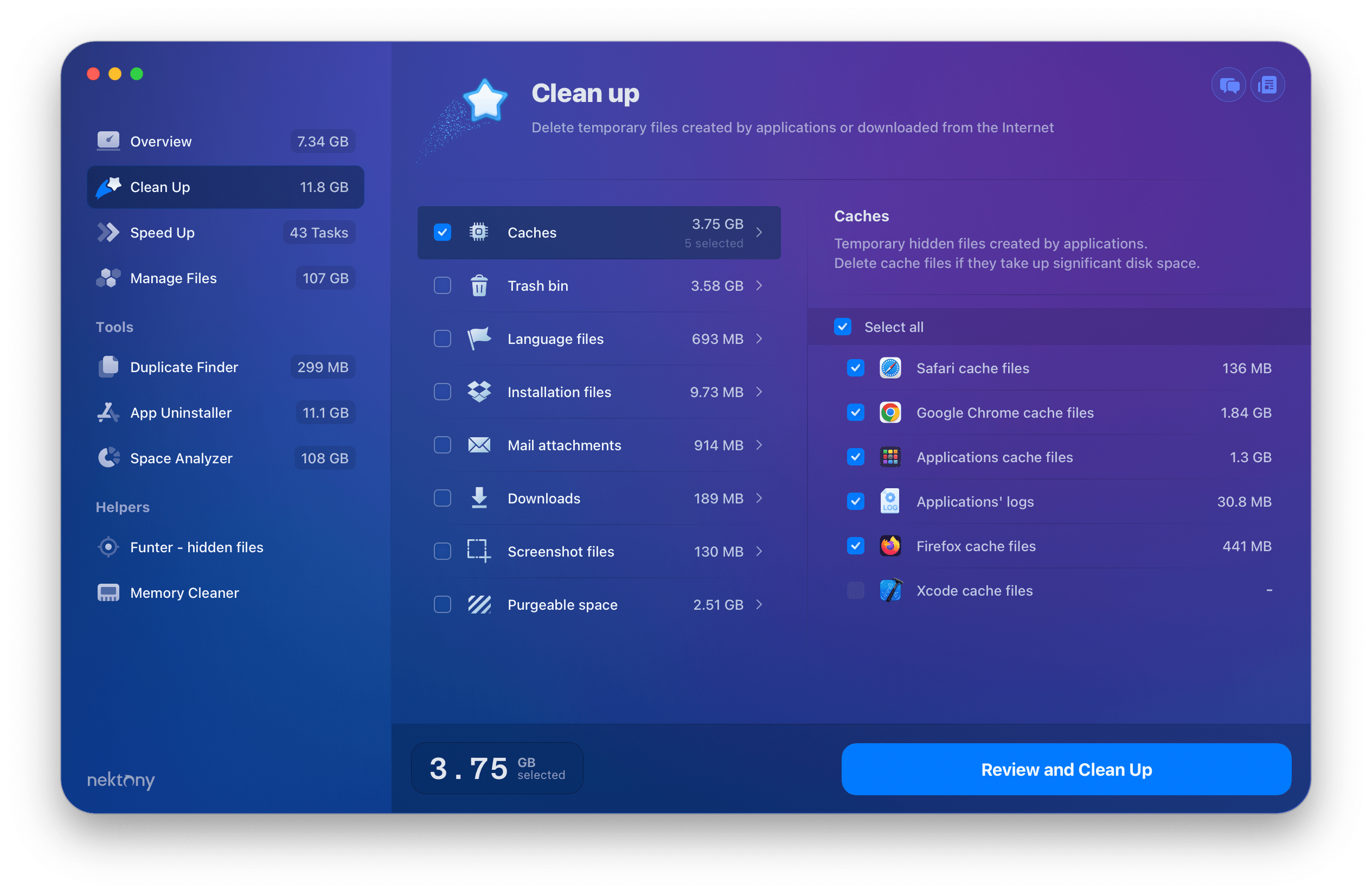 ---
Conclusion
We hope these tips helped you fix your Bluetooth errors. Also, use MacCleaner Pro to periodically clean up all digital junk from your drive and optimize your Mac's performance.
---
---
FAQs
How do I reactivate my Bluetooth?

To reactivate Bluetooth on your Mac, do the following:

Click the Control Center in the menu bar.
Select the Bluetooth icon.
Turn on the toggle button to activate Bluetooth. 
How do I force quit Bluetooth on Mac?

Here are the steps to force quit Bluetooth:

Open the Activity Monitor.
Select Bluetooth in the list of running processes. 
Click the Close (X) icon to quit Bluetooth.
Confirm the action.
Why is Bluetooth greyed out on Mac?

If the Bluetooth icon in the menu bar is greyed out, there are several possible reasons why this may happen:

Your Mac's Bluetooth hardware is damaged
Your macOS is outdated 
Your MacBook is in low power mode or has a low battery