This article will explain how to completely and correctly uninstall Microsoft Teams from a Mac along with all its support files. We will provide two methods for removing Teams – the manual way and with the help of a special uninstaller. The method you use is up to you.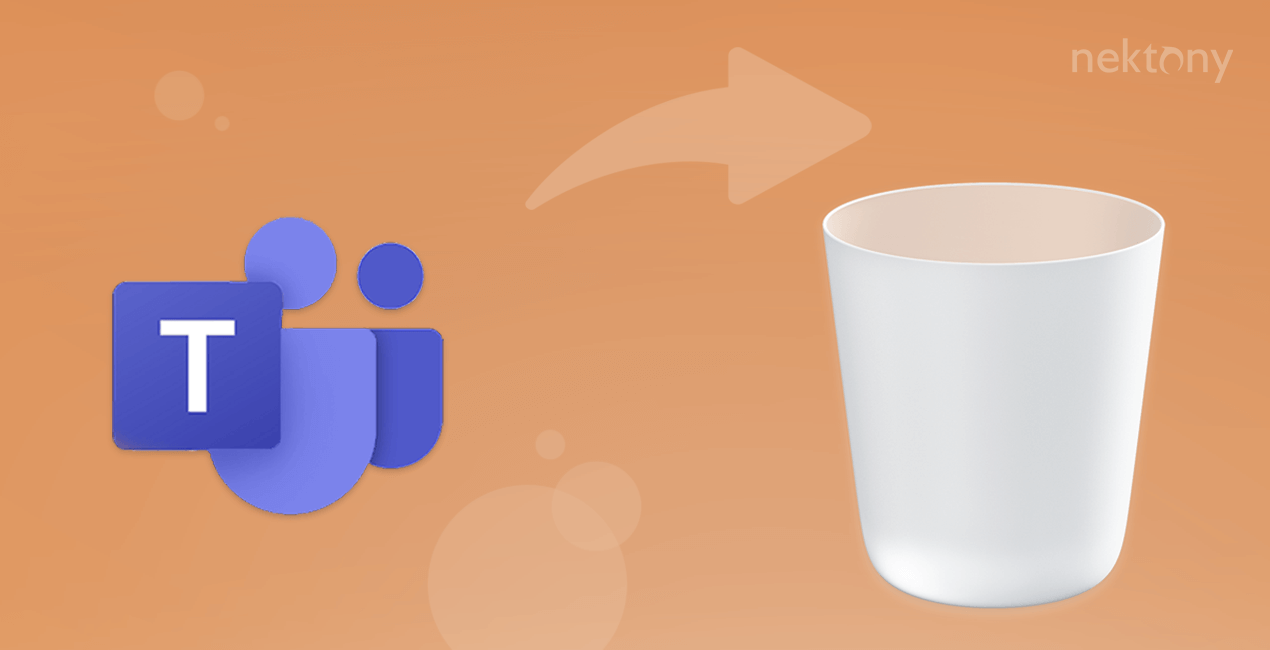 Contents:
The quickest way to uninstall Microsoft Teams
If you don't have time to read the article and learn two ways to remove Microsoft Teams, use App Cleaner & Uninstaller from Nektony. This uninstaller will safely and completely remove Microsoft Teams with just two simple clicks. Here is the download link for a free trial of the uninstaller.
What is Microsoft Teams and why uninstall it?
Microsoft Teams is a cloud-based software which allows teams and businesses to communicate, collaborate, share documents, organize online meetings, and so on. It is one of the tools included in the Microsoft 365 family of products.
By default, Microsoft Teams is installed on your Mac once you download and install Microsoft Office 365. However, if you don't use this software, you should remove it from your Mac, because unused applications take up valuable space on your disk. Also, you might need to reinstall Microsoft Teams to fix some issues.
Keep in mind that just dragging and dropping apps into the Trash bin is not enough for their complete uninstallation. Keep on reading to learn how to uninstall apps from Mac correctly.
Important notes about uninstalling Microsoft Teams from Mac
What happens if you delete Microsoft Teams?
Deleting the Microsoft Teams application from your Mac doesn't delete your entire account. You can reinstall the app and continue using it. However, if you want to erase all your channels' data and history and you are sure you are not going to use MS Teams in future, you can delete your account. For this, you will have to go to the Admin Center and cancel your subscription.
---
How to uninstall Microsoft Teams automatically
The easiest and safest way to entirely uninstall Microsoft Teams from your Mac is to use a special tool called App Cleaner & Uninstaller. This uninstaller automatically finds all support files of applications and even the remaining files of already removed apps. App Cleaner & Uninstaller offers a free trial with unlimited features.
Here is how to uninstall Microsoft Teams with Uninstaller:
Download and launch App Cleaner & Uninstaller.
Select Microsoft Teams.
Click the Uninstall button.
Confirm the removal.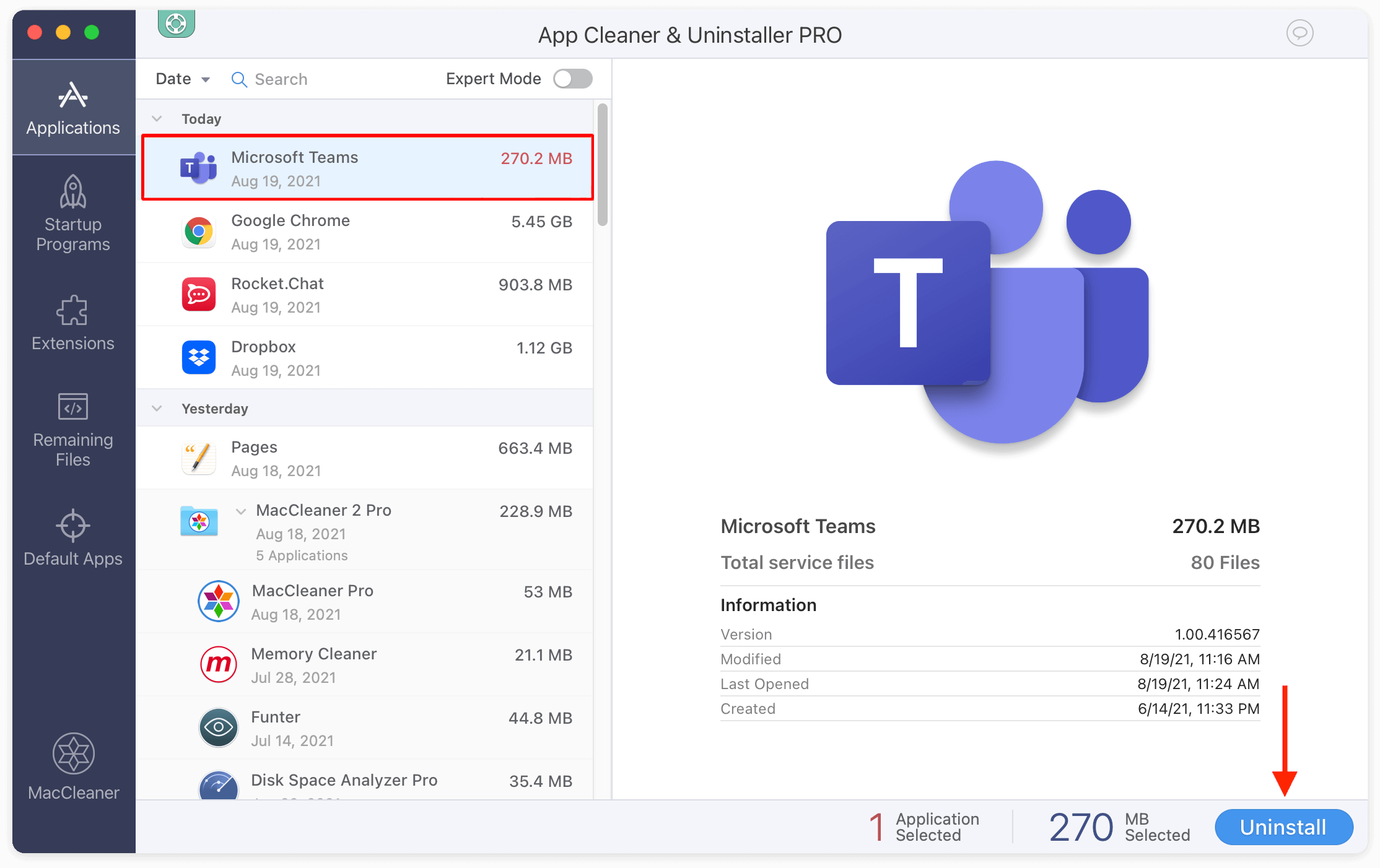 Easy and fast, isn't it?
Also, if you switch to the Expert mode in App Cleaner & Uninstaller, you can see the list of all support files the app created on your Mac, including caches, logs, preferences, and login items, among others.
If you have already dropped Microsoft Teams into the Trash bin, App Cleaner & Uninstaller will find and display its support files in the 'Remaining Files' section.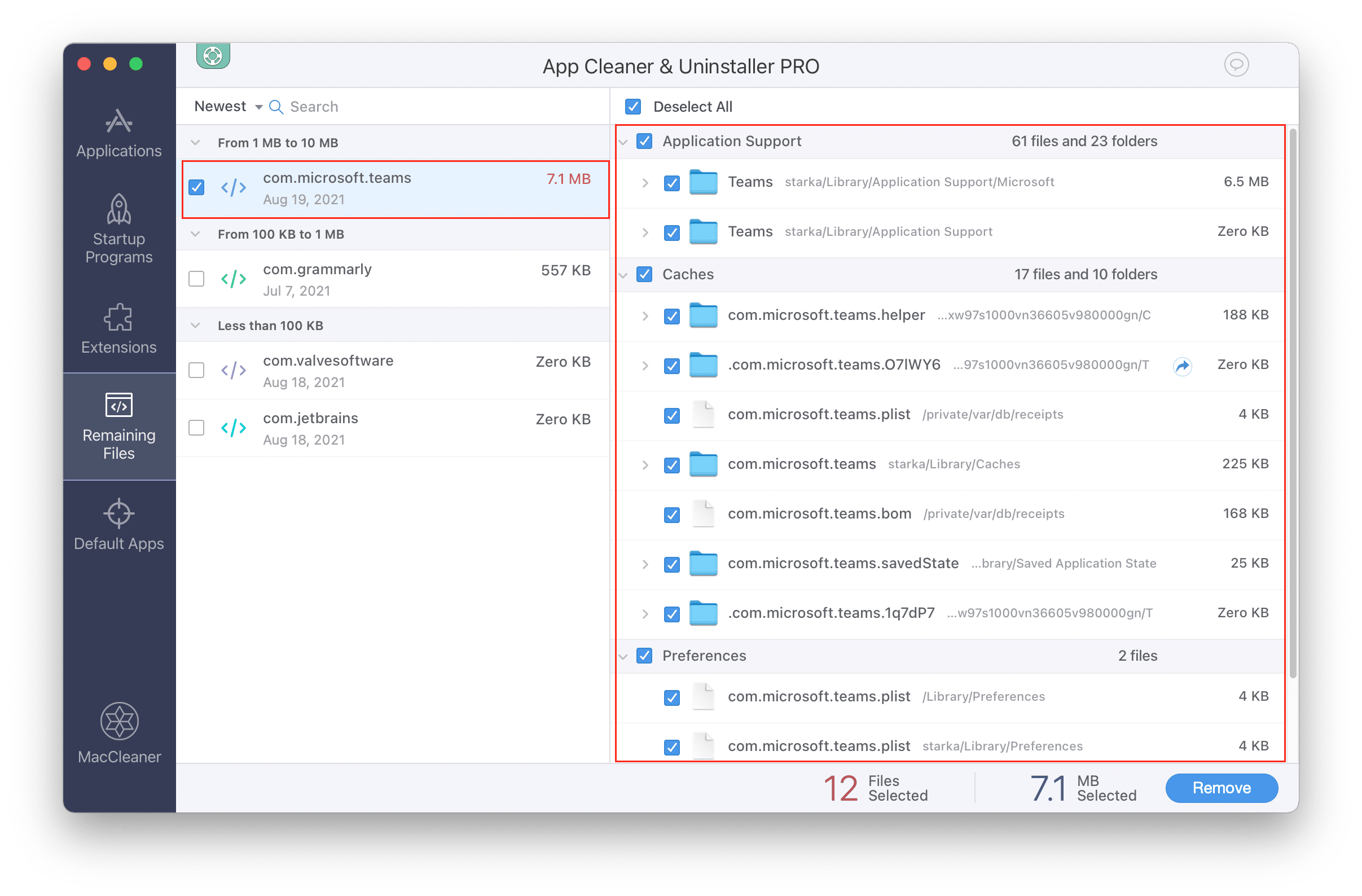 Additionally, in the uninstaller's preferences, you can set it up so that every time you drag and drop apps into the Trash, App Cleaner & Uninstaller will immediately remind you to remove its leftovers. All you will have to do is to confirm deleting unneeded service files of already removed applications.
How to stop Microsoft Teams from starting automatically
If you use Microsoft Teams but just need to stop it from launching automatically when your Mac starts up, you can do this again with App Cleaner & Uninstaller.
This application also allows you to easily manage all startup programs, disable and enable login items, and even remove them.
Here is how to stop Microsoft Teams from starting automatically:
Launch App Cleaner & Uninstaller.
Switch to the 'Startup Programs' sections.
Select Microsoft Teams login items.
Click on 'Remove' and confirm the action.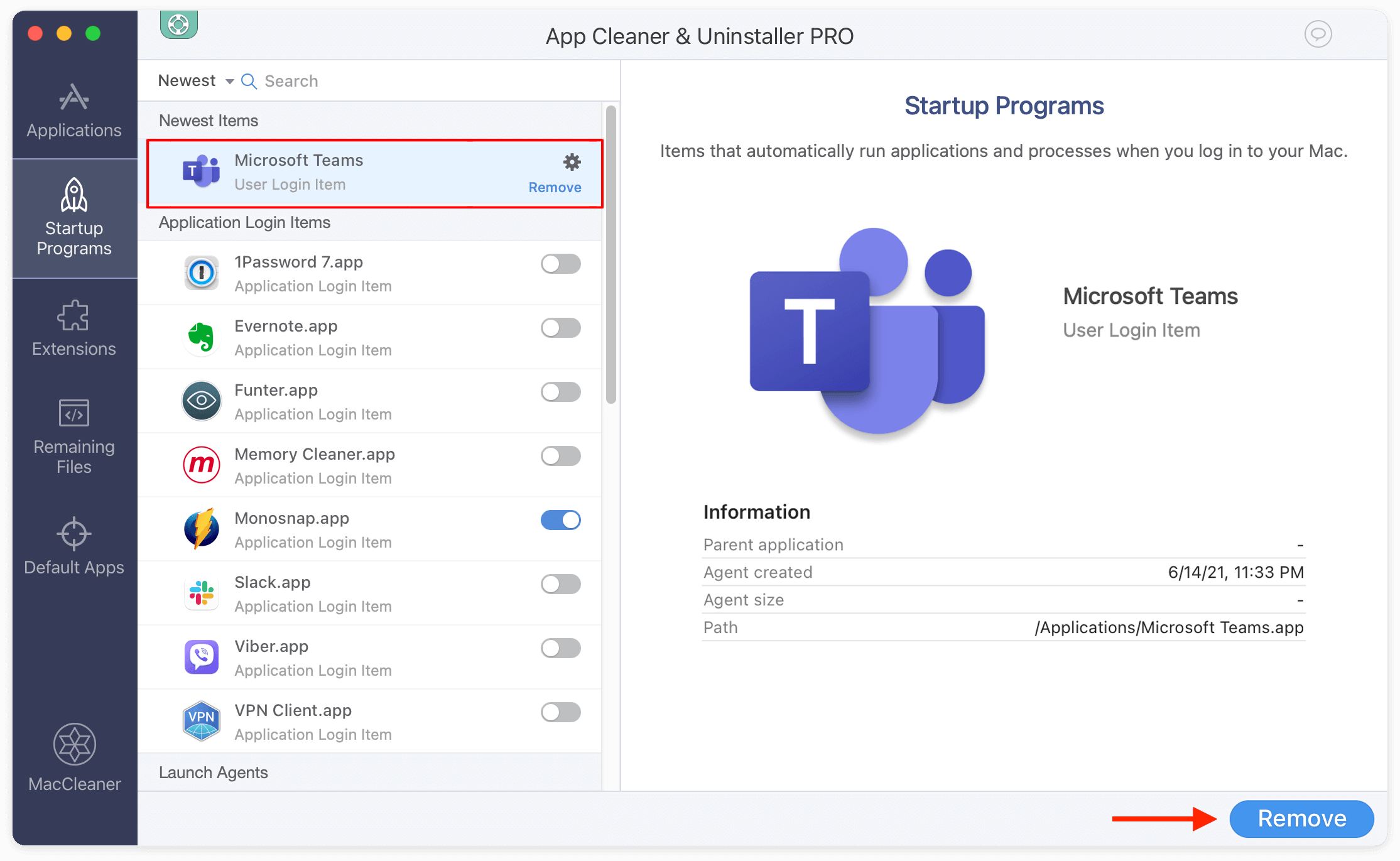 ---
How to uninstall Microsoft Teams manually
The manual way of uninstalling apps is quite time-consuming since it also requires removal of all their support files manually. By default, applications store their support files in the Library folder. Follow the steps below to completely uninstall Microsoft Teams from your Mac:
Steps to manually uninstall MS Teams:
Quit Microsoft Teams.
Go to the 'Applications' folder and remove Microsoft Teams into the Trash.
In Finder, press Command+Shift shortcut. You will see the 'Go to the Folder' search panel.
Type ~/Library and click Go.

Here is the Library. You must check the following subfolders and remove all files associated with Microsoft Teams:

~/Library/Application Support/
~/Library/Containers/
~/Library/Caches/
~/Library/Preferences/
~/Library/Cookies/
~/Library/Logs/
~/Library/LaunchAgents/

Once you remove all of the support files of Microsoft Teams, empty your Trash. Now the application is successfully removed from your Mac.
Note that some apps might spread their files all over the disk, so there is no guarantee that you will find all of them. You will have to carefully comb through every corner of your Mac to ensure that you deleted all of its service files. That's why we recommend using App Cleaner & Uninstaller, a verified, safe, and efficient removal tool.