On most forums and discussion platforms, users recommend two popular applications to remove duplicates on a Mac: Gemini from MacPaw and Duplicate File Finder from Nektony. In this article, we are going to take a closer look at both applications and answer the most frequently asked question "What is the best duplicate file finder for Mac?" Also, you can look at the full comparison chart of the most popular duplicate search applications for Mac.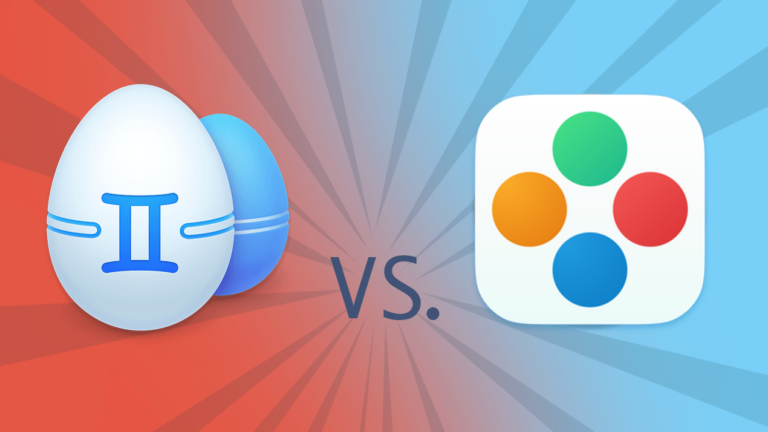 Gemini 2 Review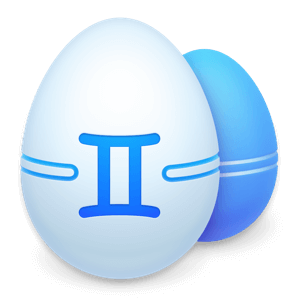 Price: 3-day free trial, then annual subscription- $19.95 per year or one-time purchase $44.95
System Requirements: macOS 10.10 and higher
App Store Rating: 4/5
Languages support: 12 languages
Gemini 2 is a popular application designed to search for duplicate files, duplicate folders and similar photos. The application supports external drives, Photos and iTunes libraries, helping to get rid of unnecessary copies of songs, series of failed frames, duplicate photos and other types of files.
Its developers say that Gemini 2 uses intelligent algorithms and improves its search criteria for each type of duplicate, depending on user behavior. Also, the developers introduced gamification in the app, making the cleaning process more fun for the users.
The main screen of the application consists of one "+" button. So all you need is to add or drop the folder you want to scan. Then push the green button to start scanning. Once the scan is completed, you will see a short piece of information about the volume of duplicates on your Mac.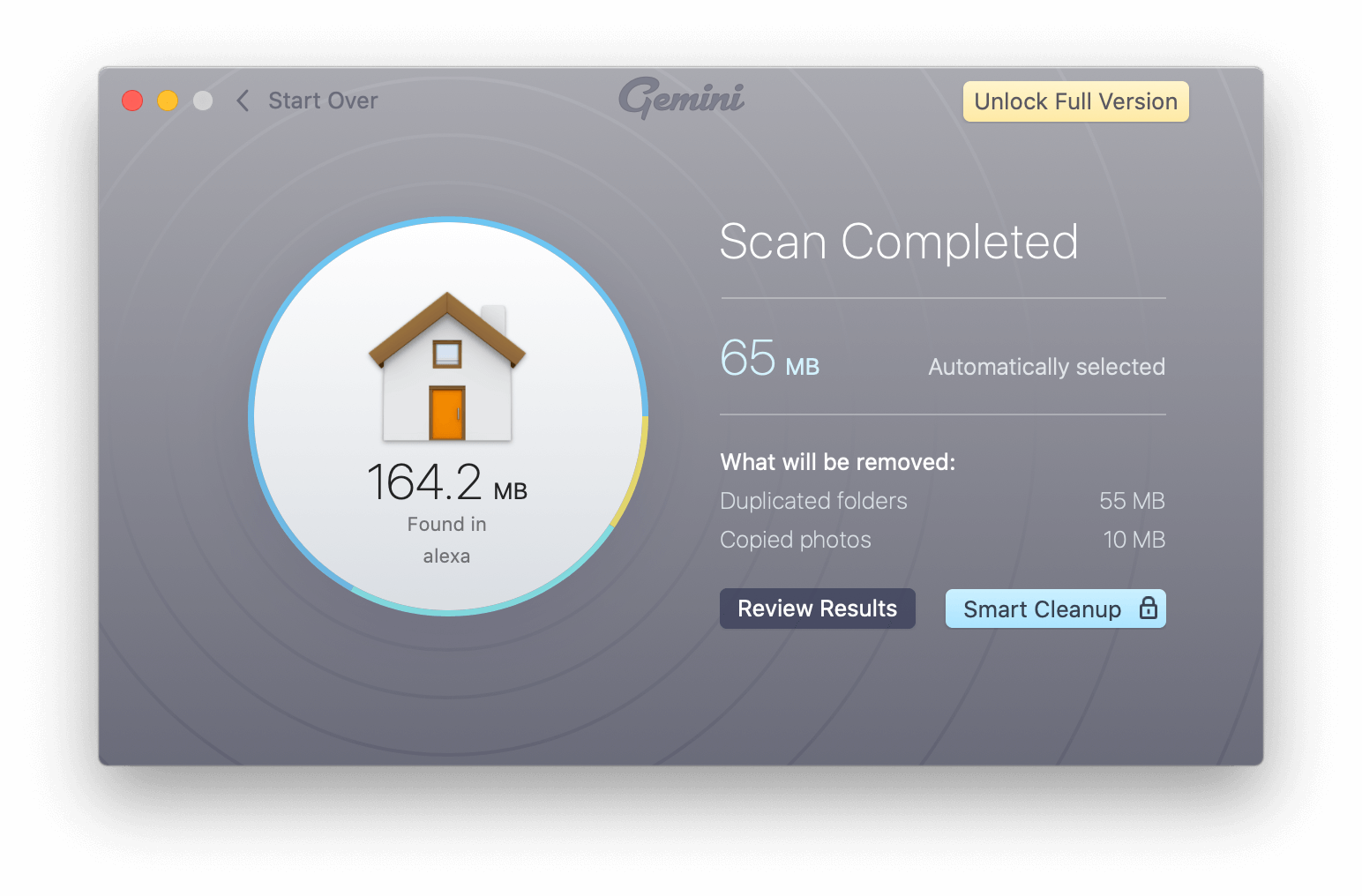 Click Review Results to see the list of exact duplicates and similar files that Gemini found. The app provides two modes for this screen. You can preview the results as icons or in a list. Files are divided into categories – music, videos, documents, images, folders.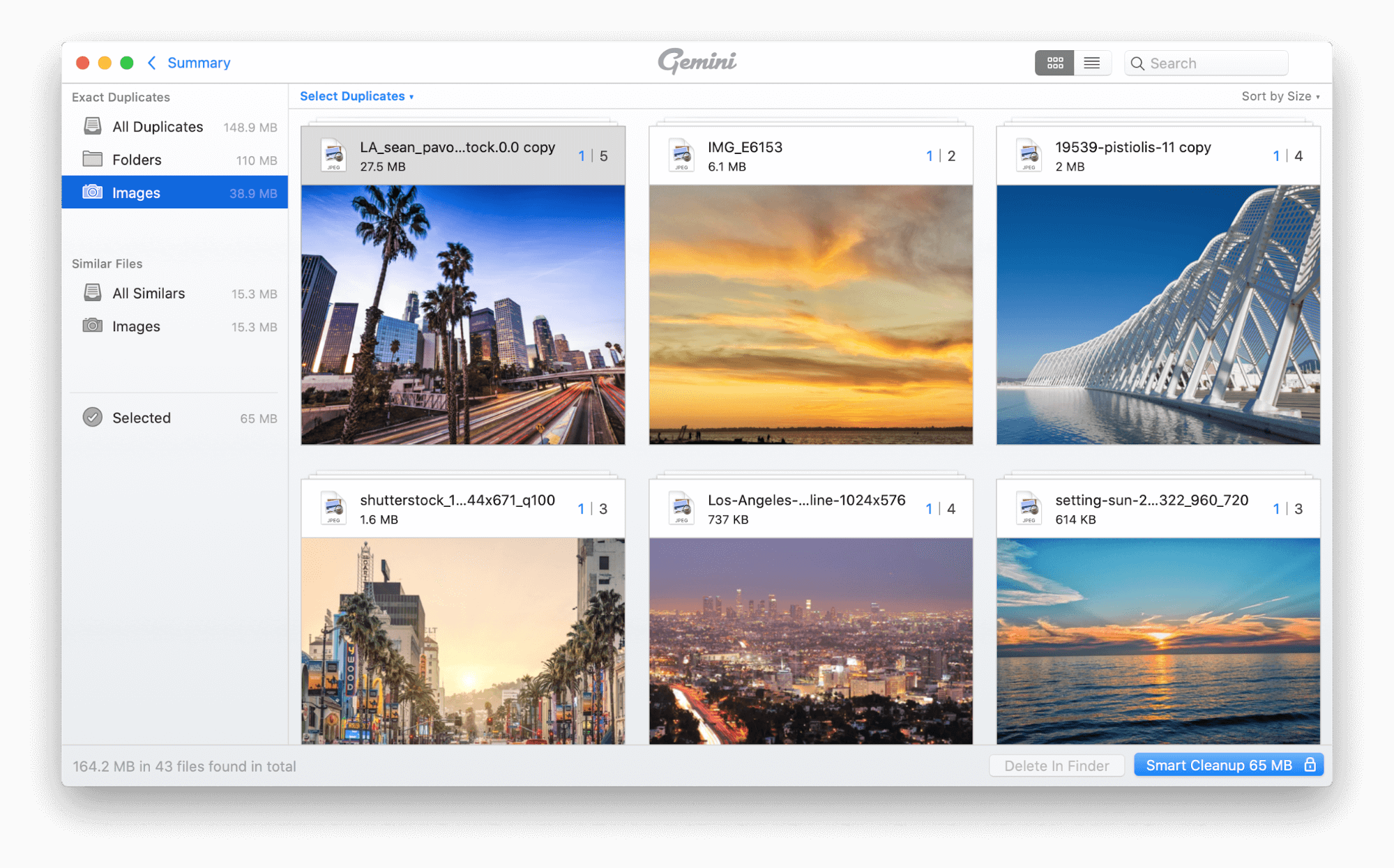 Please note that the application automatically selects duplicates on this screen. You can preview them in the Selected section. Just be careful to not delete important files, especially since duplicates detected by the app may include similarly-named files or almost identical files but with imperceptible modifications.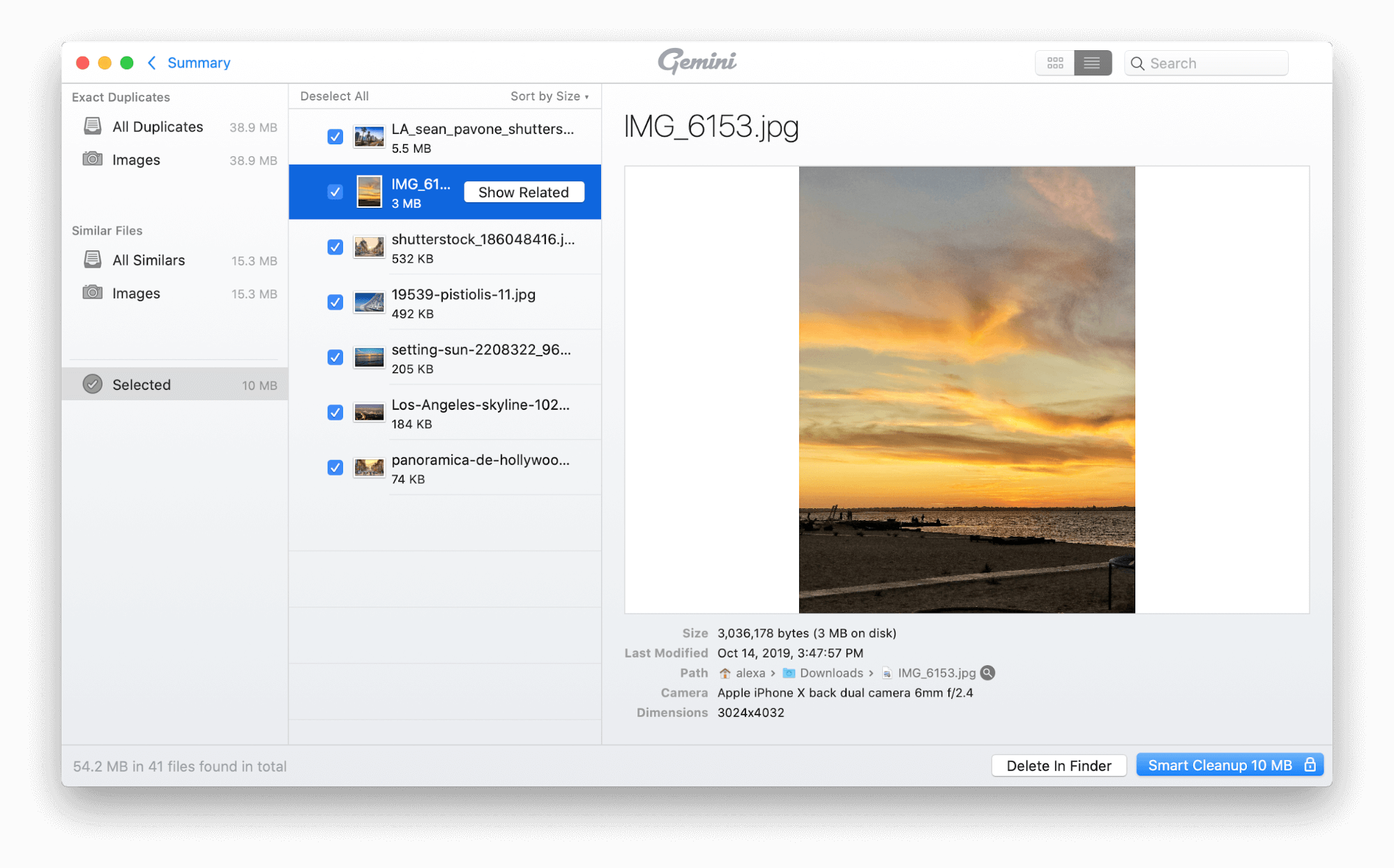 Gemini software finds not only duplicate photos but also similar images. For example, if you have several photographs showing the same object but taken from different angles, Gemini will display them and suggest leaving only one. You will find such files in the Similar Files section. Double-click on each file to preview them in the comparison mode.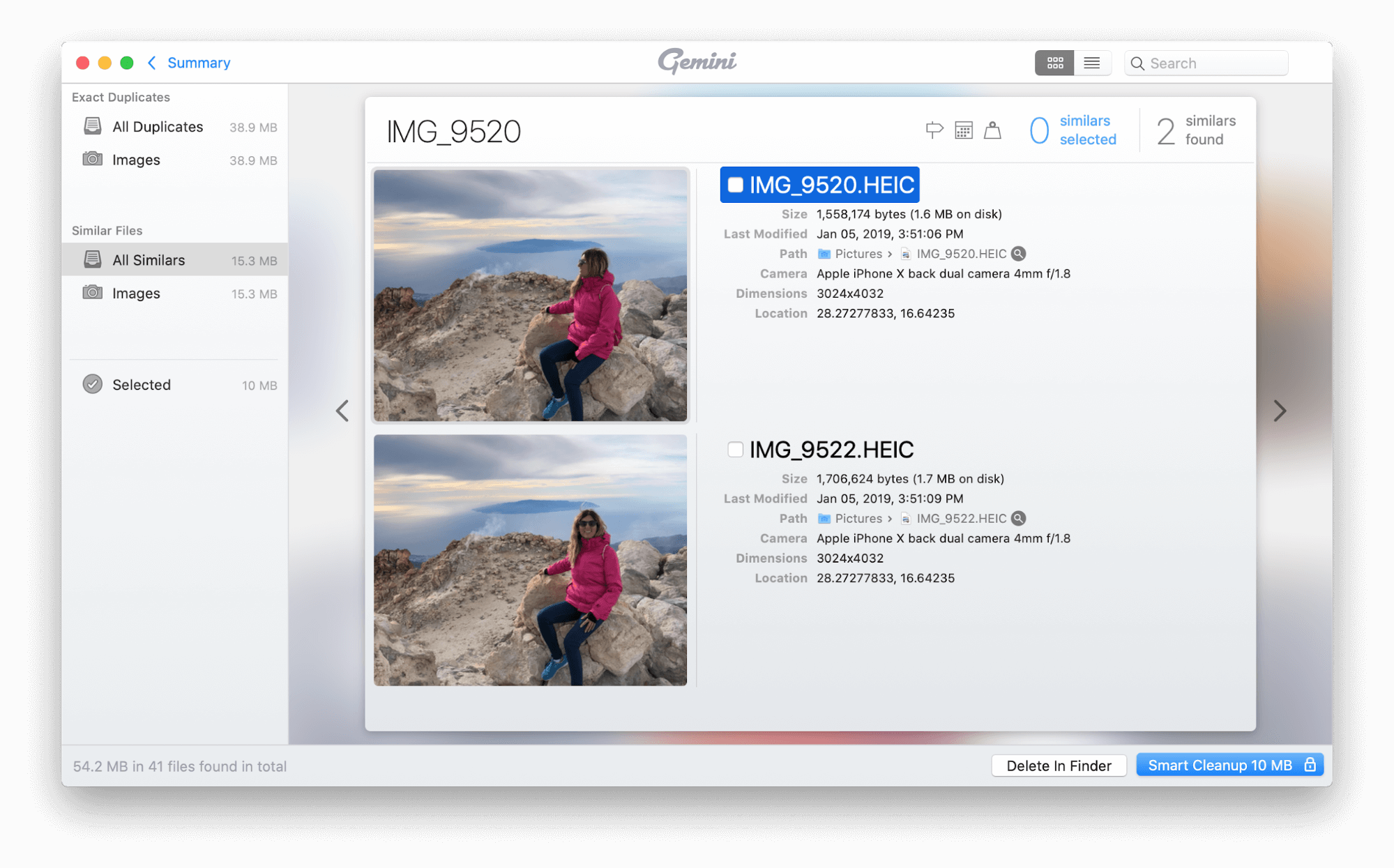 With the Gemini app, you can make your photo albums more accurate, freeing them from a series of identical pictures. MacPaw Gemini will also be appreciated by music lovers whose iTunes library lacks orderliness.
Gemini pros and cons
Pros
✓

Smart algorithm of duplicate search

✓

Smart selection rules

✓

User-friendly design

✓

Similar images search

✓

Icons and list preview support

✓

Free trial for 3 days

✓

Flexible pricing policy
Cons
✓

High price

✓

No deletion confirmation

✓

Does not find similar folders

✓

Basic duplicate removal options

✓

Few options to organize duplicates
---
Duplicate File Finder Review
Price: Free with general features (remove duplicates). PRO features (organize duplicates): annual subscription- $14.95 per year or one-time purchase $34.95
System Requirements: macOS 10.13 or later
App Store Rating: 4.7/5
Languages support: English
Duplicate File Finder from Nektony quickly and efficiently finds duplicate files, duplicate folders, similar folders, and similar images. It provides an opportunity to search for duplicates not only on the hard drive but also on the local network. It can work with images, music, videos, archives and any other type of file.
Duplicate File Finder has a clean design and large number of useful features. Once you drag and drop your folders to the start window, click to scan them.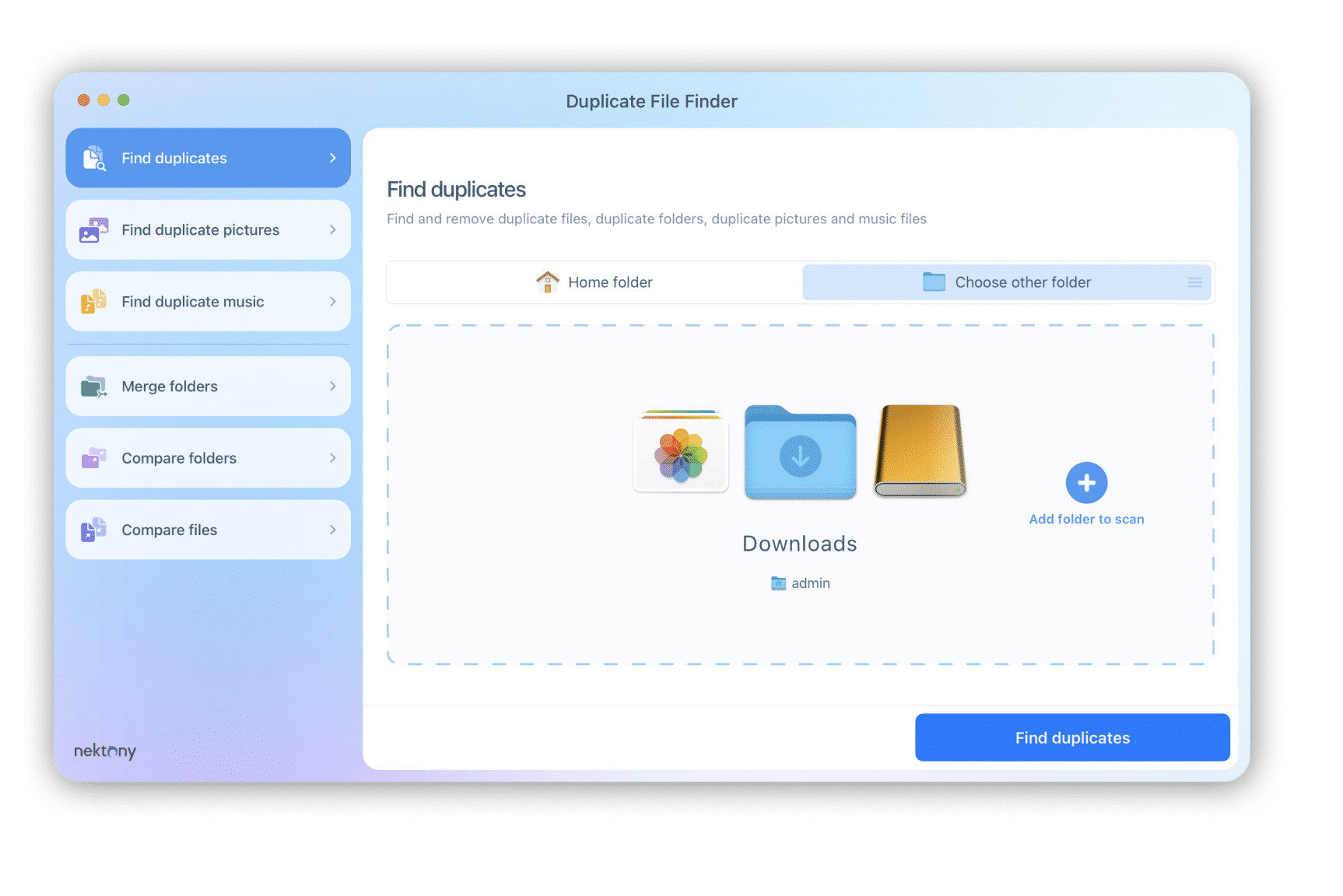 The application will check all the files in the folder and show you a list of duplicate files on your Mac.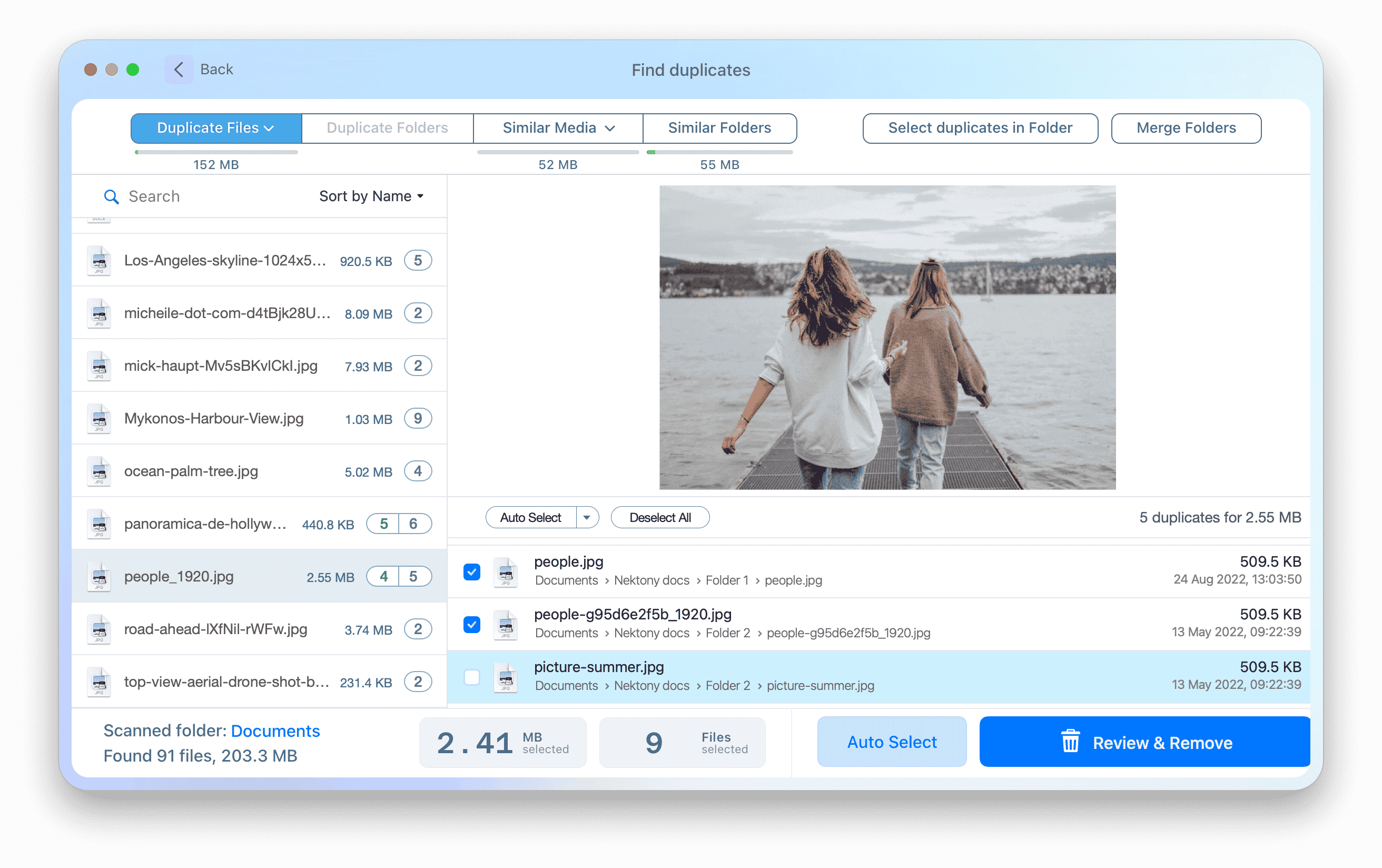 From the tool bar, you can select which types of duplicate files to view.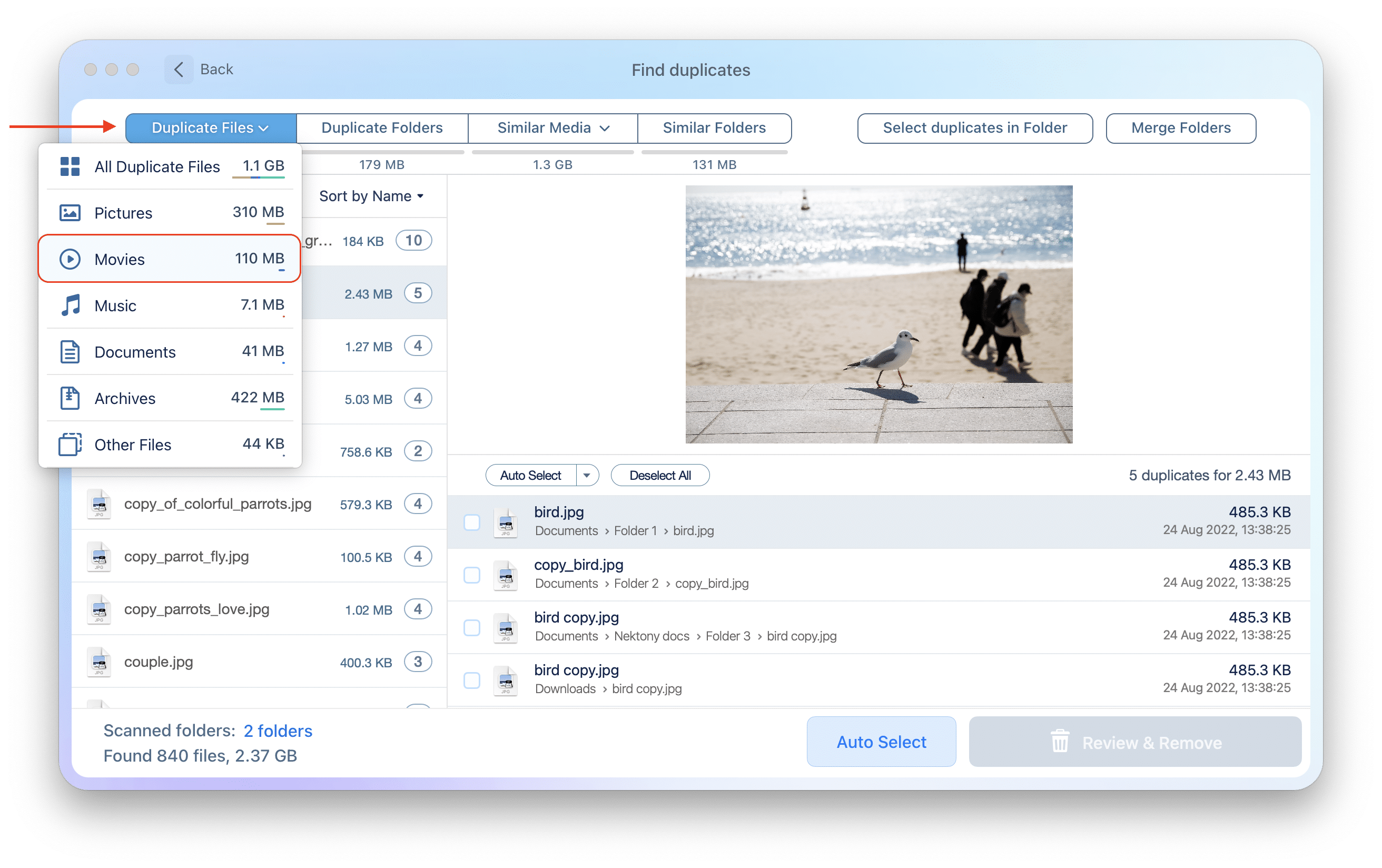 If you often take the same picture from a dozen slightly different angles and import all of them to your Mac, then Duplicate File Finder will successfully help you to bring order to 100+ photos.
The application also finds similar media files (photos and audio) and allows to remove unnecessary ones.
In the Similar Photos section, you can find all similar pictures and compare them in a convenient Preview section, deciding which ones you want to remove.
The intuitive Auto Select option will help you save time and automatically remove the newest or oldest ones.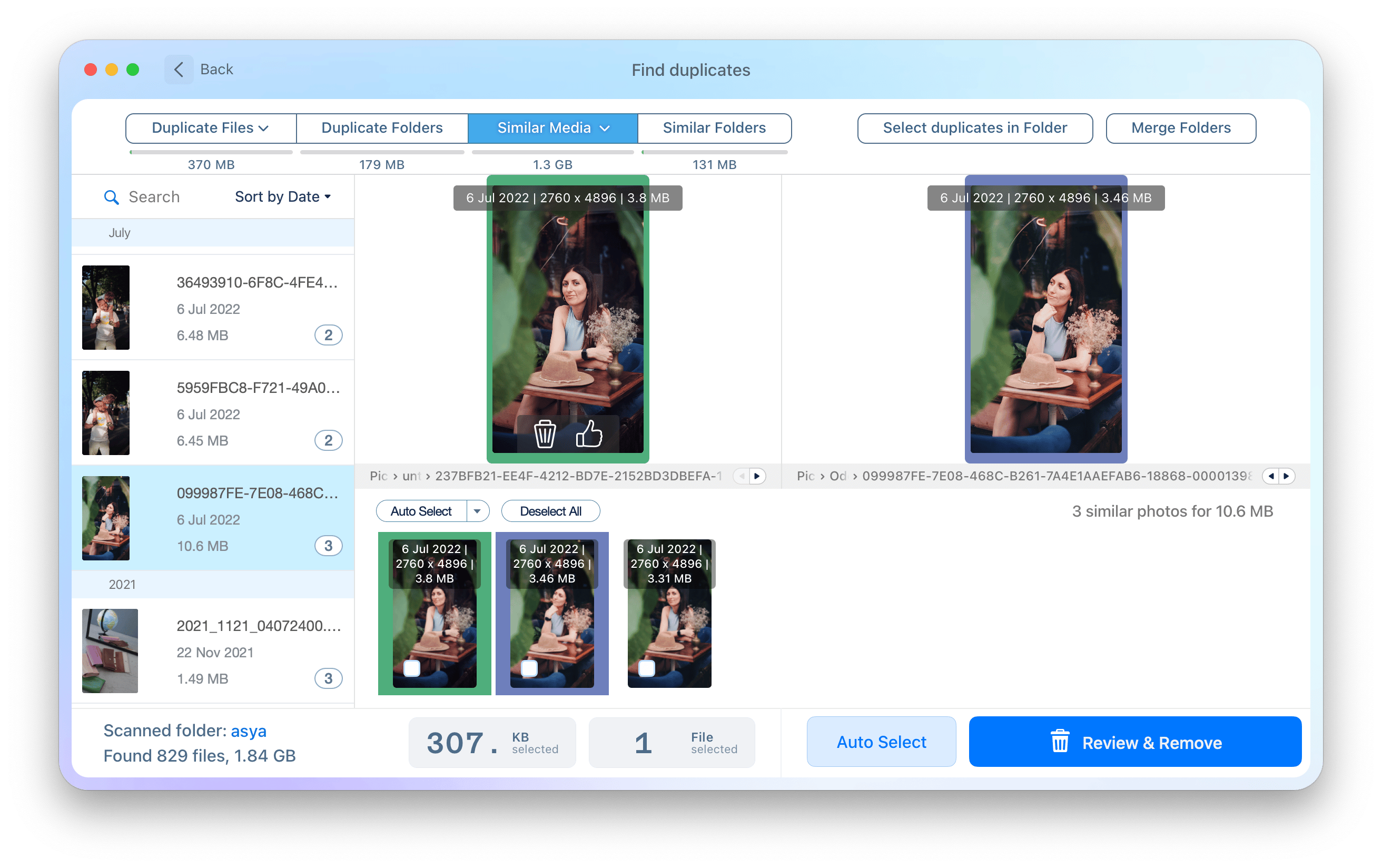 Now let's take a look at the unique features of Duplicate File Finder, which no other application has: the Similar Folders and Merge Folders options.
Besides duplicate folders, the Nektony application finds similar folders- folders with both identical and unique files.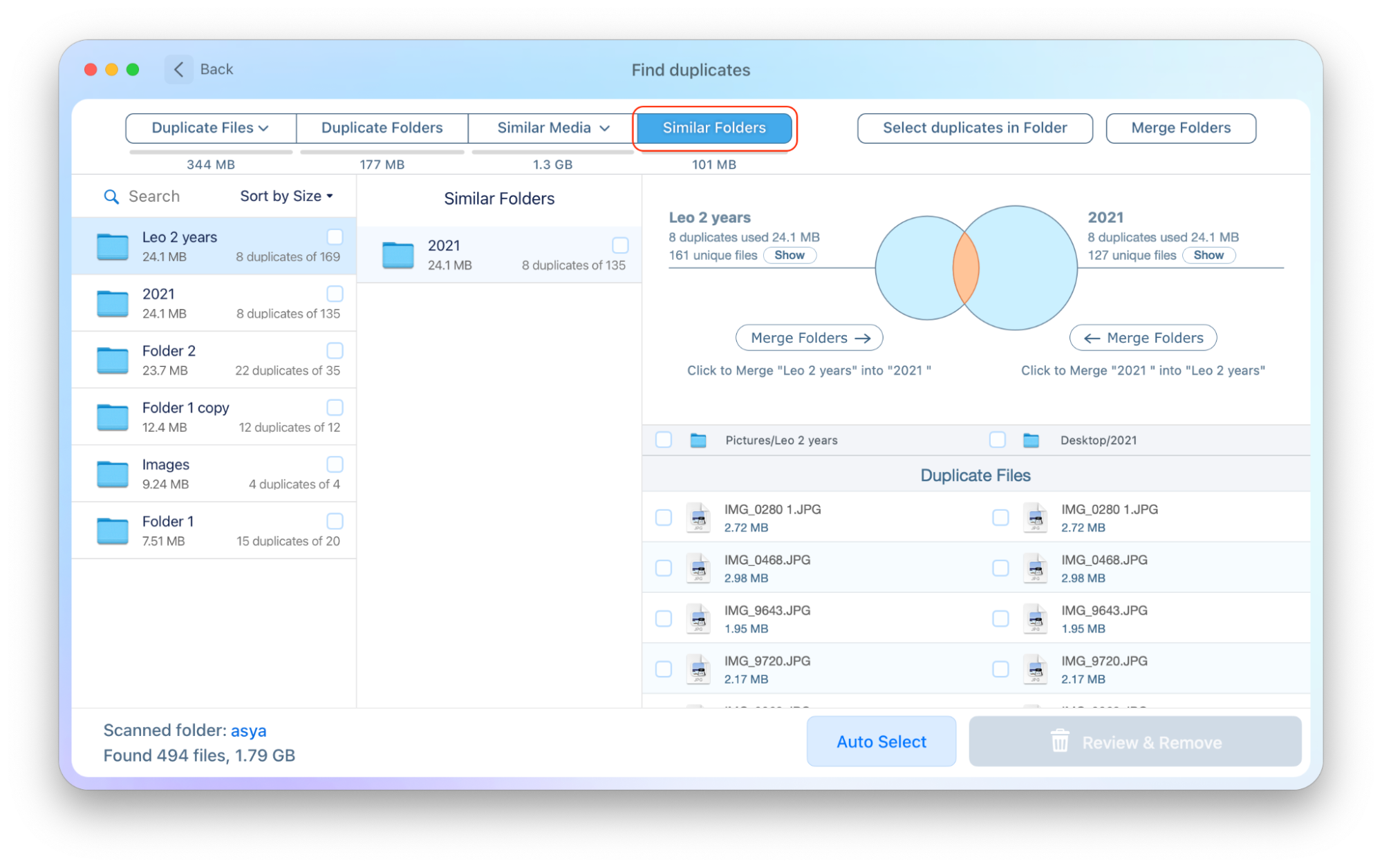 You can select duplicates in these folders with just one click. The program will retain all unique files. The best thing that the application allows you to do is to merge similar folders. Merging folders allows you to get rid of an infinite number of similar folders, and organize files in the process.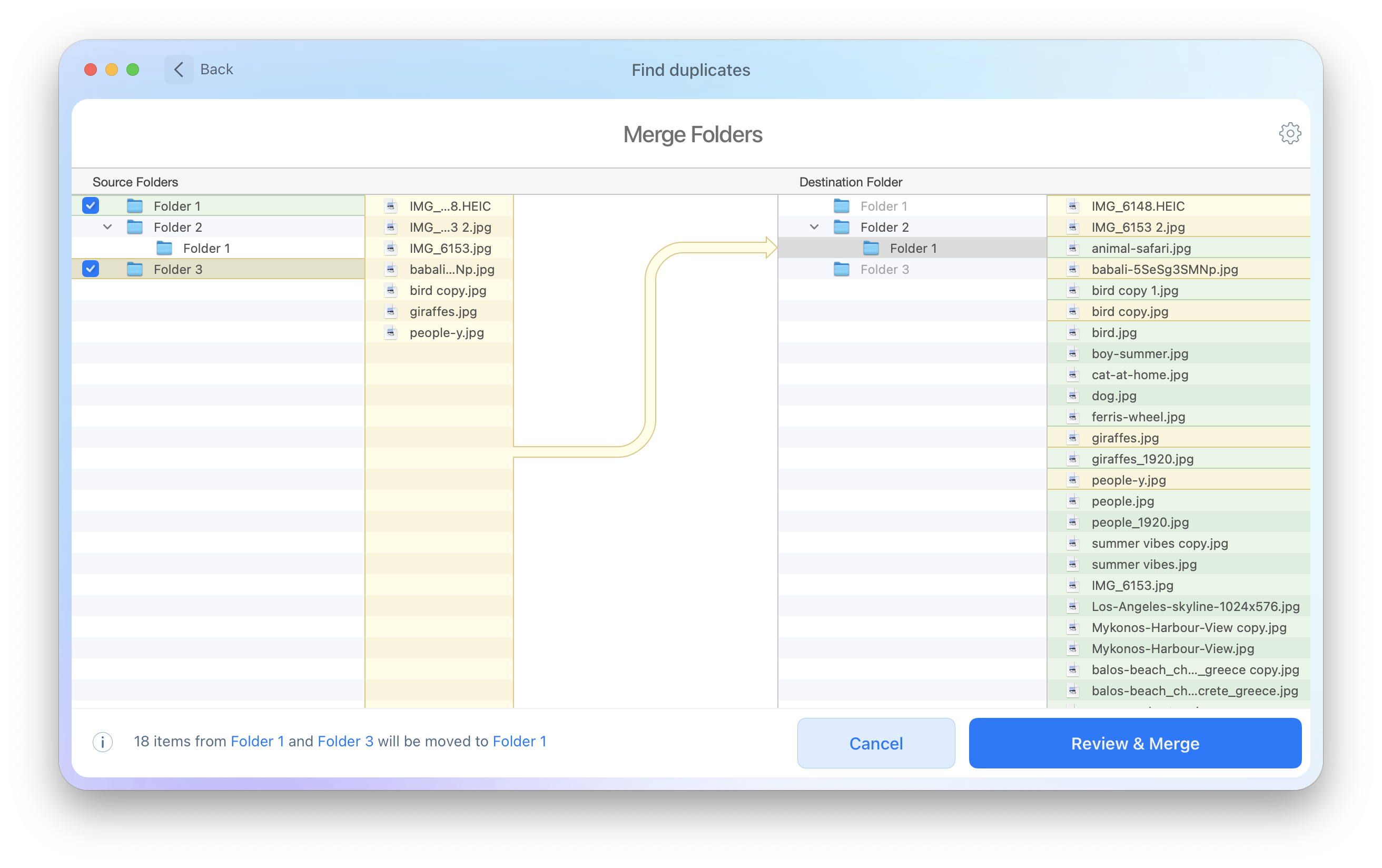 And that's not all. When it comes to providing the best experience in removing duplicates on the Mac operating system, Nektony can't be beat.
With the help of the "Select Duplicates In Folder" option, you can configure the folders in which the app will automatically select duplicates. Ticking the checkboxes next to the folders will prompt the app to select duplicates in them. Marking the folders with the star icon will protect your folders from the accidental removal of duplicate files.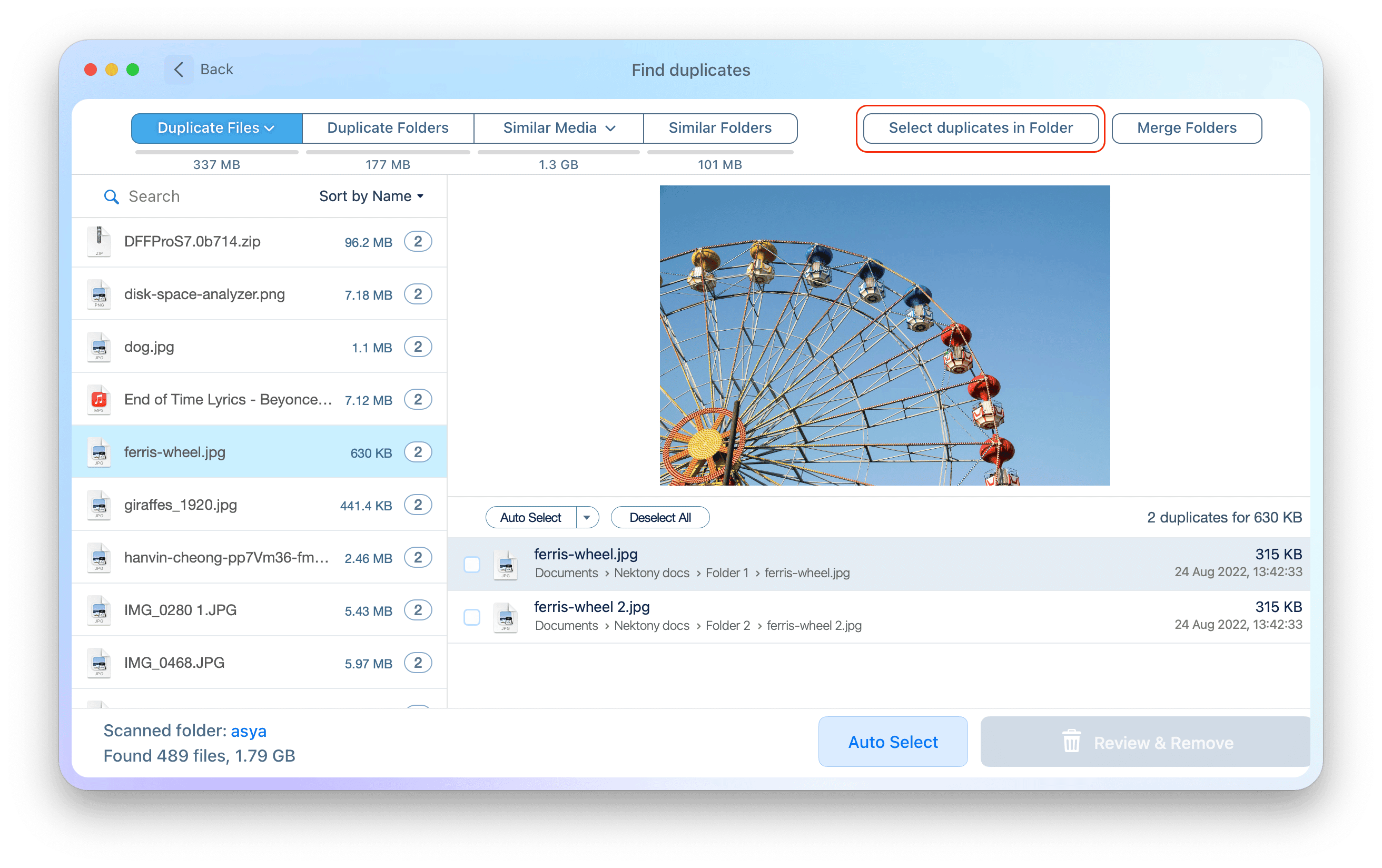 After selecting duplicates, click on the "Review & Remove" button. A list of files selected for deletion will be displayed and you will need to confirm removal.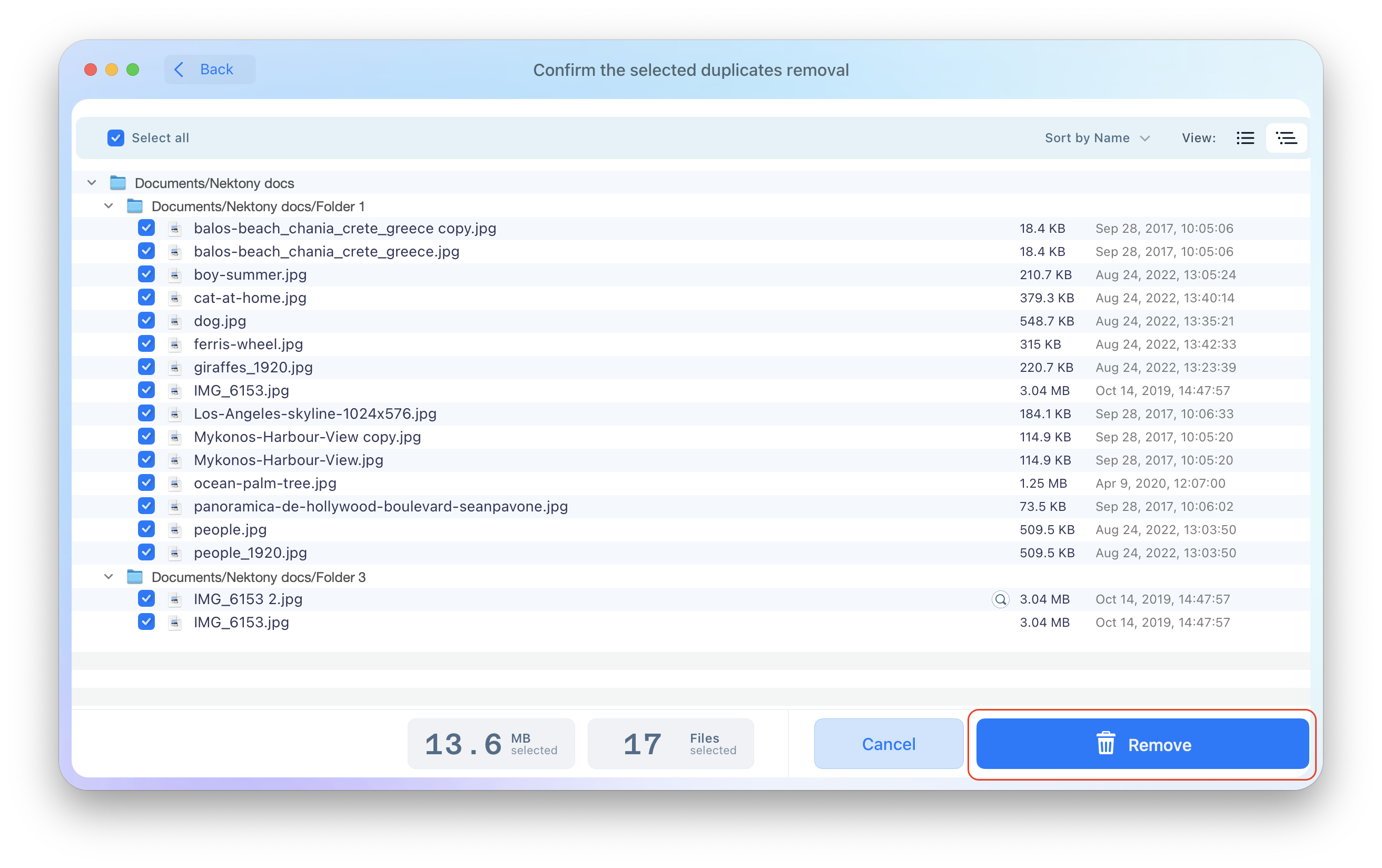 Depending on your preference, duplicates will be sent to the Trash, moved to another folder, or removed immediately. All these options can be set up in the app's preferences.
Duplicate File Finder pros and cons
Pros
✓

Quick scanning speed

✓

Cleanup hints

✓

Convenient duplicate summary chart

✓

Clear and minimalistic design

✓

Similar images search

✓

Convenient duplicate directories views

✓

Ability to find hidden duplicates

✓

Multiple removal options

✓

Deletion confirmation

✓

Similar folders search

✓

Free forever to find and delete duplicate files

✓

Option to merge folders

✓

Option to select duplicates in specific folders

✓

Option to restore accidentally deleted files
Cons
𐄂

For some functions, you may need a tutorial

𐄂

It may be complicated for users who need a simple duplicate finder tool

𐄂

It does not allow to choose the level of image similarity before the search.

𐄂

It does not learn what files the user prefers to remove and what files to keep, while Gemini 2 has such a feature in its "intelligent algorithm."
---
Conclusion
Duplicate File Finder and Gemini 2 are both useful apps when it comes to the problem of duplicate content and low disk space.
While both apps find duplicate and similar files, Duplicate File Finder from Nektony provides additional features, such as finding similar folders, merging them, and customizing automatic searches. One more useful function of Duplicate File Finder is the possibility of restoring files that the user removed accidentally.
Gemini 2 provides great results in the categories of scanning speed and design. Duplicate File Finder is a better choice for users who need wider possibilities for organizing tons of duplicates.
Finally, if you want to use Duplicate File Finder, get it for free from Mac App Store.
The free version allows you to find and remove all duplicate files without limits. Download and use Duplicate File Finder free, upgrade to PRO if you need extra features to organize duplicate folders.
---
FAQ about duplicate file finder on Mac
Why do I have so many duplicates on my Mac?
Some duplicates may be created when you copy files, re-import photos from your iPhone and forget that you had done that before, download the same file from the Internet several times, and so on.
What is the best duplicate file finder for Mac?
But if you need an app to not only remove duplicates but organize them as well, then the application from Nektony is the best duplicate finder for Mac.
How do I find and delete duplicate files on my Mac?
You can create a Smart Folder in the Finder, sort files by types (name, extension, size, etc.), manually review and compare review all the files one after another. Another way to find duplicates is to use Duplicate File Finder, which will do this task automatically in less than a minute.
Can Mac Photos find duplicates?
The Photos app does not provide an option to find duplicates. You can search for duplicates with the help of a third-party duplicate finder. For example, you can use the free Duplicate File Finder app.
How can I organize duplicate folders and get rid of duplicates?
Use Duplicate File Finder from Nektony to find similar and duplicate folders, merge folders and remove duplicates.