Norton Internet Security is a popular antivirus software that protects a device from online threats. If for some reason you want or need to uninstall Norton Security from your Mac, you are in the right place. In this article, we will explain how to correctly remove Norton from macOS so that it does not leave its leftovers in your system and does not show up notifications.
Contents:
---
How to uninstall Norton Security on Mac using the menu bar
Many users complain that they have removed all Norton products but still get pop-up notifications from them. That's why it is important to remove the software correctly. Please, carefully follow our step-by-step guide on how to entirely remove Norton from your Mac.
Steps on how to remove Norton Security on Mac:
Open Norton Security from the Applications folder of Launchpad.
In the Menu bar click on Norton Security and select Uninstall Norton Security.

You will see the Norton Security Uninstallation window. Click the Uninstall button and confirm the action by entering your administrator password.
Wait until the uninstallation process is finished.
Then you will need to restart your computer. Click on Restart Now.


Please note

, the official Norton help page says that the steps above will uninstall Norton from your device. However, we completed these steps and then checked for its support files on Mac's hard drive and found many leftover files on the system that means that after the steps above you need to manually find and remove Norton Security's support files to completely get rid of the app from your Mac. Keep reading to learn how to do this.

Find and remove Norton Security's support files from Mac. By default, applications store their support files in the hidden Library folder. To get to the Library, open Finder and press Command+Shift+G keys on your keyboard. In the search filed copy and paste ~/Library and press Enter.


Here in the Library folder, check the following subfolders for Norton's remaining files:

~/Library/Application Support
~/Library/Caches
~/Library/Container
~/Library/Preferences

Once you remove all Norton's support files, empty your Trash bin. Now Norton Security is entirely removed from your Mac.
Note! If you still get popup notifications from Norton even after its uninstallation, most likely you haven't removed all of its support files. Some applications may spread their support files all over your Mac's hard drive. Thus, we recommend that you check your Mac for remaining files with App Cleaner & Uninstaller.
---
The easiest way to uninstall Norton Security from Mac
If you are looking for a quick and reliable method to completely remove Norton or any other software from a Mac, App Cleaner & Uninstaller Pro does this job perfectly.
App Cleaner & Uninstaller is designed to completely uninstall applications from Mac, find remaining files of already removed apps and manage extensions. You can scan all your applications and review old and unused ones. You will see how much disk space each app takes up. It also lets you clear only support files, and reset apps. If you want to uninstall a program completely, just click the Remove button and the task will be completed immediately.
Here is how to completely uninstall Norton Security on Mac:
Launch App Cleaner & Uninstaller.
Select Norton Security from the list of applications.
Click the Remove button and confirm the action.
Norton Security will be removed with absolutely all its service files, caches, extensions, preferences files and other no more needed files.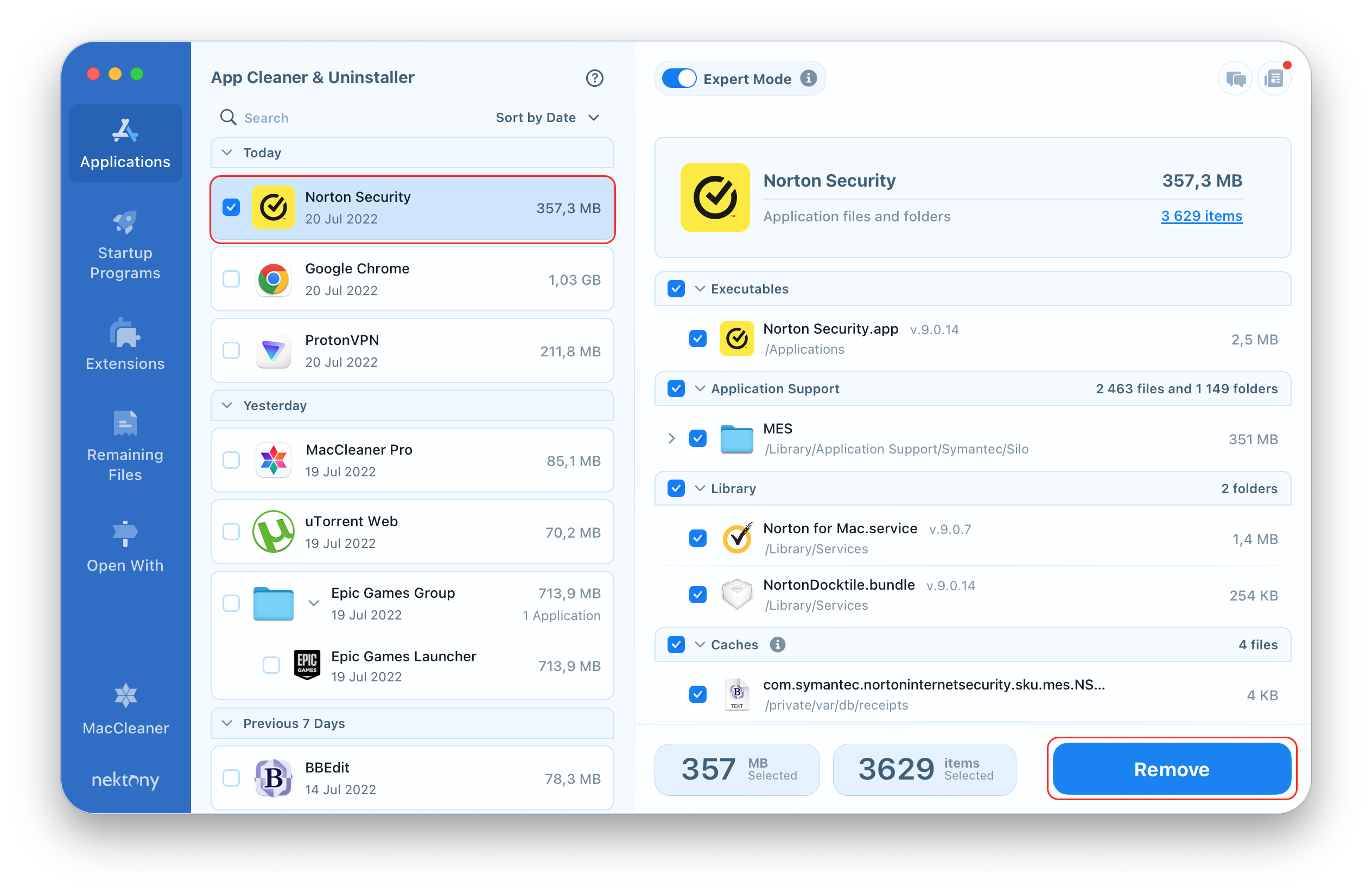 App Cleaner & Uninstall also can track applications' removal. Every time you move an app to the Trash, it will post a notification to get your access to remove all related service files too.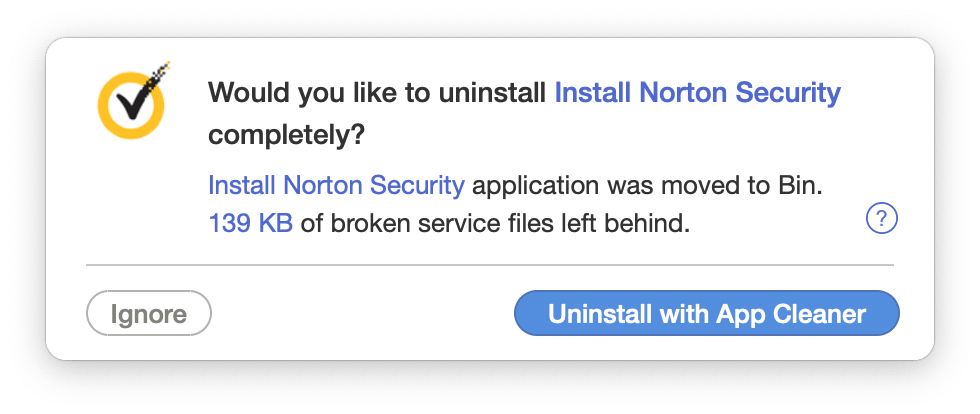 The best thing about App Cleaner & Uninstaller is that you can download it absolutely for free and uninstall all your unused apps using the trial with unlimited features.