More recently, the 20GB seemed enough for the common Mac user. Today, half of that space would be divided between a Mac operating system and a regular set of apps: Microsoft Office, iWork, iLife, games, graphics, and audio tools. And don't forget the volume taken by iTunes and iPhoto library. This article can be useful for Mac OS X and macOS users. Not to mention the fact that portable devices owners that often face limited space issues can also benefit from space-organizing tips.
All modern Macs have a minimum of 250GB hard drives (excepting the ultra-thin MacBook Air), and even this space is easy to fill up quickly. Keeping in order the Hard Drive space can have more benefits than simply de-cluttering and reclaiming space for new files. The various system processes of macOS need a certain amount of free disk space to function at their best, and an overfilled hard drive can actually slow down your Mac. Your startup drive should always have at least 10 GB or 10% of your hard drive free.
How to free up space on Mac
First, let's find the disk space eaters!
User's Files
First of all look at the staff that you've put on the Mac yourself. This category commonly includes music, photos, and videos you've downloaded or captured. Do not forget about various types of other documents that you've created or added, and applications that you've installed. Looking through your home folder, you can probably get a sense of which documents you need or want to keep, which you no longer need at all, and which you need to keep but don't open regularly. Also, you can look through your Mac's Applications folder and decide whether you need each of the applications in there.
System and Application Files
Scrubbing disk space used by various systems and applications is a risky idea, particularly if you're not very familiar with the staff that runs a Mac operating system. We only mention categories to look for files that take up a lot of space and probably can be safe to remove.
Unused Applications
Preference Panes
Screensavers, and Widgets
Preferences and application support files Left by Deleted Applications
Mail Attachments
Downloaded Items Excess Developer Tools
Old iOS App and Podcast Files
Unneeded iOS Update Files
iOS Backups
System and Application Cache Folders
Certainly, disk space inventory is rather tedious and monotonous work, especially if you do it regularly. You can do this manually by opening each folder and checking the size of the documents within it. Unfortunately, this process can take quite a lot of time. If you don't want to spend a day or more looking through all your documents, you can use special tools helping you identify files that are taking up large amounts of disk space, so as Disk Space Analyzer can do this.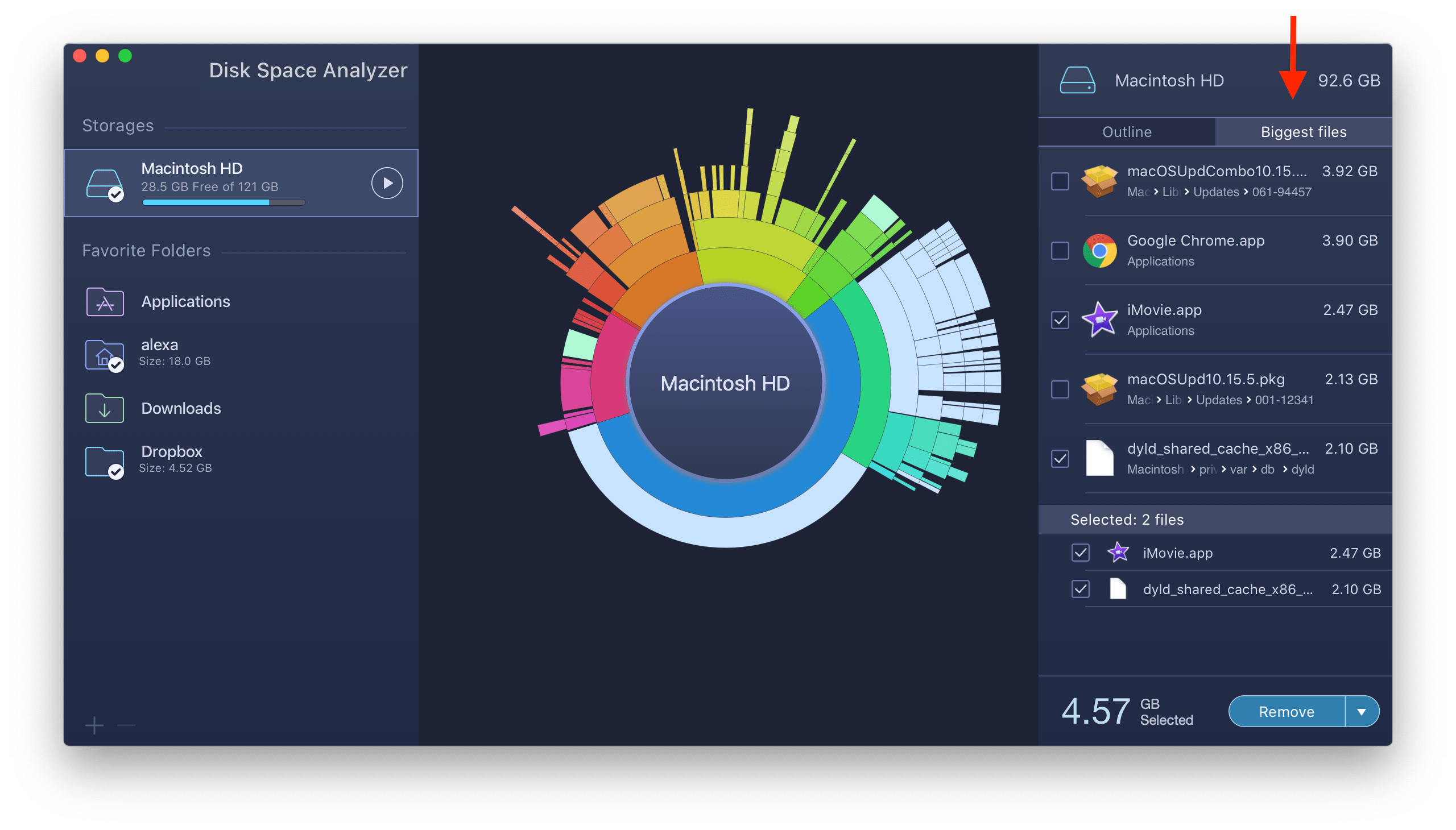 This approach allows you to overview the entire hard drive, pointing out which folders and files are consuming the most space. Also, it let you get details by drilling down through large folders and then through subfolders. Disk Space Analyzer is particularly good at helping you to visualize the space used on internal and external Mac hard drives.

Disk Space Analyzer
---
Related Entries: