A Mac computer has many fonts. However, there are tons of fonts we don't use: Chinese, Japanese, Hebrew, Indian, Sri Lankan, and so on. All of them take up around 900 Mb of your hard drive space. In this article, we will explore the Mac fonts location and explain how to remove fonts on Mac.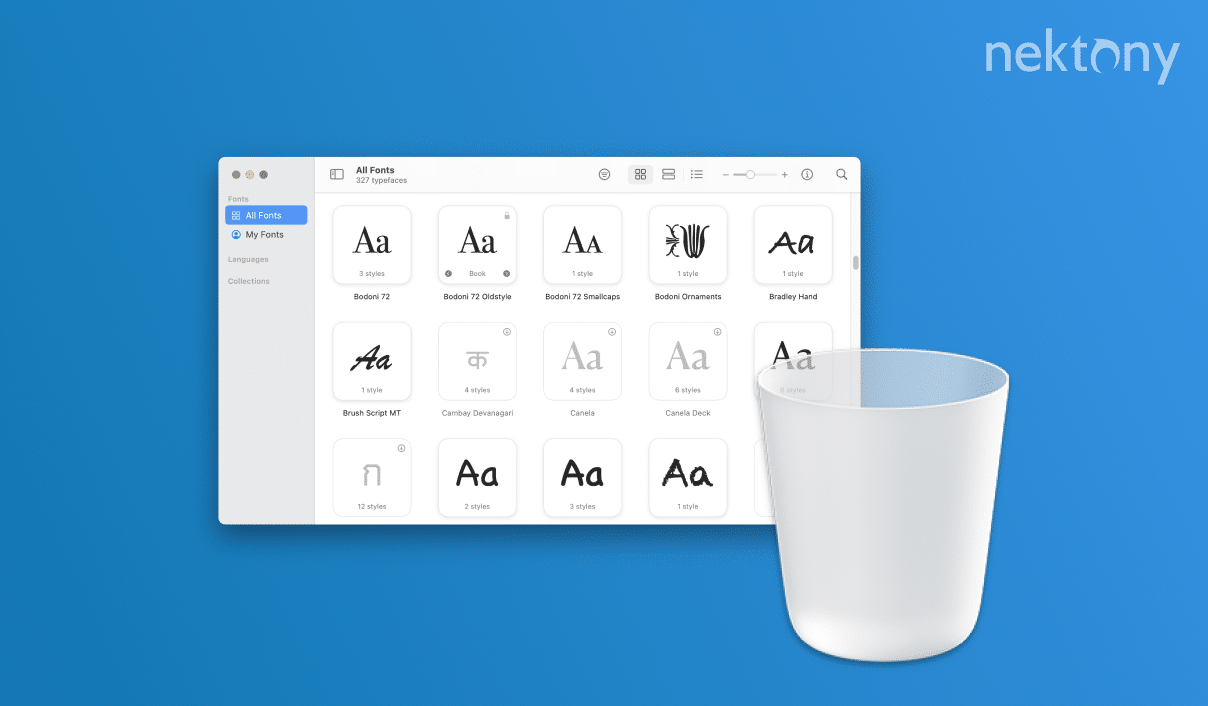 Contents:
---
Where are fonts stored on Mac
All fonts installed on your Mac are stored in the following system folder:
~/Library/Fonts
To get to this folder, follow these steps:
Open Finder.
Press Command+Shift+G key combination.
Type ~/Library/Fonts in the search field and press Enter (Return).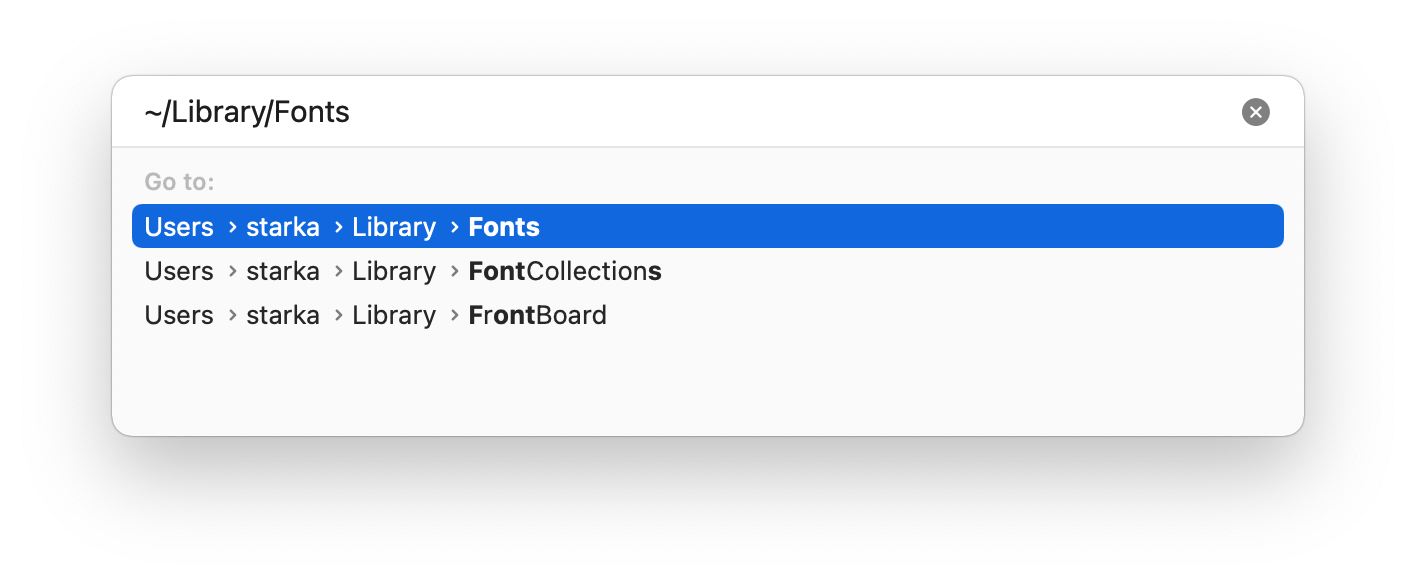 Another easy way to find all fonts on your Mac is to use a free application Funter. Funter allows you to show and find all hidden files on Mac.
Download and launch Funter.
Type Fonts in the search field and press Enter.

The application will display all font files on your Mac. Click the Magnifier icon to open these files in Finder.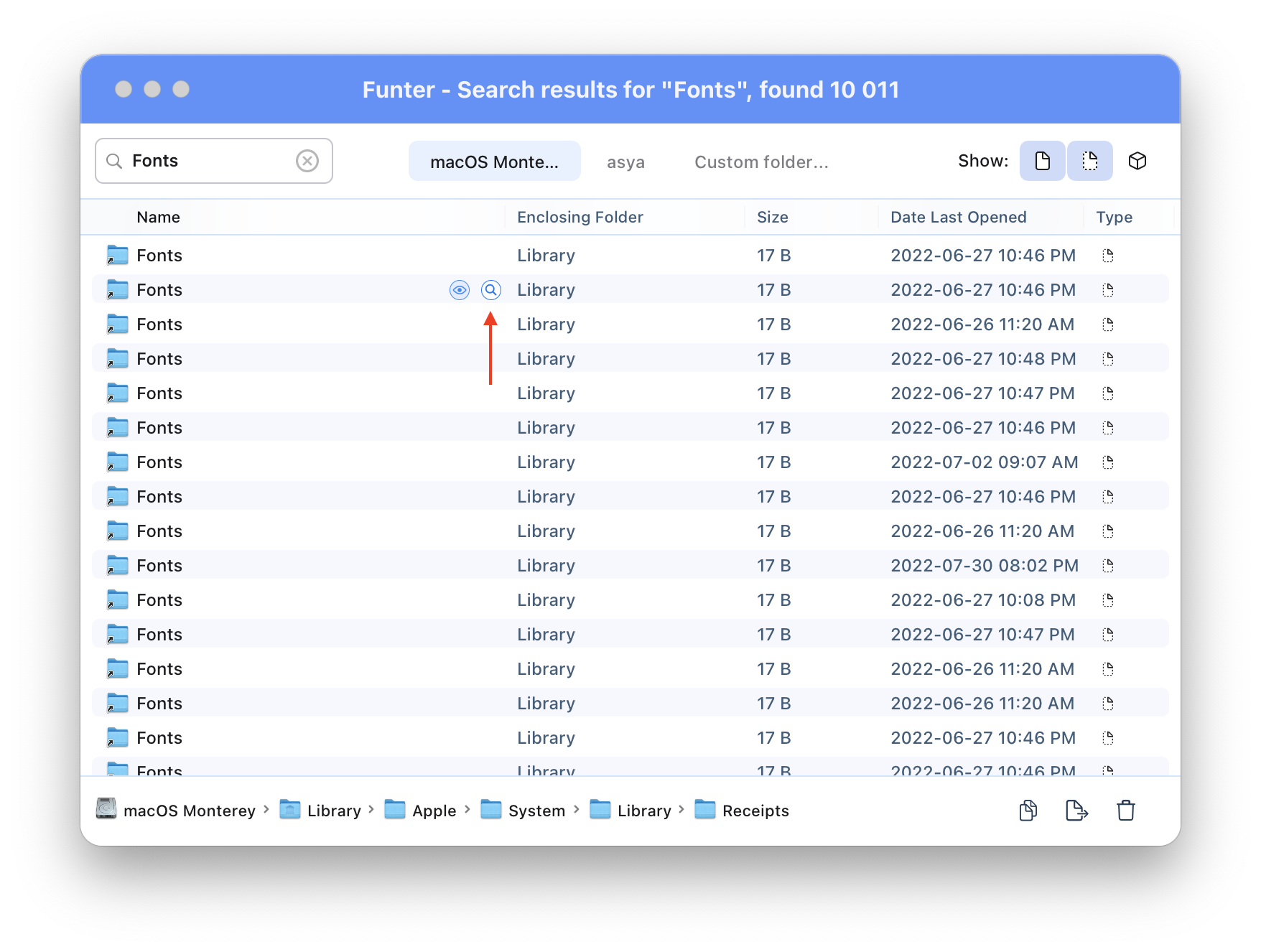 ---
How to download fonts on Mac
Here is a list of some websites from where you can download fonts for your Mac:
---
How to install fonts on Mac
Follow these steps to install new fonts on Mac:
Download the fonts you want to install.
Launch the default application Font Book from Launchpad.
Click the "+" icon.
Select the font file and click Open.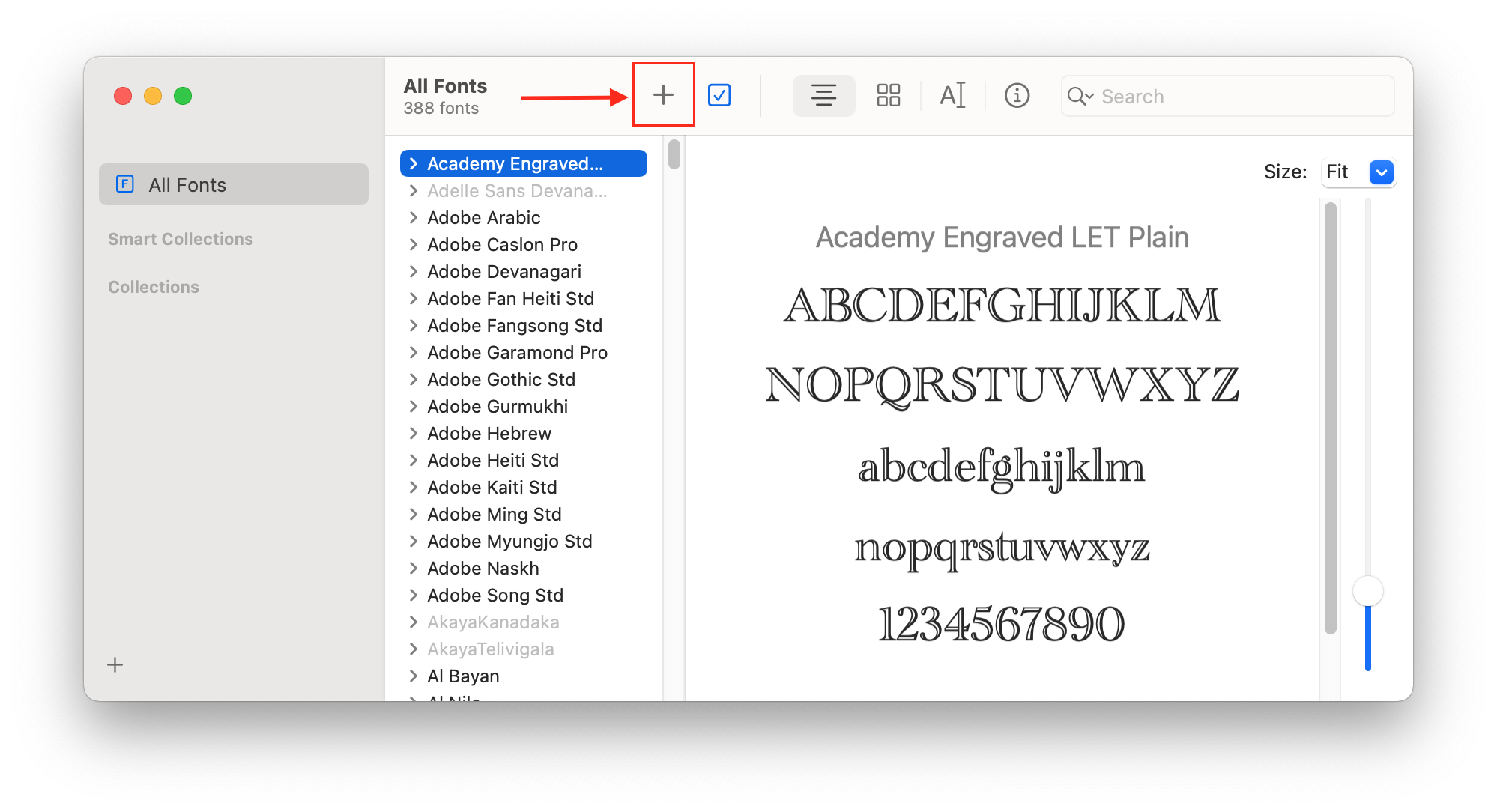 Also, you can do the following to install a new font on your Mac:
Download the font file.
Open the font file in Finder.
Double-click on the font.ttf file.
Click Install Font.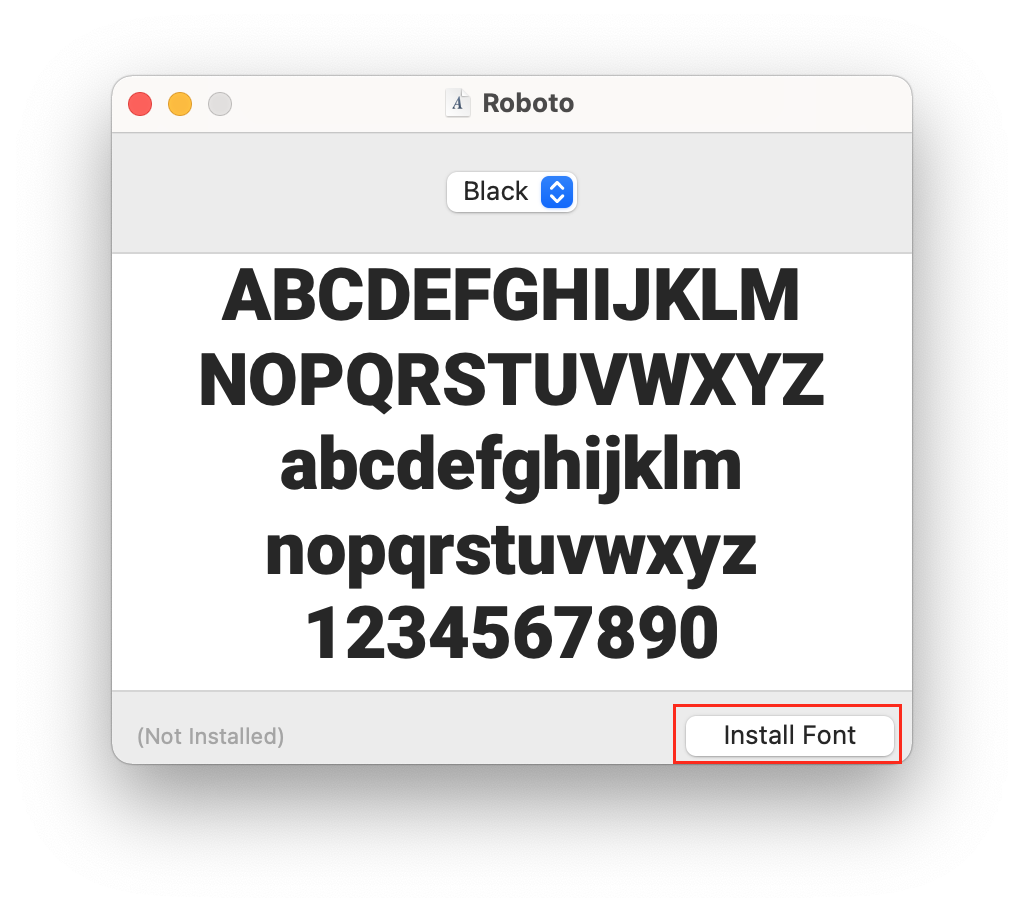 ---
How to uninstall fonts on Mac
Note that you shouldn't uninstall system fonts on Mac. Apple doesn't allow uninstalling system fonts because it can damage your system. The only way to remove them is to disable SIP (System Integrity Protection). However, once you enable SIP, the system will recover the fonts you deleted.
If you want to uninstall non-system fonts and the fonts you manually added on your Mac, follow the steps below:
Launch the Font Book app.
Select the fonts you don't need.
Right-clik on the font and select Remove.
The files will be moved to the Trash.
Empty the Trash bin.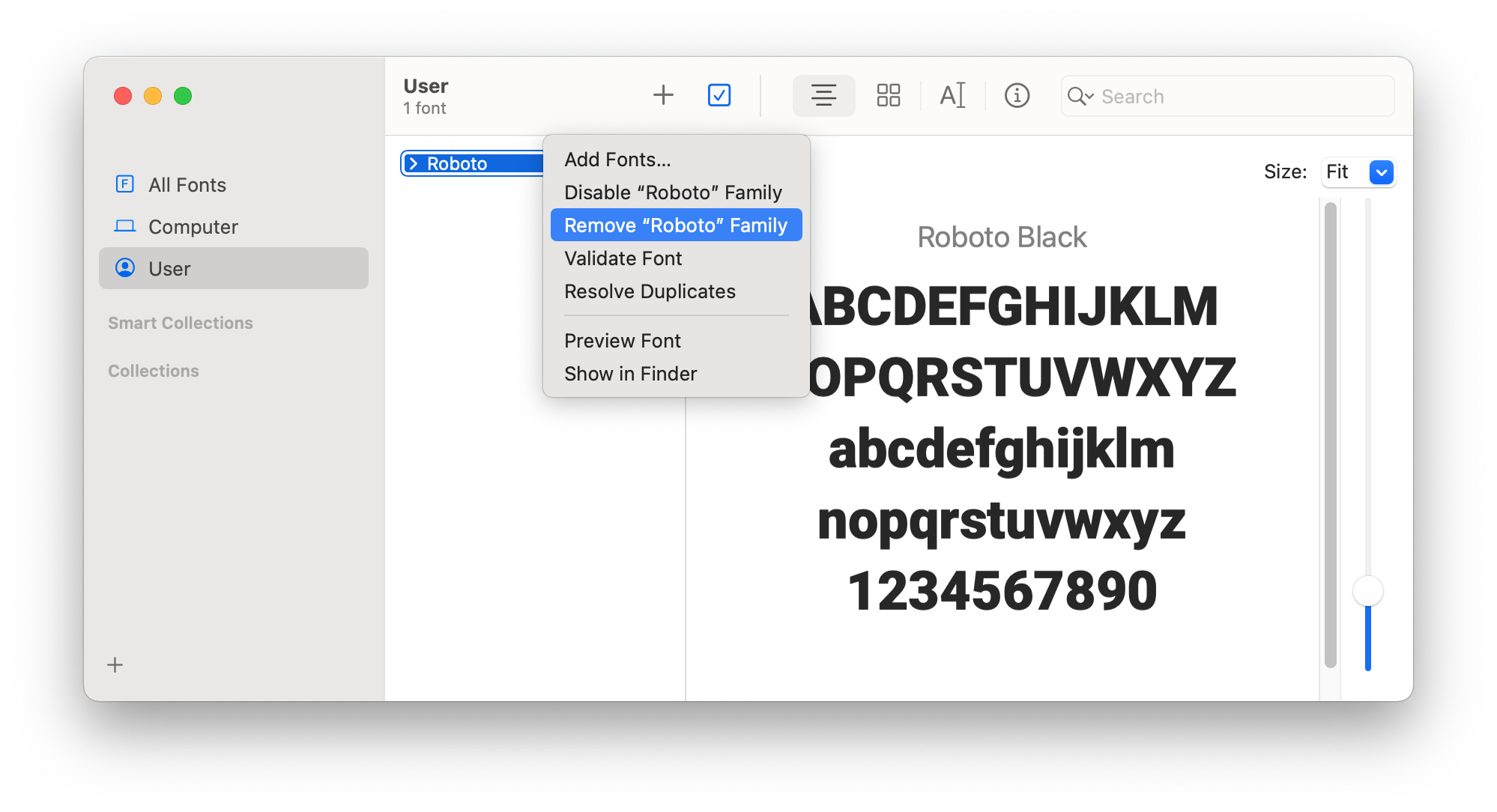 Here is a list of some Mac fonts that take up huge space, and you can remove them to recover disk space:
| | |
| --- | --- |
| AdobeFangsongStd-Regular.otf | 14.5 Mb |
| AdobeKaitiStd-Regular.otf | 17 Mb |
| KozGoPr6N-Bold.otf | 5.6 Mb |
| KozMinPr6N-Bold.otf | 68.9 Mb |
| Songti.ttc | 67.1 Mb |
| Arial Unicode.ttf | 23.3 Mb |
| AppleMyungjo.ttf | 18.8 Mb |
There are also many non-English fonts under 10 MB. So, it's probably time to look at them, remove unwanted fonts and free up more space on your Mac.