Whether you want to stop toggling apps on your notebook or just want to edit your photos on a bigger display, duplicating your screen may be the solution. You can extend your Mac's screen to an external monitor, making it possible to multitask more easily and have room to fully display images and documents. Today we will explain how to duplicate the screen on a Mac and use it in several ways.
Contents:
1. How to extend the display on a Mac
2. How to setup dual monitors on a Mac
3. How to set up a second monitor on a Mac for mirroring
4. How to use your Mac with extended display only
Below we explain how to duplicate screen on Mac, but before, we want to share a free application
Duplicate File Finder
. This application will help you quickly find duplicate files on your Mac.
Duplicate File Finder quickly locates duplicates of any extension on a Mac or in external storage. It detects duplicate and similar photos and even helps you organize your files by merging similar folders. You can download it from the App Store.
Duplicate File Finder
How to extend the display on a Mac
It is possible to extend the screen on a Mac by hooking up a second or a third monitor to your Apple computer. Then, depending on your needs, you can operate several Mac screens in different ways:
The dual display Mac will show you separate content;
The extended desktop Mac will show you the same content;
The second display Mac will become the one and only primary display.
---
Dual monitor setup on a Mac
The first thing we want to tell you is that it is possible to extend your monitor, even if you are not a tech-savvy user. All you need to do before setting up a second monitor is:
Check your Apple computer's display specifications. For this, click on the page appears in your browser. On this page, under the section you can find the display capabilities, including the number of external monitors supported and adapters needed.
in the menu bar → → → in the section, select . In the next moment, the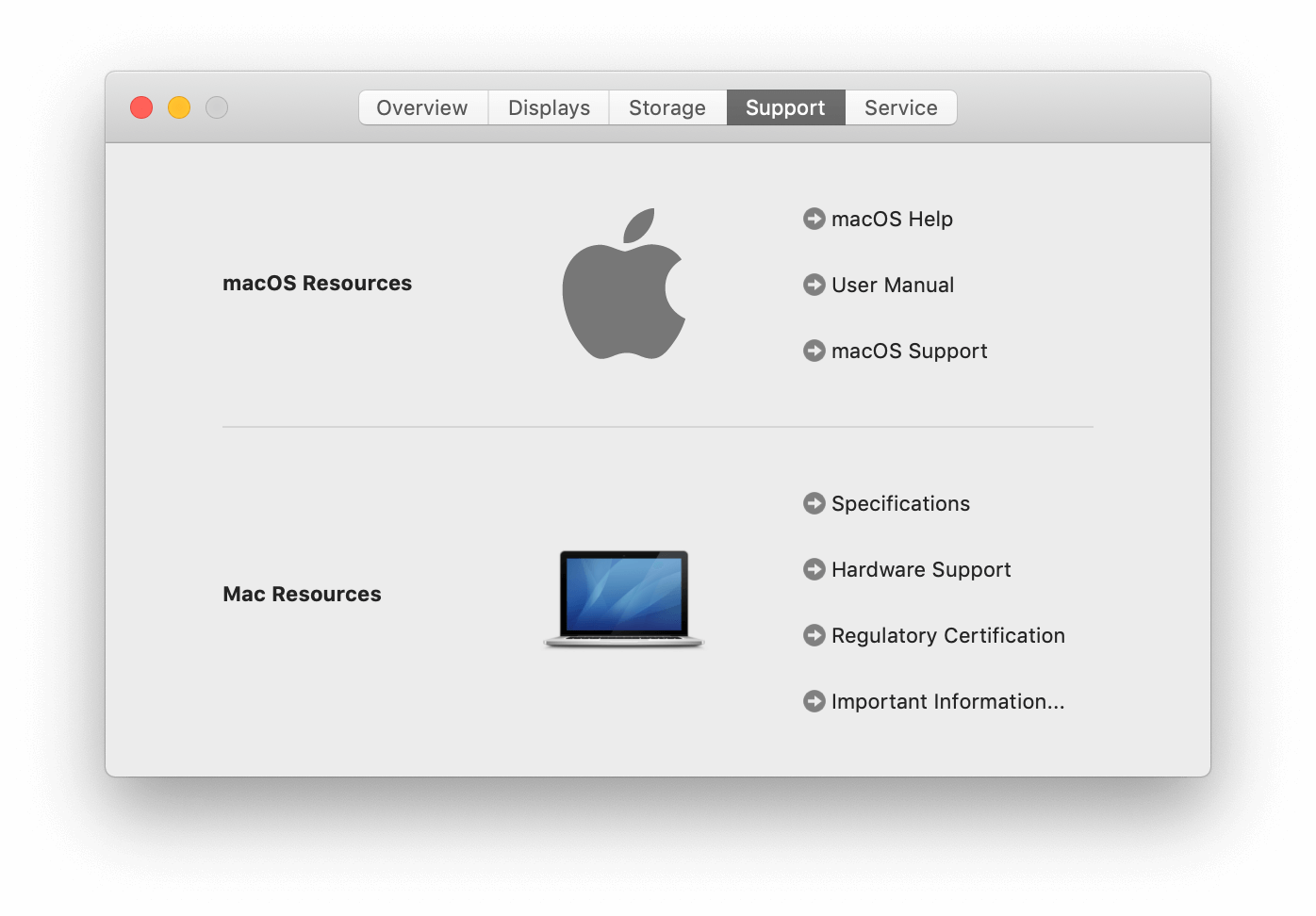 The next step is to gather your hardware, including the monitor, adapters, and any connecting devices.
Use a serviceable external monitor. You can choose any monitor you'd like, as long as the monitor specs and connector type fit with your display Specifications.
Use a suitable adapter. It is better to use an Apple adapter, as it ensures a stable and correct connection. You can find more about adapters and monitor connectors here.
Take an external keyboard and mouse if you intend to use an external monitor as the main display, while your Mac notebook is in closed-display mode.
As soon as you have everything you need, you can set up and use a dual screen on your Mac. To use a second monitor to extend your Mac's screen and operate two displays with different content, follow the next steps:
Power on your external monitor and hook it up to your Mac.
On your Mac, click on the
in the menu bar → → . Do not tick the box Mirror Displays unless you want the Mac's second monitor to duplicate the desktop monitor.

Select the
tab. You will see two displays, which you can move within this tab to arrange their position. Depending on the physical location of your external monitor, you can drag its image from the top, bottom, right, or left within the Arrangement tab. The white bar on one of the displays means that it is your primary display. In this way, the apps appear on the primary display first. You can change the primary display by dragging the white bar to another display within the Arrangement tab.
All these changes take time. Also, be aware that for a few seconds, both displays go black to accept the new settings.
---
Mirror display setup on a Mac
If you want to see on your external monitor the same content as on your Mac, you need to enable Mirror Displays. For this, go to System Preferences → Displays → Arrangement → select Mirror Displays. You can also use a keyboard shortcut Command+Fn+1 to toggle display mirroring on and off.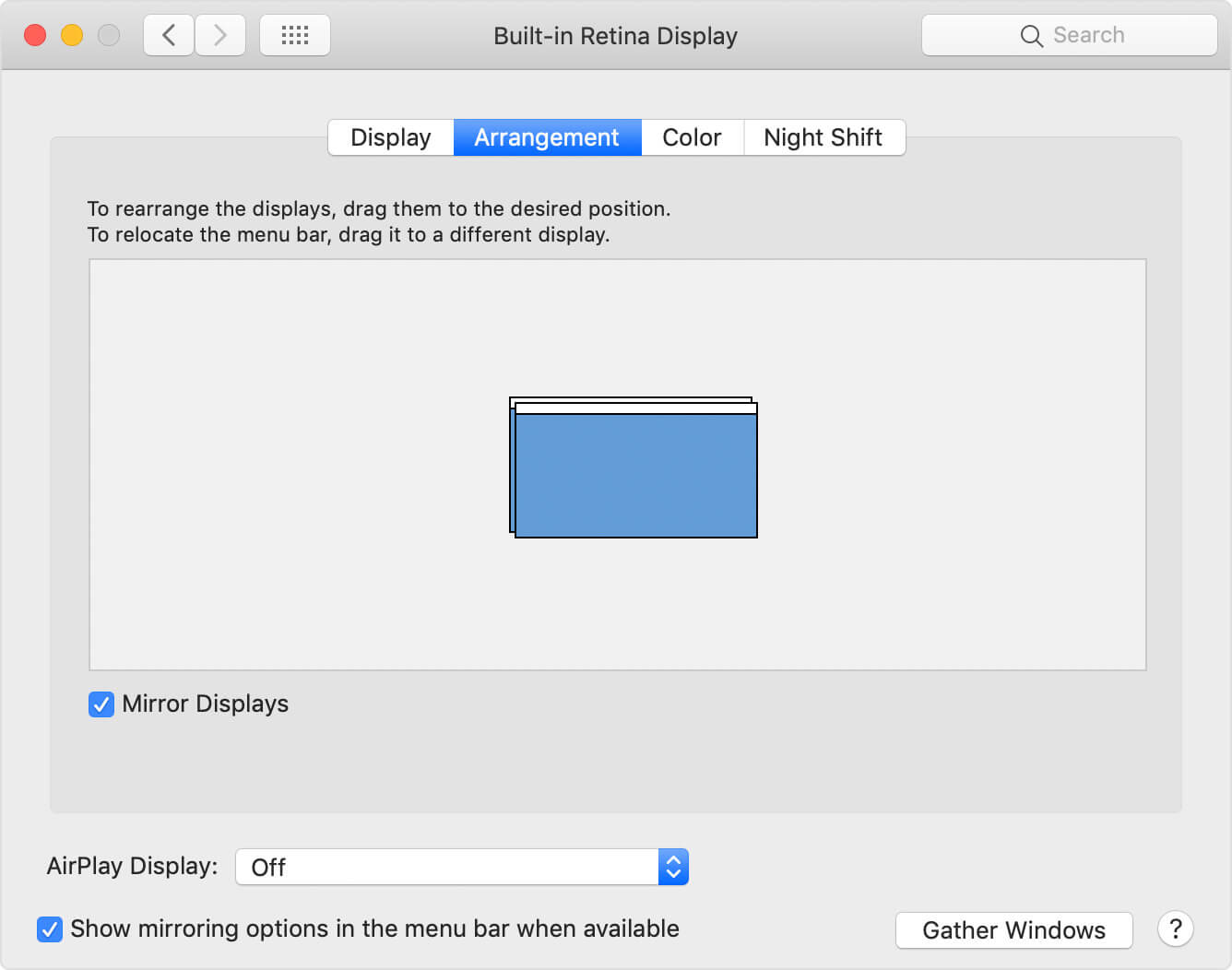 ---
Use the second monitor only on a Mac
If you want to operate your Mac notebook while using an external monitor instead of the built-in display, you can use the closed-display mode. This mode allows you to use the Mac notebook with its lid closed. Even while it appears to be in sleep mode, it isn't.
In addition to the previously-mentioned steps, you will need to connect an external keyboard and mouse, either USB or wireless. To use your Mac notebook with an external monitor as the primary and only display, take the following steps:
Plug in your Mac notebook using the AC power adapter and turn it on.
Hook up a USB keyboard and mouse. If you prefer to use a wireless keyboard and mouse, you should make some changes to the preferences. Go to
→ → click on the button. Connect the wireless keyboard and mouse to your Mac notebook. Then, within the Bluetooth pane, click on the button → select and click .

Power your external monitor.
Connect your Mac to the external monitor.
Check to see if the mirroring option is enabled in the Arrangement tab of the Displays pane. If so, in a brief moment you will see that the external monitor duplicates your Mac notebook's desktop.
Then you can close the notebook lid. If you are using OS X 10.7 and later, the external monitor first becomes blue, then shows you the notebook's display. If you are using OS X 10.6.8 and earlier, click the mouse button or hit any key on the keyboard to wake your Mac notebook and use an external monitor.
Operate your Mac notebook as usual by using the external monitor, keyboard, and mouse.
Depending on the macOS, you can resume operating your Mac notebook using its built-in display:
In OS X 10.7 and later, open the Mac notebook lid. For a few seconds, it flickers to a blue screen but then both displays show the same content.
In OS X 10.6.8 and earlier, click on the
in the menu bar → select → then, wake your notebook by opening the lid.
---
Conclusion
Now you know how to add a second monitor to a Mac and several ways to operate two screens on a Mac. If you have any questions or wish to share your experience with using an external monitor, you are welcome to comment under this post. You can also find useful articles about macOS at our blog.