On June 5, 2023, Apple unveiled macOS Sonoma. Although, as usual, at first, the new system is available in beta only, let's see what you can expect from the new macOS version 14. This article also explains how to prepare your Mac for the next update and upgrade to macOS Sonoma.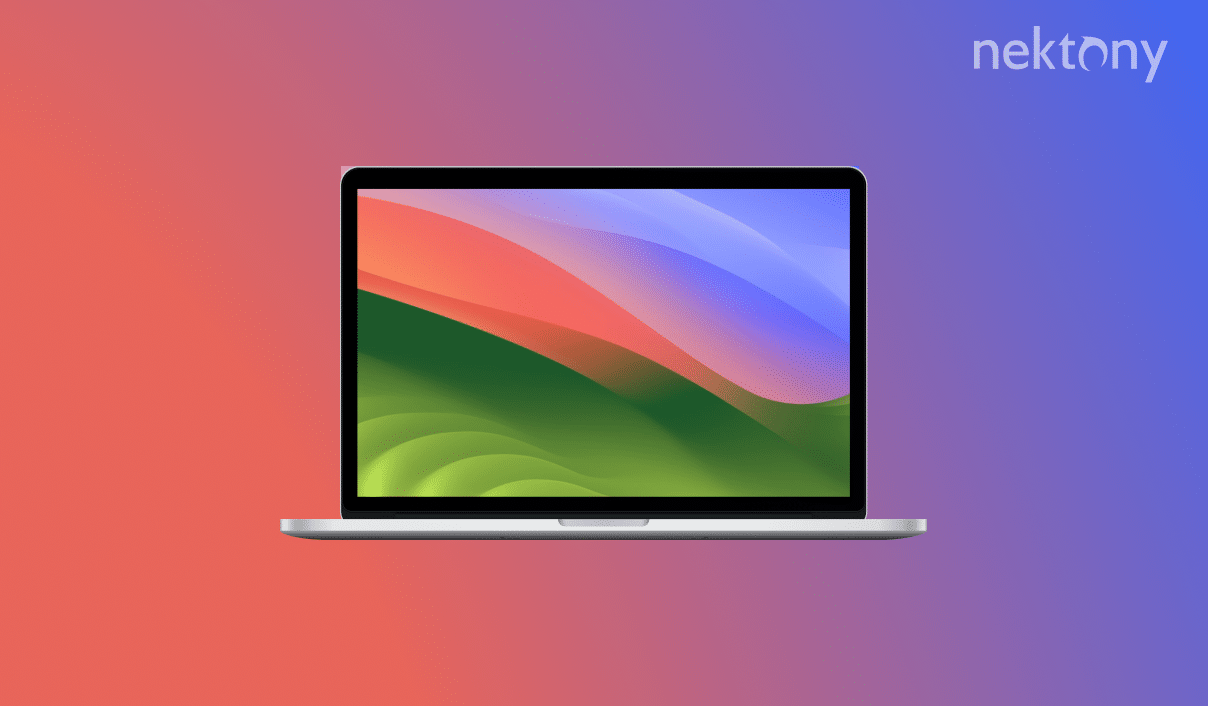 Contents:
#1 Tip – Before upgrading a Mac to macOS Sonoma
The new macOS Sonoma requires having enough free disk space on your Mac for a smooth upgrade. To prepare your Mac for the Sonoma upgrade, you can use
MacCleaner Pro
. This is a Mac optimization tool that will help you delete cache files, the apps you don't use, useless duplicate files, and other clutter. Try it for free and optimize your Mac before installing the new system.
MacCleaner Pro
What's new in macOS Sonoma
Apple announced macOS Sonoma in June 2023. The beta version is available for downloading from the website beta.apple.com. We usually don't recommend to download the beta version since it usually has numerous bugs. The official release date of macOS Sonoma is expected to be in autumn 2023. And now, let's see what to expect from macOS Sonoma.

Interactive widgets on the desktop
macOS Sonoma introduced interactive widgets. These widgets can be placed on your desktop, home screen, lock screen, or standby mode and allow you to perform some actions without opening the app. You can even sync your widgets across your iPhone, iPad, and Mac with Continuity.
Presenter Overlay in video conferencing
The new system brings new video conferencing features, one of which is called Presenter Overlay. This means that users can appear on top of the content they are sharing, like presentations, screen sharing, etc. Apple added reactions and colorful animations to the system that can be added by hand gestures. The developers of any video conferencing apps can support such features.
Safari improvements
Apple worked hard to make the system and especially the browsing experience more secure. Safari has got Private Browsing mode that blocks more trackers and prevents unauthorized access to the user's device.
Another feature is Profiles, which allows the user to create separate browsing environments for different purposes, such as work and personal.
Mac users can now create web apps from their favorite websites. Web apps look and behave like regular apps and can be launched from the Dock or the Launchpad.
​​Something that game lovers will love
The new system brings new gaming enhancements, such as game mode, which boosts CPU and GPU performance. Audio latency and input lag will be reduced for Xbox and PlayStation controllers. With Game Porting Toolkit, developers can easily check and port their games to Mac.
What's more
Inline PDFs in Notes
Activating Siri by saying just "Siri"
Creating groups to share a set of passwords
New stickers in Messages
New possibilities to organize Reminders
More accurate auto-corrections in texts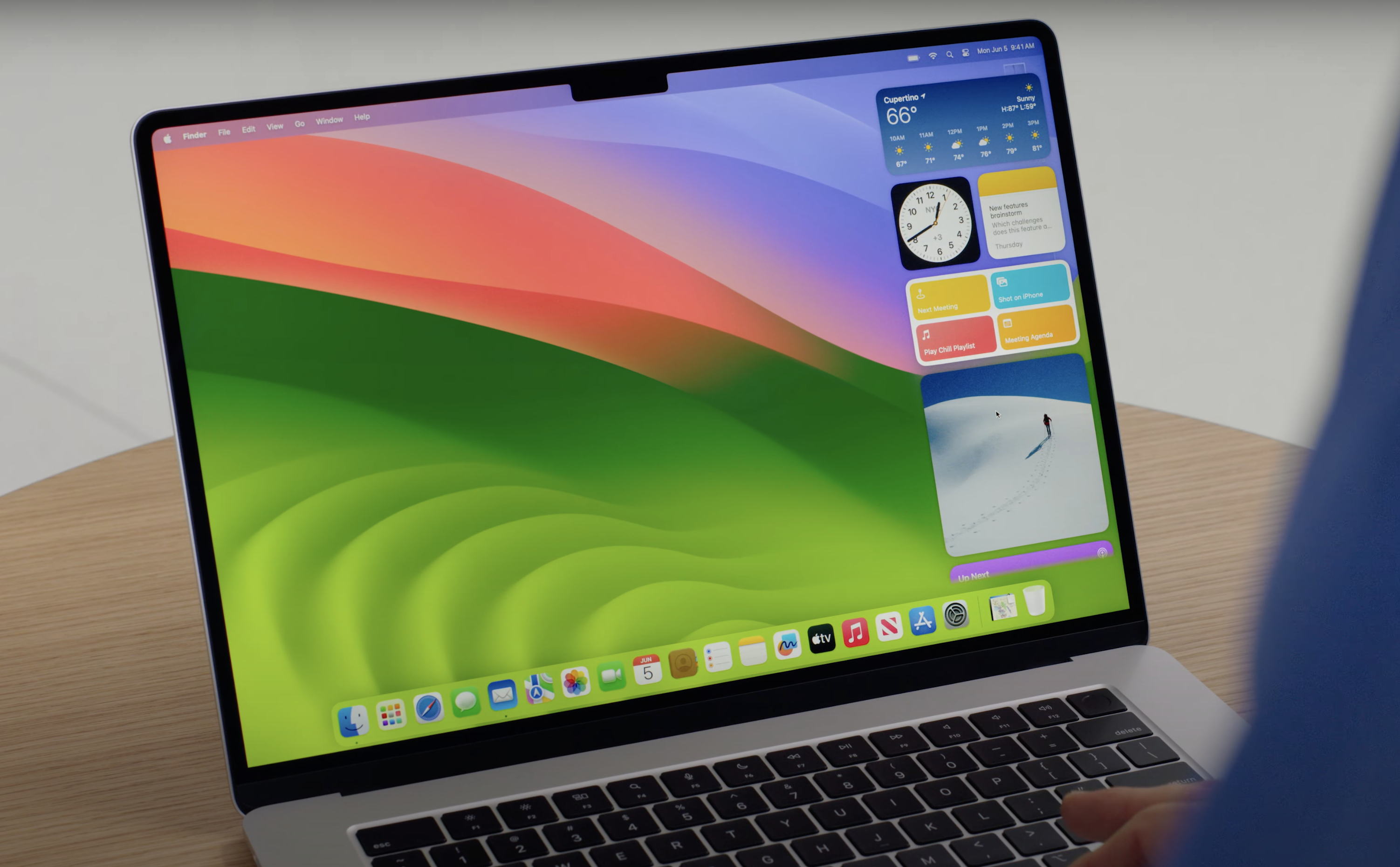 Which Macs support macOS Ventura
The bad news for Mac owners of 2017 models. The new system won't be supported on MacBook Pro (2017), MacBook Air (2017), and MacBook 12-Inch (2017).
The list of Mac models that support macOS Sonoma:
MacBook Air (2018 and newer)
MacBook Pro (2018 and newer)
Mac Mini (2018 and newer)
iMac (2019 and newer)
iMac Pro (2017)
Mac Studio (2022)
Mac Pro (2019 and newer)
---
When should I install macOS Sonoma?
Installing the public beta of macOS Sonoma is not recommended for anyone unless you're a developer. Although macOS is known to be a stable operating system, the beta versions usually have bugs, which may expose your Mac to potential problems.
Furthermore, we suggest that you wait for a few months or at least two updates before upgrading to macOS Sonoma, even when the official public version is released.
You should also verify that the apps you use daily support the new macOS. Ensure that there are no unwanted new features in the new macOS and Apple applications that could compromise your security and privacy without your knowledge.
How to prepare a Mac for a macOS Sonoma upgrade
If you are planning to upgrade your Mac to macOS Sonoma, you should first take some steps to prepare your Mac and protect your data. An easy way to clean up your Mac for an update without any issues is to use a special application called MacCleaner Pro.
Do the following before installing macOS Sonoma on your Mac:
Clean up the cache and other junk files.

Delete all the unnecessary files, like caches, logs, and leftovers of apps that you have already removed. These files can cause problems during the installation of macOS Ventura or slow down your Mac afterward.

Get rid of unused apps on your Mac.

You may have many apps that you never use, and they are wasting precious space on your disk. You can uninstall them to free up some space and make room for the new update.

Remove duplicate files.

Check your Mac for useless duplicate files. They may take up a lot of space on your Mac. Before upgrading your Mac, delete all the duplicate files and folders and reclaim some space.

Delete large items that you don't need on your disk.

Usually, the biggest files on your Mac are media files, like videos or music. You should check what is taking up most space on your Mac and delete or move to external storage the files that you don't use or need.

Back up your Mac.

The only way to recover your data, if something goes wrong during the upgrade, is to have a backup. Always back up your data before any major upgrade of your system. You can back up your data with Time Machine, a built-in feature of macOS. Just launch Time Machine and follow the instructions to save your data to an external drive.
Once again: you can delete all junk files, uninstall apps, remove duplicates, and analyze your disk space with MacCleaner Pro. This software tool will help you optimize your Mac and keep it always clean and running smoothly.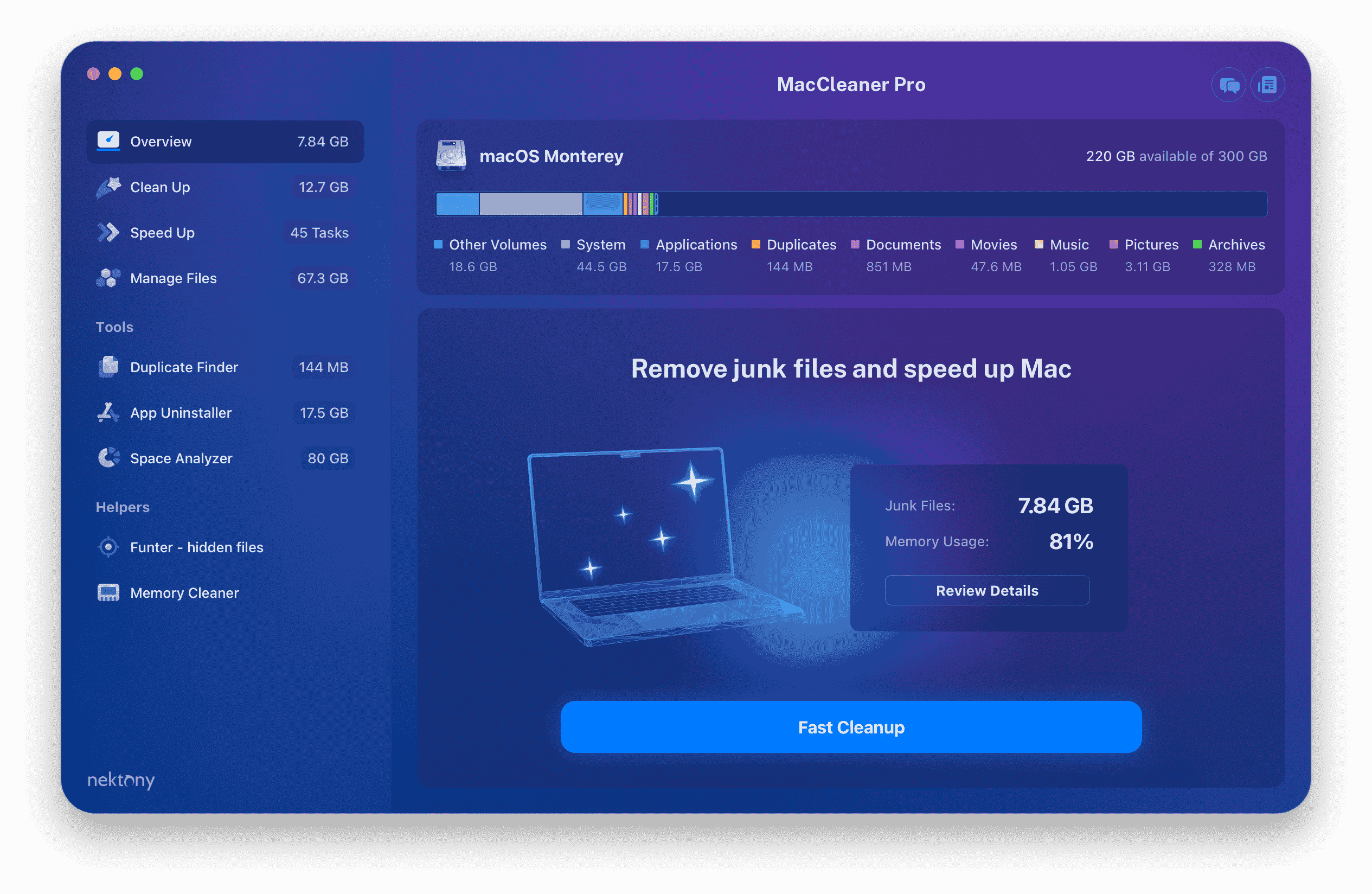 How to upgrade Mac to macOS Sonoma
Before you start the process of upgrading to macOS Sonoma, ensure that you have a stable internet connection. If you are using a Mac laptop, plug it into AC power. Then follow these steps:
Open System Settings.
Go to the General section from the sidebar.
Click Software Update in the right panel.
You'll see available updates. Click Upgrade Now.

You'll see new Terms & Conditions. Read them and click Agree.
Your Mac will start downloading the new system.

Once the downloading is complete, your Mac will restart. You'll need to wait untill it installs the new system. Your Mac will show the progress bar on a dark screen.
Do not put your Mac to sleep or close its lid so that the computer can complete the macOS update.
Once the installation is complete, you'll see the login window asking you to choose Sonoma wallpaper. Choose it click Continue.

Enjoy using the new macOS Sonoma on your Mac.
The lengths of time for users to install macOS Sonoma may vary. This depends on many factors, such as the internet connection speed, the version of the system you use, RAM memory and more. Generally, an approximate calculation of how long you can expect the Sonoma update to take is the following:
Time to prepare your Mac for update 10-50 minutes (depending on the data volume of your backup and the way you choose to clean up your Mac)
Time to download macOS Sonoma 15-60 minutes
Time to install macOS Sonoma 20-50 minutes
Conclusion:
Now you know what's new macOS Sonoma brings to Mac users. Follow our guide to safely upgrade to the new system. Please, don't foger to regularly maintain your computer with MacCleaner Pro to keep it always clean and work smoothly.