Google Chrome is one of the most popular cross-platform browsers in the world. However, you may need to uninstall Chrome for a variety of reasons, such as to solve a browser issue or to switch to a different browser such as Safari. In this article, we will explain how to uninstall Google Chrome on Mac safely and completely.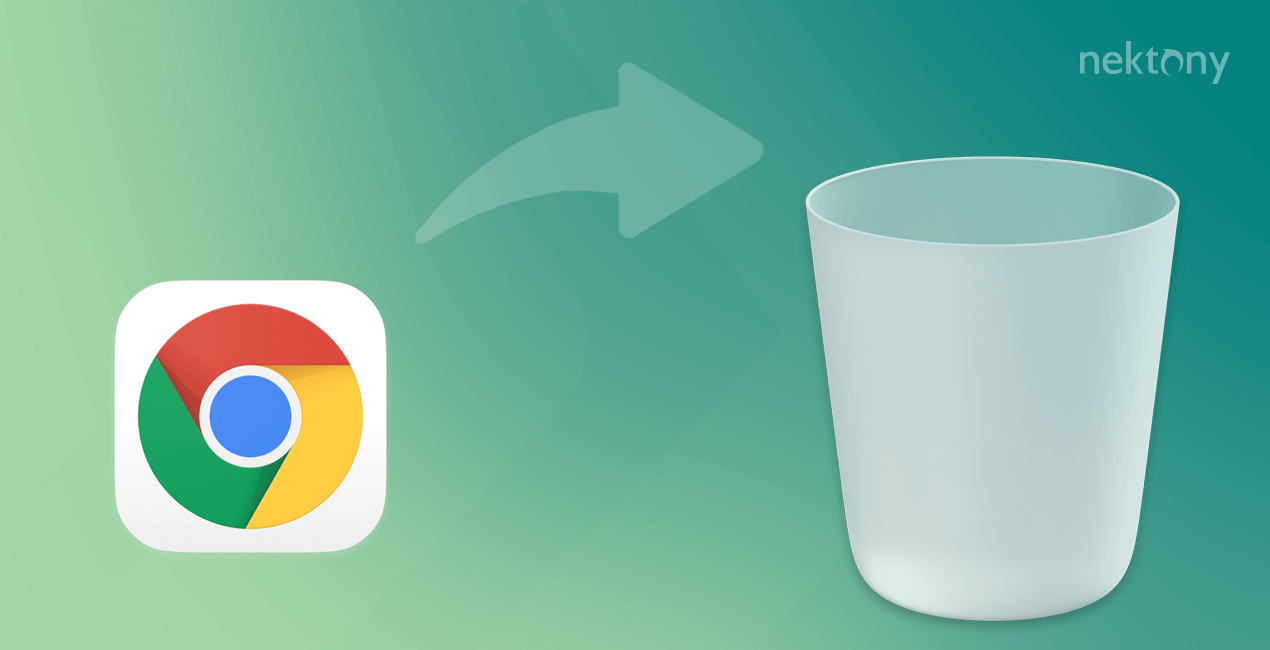 Contents:
The quickest way to uninstall Google Chrome from Mac
If you don't have time to read this article and just want a quick solution, use
App Cleaner & Uninstaller
from Nektony. This uninstaller will safely and completely remove Chrome with just two simple clicks. You can use this
download
link for a free trial of the uninstaller.
App Cleaner & Uninstaller
Video Guide: How to uninstall Google Chrome
Should I uninstall Chrome from my Mac?
Google Chrome is a popular web browser among computer users around the globe. It is regularly updated, works fast, and provides numerous additional extensions, which make working with this browser even more pleasant and convenient. The Google Chrome application itself is only 500MB, which is not very large compared to some other applications on Mac, especially game apps. However, if you check how much disk space Google Chrome and all of its system files occupy, you will probably be very surprised. Sometimes its volume can even exceed 5 GB.

As an example, we decided to scan our applications using App Cleaner & Uninstaller and discovered that Google Chrome's caches, preferences, and other application support files take up a total of 4.62GB of disk space.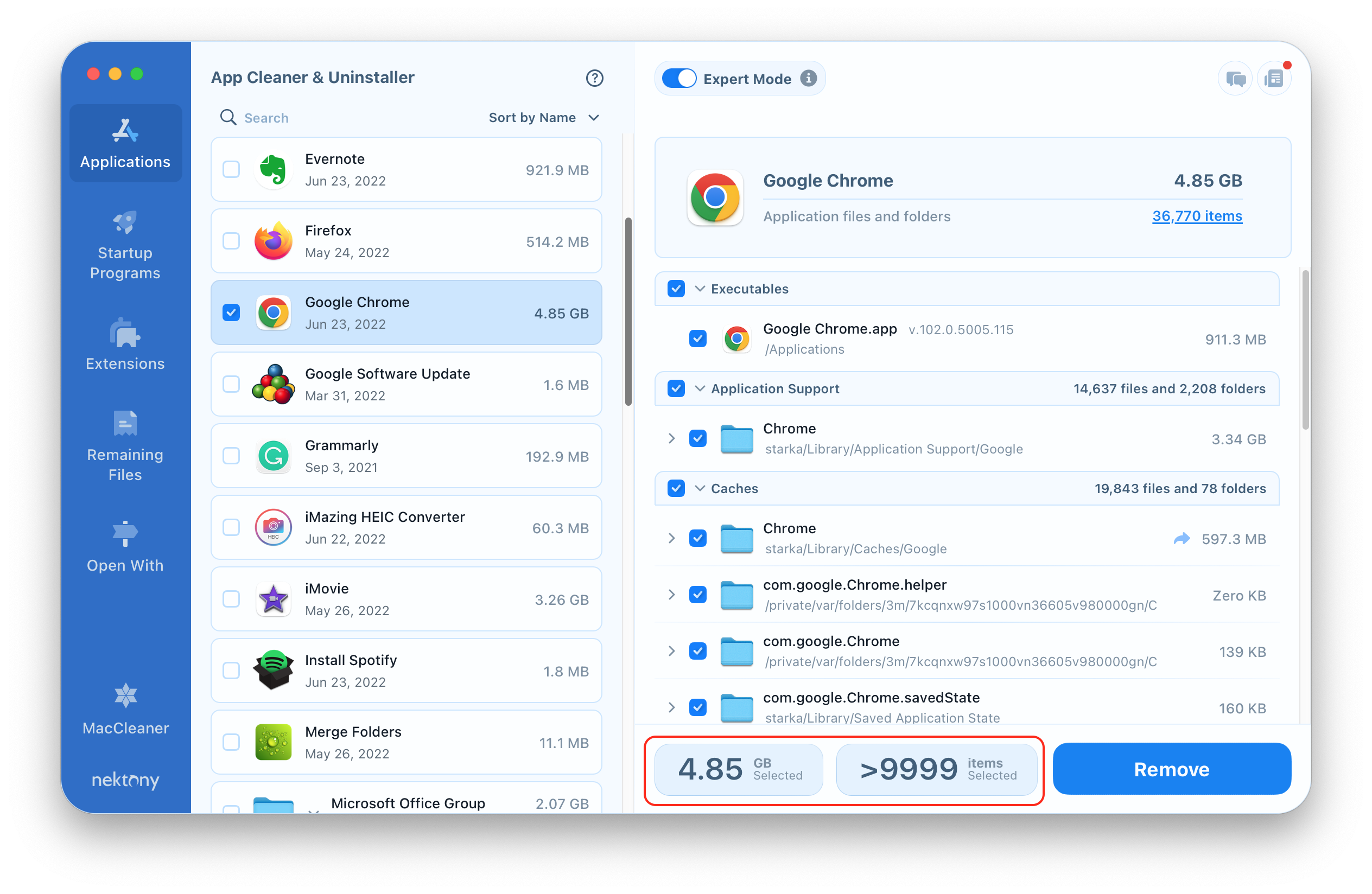 Therefore, if you find a more convenient browser for your preferences or do not use Google Chrome at all, we recommend that you uninstall the browser and all its service files to free up space on your computer.
Important notes about uninstalling Google Chrome from Mac:
Before writing this guide, we verified the information published by the Chrome support page, which says that you can delete the browser by dragging and dropping it into the Trash folder.
If you delete the Chrome browser by just dragging and dropping it to the Trash, certain service files such as caches and logs will remain on your hard drive. If you want to uninstall the Chrome app completely, you need to remove these service files as well.
In this article, we will provide two methods for removing Chrome entirely, so that no service files remain on your Mac.
We want to note that the manual method for uninstalling an app is more difficult and time-consuming than the automatic method.
Please use the manual method only if you understand how the file system on macOS works. You should realize that if you remove important service files, it can damage your system.
The easiest method for uninstalling Chrome from Mac is to use a special tool called App Cleaner & Uninstaller. This utility is developed by the Nektony team, and it is Apple-notarized and absolutely safe. It helps Mac users completely uninstall any app, with no remnants or files left behind.
---
How do I delete my Google Chrome history?
If you need to quickly clear Chrome's history and other browsing data, there's no need to dig through the menu in search of the right section. This can be easily done with a keyboard shortcut and a few mouse clicks.
To delete Chrome's history, first launch Chrome and press the following keyboard shortcut: Command + Shift + Backspace. This will open the Settings tab with the Clear History pop-up window. Select the desired period and items to clear, then click the Clear data button.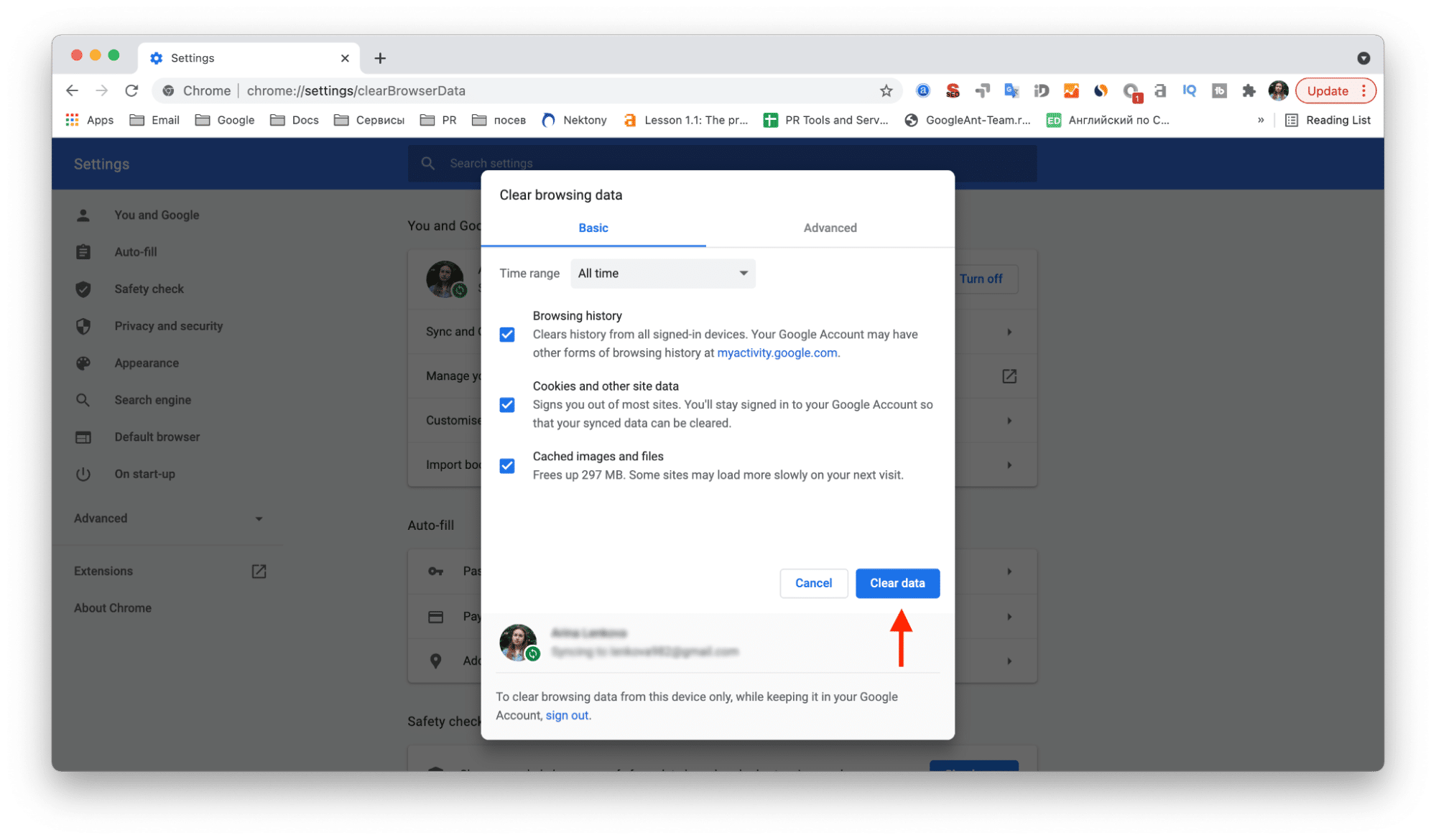 After this, your history will be cleared for the selected period of time.
The easiest way to uninstall Google Chrome
The easiest way to completely delete applications from Mac is to use App Cleaner & Uninstaller. This utility automatically finds all the service files for each program so that you don't have to search for them manually.
Steps to completely uninstall Chrome on Mac:
Quit Google Chrome.
Download and launch App Cleaner & Uninstaller.
Find and select the Google Chrome browser.
Click the Remove button to uninstall Chrome.
Confirm you want to remove the browser.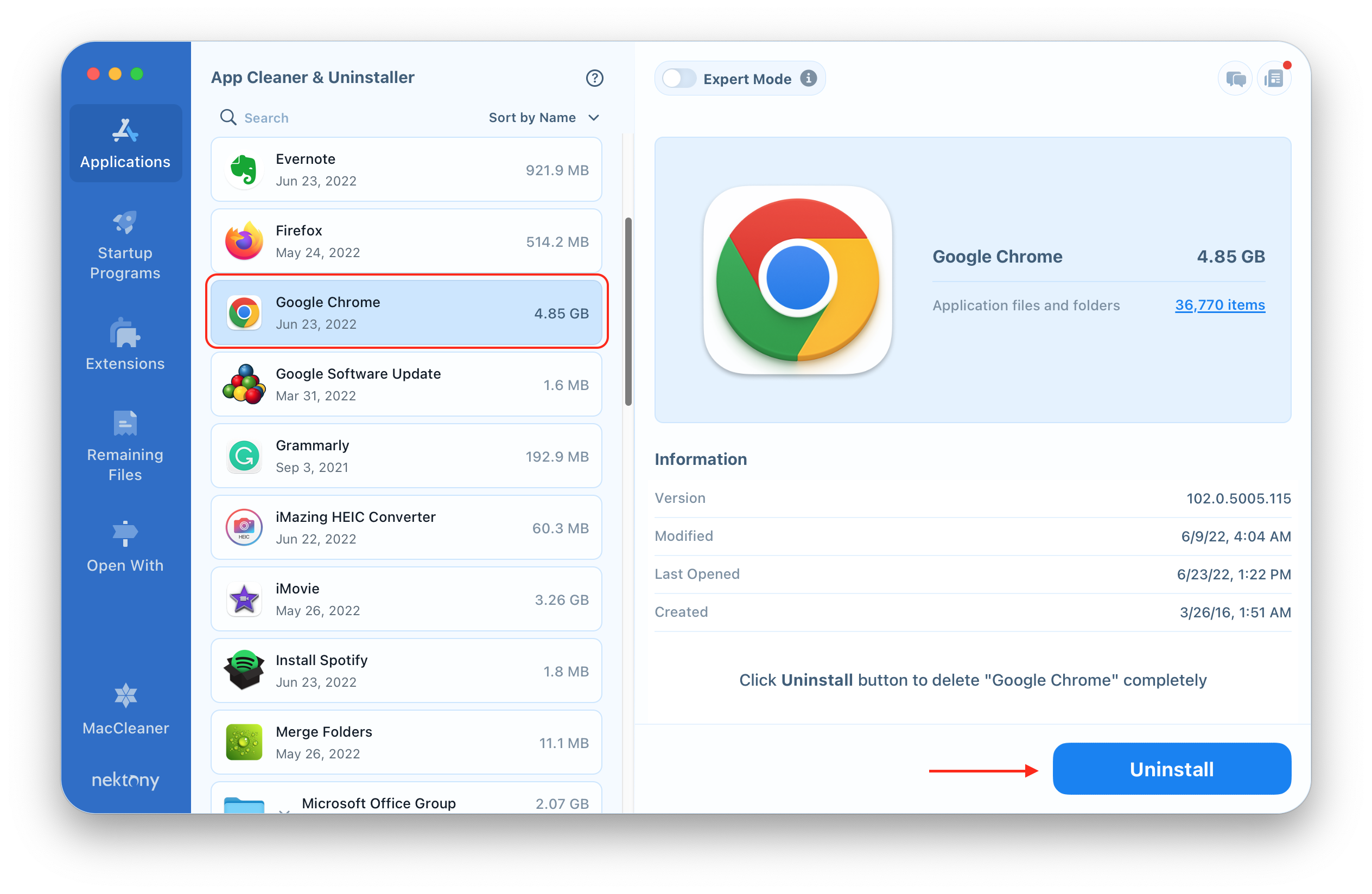 Please note that if an app is deleted using the regular method of dragging and dropping its icon into the Trash folder, App Cleaner & Uninstaller can help you find and remove all its service files as well. To find leftovers from apps you previously removed using this method, go to the Remaining Files section. There you will find any related leftovers, where you can select them and click to remove.
---
How to Manually Uninstall Google Chrome from Mac
Before you move Google Chrome to Trash, you need to delete all information from its servers (browsing data, cache files and profile information). To do this, follow these steps:
Launch Google Chrome.
Go to the Control panel by clicking the "three dots" icon in the top right corner of the Chrome window.

Select History from the drop-down menu. You can also do this by using the Command+Y key shortcut.
Click Clear browsing data in the window that appears.

For the time range, select "All time" and mark all checkboxes in the Clear browsing data section. Then click Clear data.
Go to the Applications folder and move Chrome to the Trash Bin.

Remove Chrome's other service files. Note that even though you do everything highlighted above, not all files related to Chrome may be deleted. That's why we recommend you check the system Library folder for Chrome's support files.
Open the Library folder from Finder. To do this, press Command+Shift+G and type ~/Library. Then click Go.
Go to the Application Support folder → Google and remove the Chrome subfolder.

~/Library/Application Support/Google/Chrome. In our case shown in the image above, Chrome's service files took up 3.91 Gb. That's huge!

Finally, don't forget to empty Trash.
This option for uninstalling an application is more or less suitable for the Chrome browser. Some other apps may contain data not only in the Library folder, but spread across several different system folders on Mac. That's why we recommend using a more reliable and quick method for uninstalling apps on a Mac – App Cleaner & Uninstaller.
---
Conclusion
If you have decided to remove Google Chrome from your Mac, you should remember that in addition to removing the application's executable file, you should also remove its service files. In this article, we described both manual and automatic ways to uninstall Chrome as well as all of its service files from your Mac.
However, based on our 10 years of experience in developing applications for cleaning Mac computers, we can say that manual removal may not be as effective as automatic. With manual deletion, there is always the possibility of missing service files. Moreover, this method is very time consuming. For this reason, we recommend that you follow the automatic method for uninstalling apps and use App Cleaner & Uninstaller. It will help you quickly and safely delete all of Chrome's service files and keep your Mac running quickly and effectively.