When you first unbox your Mac, it runs blazingly fast and you can feel this for yourself. This is because you have not loaded any files or apps on it. Eventually, as you add files and install apps on your Mac, it is going to slow down.
While the files that you store and the apps that you install do contribute to the slowness of your Mac, they are not the only reason why your machine's performance degrades. More often than not, it is the junk, duplicate, and many other unnecessary files that cause the machine not to run with its full potential.
Fortunately, there are tools that help you get rid of any unnecessary files, fix items that need fixing, and let you enjoy the improved performance on your Mac machine. Here we compare two of the popular Mac cleaner apps and you can then decide for yourself which one to get.
Quick video review: CCleaner vs. MacCleaner Pro
---
CCleaner review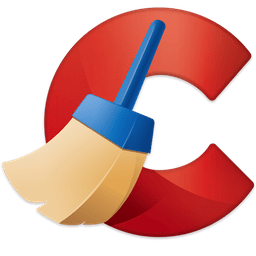 Price: $29.95 for 1 Year CCleaner Professional (1 Mac)
Free trial: Yes but with a limited number of features
Distribution: You can buy it directly from the official website
Requirements: 64-bit macOS 10.10 or later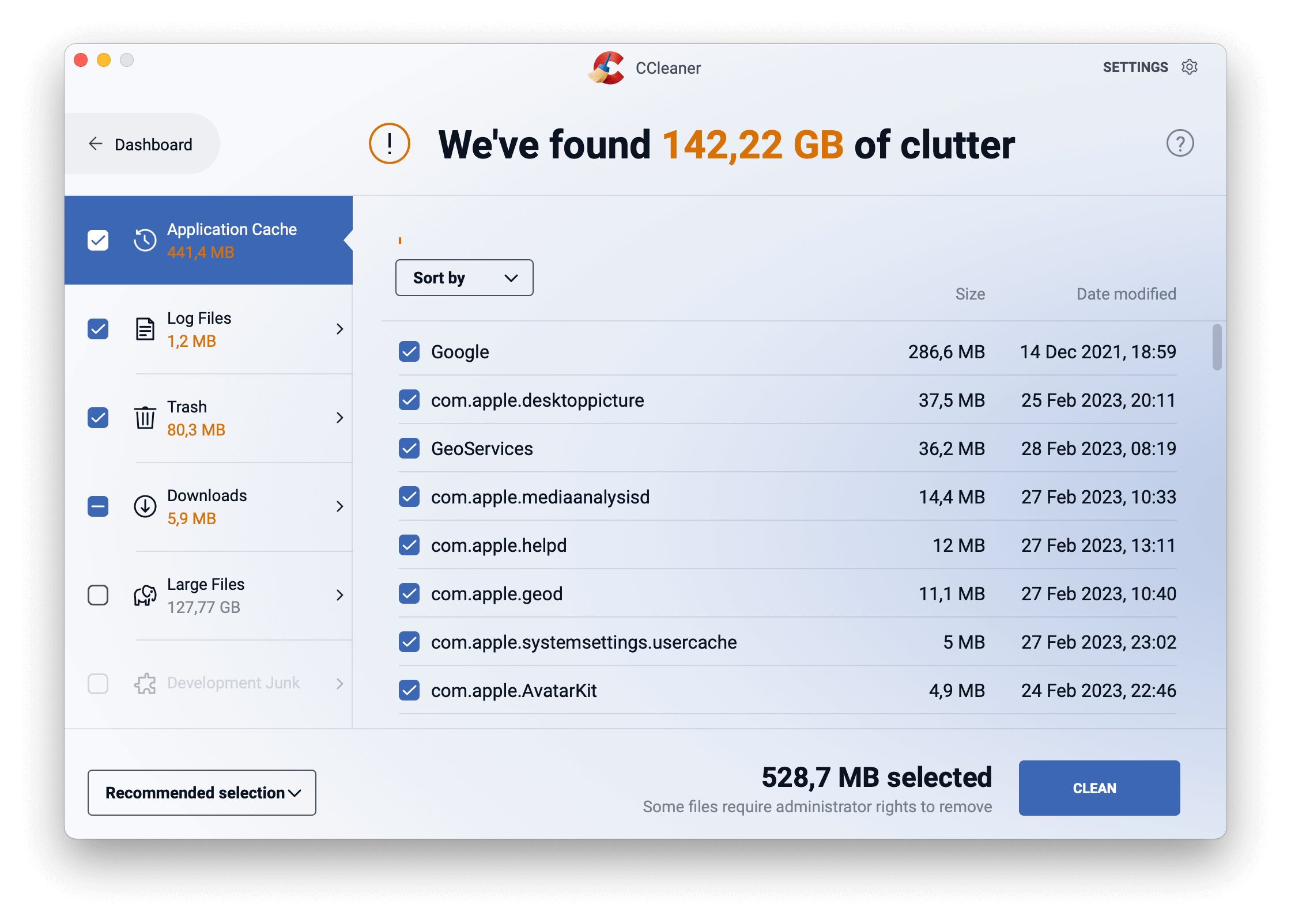 If you have ever looked up for a Mac cleaner app on the Internet, you are likely familiar with CCleaner. This cleaning tool has been around for quite a long time, and it has helped many users clean up their Mac machines. Once you obtain the free or the paid version of the program, you can start using it to remove unnecessary and junk files from your computer.
In order to provide you with easy to use options, the app has all of its options laid in various tabs on the left. This way, you can quickly find what you are looking for without having to use the traditional menu bar that most Mac apps use.
The focus of this app is mainly on helping you get rid of junk files from your Mac. Therefore, the app mainly only has a few options in the sidebar that then let you access various cleaning features.
On the right of the screen, you see various configurable options for the feature that you choose from the left sidebar. This allows you to selectively remove junk files from your Mac. You can avoid deleting any files that you wish to preserve with these customizable options.
How does CCleaner work?
CCleaner works pretty much the same way as most other Mac cleaning tools. When you install and launch this app, you will find a few options on the left sidebar. Mainly, you will only be using the option that says Cleaner as that is where the actual cleaning features of this app can be accessed from.
Once you have selected Cleaner from the left, you will find various options that you can enable and disable on the right pane. It is here that you can choose what items you would like to get rid of your machine. The app automatically selects the recommended options, however, you are free to make your own selection.
On the right pane, you will find two tabs that say Mac OS X and Applications. The first tab that says Mac OS X helps remove native junk files from your machine. This usually includes the junk files created by your web browsers, your system's unwanted files, and so on.
The program lets you delete junk files for various apps that you have installed on your Mac. You can choose the app that you want to delete the files for. You have the option to selectively remove files in case you do not wish to delete all of the files for your app.
Is CCleaner safe?
While looking for a cleaning tool for your Mac, you should not ignore the fact that many cleaning tools do not work the way they are advertised. Therefore, you should always be a bit skeptical about the tool that you use and find out how safe it is to use the tool you choose for the cleaning task.
If you choose to go for CCleaner, you want to find out if you can trust it for cleaning your Mac. This tool has been in the news in the past which raised the eyebrows of many users. In the latest versions, though, you do not have to worry about anything as it seems to do what it promises.
You can be worry-free while using most cleaning options in this tool. However, always be sure to check what the app cleans on your machine, as this app tends to be aggressive in the cleaning process and it can end-up deleting your essential files.
If that happens, you will experience issues with your apps as without their files the apps will not work the way they should. This will basically require you to keep an eye on the configuration of the tool and know what it will delete beforehand to avoid any unexpected consequences.
Is CCleaner worth it?
There are mainly two factors that decide the worthiness of a Mac cleaning tool: the first one is the number of features that the tool has and the second one is the price of the tool. You need to make sure you are getting the most value for your money.
CCleaner's cheapest plan starts at $29.95 per year for a single Mac. This is definitely a good price for a cleaning tool but the issue is with the number of features that you get. CCleaner mostly only provides tools that let you remove certain junk files from your machine.
When you get a cleaning tool for your Mac, you probably expect it to provide you with a comprehensive set of features. This includes all the tools that you need to scan each and every corner of your Mac and remove any unwanted files. This is something you do not get with CCleaner as its main focus is only on helping you remove certain files.
Tools like this are usually expected to provide several other features for a full and thorough clean-up of the machine. Unfortunately, that is not the case with this tool.
CCleaner Key Features
It is not overwhelming as there are only a few options on the main interface
Manage your Mac's startup items to improve the boot time
Get rid of unwanted programs with the click of a button
Empty the Trash and remove other unnecessary memory-hogging files
Delete the data of your web browsers
The flexibility to choose what you want and what you do not want to remove
The app gets automatic new updates
Pros
✓

Extremely easy to use as there is only option to click on

✓

Customize your file deletion tasks

✓

Selectively remove data for each of your Mac apps

✓

Analyze the data before you remove it

✓

Clean data for both system as well as apps

✓

Repair broken permissions for your files

✓

Disable the apps that launch at the boot-up of your Mac
Cons
𐄂

A limited number of cleaning options

𐄂

A limited number of cleaning options

𐄂


It can sometimes end-up deleting your required files

𐄂

You can only try out a few options in the free trial

𐄂

Buying the yearly plan is the only option you have
---
MacCleaner Pro review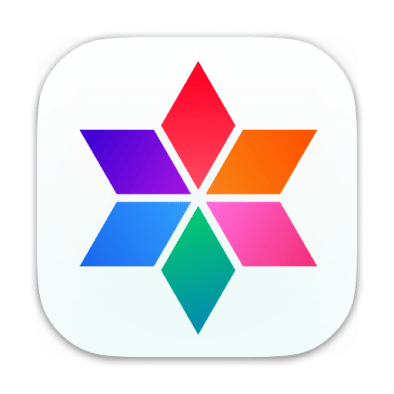 Price: $29.95 per year
Free trial: Yes, and you get access to all features
Distribution: It can be purchased and downloaded from its official website
Requirements: macOS 10.13 or later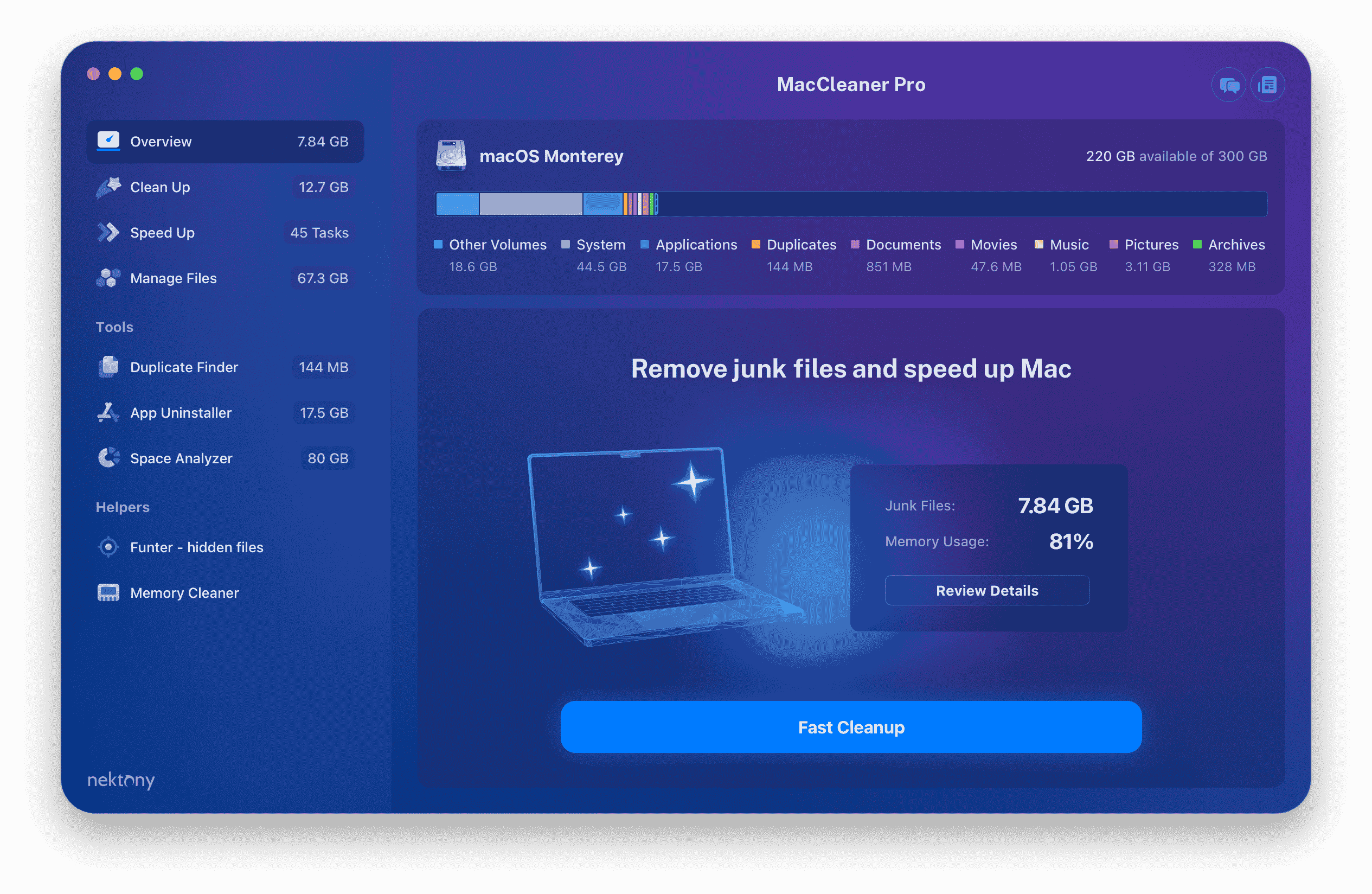 Unlike other cleaning tools, MacCleaner Pro comes bundled with all the cleaning and optimizations tools that you need to perform a thorough clean-up of your machine. Once you launch the app, you find an overview of what needs to be cleaned up on your Mac. This information usually appears after you have let the app do an initial scan of your computer.
On the main interface, you get to know about many reasons why your Mac has slowed down. These slow-down reasons are actually divided into multiple sections so you can get a better look at each.
The left sidebar contains all of the features that you can use in this app. If you are only looking to perform a certain action, say you only want to remove junk files, then you can choose an appropriate option from this sidebar. This will not run a full clean-up but will rather run a selective one.
The other features include the ability to find and remove duplicate files, get rid of apps along with their associated files, and analyze the usage of your disk.
How to use MacCleaner Pro
Using MacCleaner Pro is as easy as clicking a few options. Since you now know where the options are placed, you can go ahead and click them to access the app's features. If you are not sure where to start from, the Overview option is what you can select from the sidebar.
The Overview screen gives you general information about the items that slow down your Mac and the files that eat up your precious storage. At the top of the screen, you can view the current usage of your disk which lets you find out what is using what amount of space on your drive.
Depending on what issues you have with your Mac, you can choose to run an appropriate action to fix the issue. For example, if you find that your Mac's performance has gone down, click the Speed up Mac option in the left sidebar. This will let you explore the options to potentially improve your Mac's performance.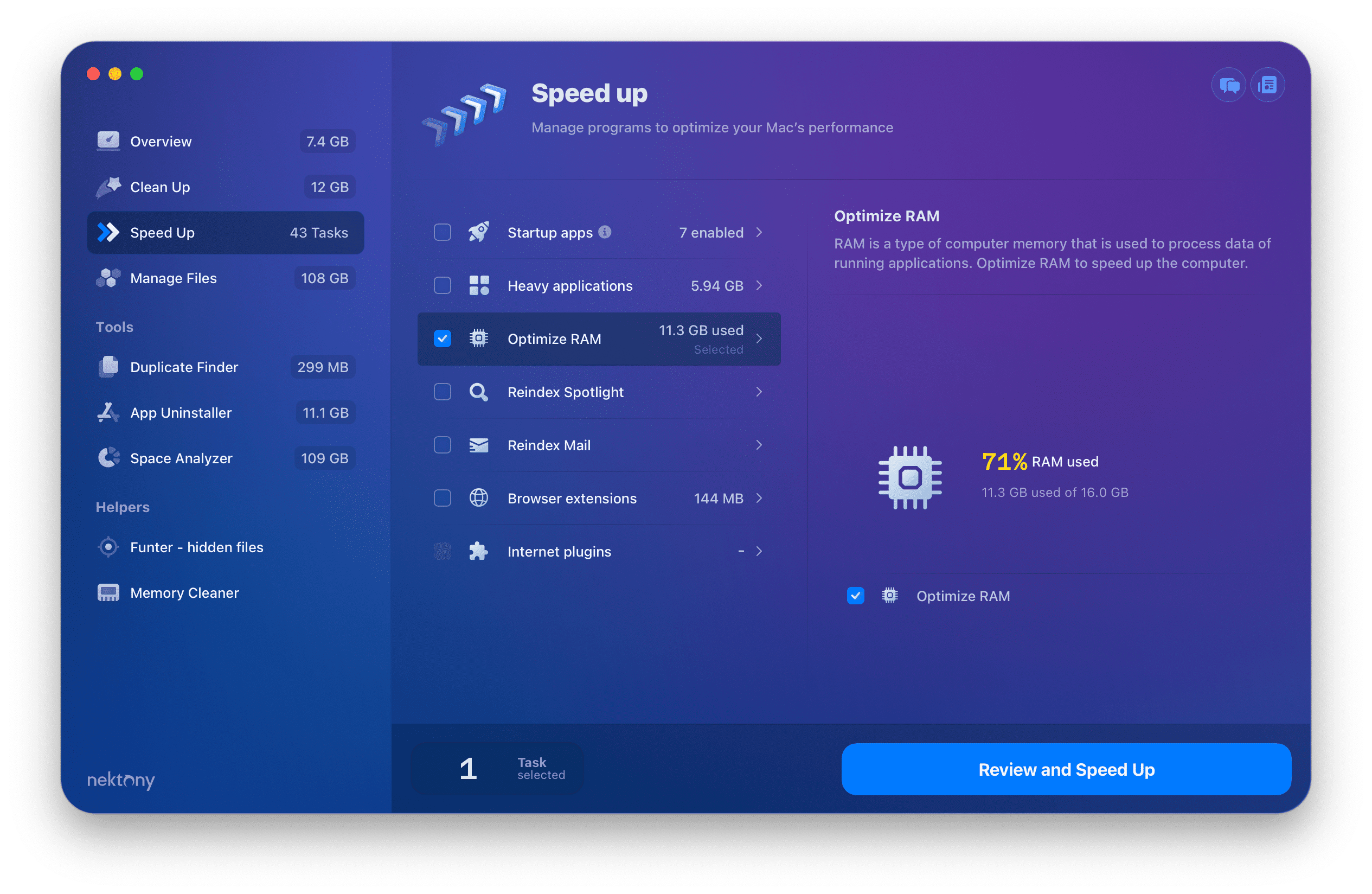 As you can see in the above image, there are a good amount of RAM and startup apps that can be disabled to speed up the Mac. There is a tick box for each option, and you can enable it for the items that you want to optimize.
Since Macs do not come with as large hard drives as Windows machines, it is easy to get your drive filled with so many files. If this is the case with you, MacCleaner Pro's Clean up Mac feature can help you out. It tells you about the file types occupying the most amount of space on your drive, and then provides you with the option to remove all those files at once.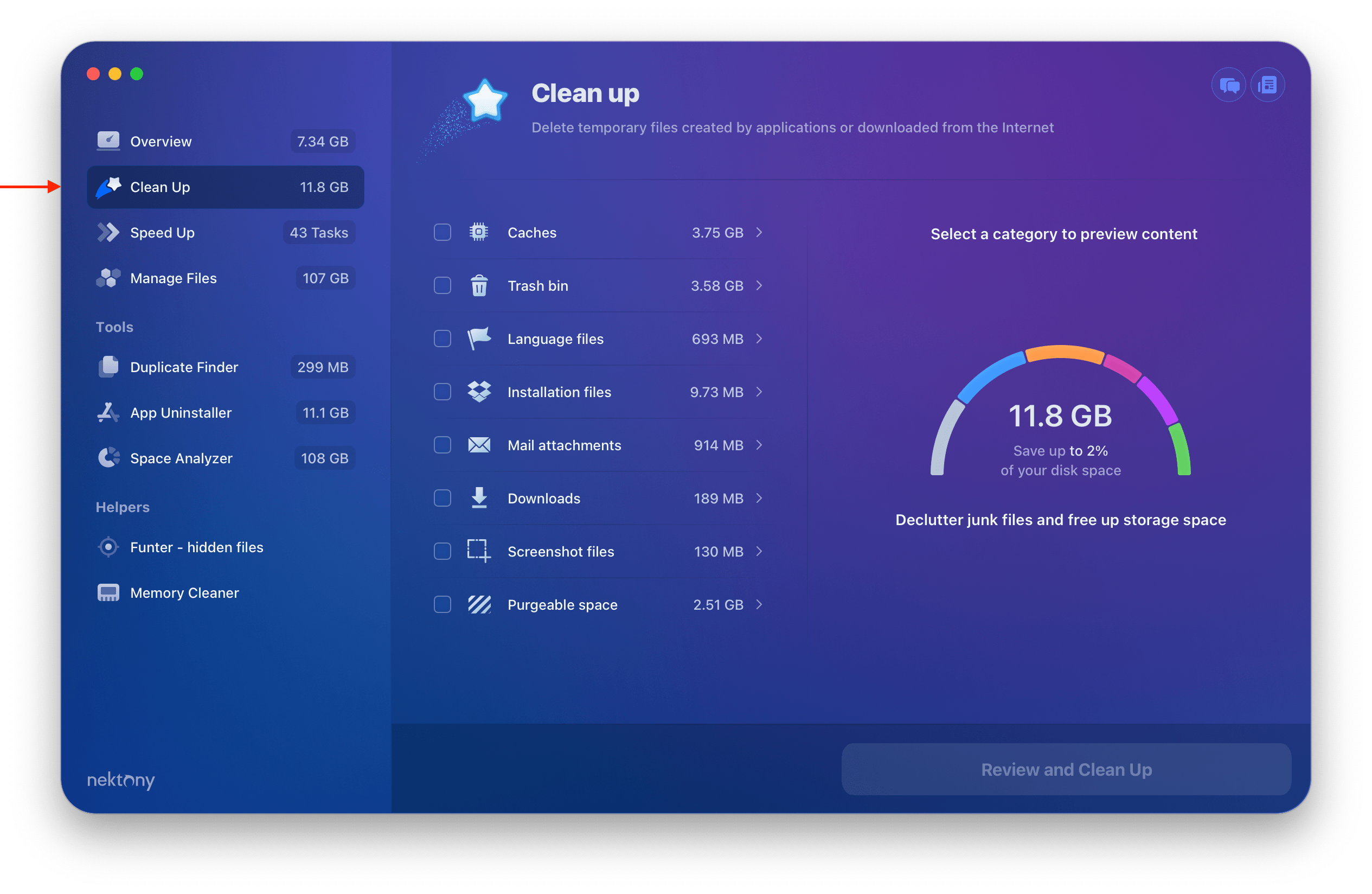 While you can do this cleaning task manually for yourself, there is a risk associated with it. You need to know what files to delete and what not to. If you end up deleting an essential file, you can make your apps and Mac unstable. This tool knows what files are safe to remove and it only deletes those files from your Mac.
Also, did we mention you can selectively clean up files?
If you are still worried about the files that this app will end-up removing, you can use the Manage disk space option to manually find and delete your files. This option lets you find your files by their file type, and you can view the size of each file right on your screen.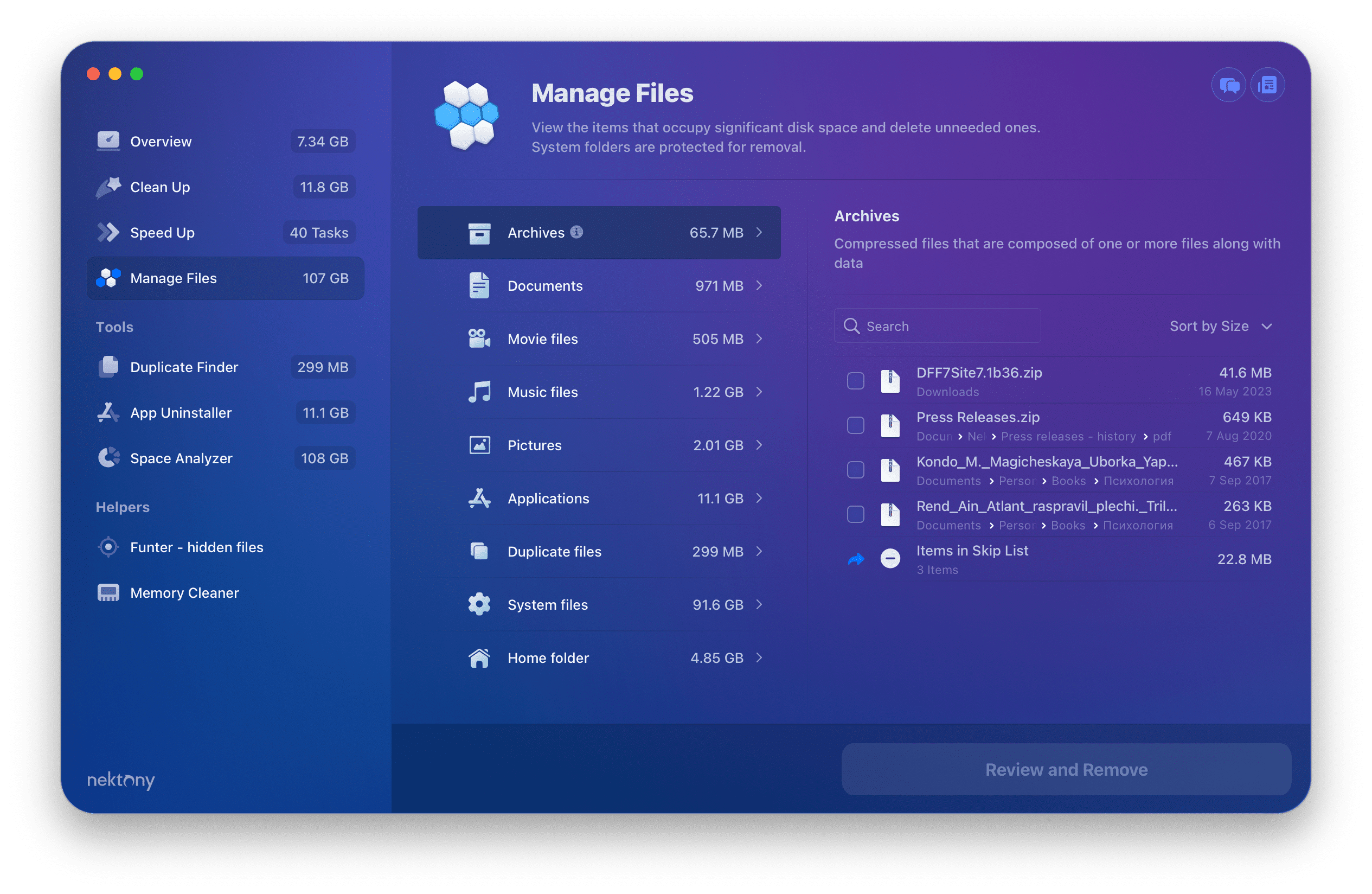 There is an option to sort your files by their size and this is what you can use to find those huge files that you have not had a chance to look at after downloading them. Once you have found those memory-hogging files, all you need to do is click Remove and the app gets rid of those files from your disk.
There are many more features that this app has to offer, including for example the option to delete duplicate files. You can access and use it by clicking on Find duplicate files in the sidebar of the app, so Duplicate File Finder will launch. This feature will help you to find and remove all the duplicate files and folders as well as similar photos on any type of disk. Also, this app allows you to quickly organize your duplicate files by merging folders.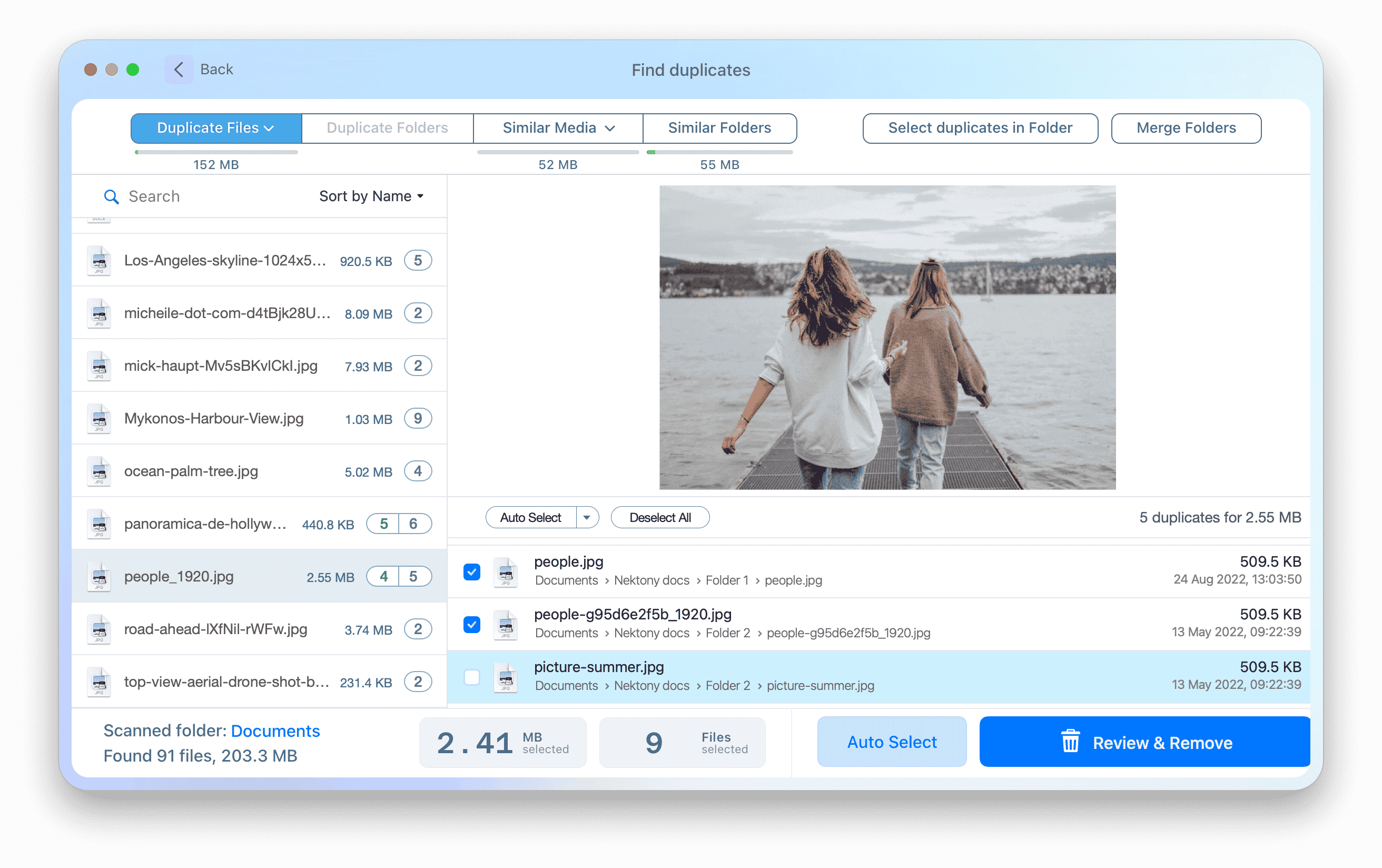 Is MacCleaner Pro safe?
When you get a tool to clean up your Mac, one of the things you might be concerned about is the safety of the app that you use. You do not want to allow just about any app to access and remove the files stored on your Mac. You want something trustworthy and that is what MacCleaner 3 Pro is.
The company behind the tool, named Nektony, has been around for almost a decade. It has a proven record of helping users rid their computers of any junk files. With years of experience developing various apps, the company knows what works and what does for a Mac cleaning tool.
As a result, all of that years' experience has gone into making MacCleaner 3 Pro and you can trust it as much as you trust your doctor. The app is transparent, meaning you know what files it is going to delete, unlike some other tools that delete your files without even letting you know about them.
Another good example of that is the duplicate file finder feature. Rather than calling your similar files as duplicate files, it calls them similar files so you know they might be duplicate but they are not yet proven to be so.
Is MacCleaner Pro worth it?
You cannot be wrong choosing MacCleaner Pro at just a price of $29.95 for the license for 1 Mac. This is totally a value for money app that you can buy and save yourself the time and worries that you would otherwise have due to your Mac's performance.
In case you are skeptical about the effectiveness of the app, you can always try out the tool in the free trial mode and test everything out before you pay for it.
MacCleaner Pro key features
Modern user interface
Uncluttered and well-organized options
A separate section for each type of cleaning task
The ability to find duplicate as well as similar files
Merge duplicate or similar folders
Selectively clean files on your Mac
Manually find and delete large files
One time fee and no further payments
Pros
✓

No eye strain while using the app

✓

Self-explanatory menu items

✓

A specific section for each deletion task

✓

Further customize the cleaning with Expert mode

✓

A general overview of your Mac's performance

✓

A sunburst diagram for discovering the bulkiest content
Cons
𐄂

No option to scan Mac for viruses and malware

𐄂

No option to update installed apps
---
Features comparison table
Features

Cache and logs cleaning

Language resources cleaning

Mail downloads cleaning

–

RAM cleaning

–

Uninstalling apps

Managing startup programs

Managing and removing web browser data and cookies

Finding and removing duplicates

Finding and removing screenshots

Confirmation window before removing files

–

Disk space visualizer

–

Managing and removing web browser extensions

–

Hidden files finding

–

Virus and malware scanner

–
–

Free Trial

Limited features
All features

Price

$29.95/year
subscription
$29.95/year
subscription
Which Mac cleaner should you go for?
When you have almost two equal options available in front of you, it is a bit difficult to pick one and go ahead with it. Although both these tools are similar to each other in terms of many features, there are some certain differences that let you decide which one to choose.
If you want a practical and customizable solution to all your Mac cleaning needs, MacCleaner Pro is the one to go for. When you get this app, you do not need to get any other tools as this one has many sub-tools built into it. Plus, you only need to pay once and the app is yours for a lifetime.