iCloud is Apple's cloud-based data storage, which saves and synchronizes applications' content between all your Apple devices. Using iCloud, you can access your data from any device, anytime you want.
All your media files will be uploaded to iCloud storage as long as you activate iCloud Photo Library synchronization on your devices.
iCloud gives you only 5GB of free storage space, after which you'll have to pay for more or regularly review all the content and delete unnecessary files.
Read how to free up iСloud storage.
Once you enable the iCloud Photos option, every photo and video you add to your Photos application from any of your devices is automatically combined into a single library and uploaded to iCloud for remote access.
If for some reason you want to get your photos in original size, you can easily download them from your iCloud account. You can learn how to download photos from iCloud here.
By storing your media files in iCloud, you can share, search and browse them not only from all your devices but also on icloud.com
Contents:
1. How to access iCloud Photos on an iPhone or iPad
2. How to view iCloud Photos online
3. How to view iCloud Photos on Android
4. How to view iCloud photos on a Windows PC
How to access iCloud Photos on an iPhone or iPad
Don't forget to turn on iCloud Photos on your device. Read how to enable the iCloud Photo Library in the previous article.
To access your iCloud Photos follow these simple steps:
Make sure that you have enabled iCloud Photos.
Go to the
.
Select
at the bottom of the screen to view all your Photos.
Select the
tab to view all your Albums and the content inside them.

After enabling iCloud Photos, you will see the "All Photos" album instead of the usual "Camera Roll" in your Album tab.
The "All Photos" caption means you have your photos in iCloud storage.
If you still see "Camera Roll," this means that iCloud photo sync is not enabled and you can only view the photos stored on your devices.

Preview your photos stored on the device and synchronized with iCloud
Please note that photos and videos stored outside the Photos App are not sent to iCloud and other devices.

How to view iCloud Photos online
After enabling iCloud Photo Library on all your devices, your photos will be uploaded to iCloud automatically.
You can preview your photos stored in iCloud using a web browser.
To access iCloud Photos online, complete the following steps:
Open your web browser
Head to icloud.com
Log in with your Apple ID's email address and password
Click the
icon. There you will see all the saved pictures on your iCloud account.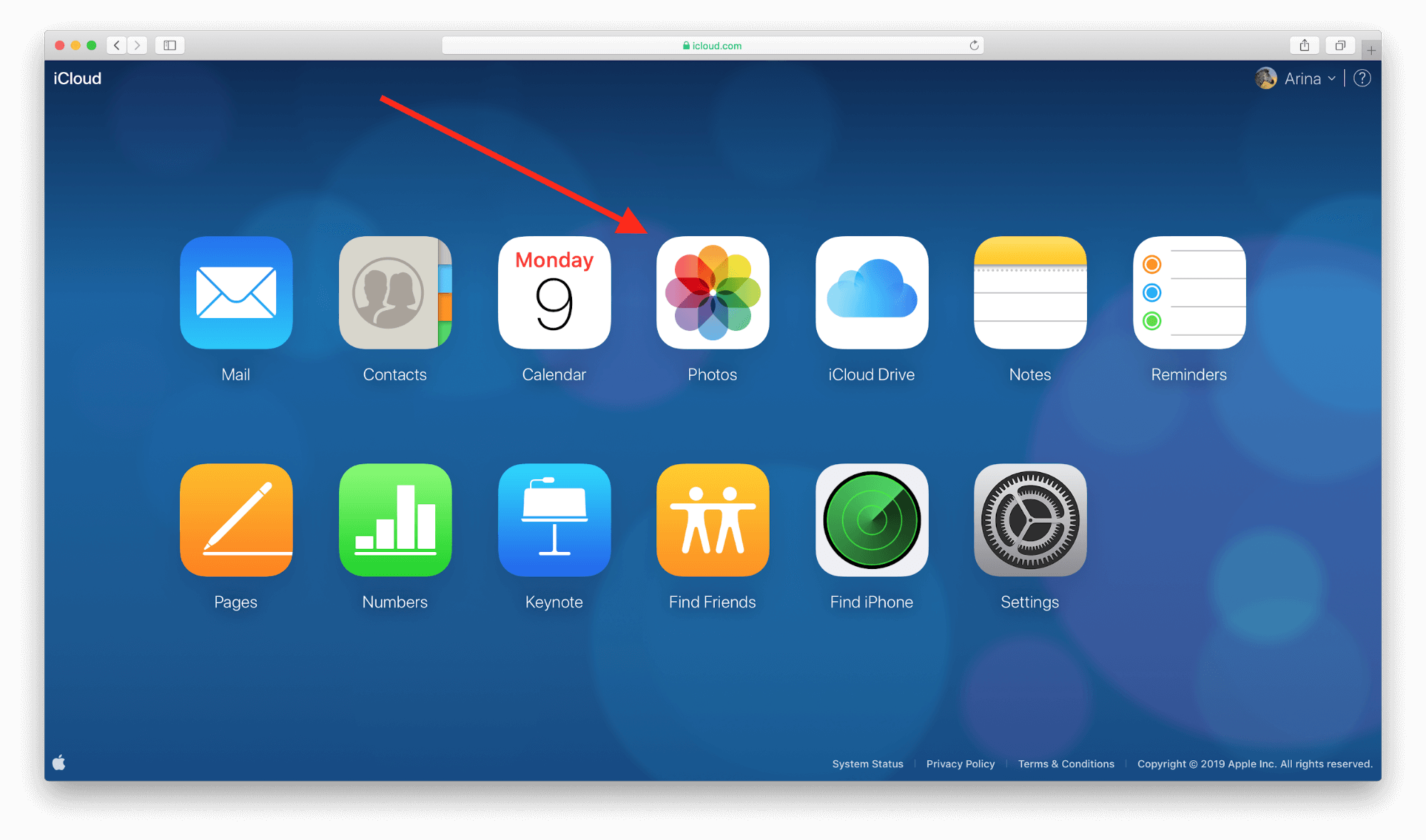 Unfortunately, viewing iCloud photos is possible on all devices except iPhones. When you try loading icloud.com on your iPhone, you will be redirected to the Find My iPhone service, which is Apple's restriction.
How to view iCloud Photos on Android