Video pop-ups and interrupting ads that expand to full screen on web browsers are annoying. Ad blockers remove these windows by filtering and closing them on the web page. Since there are many ad blockers for different browsers, we have prepared the list of the best ad blocker for Mac in 2023.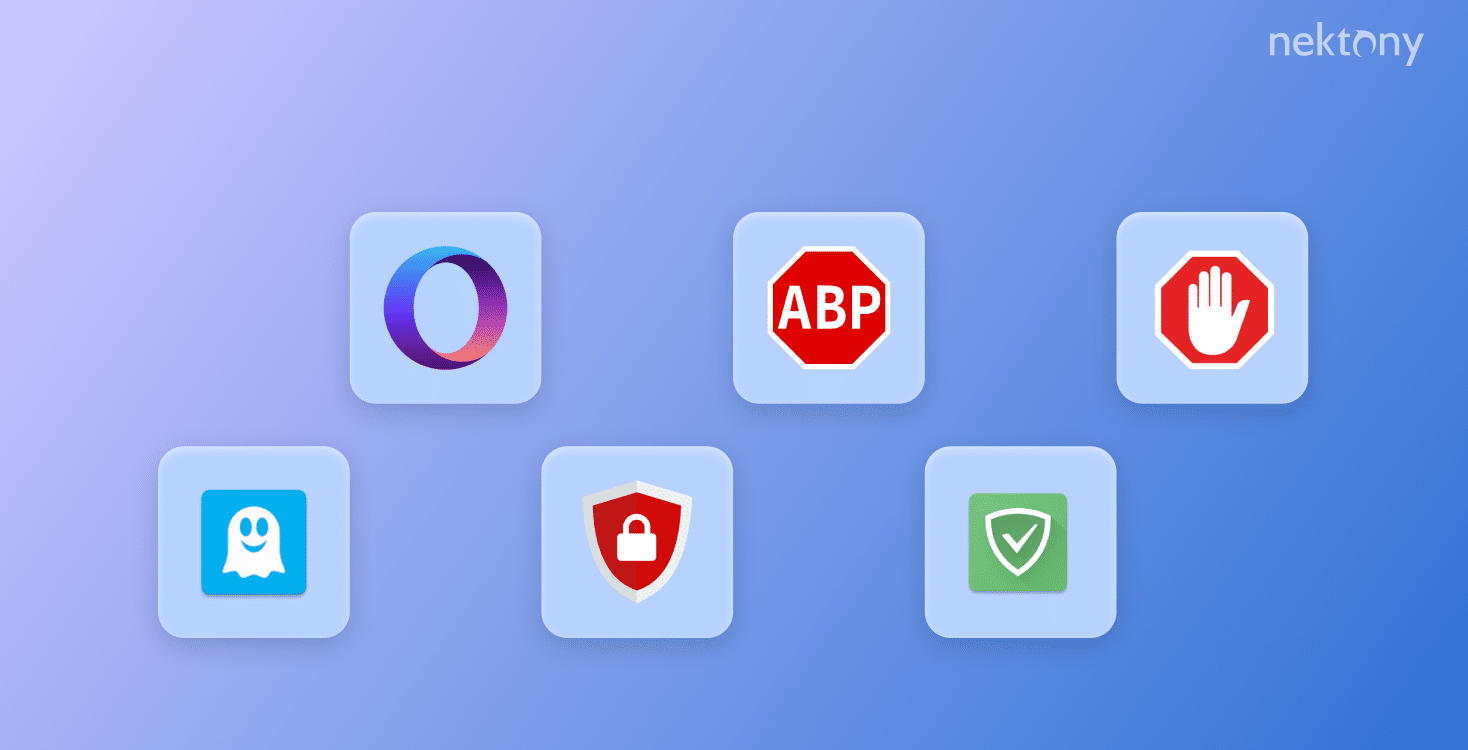 Contents
Adding special extensions to block advertisements is a great idea because it also protects your computer from malware. However, a large number of extensions usually affects your Mac and make it run slowly. You can use
App Cleaner & Uninstaller
to manage extensions, disable or remove unneeded ones.
Download its free trial
and take control of your extensions, uninstall unused applications and remove leftovers of previously removed programs.
App Cleaner & Uninstaller
Is it safe to use ad blockers on Mac?
There are 3 reasons to use ad blockers on a Mac:
Faster browsing. When the browser has to download less content, it becomes faster.
Privacy protection. Ad servers track users and their behavior, collect data about what sites they visit, what search queries they have, etc. With ad-blocking software, you can prevent this.
Protection from malicious ads. When ads are placed on legitimate websites, even if you never click on an ad, simply visiting the site with the advertisement can cause harm.
Generally, it is safe to use trusted and reliable ad-blocking extensions on your Mac. At the same time, there are many fraudulent services that deceive users, collect and share the personal data of the users, including which sites and services you visit. You should be careful when installing extensions.
Below, you can find our list of the top ad blockers for your Mac.
---
Best ad blockers for browsers on Mac: Safari, Chrome, Firefox
AdBlock
Supports: Safari, Google Chrome, Mozilla Firefox, Opera, Microsoft Edge
Price: Free or $1 per month for advanced features
This is one of the oldest and best ad blockers, and it supports almost all desktop and smartphone operating systems. AdBlock has a flexible system of settings that allows you to enable only the options you need. For example, you can configure it to protect yourself from cryptocurrency mining and malware. However, note that the more filters are active, the more resources it uses on your system.
The extension has free and paid versions. The paid version costs $1/month or $10/year. For this price, you'll get more customization options and the ability to sync your AdBlock settings across all your devices. Also, you can set it up to replace banner ads with funny pictures of animals.
---
Adblock Plus
Supports: Safari, Google Chrome, Mozilla Firefox, Opera, Microsoft Edge
Price: Free, for donation
Adblock Plus is another extension that blocks unwanted ads. You can use its default settings or configure them depending on your needs. Users of an advanced version can create their own ad-blocking filters to better control the content and pop-ups on websites. The extension also has filters created by the plugin community.
Adblock Plus can block not only traditional pop-ups but also data collection systems to protect your privacy.
Adblock Plus is a free service. However, the developers may accept fees from certain third-party groups and allow ads from them. The "non-intrusive ads" option can be annoying, but you can always select to stop ads from specific sources.
---
AdGuard
Supports: Safari, Google Chrome, Mozilla Firefox, Opera, Microsoft Edge
Price: $19.95 per year
The AdGuard extension is greatly focused on security. You can choose which threats it will block and enable the appropriate filters in the settings. In addition to tracking malware, the program allows you to block even social network widgets. At the same time, you can choose to allow useful ads to be shown on your screen, for example, promotions.
---
Opera Touch
Supports: Opera
Price: Free
If you use the Opera browser, you can block ads without the need to install additional extensions. Opera provides a built-in ad blocker both for computers and smartphones. To block ads, turn on the blocking function in the settings. You will stop seeing ads and pop-ups.
---
AdBlocker Ultimate
Supports: Safari, Google Chrome, Mozilla Firefox, Opera, Microsoft Edge
Price: $2.49/month
If security is the most important concern for you, AdBlocker Ultimate is the best solution for you. Also, the extension protects from hacker attacks, trackers, and malicious links and programs. The developers claim that they do not cooperate with companies from the advertising industry, and they care a lot about the interests of their users. Therefore, the AdBlocker Ultimate database should not contain "allowed" ads and ad networks. Since there are many great reviews and high ratings for this extension, this should be true.
---
Ghostery
Supports: Safari, Google Chrome, Mozilla Firefox, Opera, Microsoft Edge
Price: $2.49/month
This extension fluently does its job and blocks ads. Also, it offers advanced protection against surveillance by intruders and advertising companies. The Ghostery developers claim that their technology effectively protects from data trackers on the Internet.
In the plugin settings, you can choose which types of ads and trackers to block. For example, you can disable only social media ads or video ads.
---
FAQs
Does Mac have a built-in ad blocker?

Apple doesn't provide a native built-in ad blocker. However, you can install any third-party ad blocker for Safari. For this, do the following:

Open the App Store.
Type Ad Block in the search field.
Select the ad blocker that meets your requirements and click Get → Install.
Once the extension is downloaded, click to open it and follow the instructions to install it to Safari.
Is AdBlock safe for Mac?

AdBlock is a safe and reliable extension. If you download it from the App Store, you don't have to worry about the security of your data because all the applications and extensions in the App Store are tested and verified by Apple. If you use any other browser except Safari, ensure that you download AdBlock from trusted sources.
Do I need AdBlock for Safari?

AdBlock helps websites load faster in Safari and protects you from malware on malicious websites. However, note that by default, Safari is a safe browser. But if you want to stop all advertisement pop-ups, you can use AdBlock or any other ad-blocking extension. AdBlock stops annoying pop-ups and ads on websites. You can control which ads you see and what websites you support.