Web browsers provide a huge range of possibilities from the navigating pages to 2k streaming in video games. Unfortunately, the technology is not perfect, and the disadvantage of these actions is the accumulation of a huge cache, temp files, and cookies on a computer. They are not always in use, but they take up a considerable amount of space on your disk and stay on your hard drive even after deletion of your browser. In this article, we will explain how to uninstall browsers correctly and remove everything related to them.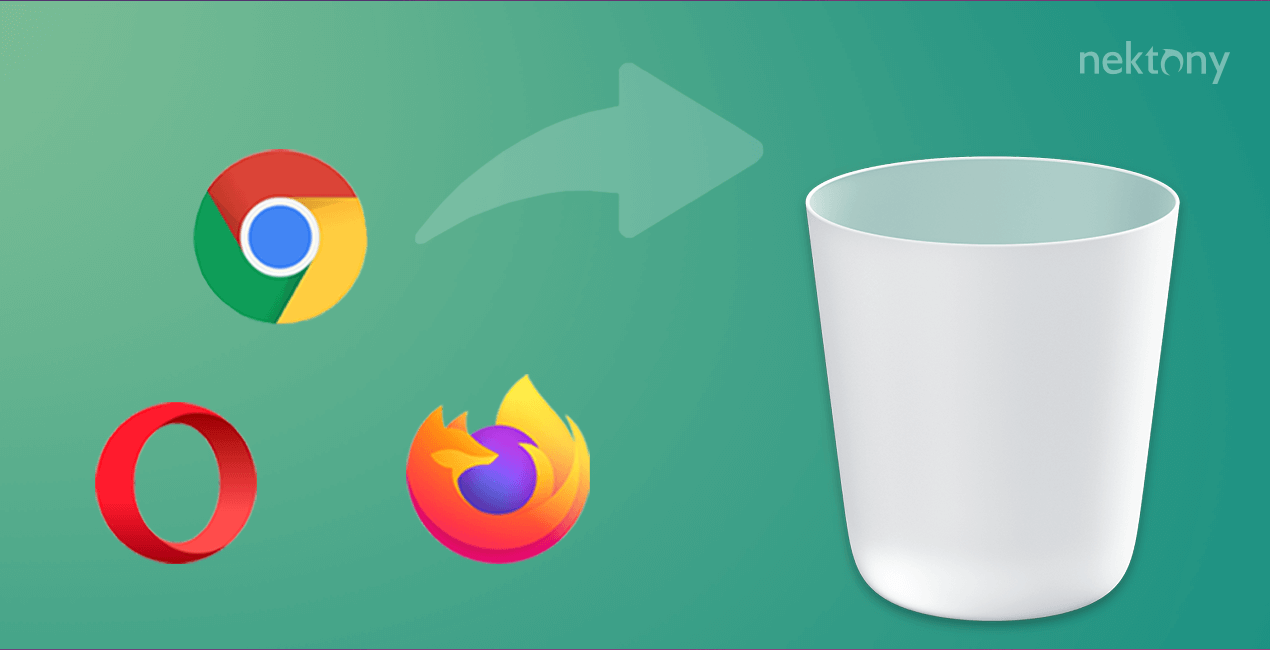 Contents:
Tip – The quickest way to uninstall any browser from Mac
The best way to uninstall browsers from your Mac is to use App Cleaner & Uninstaller from Nektony. App Cleaner & Uninstaller will completely remove any browser with all of its caches, logs, cookies and other service files. Download App Cleaner & Uninstaller and completely uninstall browsers from your Mac with just a few clicks.
App Cleaner & Uninstaller
How to manually uninstall a browser from Mac
The manual way of uninstalling a browser and any other application from Mac requires that you manually find all of its support files on your disk and remove them to get rid of the application entirely. This will allow you to free up considerable space on your hard drive and stop cluttering it with junk.
Important notes and the methodologies used to uninstall Eset from Mac
Since the Nektony team has been providing a Mac uninstalling tool for many years now, we regularly check apps for all service files they create in the system, and we know all about their temporary files. Please carefully follow each step from this guide to remove browsers completely without leaving their remaining files on your disk.
This article will explain how to manually find the browsers' temporary files. You can also find applications' support files using Funter and App Cleaner & Uninstaller from Nektony. These tools will help you to do the task easier and quicker.
You will also find a list of detailed guides explaining how to uninstall a particular browser from your Mac.
If you have any questions regarding this article or our software App Cleaner & Uninstaller, feel free to reach us out on the Nektony's support team.
First, see the basic steps on how to correctly uninstall browsers from Mac:
Step 1 – Remove caches from the browser interface.
Deleting cache files of browsers allows you to free up a lot of disk space. Even if you do not want to delete the browser, this procedure should be carried out at least once a month. For a month of normal use of the browser, it can store from 0.3 to 0.7 GB of cache files. Removing the main browser cache can be performed directly from any browser. It is important to be careful, as there are cookies in the cache files, saved passwords, etc. In practical terms, they do not take as much weight as saved pages, video and audio files. The first step is easy. But the process of finding and deleting service files is individual for each browser.
Step 2 – Remove a browser into the Trash.
Once you remove a browser's cache files, you can remove its executable file. For this, open Finder → Go to the Applications folder → Drag and drop the unneeded browser into Trash. But remember, that even after removing a browser to Trash, you haven't uninstalled it completely. Its service files still remain on your disk. So you go to step 3.
By default, all of the application's service files are stored in the hidden Library folder. To go to the Library, do the following:
Open Finder and press the Command+Shift+G shortcut.
In the search field type ~/Library and press Enter.

You will see the Library folder with the list of subfolders where caches, logs, cookies, preferences and other support files are located. You have to skim all of these subfolders, and select and remove all files and folders associated with the browser you want to uninstall:

~Library/Application Support/
~Library/Containers/
~Library/Caches/
~Library/Preferences/
~Library/Cookies/
~Library/Logs/
~Library/LaunchAgents/
On the screenshots below, you can see examples of Google Chrome caches, preferences and other service files.
Step 4 – Empty the Trash bin
It sounds so basic but many users forget to empty the Trash so that files in Trash still occupy your disk space. If you want to get rid of a browser entirely, do the last but equally important step – empty your Trash and reboot your Mac.
Read more detailed guides on how to completely uninstall each of the browsers from your Mac with all of their service files:
---
How to easily uninstall browsers using App Cleaner & Uninstaller
App Cleaner & Uninstaller is a special utility which allows you to quickly remove any application on a Mac with all of its service files. It's very handy as you don't have to manually search for service files; the uninstaller does this work perfectly and quickly instead of you.
Here are the steps to uninstall any browser from Mac with App Cleaner & Uninstaller:
Download and launch App Cleaner & Uninstaller.
Select the browser you want to remove.
Click the Uninstall button and confirm the deletion.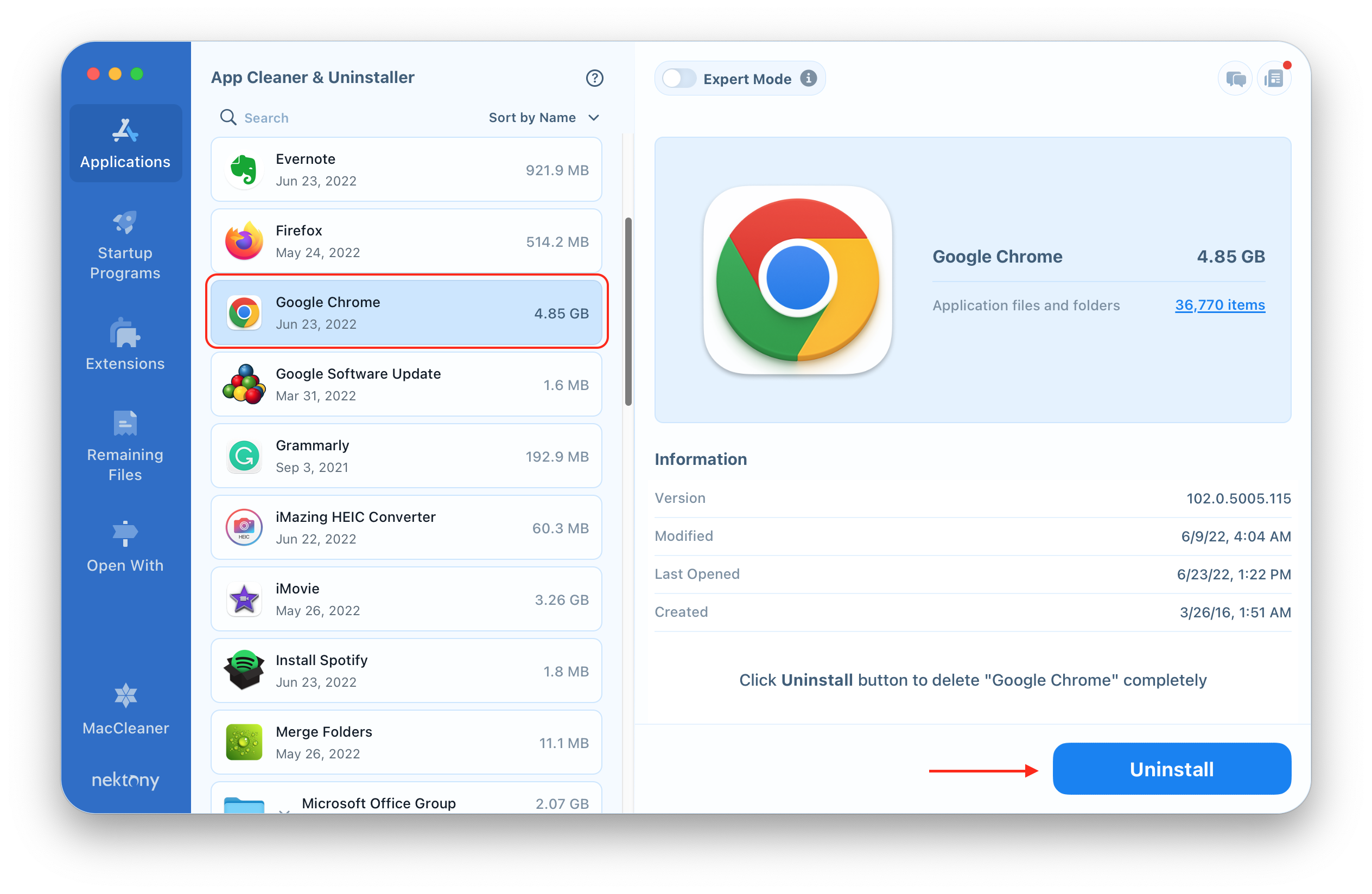 Note, if you have already removed a browser to Trash, with App Cleaner & Uninstaller, you can find and remove its support files. For this, switch to the Remaining Files section. There you will find all the leftovers of already removed applications, including files of removed browsers.
That's all. As you can see, with App Cleaner & Uninstaller you can uninstall any browser from Mac completely in less than a minute. Download a free trial of the uninstaller and correctly remove apps that you don't need on your computer.