Finding similar songs is not as easy as it might seem. In most cases, searching for similar music in Google and recommendations from friends are far from what you are looking for. So what is the best way to find similar music? This article will share Top similar song finders and help you replenish your favorite songs' collection.
Contents:
Tip 1 for music lovers – Check your Mac for duplicate music files
Before we provide ways to find similar songs, we'd like to mention that media files usually take up a large amount of space on a disk. If you regularly download music to your Mac, you might have many duplicates. You can check your Mac for duplicate music, as well as for duplicates of any type of files with the help of
Duplicate File Finder
.
Duplicate File Finder is a free application from Nektony that scans any disk or storage and finds duplicates in less than a minute. Download the application and remove unneeded duplicates from your Mac.
Duplicate File Finder
Top services and apps to find similar songs
Last.fm
Last.fm is one of the oldest services to find similar songs. Today most services simply use the algorithm and base of Last.fm. This service allows finding similar bands, artists, songs even for your favorite garage post-punk artists. Last.fm has collected an enormous database of tags and tracks. It analyzes what music interests you and displays new recommendations that you might also like.
You need to register to be able to use this similar music finder. The service is free. However, to stop seeing ads and get some important features you need to upgrade. Monthly payment is $2,5.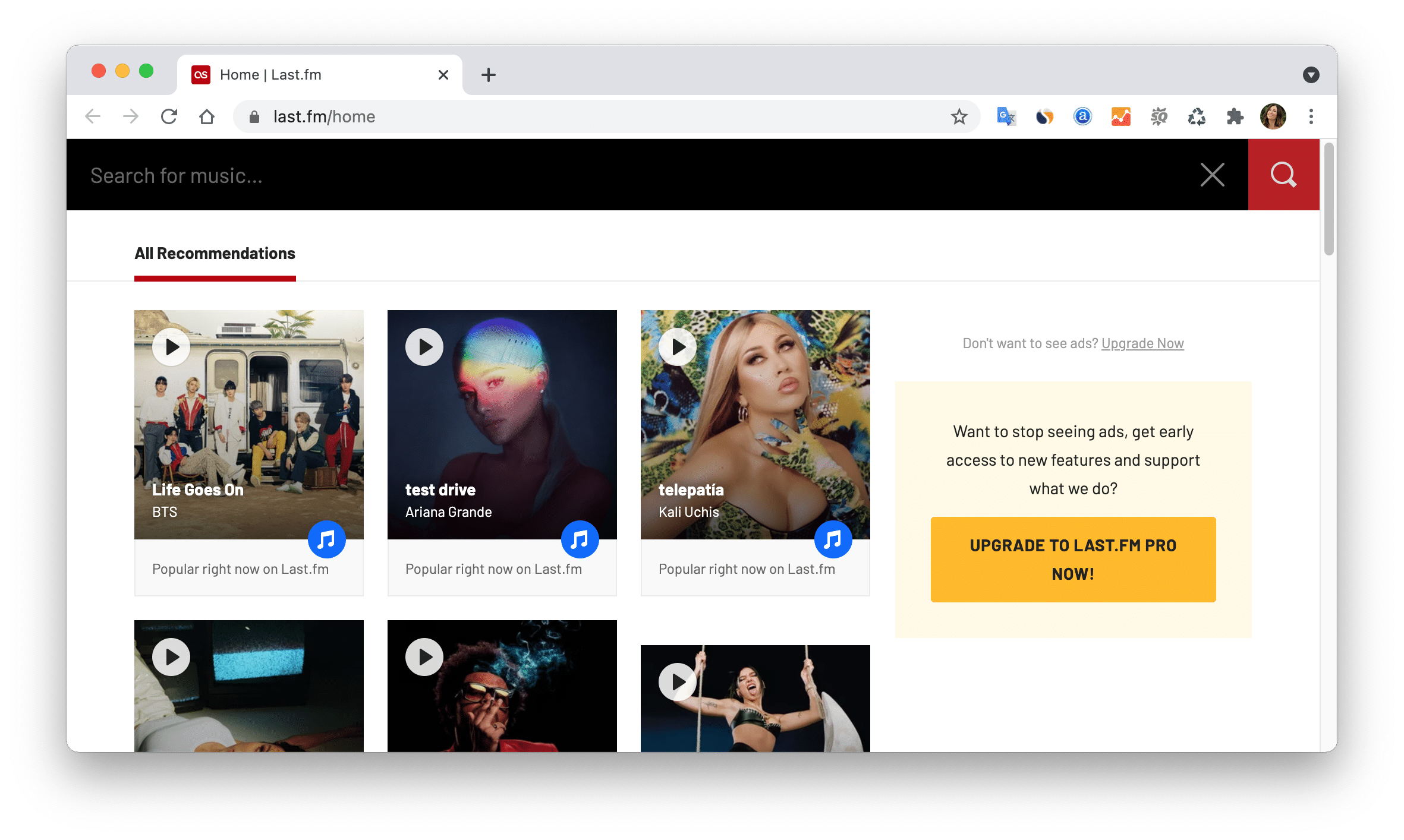 Spotalike.com
Spotalike is a service powered by Last.Fm. It has an easy and simple interface. On the main page, you will see a search filed for track. Enter the song's or arctic's name and press Enter. The service will process the request within a few seconds and offer you several dozen tracks of this artist and other artists of similar music genres. No registration is required to start using the service. It is absolutely free. The only disadvantage of such a service is that it shows similar artists. If you want to find music similar in sound, Spotalike will not help you.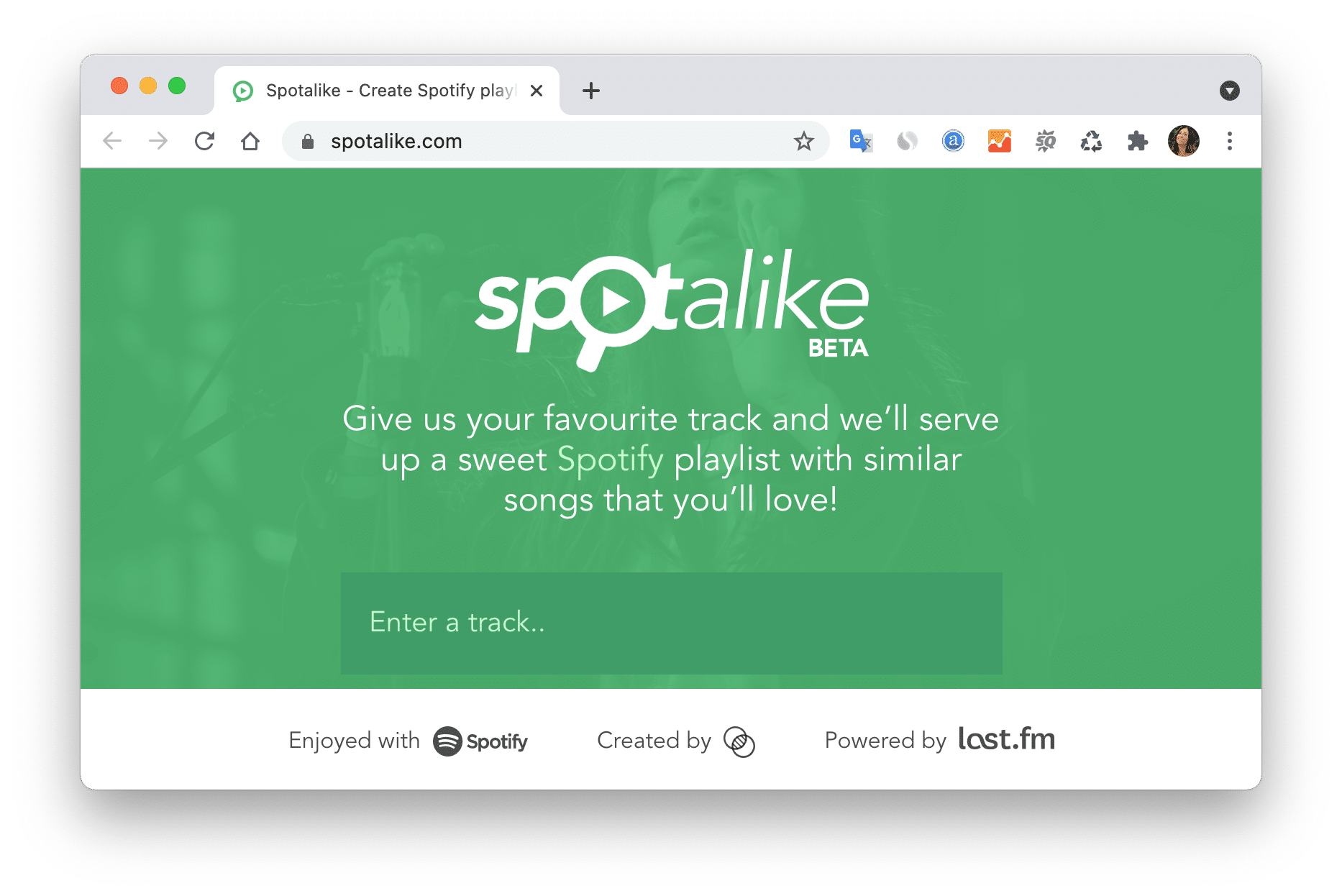 Chosic.com
Another popular online service to find similar music is Chosic.com. Unlike the previous music finder, the Chosic.com website provides different free music tools that can help you to similar songs by music genre, artists and bands, title and so on.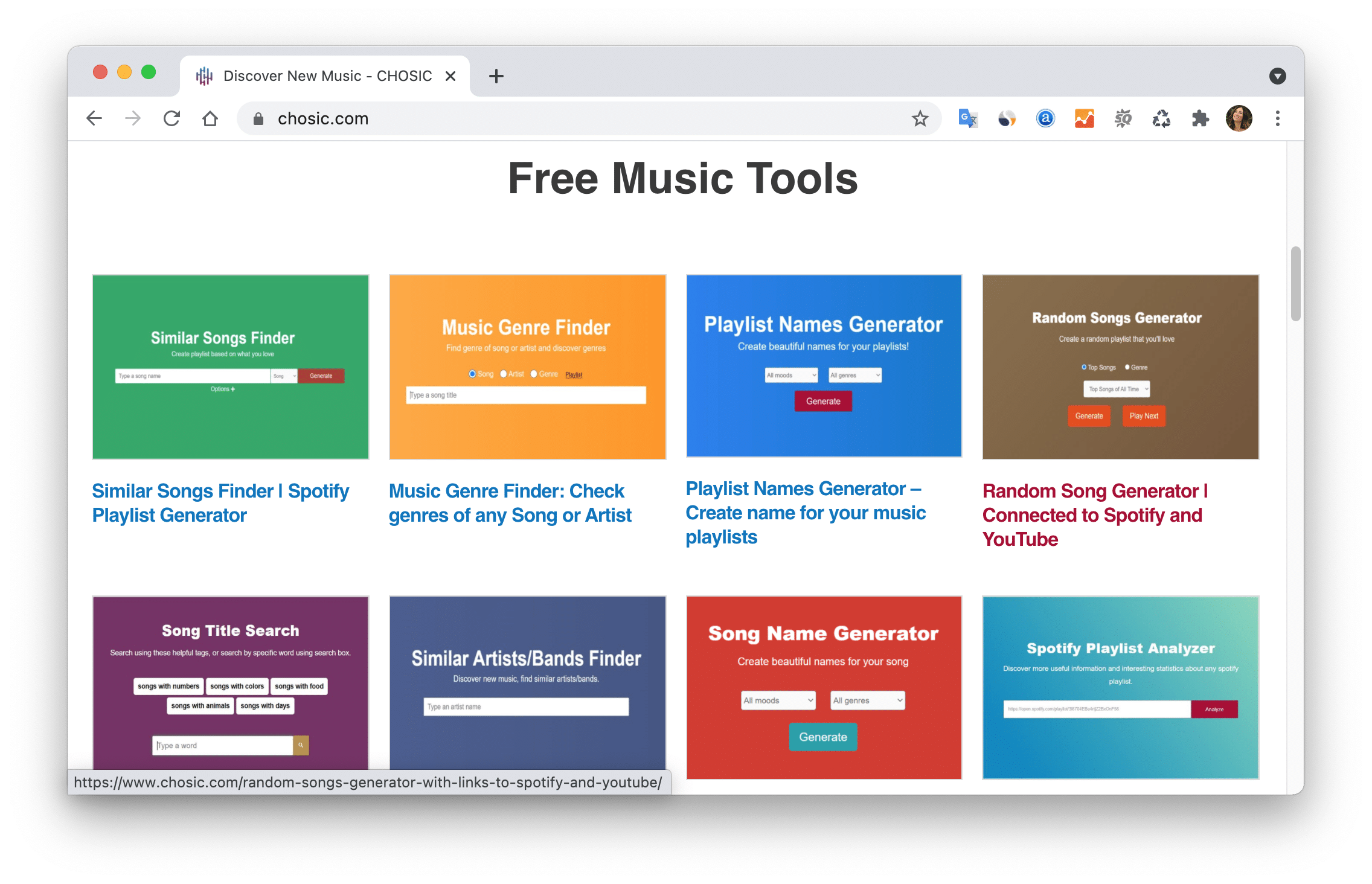 On the main page, select Similar Songs Finder. You will see a new page with the search field. Enter the artists' or song's name, add some parameters for what you are looking for, and click on Generate. In a moment, you will see the list of music recommendations with similar songs according to your request.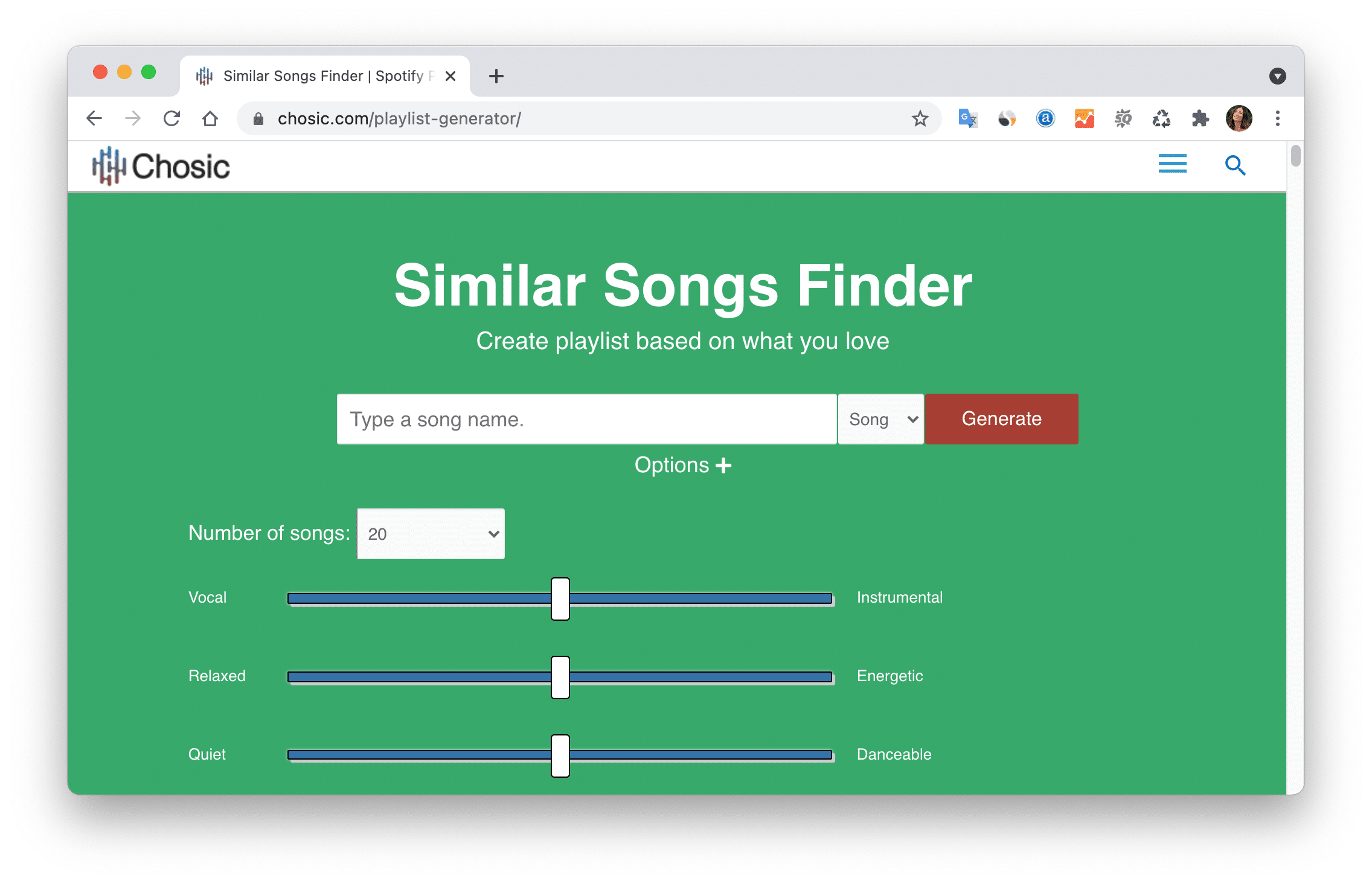 Spotify
Spotify is one of the most popular music streaming services. It provides access to millions of songs, podcasts and videos from all over the world. Every Monday the Spotify users get a new 'Discover Weekly' playlist. This means that Spotify generates a list of music recommendations for you according to your music tastes, music search history, listening habits, and so on. Most streaming services have a similar tool. However, in Spotify, this algorithm works more effectively.
If you use Spotify Premium, you can use an option called Song Radio to find similar music. Once you open that, you will find songs that belong to the same genre. Most likely, some of these songs you've not even probably heard of. Also, in Spotify, you can see your friends' playlists and find some new great tracks.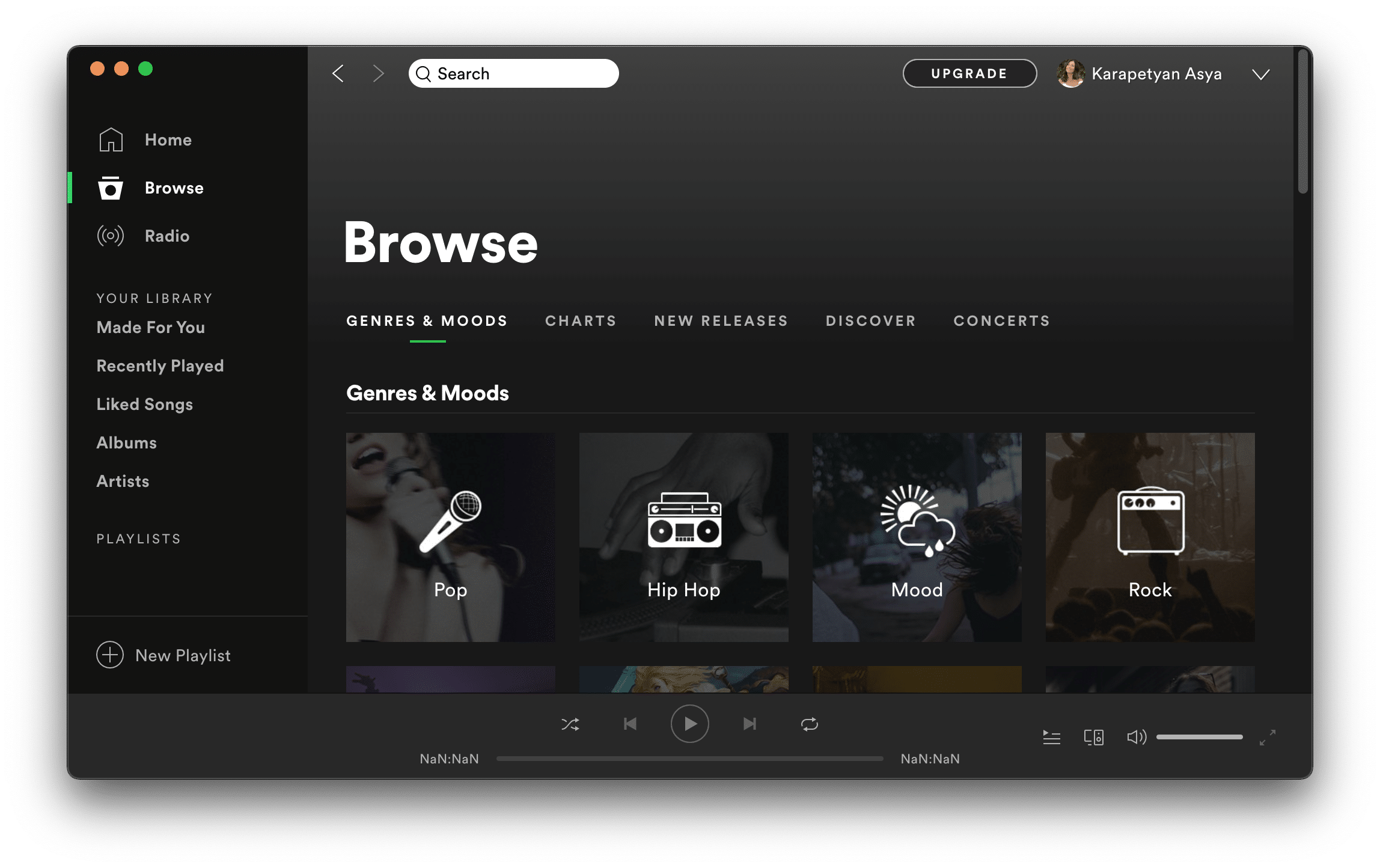 SoundCloud
SoundCloud is a streaming service, which is open worldwide for anyone to upload any sound for immediate discovery. It provides a Recommended Tracks feature, which you can use to find new music and audio. If you find a track you love, go to the track's page and you will see more Related tracks to play afterwards. You can Like and Repost similar tracks, add them to your playlists. According to your music listening history the service will display more music recommendations that might fit your tastes. However, if the track is private, related tracks will not appear afterward.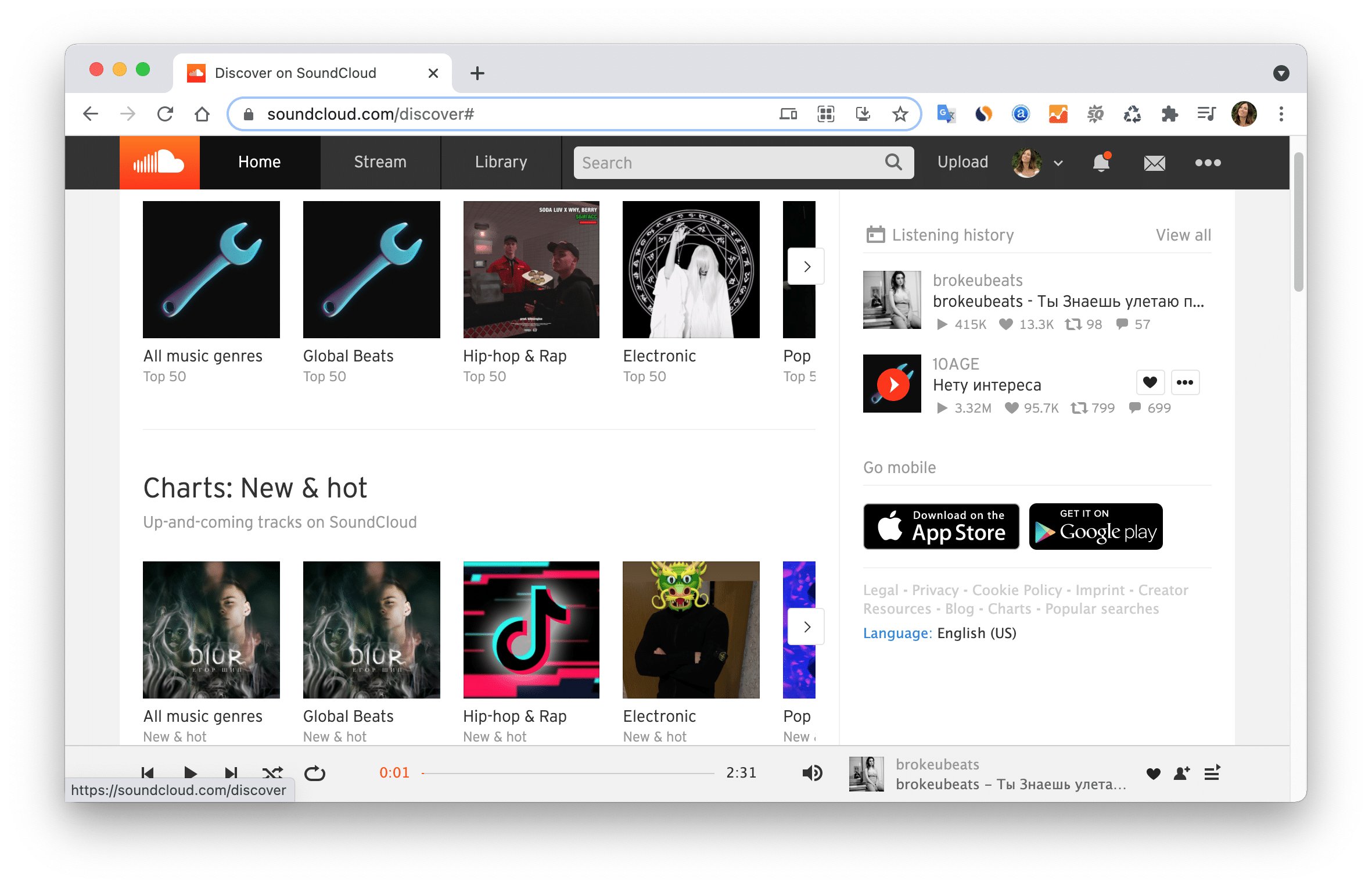 ---
How to find similar songs in Apple Music
Apple Music subscribers can search for similar songs using the Genius suggestions option. Here is how to use it:
Open the Music app on your Mac.
Make a right-click on an audio title.
In the context menu, select Show in iTunes Store.
Scroll down and find the Apple Music suggestions. You will see a list of related albums by the same artist and similar albums by other artists.
Open the albums that interest you and find new songs of similar genre.
Download the similar songs you like and enjoy listening to them.
Another way to find similar music in Apple Music is to go to the iTunes Recommendations section right in the right section of the Store.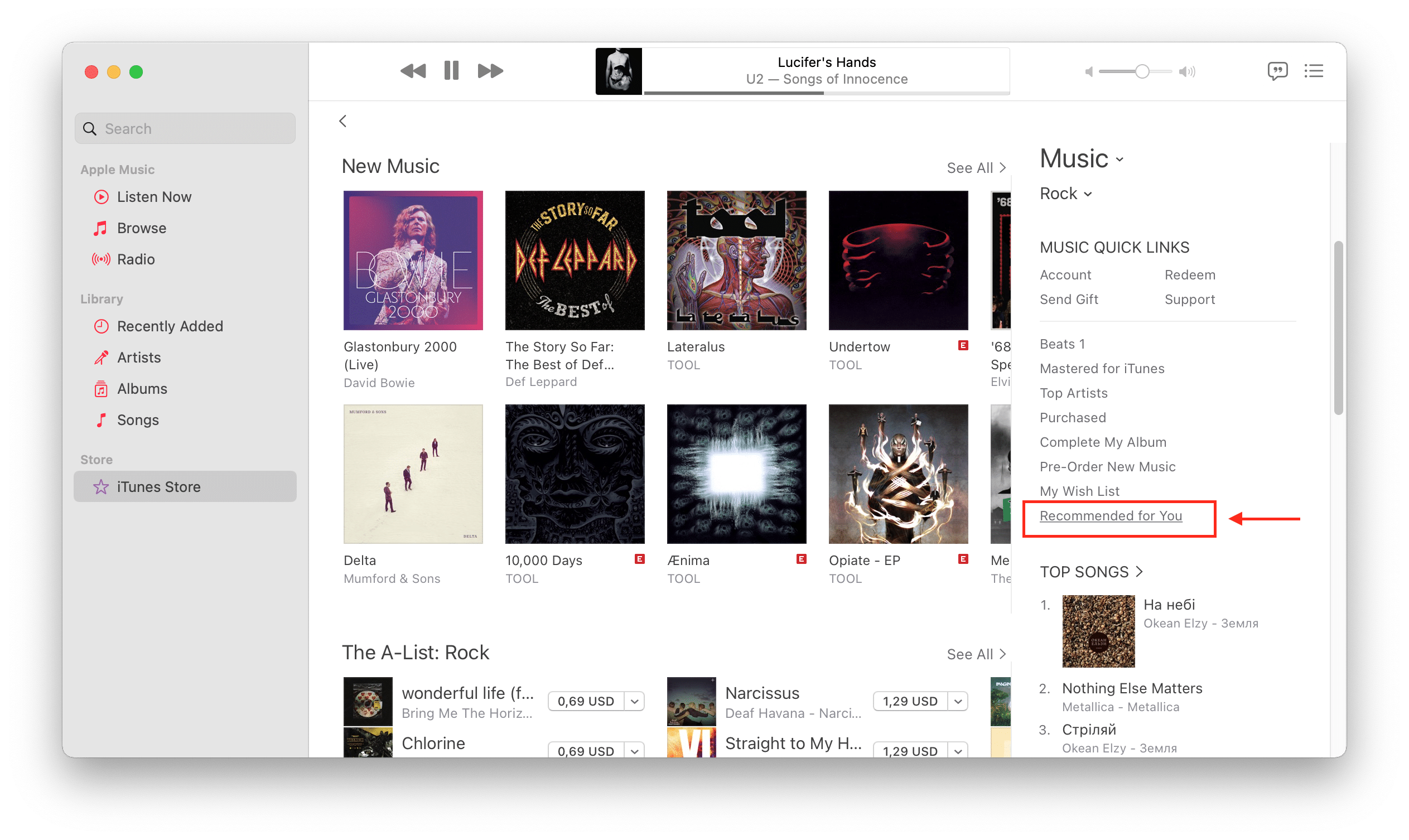 ---
How to find duplicate and similar music on Mac
We provided the list of services and apps to find similar music. Music files take a lot of space. If you download music to your computer, over time, your disk might be clogged by music files. This is especially annoying when it comes to unwanted duplicate music files and the old songs that you don't even listen to anymore.
Luckily, we have an easy solution for unwanted duplicate media files. For Mac, you can use Duplicate File Finder from Nektony. Duplicate File Finder is a free application that finds duplicate files of any extension on Mac, duplicate folders, similar folders, similar photos and similar media files.
Steps on how to find duplicate and similar music on Mac:
Download and launch Duplicate File Finder.
Add folders you want to scan. You can also add the Music library.
Click the Start scanning button.
Switch to the Duplicate Music section from the top menu.
You will see the list of duplicate music files on your Mac. If you want to remove unneeded duplicates, just select them and click on Review and Remove.
Confirm the removal of duplicate music files.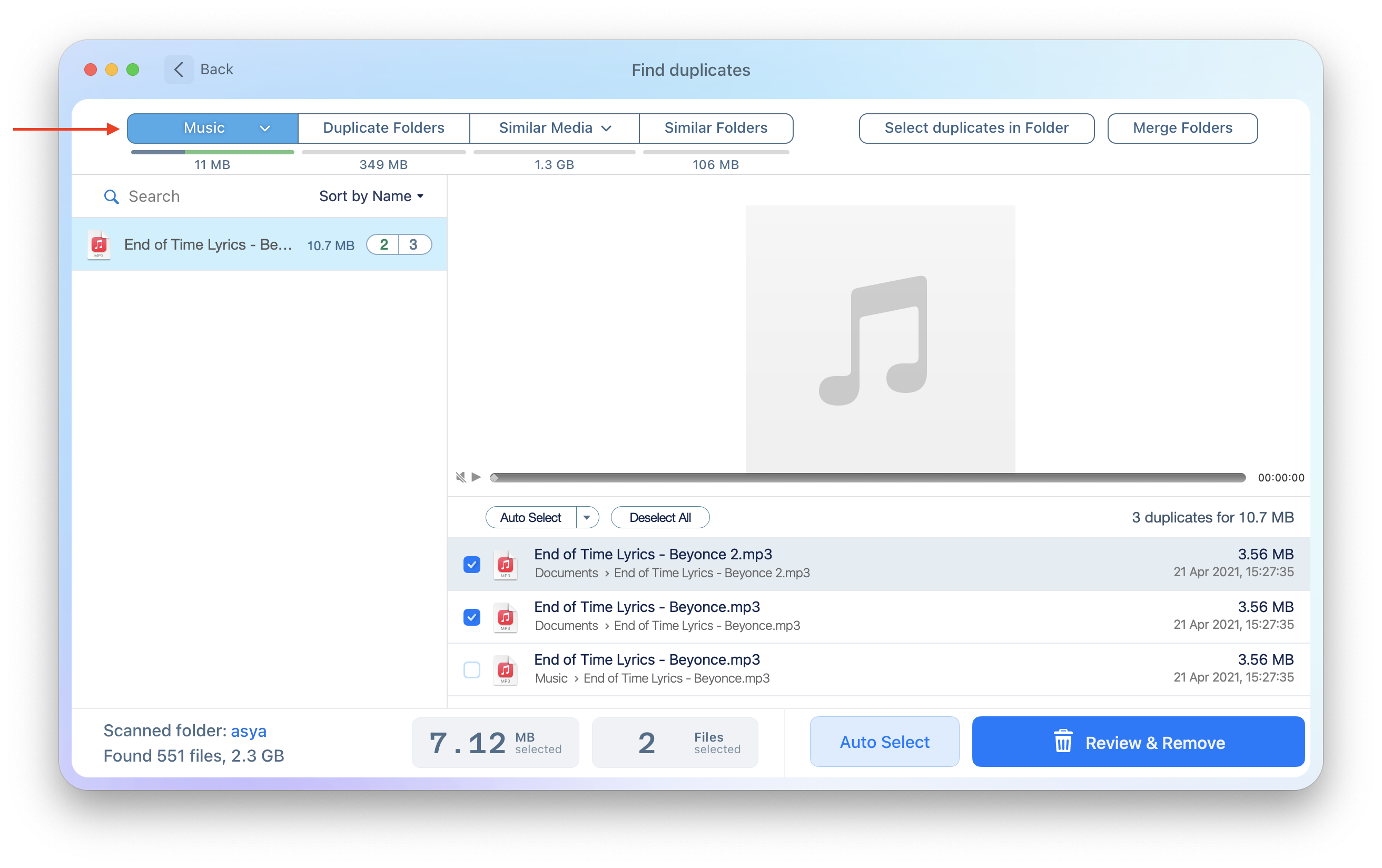 Please note, in Duplicate File Finder duplicate music files are the files that have absolutely identical data and do not differ from each other even by 1 byte. Duplicate songs have the same meta-data and the same length. However, you also might have the same songs, whose record times differ by just several seconds. In this case Duplicate File Finder will display them in the Similar Media tab.
Read more
about duplicates search algorithm of Duplicate File Finder.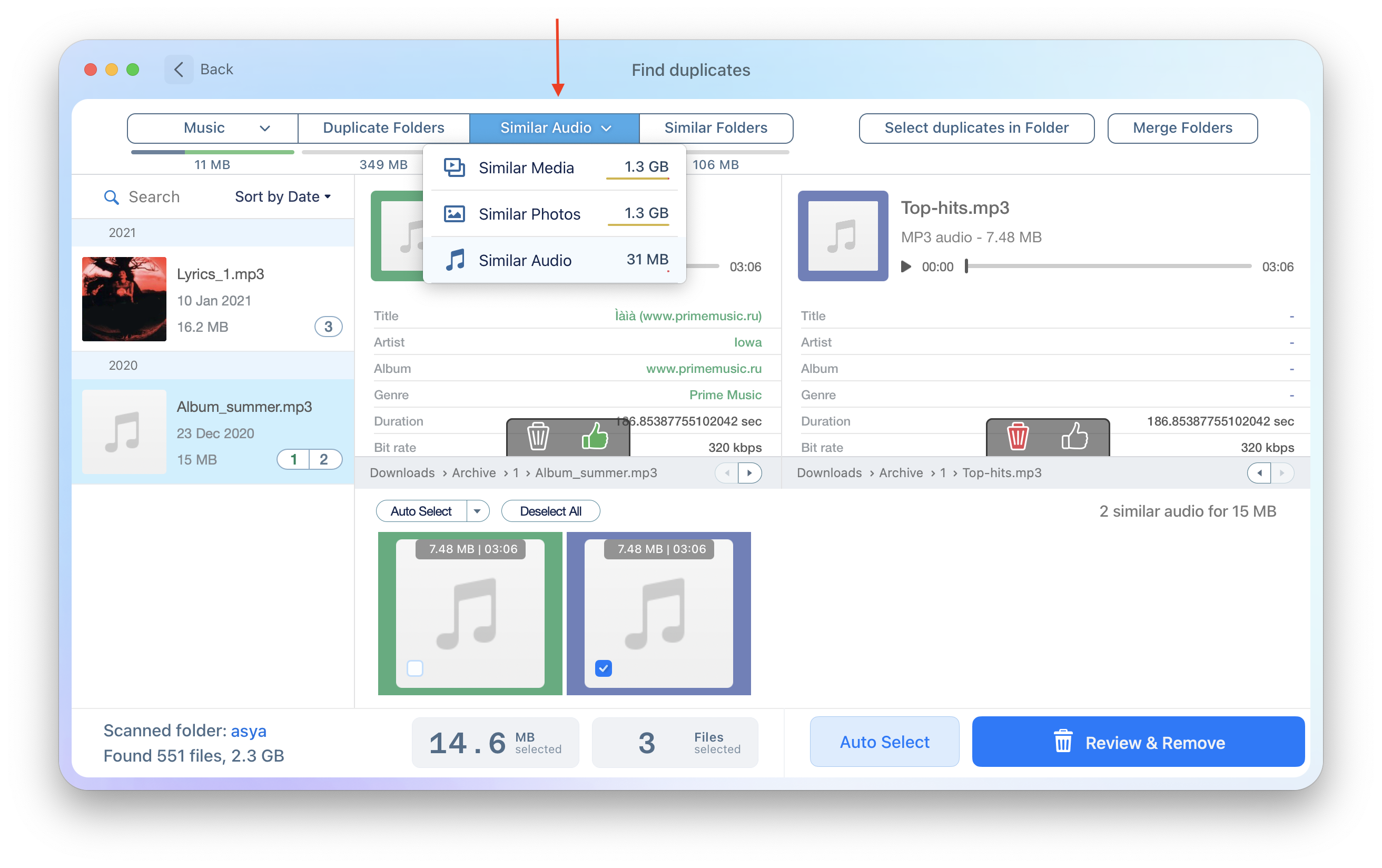 Once again, Duplicate File Finder is a free application which allows you to find duplicate files and folders and similar photos and media. The Pro version provides some more helpful features to quickly select unneeded duplicates and to organize files by merging similar folders. Download the application and remove unwanted duplicate and similar music files from your Mac.