If, for any reason, you want to uninstall VMware Fusion on your Mac and you have version 3.0 or earlier, you can use its native uninstaller. However, if you cannot find or run the Uninstall VMware Fusion file on your Mac or you have the VMware Fusion 4.0 version or later, we are happy to share two ways to properly delete VMware Fusion with you.
Continue reading to learn how to uninstall VMware Fusion on a Mac completely.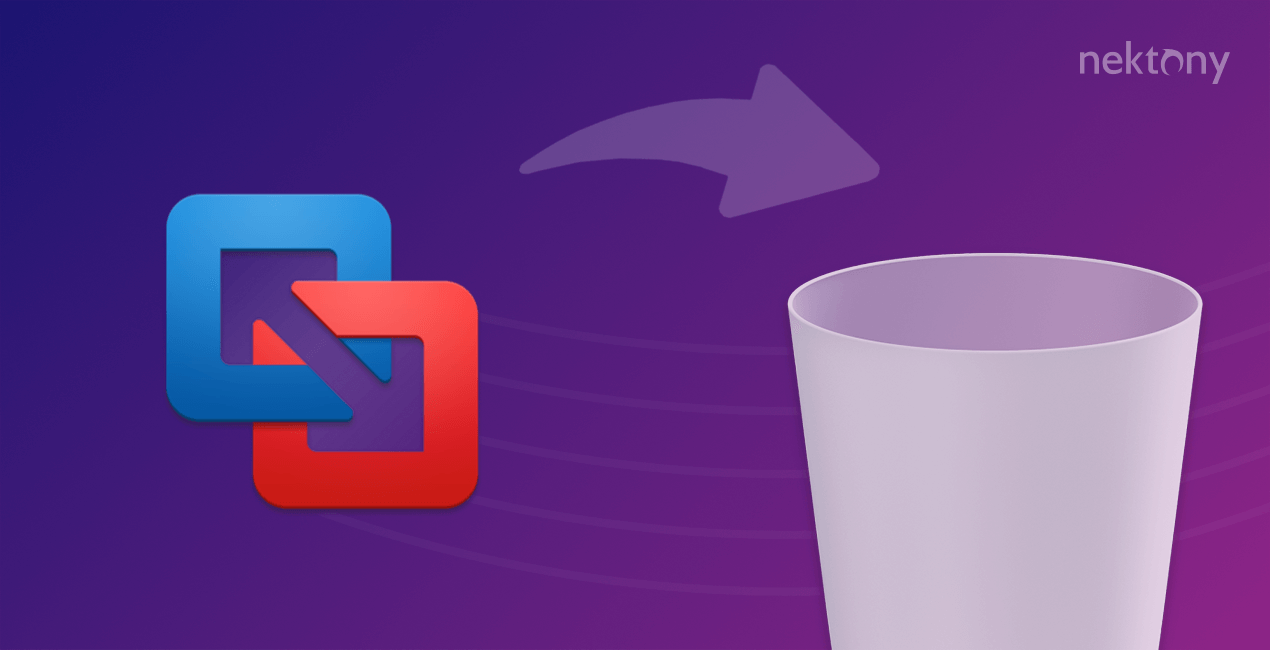 Contents
Important notes about uninnstalling VMware Fusion from Mac:
Uninstalling apps by simply dragging and dropping them into the Trash doesn't remove them completely from your Mac. Any downloaded application creates service files that are located in the hidden library on your Mac. Leftovers of all removed programs accumulate on your Mac, occupying disk space, which can greatly slow down your device's performance.
This article shows you two ways to completely uninstall VMware Fusion on a Mac. Please note that the manual uninstallation might be difficult for non-tech users. It also requires more time and accuracy so as not to remove important system files.
We recommend using a special tool called App Cleaner & Uninstaller to automatically remove apps from Mac. This program removes any application from Mac completely, safely, and with a few clicks.
If you have any questions related to this article, you can contact the Nektony support team.
What is VMware Fusion and why uninstall it?
VMware Fusion is a program for creating several isolated operating systems in one device. It allows you to run Windows, Linux, and other OS on a Mac computer.
VMware Fusion gives macOS users the opportunity to run applications and even games (including their old versions) developed for other operating systems. The program can also be used by application developers and IT professionals to test programs on other operating systems.
Despite the advantages of VMware Fusion, there may come a time when you need to uninstall the app. When launching several operating systems simultaneously on one computer, the program uses many resources. You need to have a powerful processor and enough memory for two operating systems, otherwise your Mac performance can become slow.
Also, the program itself takes a significant amount of space on the disk, which is a problem when you have low disk space.
If you need to uninstall VMware Fusion from your Mac, then be sure to carefully read this guide. We will provide you with two ways to delete VMware fusion from your Mac completely and correctly.
---
How to uninstall VMware Fusion from Mac automatically
You can easily and completely uninstall VMware from Mac with the help of a special program called App Cleaner & Uninstaller, which will allow you to remove more than 1,000 applications completely and safely. It automatically finds and deletes all applications' service files that are usually left on your Mac when you just drag and drop them into the Trash.
Steps on how to delete VMware Fusion from Mac using App Cleaner & Uninstaller:
Download and launch App Cleaner & Uninstaller.
Select VMware Fusion in the list of scanned applications on the left.
Click the Remove button.
Confirm the uninstallation.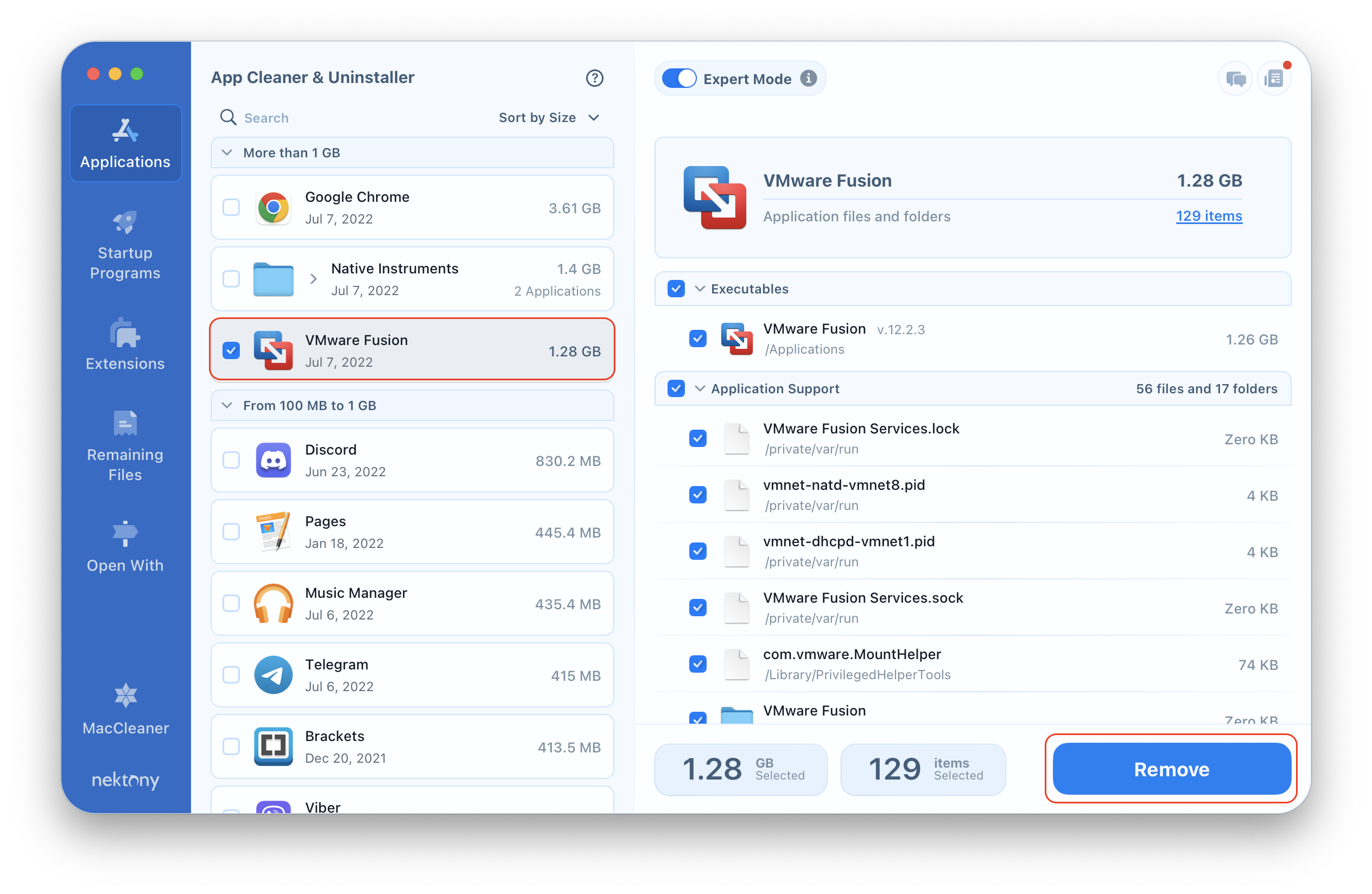 Complete the VMware Fusion uninstallation by emptying the Trash bin.
If you have removed the VMware Fusion using another method, you can clean up your Mac from its leftovers using App Cleaner & Uninstaller. Go to the Remaining files section. There, you will find all of the service files of already removed applications. Select all unneeded remaining files and click the Remove button to free up space on your Mac.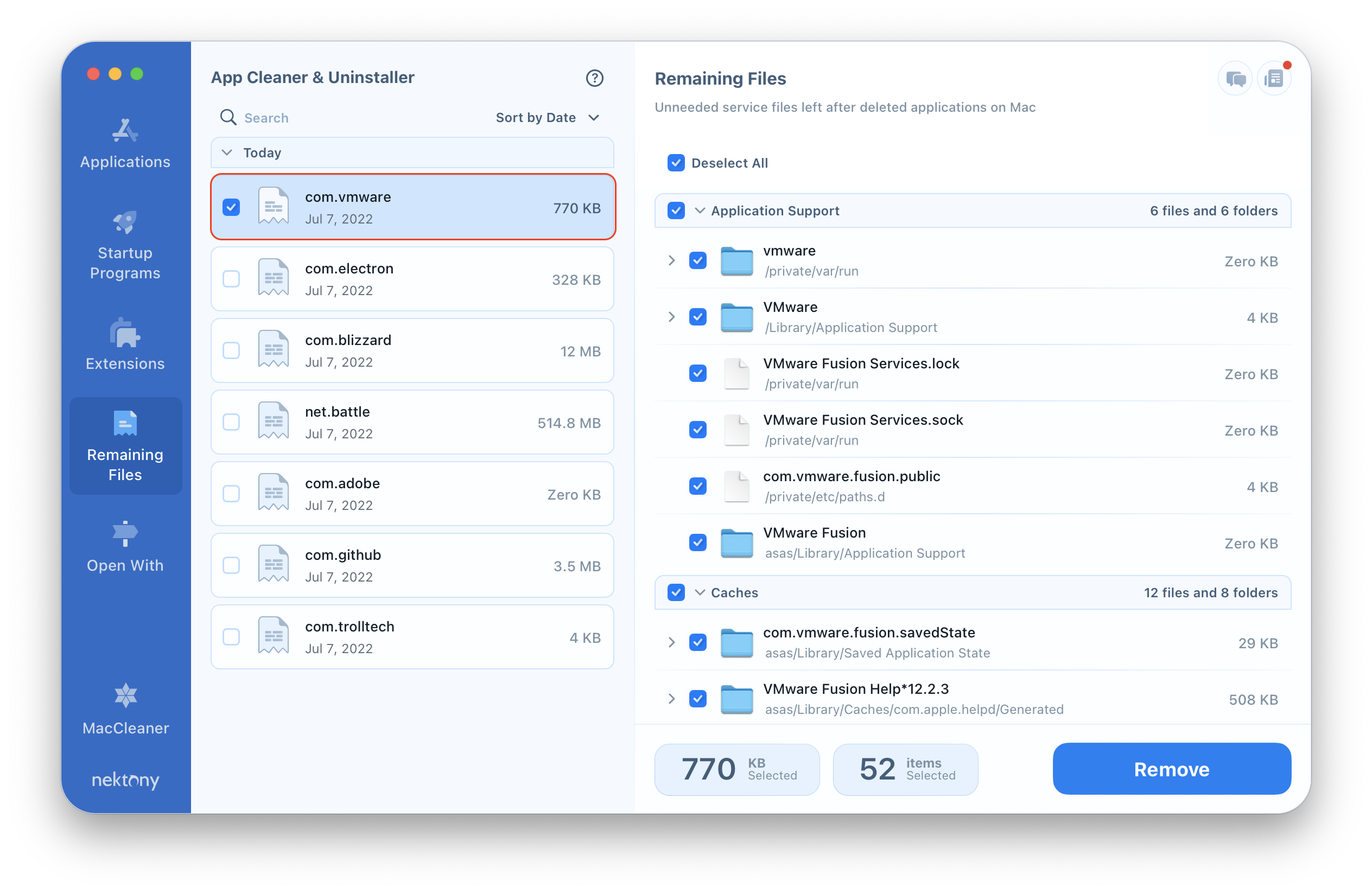 ---
How to remove VMware Fusion manually
For the average Mac user, the most common way to delete an app is to just drag and drop an icon into the Trash. We want to remind you that an application is a complex product. Besides the executable item, it contains many other components to ensure optimal performance.
Unfortunately, the executable file (.app) is only one of many file types related to the single application stored on your Mac. Therefore, we will guide you through all of the steps required to uninstall VMware on your Mac manually.
Steps on how to uninstall VMware from Mac manually:
Quit VMware Fusion.
Open the Applications folder → locate and remove VMware Fusion.app into the Trash. Now, you have to remove the VMware Fusion associated files. Usually, they are stored in the Library folder. The user Library folder is hidden by default because critical system files are stored there. However, the service files of the VMware Fusion app are now completely useless without the app, so you can freely delete them.
Navigate to the Library folder. To get access to the folder, open Finder → in the menu bar click Go → Go to Folder → in the window that appears, type ~/Library and press Enter.

Find and remove all service files and folders that contain VMware Fusion's name in their titles. Check the following directories:

~/Library/Application Support
~/Library/Logs
~/Library/Preferences
~/Library/Saved Application State

Be sure to also check the /Library folder (without the tilde ~ sign) for the VMware service files. To open the Library folder, open Finder → Macintosh HD → Library. In this folder, you should find and remove all useless service files and folders related to VMware Fusion in the following subfolders:

Library/Application Support
Library/Preferences

Once you've removed all of the remaining files, empty the Trash bin to completely get rid of the VMware Fusion application.
---
Conclusion
Depending on the diversity of applications and their versions, there could be more types of service files, which may be hard to find manually in your system. Moreover, the manual way is much more time-consuming than the automatic one. Therefore, we recommend using App Cleaner & Uninstaller to completely delete applications from your Mac much more efficiently. The utility allows you to remove any application's remaining files if you have already deleted the program by just moving it into the Trash. In addition, App Cleaner & Uninstaller can help you manage your extensions and disable startup programs.