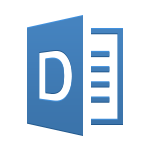 Documents Viewer
Better Way to Explore Microsoft Office on iPad
Requires iOS 7.0 or later
Identical to PC / Mac preview
Open files of any complexity
Integration with Cloud storages
Advanced printing capability
Password protection
Utter file management
Files and folders search option
Natural scroll and zoom
…And many more!
How Viewer Operates?

Documents Viewer sends files to remote web server, that processes documents and sends them back to the app. Due to this feature even huge and complicated documents are displayed on iOS the same way they are displayed by Microsoft Office on Mac or PC. After being converted document can be saved in applications File Manager and accessed in offline mode.

Main Features

Among main features the app easily opens huge and complicated files of .doc, .docx, .xls, .xlsx, .ppt and .pptx file formats, integrated with Box and Dropbox cloud services, able to save converted drawings in PDF file format or print them via AirPrint. Documents Viewer also can be utilized for general file management as it gives possibility to Copy, Move, Remove, Rename and Sort files and folders.
Remote conversion is available for free during 30 days since the first launch.
Documents Viewer
Better Way to Explore Microsoft Office on iPad
Free on iTunes Store

Additional Information

Application Category –

Business

Operating System –

iOS 7.0 or later

Performance Language –

English

File Size –

16.6 MB

 

• Identical to PC / Mac preview

• Open files of any complexity

• Integration with Cloud storages

• Advanced printing capability

• Password protection

• Utter file management

• Files and folders search option

• Natural scroll and zoom

word for ipad, word on ipad, open word ipad, word ipad, microsoft documents ipad, documents reader ipad, ipad word reader

More Apps for iPhone and iPad
View Visio Files on iPad and iPhone

Free up Storage on iPhone or iPad

Convert files to PDF on iPad