We all love taking pictures and share them on different social media platforms like Instagram, Facebook, Twitter, etc. However, it usually takes forever to get that perfect shot. Isn't it true? By making tons of pictures, we clog up space on your devices. After taking those pics, we usually transfer them onto our computers to better look at them, which clogs up space on the computer. After we start to edit them and put them into different folders, we sometimes forget where we place them. Thus, we edit them and save them all over again and create duplicates. In this article, we will tell you about the three best photo management software for Mac computers. Thus, from now on, it will be easier for you to manage your photos.
Contents:
---
Apple Photo Library
Price: free
Distribution: preinstalled on Mac
Requirements: N/A
Rating: N/A
Apple Photo Library is a default application that comes with your Mac from the box. It is a default application where all the photos you took on your iPhone are stored. It has a few useful features that can help you manage the images you took, but one of the best features is that you can easily edit photos right from the app. Here we will tell you in more vivid details about those two features. One of those features is organizing photos, by dates, by places, by faces, etc. The other feature is editing the photos, right from the app. You can edit the colors, apply filters, crop the images, etc.
Organizing photos into albums
First up, making sense of where your photos are located, which folder/album. You can easily select and add images into the albums and name them however you like and find useful for the situation. The app automatically organizes the photos by date, place, analyzes faces, and groups people into different albums; it sounds a lot, right? Here are the screenshots that will help you understand its features.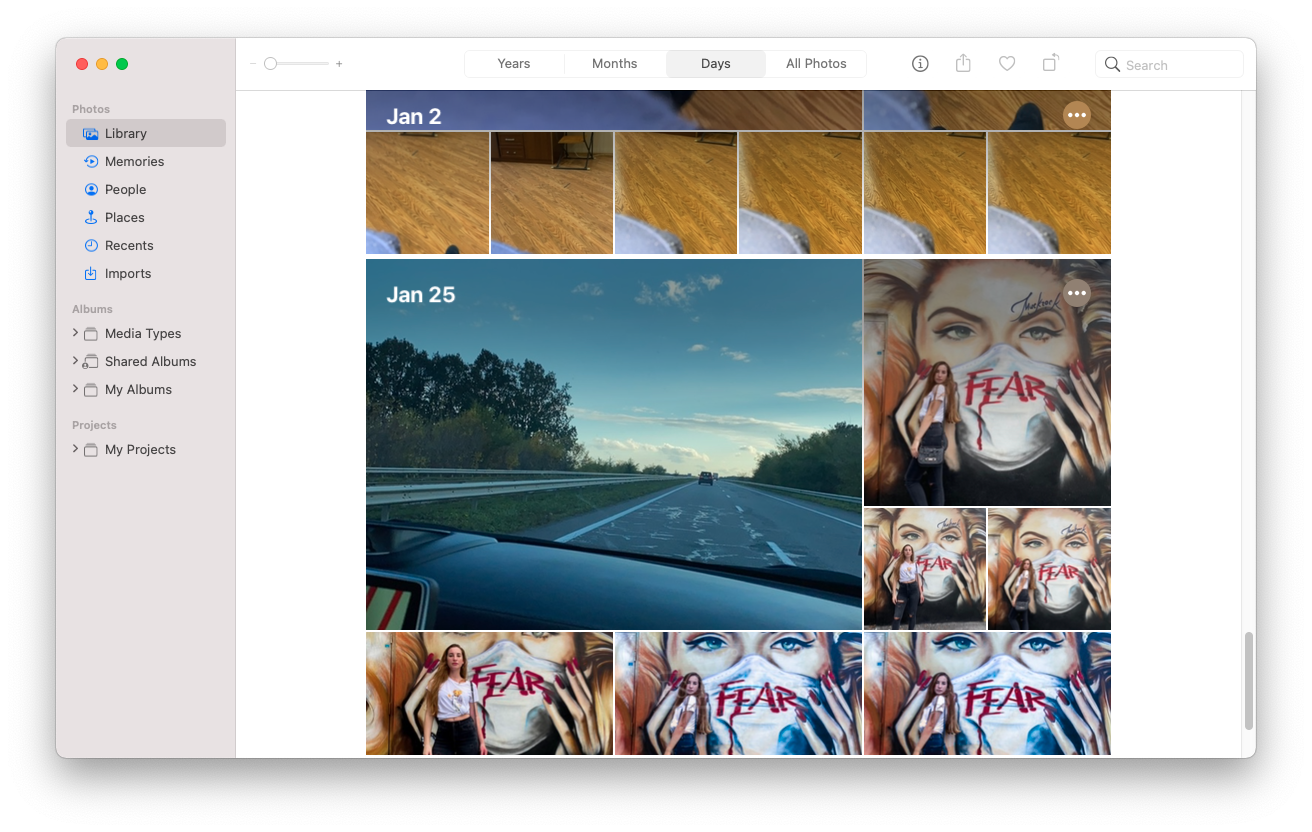 Default photo album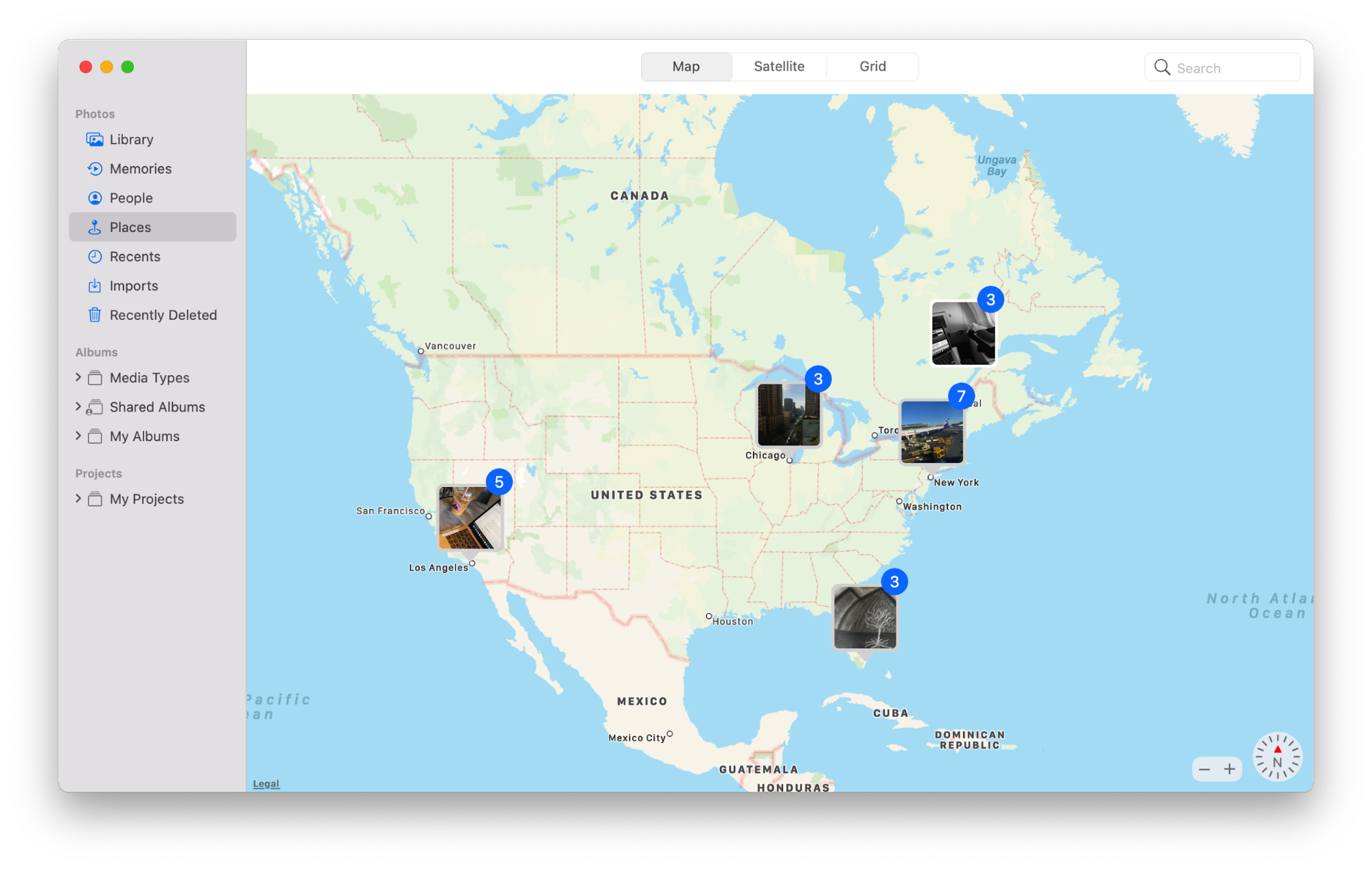 Your photos on the map
However, that is not all the features the app has. You can import the images from an external drive. You can also select favorite photos (basically give them alike). Lastly, the app creates memories for you. It takes the pictures from an event, date, or place and creates a slideshow.
Editing photos
Another great feature present in Apple Photo Library is that you can edit the photos right in the app. You can either choose auto-correction or adjust the light manually. To do so, just click on edit in the top-left corner, and you will see all the options. With Apple Photo Library, you can adjust the light, color and convert your colored photo into a b/w one. Also, you have a chance to retouch, fix the whites, play with the color curves, levels of color intensity, define objects, work with specific colors, sharpen the noise, sharpen the image as a whole, and create a vignette. Most importantly, you can quickly fix the red-eyes. All those features come with your Mac.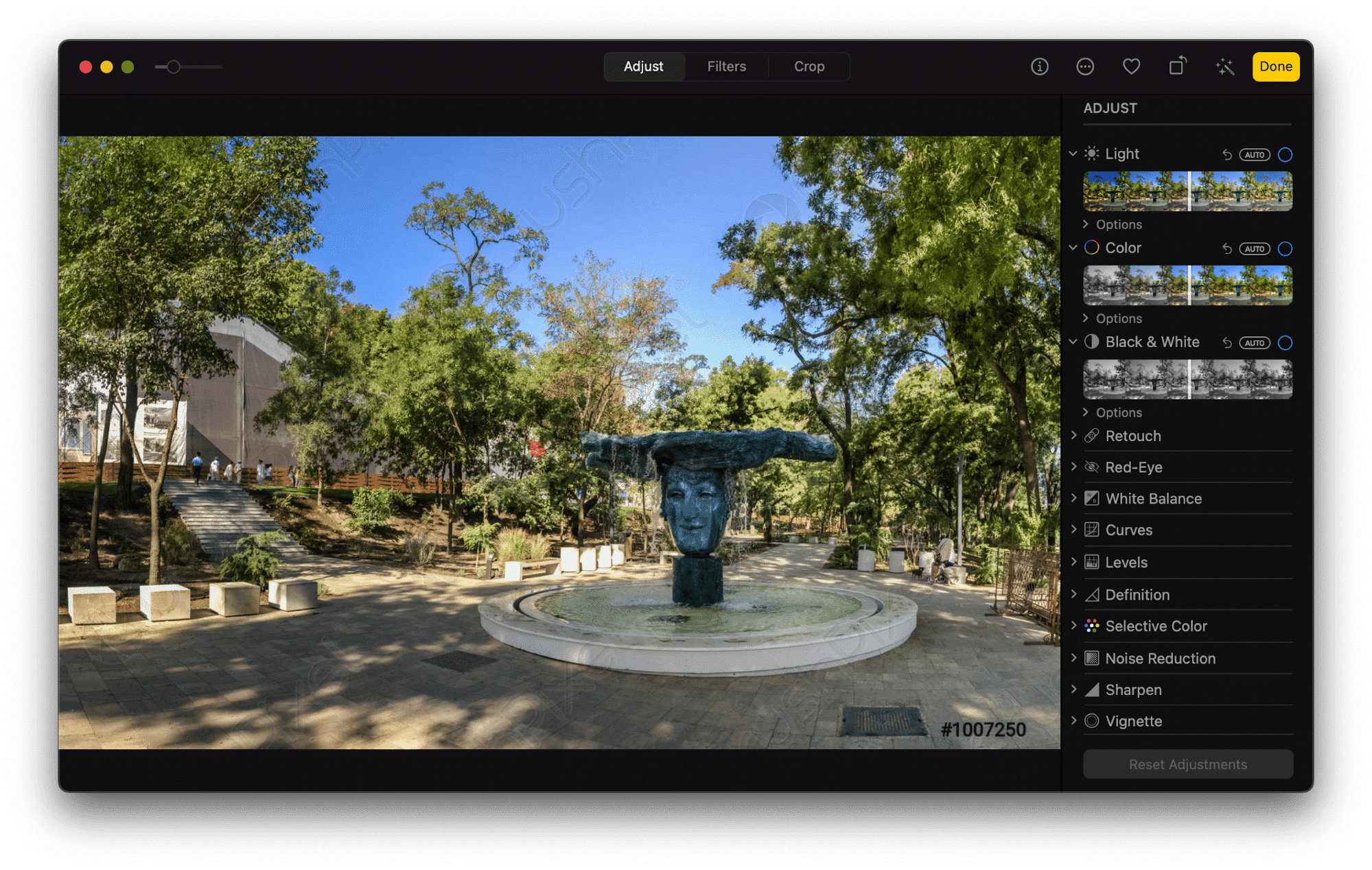 ---
Movavi Photo Manager 1
Price: $12.99 (App Store)
Distribution: from App Store, directly from the developer
Requirements: macOS 10.8 or later
Rating: N/A
Movavi Photo Manager 1 is an application where you can manage your photos, edit them with limited functionality. You can crop them, rotate them and open them in the Movavi Photo Editor.
Photo Organization
Considering photo organization, you can easily import them into Movavi Photo Manager. After that, the app will scan them, and it will find the duplicates in the photos you have uploaded. Also, you can create different tags that will help you organize them. You can add pictures into the favorite folder. Also, you can rename them right in the app.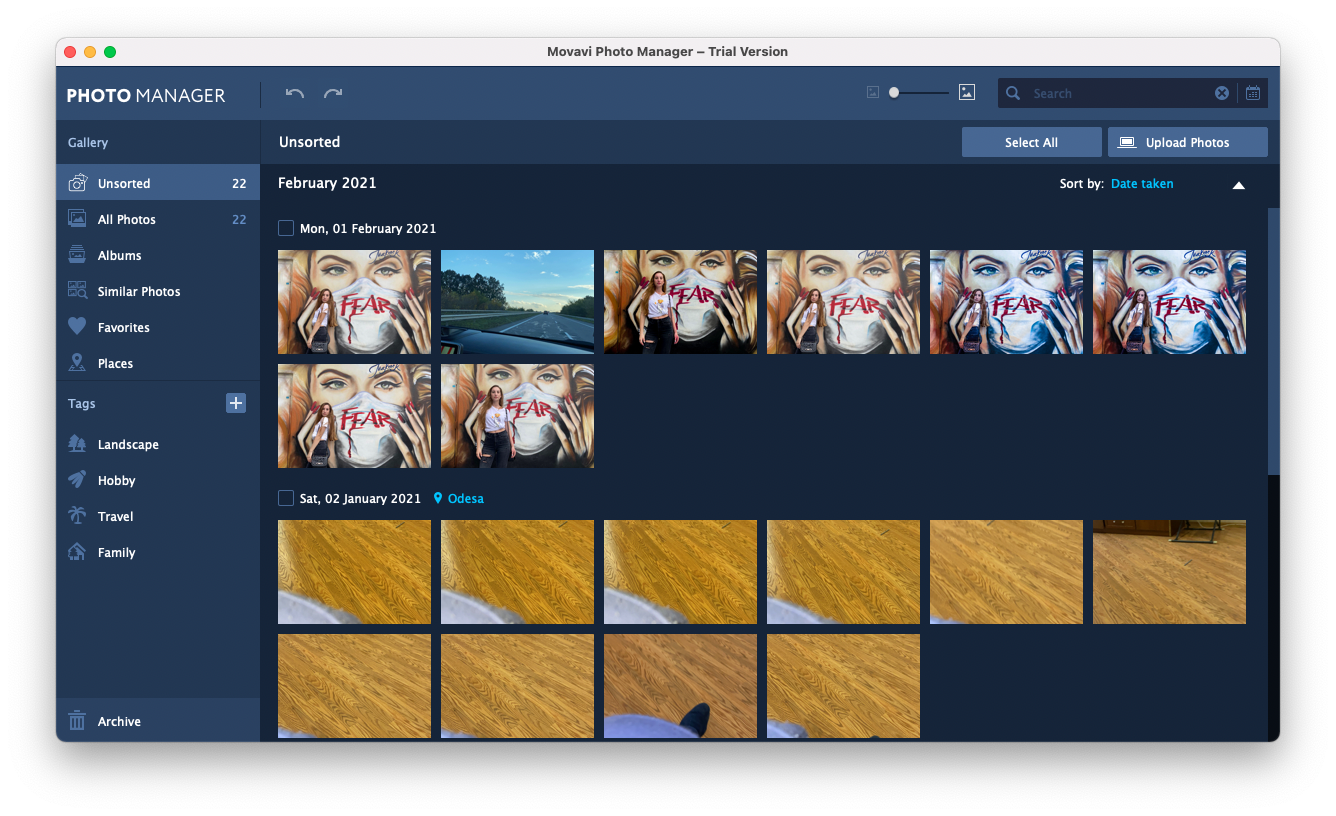 Photo Editing
This is a Movavi Photo Management. Meaning that it mostly focused on photo organization. It has limited functionality when it comes to photo editing. However, you can still make minor changes, such as crop, resize and rotate images. Also, you can automatically adjust the light. Moreover, a button launches the Movavi Photo Editor and opens the picture you have selected there, where you can easily edit your images however you want.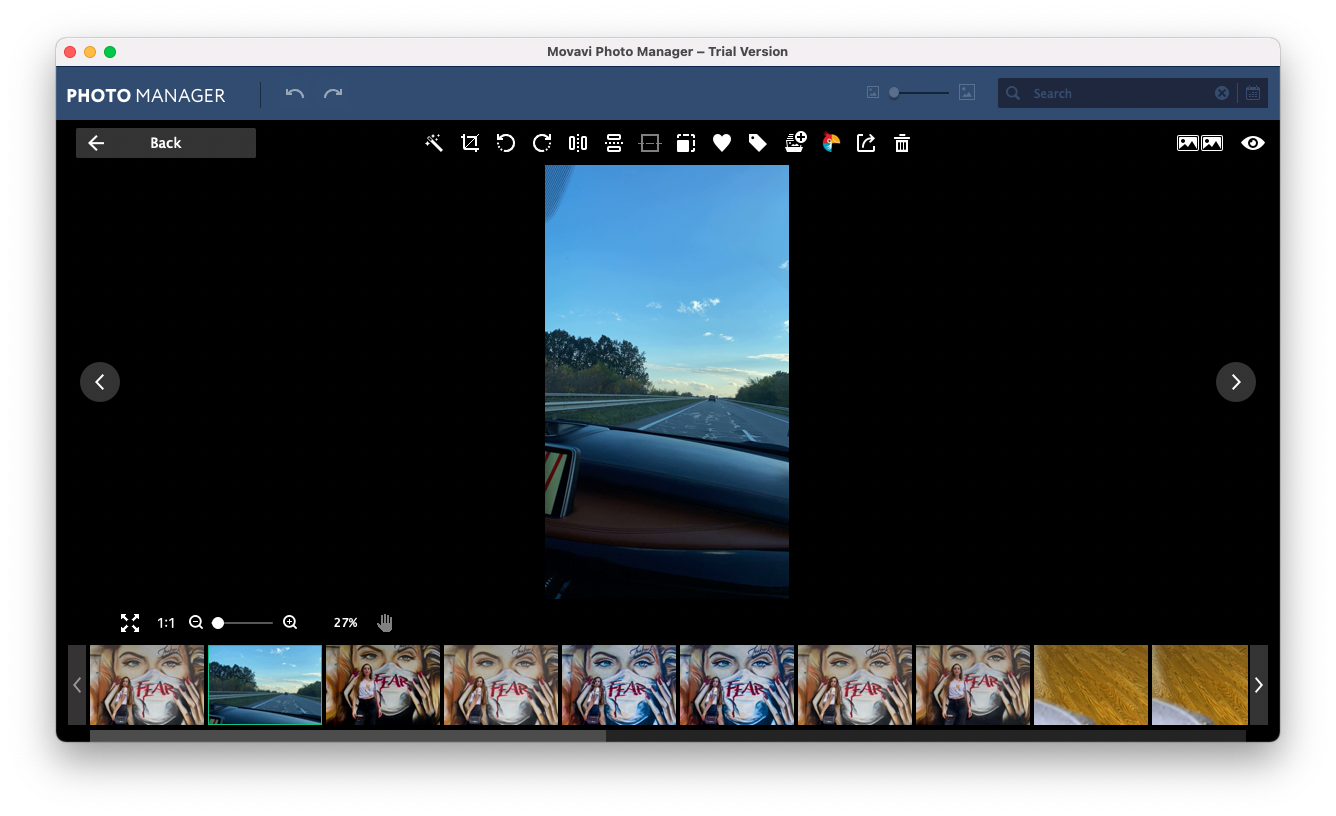 ---
Duplicate File Finder
Price: Free (Pro features $14.95)
Distribution: from App Store, directly from the developer
Requirements: MacOS 10.13 or later
Rating: 4.8/5.0
Duplicate File Finder is an application that can quickly help you manage your photos. This application will find duplicate and similar images on your Mac and show them to you because of the build-in preview feature. It can also help you find duplicates in different folders and either remove the duplicates or merge them. All these features will make your life much more comfortable and free up tons of space on your computer.
This app was not originally designed only to manage photos. Thus, it doesn't have photo editing features. However, it will come in very handy when you want to manage similar images and organize them. Keep reading to learn more about its functionality.
Finding duplicate and similar photos
All you have to do is add your Photos Library and click Start scanning. Once the scanning is finished, you will see duplicate photos. Switch to the Similar Photos section. Click Auto Select for smart selection, and there you go.
The application allows you to put pictures to get rid of duplicate pictures and visually similar redundant pictures. You can always uncheck the images you like and leave them on your computer, and the best thing is that you can see what the app has selected for you.
Moreover, the application will help you find duplicates not only in the photo library, but also in any folder on your computer and even duplicates on the external drives. To be honest, it is extremely useful, when you have tons of different photos and then you have to delete and find those duplicates manually, with Duplicate File Finder it only takes a few minutes. Again, all you have to do is open the application, add folders and disk you want to check for duplicates and click to scan them.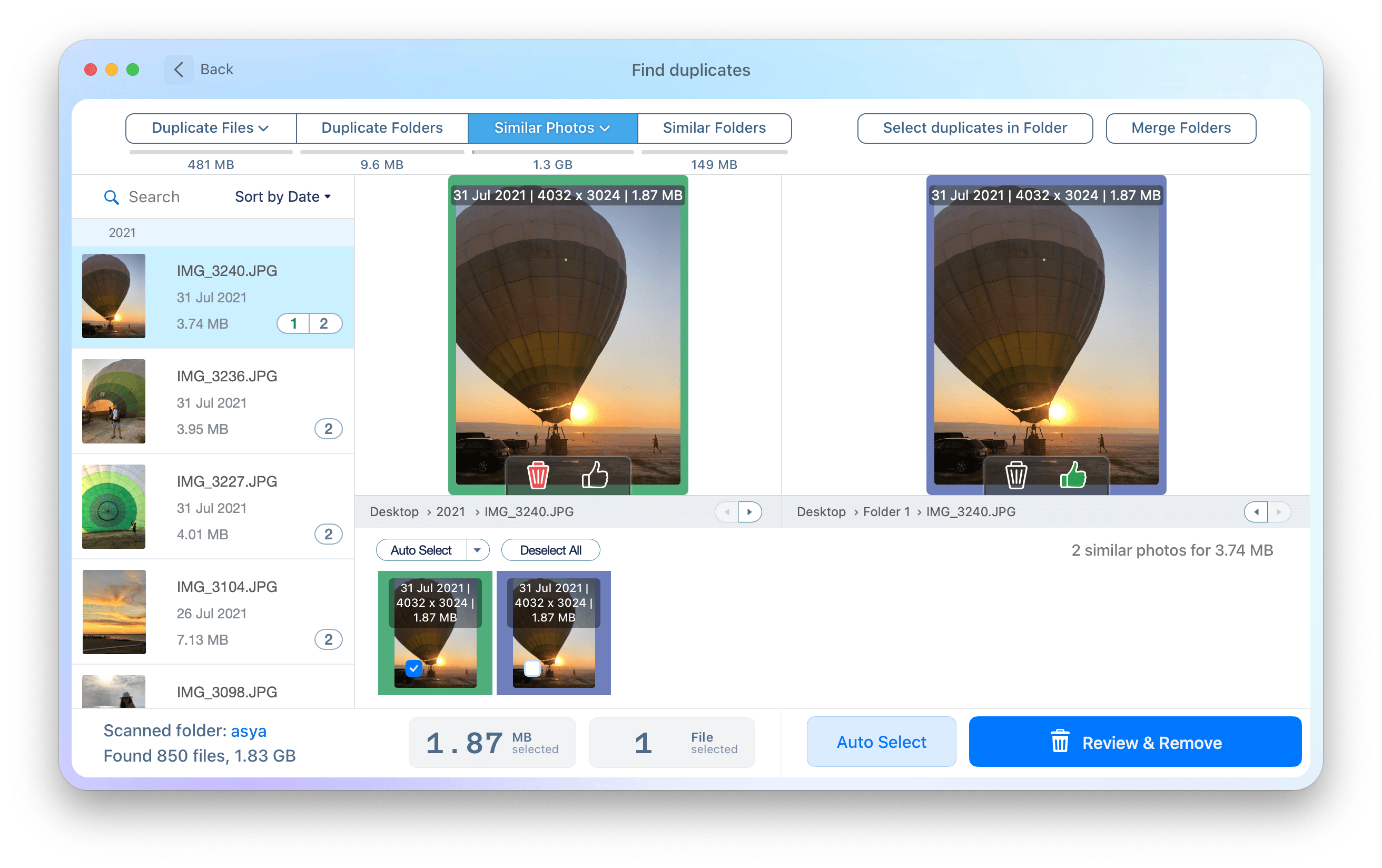 Folders organization
Duplicate File Finder also allows you to merge similar folders or any two folders you select on your Mac to organize your files. With Duplicate File Finder, you can twinkle things around in your folders in just a few clicks. This is a fantastic feature that lets you move files from one folder to another. You can merge folders. The app will identify the duplicates in different folders. It will highlight them to visualize what you need to get rid of and what can be moved around, so you do not have to deal with numerous folders with similar information. Isn't it amazing? I think it is. Also, it makes our lives easier because we can manage all the folders on our computers in one window.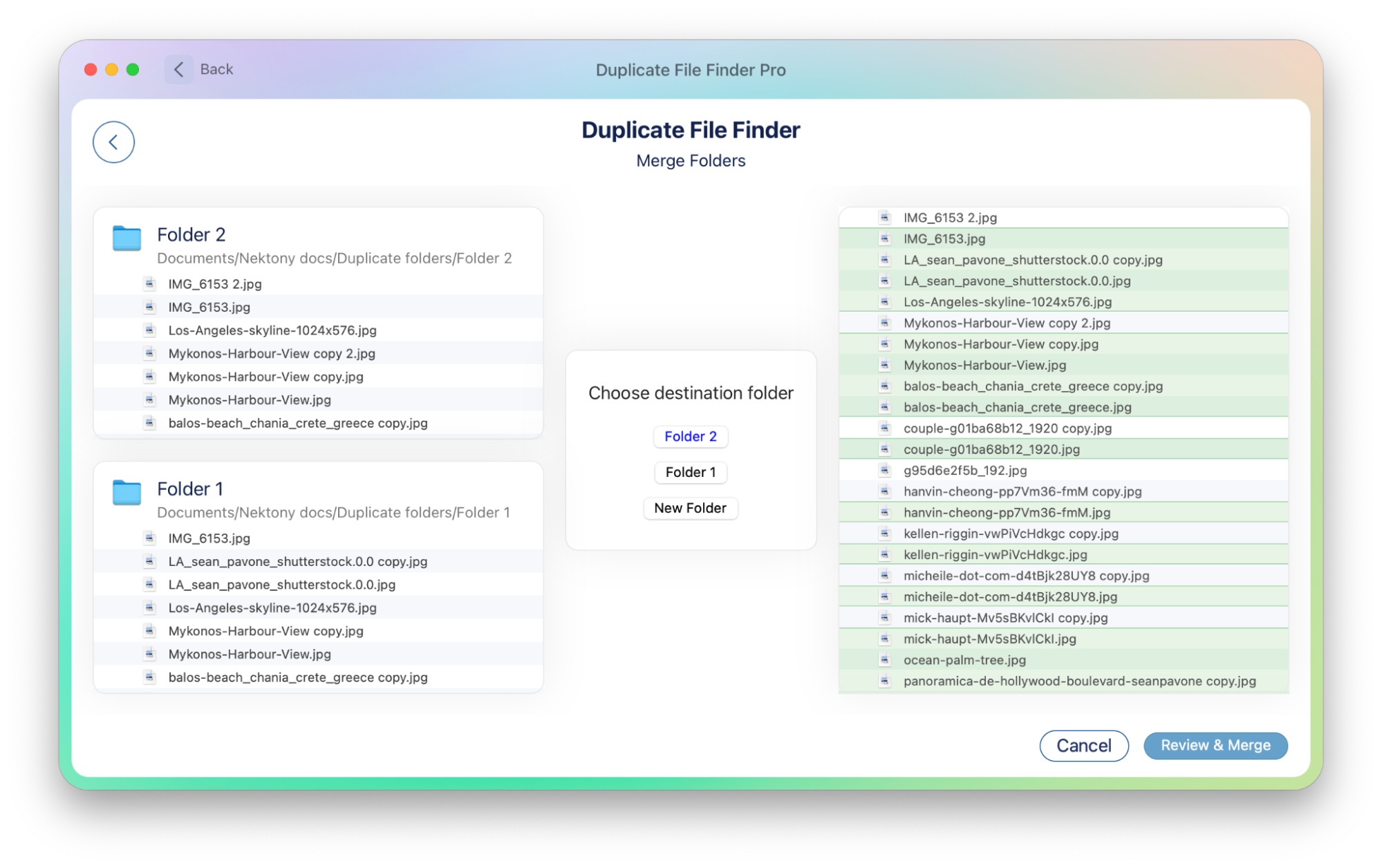 Watch
this video
to get a better understanding of how to merge those chunky folders.
---
Photos
Movavi Photo Manager
Duplicate File Finder
Merging folders
–
–
Photo editing
–
Finding similar photos
–
Finding duplicate files
–
–
Folders/Tags Management
–
Other FIles Management
–
–
App Store Rating
N/A
4+

4.8/5.0

Price
Free
$12.99
(App Store)
Free
(Pro Version $14.95)
---
Conclusion
We have presented three different applications that can help you with photo management. Each of them is great and very useful. In Apple Photo Library, you can easily edit your images, group them into the albums manually or let the app do it for you by dividing them by dates, places, and people. Movavi Photo Editor 1 enables you to group the images by tags, find duplicates, and provide you with basic editing tools. However, when it comes to managing all the photos, Duplicate File Finder is one of the best applications out there. First, it can help you with much more things than just pictures. It also provides you information about duplicate files on your computer. It shows you similar images and their locations. Also, it lets you play around with your folders with just a few clicks. You can merge folders in only a few clicks. The app will highlight similar photos in the folder and suggest which one is better. All of these apps will make your life easier, and it is entirely up to you which one you want to use. However, you can test all these softwares absolutely for free.