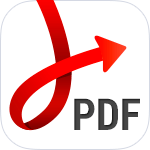 Ultimate PDF Converter
Read PDF or convert files to PDF on iPad
Requires iOS 7.0 or later
Main Features of iPad PDF Converter

Identical to desktop output file
Renders files of any complexity
Integration with Cloud storages
Advanced printing capability
Password protection
Utter file management
Image conversion
Opening of protected docs
…And many more!
Print to PDF and Operate Files

Basically, the app operates with any type of Word, Excel and PowerPoint documents, but as well is able to convert .images (svg, png, jpg, jpeg, bmp, gif, tif, tiff), HTML and RTF-files.

Converter also can be utilized for general file management as it gives possibility to Copy, Move, Remove, Rename and Sort files and folders.
How does Viewer Operate?

The app renders Microsoft Office documents accurately with all the details. Using the app you can convert Word doc to PDF (or other files) as it is converted by MS desktop software.

The app is distributed freely with limited functionality so that anyone could test the product before appreciating its necessity. So give it a try!
Ultimate PDF Converter
iPad PDF Reader with Supreme Conversion Quality
More Products by Nektony
Find and Delete the largest files and folders

Remove unnesessary files and speed up your Mac

Find the biggest files and folders