Although Apple has gone the extra mile to keep the macOS as safe as it can be, a level of risk exists simply because it is a mainstream operating system. As a product that is sold to individuals and businesses worldwide, it is vulnerable to many kinds of cyber threats. And since it's hardly close to military grade security, you should be aware that your system can be compromised if it is not protected.
In this article, we will go over all the main security aspects of your Mac and how to adjust the security preferences in order to keep it safe. In addition to the methods that are built-in into your Mac, such as system utility apps, we will also give you a good perspective on how third-party Mac security software can improve your security.

---
Use FileVault disk encryption
One of the most common and effective Mac security tactics is to start by encrypting all of your files. A good way to do that is to use Apple's FileVault, which provides full Mac encryption with an AES-128 security encryption algorithm. This makes it practically impossible for thieves (or whoever gets their hands on your machine) to access your data unless they have access to your recovery key. When using FileVault, it is critically important that you store your recovery key in a safe place so that if you do need to use the procedure, you are able to recover your data.
To have FileVault enabled, simply go to System Preferences → Security & Privacy → FileVault. You will see a warning message that we would recommend reading carefully before going through with this. After that, you can click on Turn on FileVault.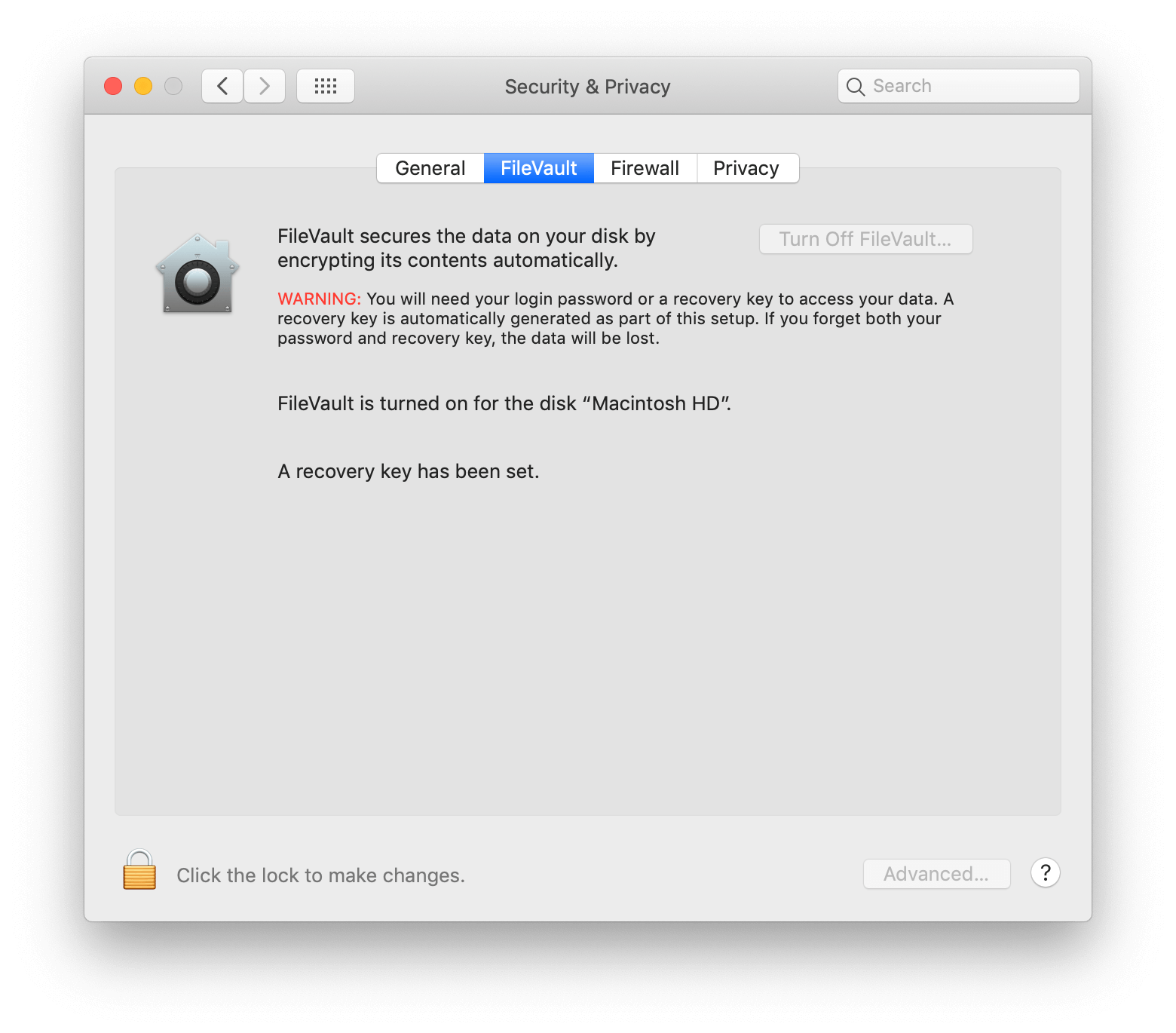 ---
Backup your Mac with Time Machine
In case your machine has suffered a security breach or file damage of some sort, the Time Machine backup utility comes in very handy. This tool allows you to restore the state of your system to the way it was even an hour ago, making it very convenient. In any case, you can change the frequency of your backups to the time that you deem fit. By default they are created every hour. Along with securing a backup, we would also highly recommend keeping a copy of this backup on a separate hard drive disk. In case of physical damage, it's likely that the program won't be of any help.
To use the app, simply run Time Machine from System Preferences and click on Select Backup Disk…, choose the disk that you need backed up and select Use disk. For a more comprehensive guide, please see our article on How To Use Time Machine On a Mac.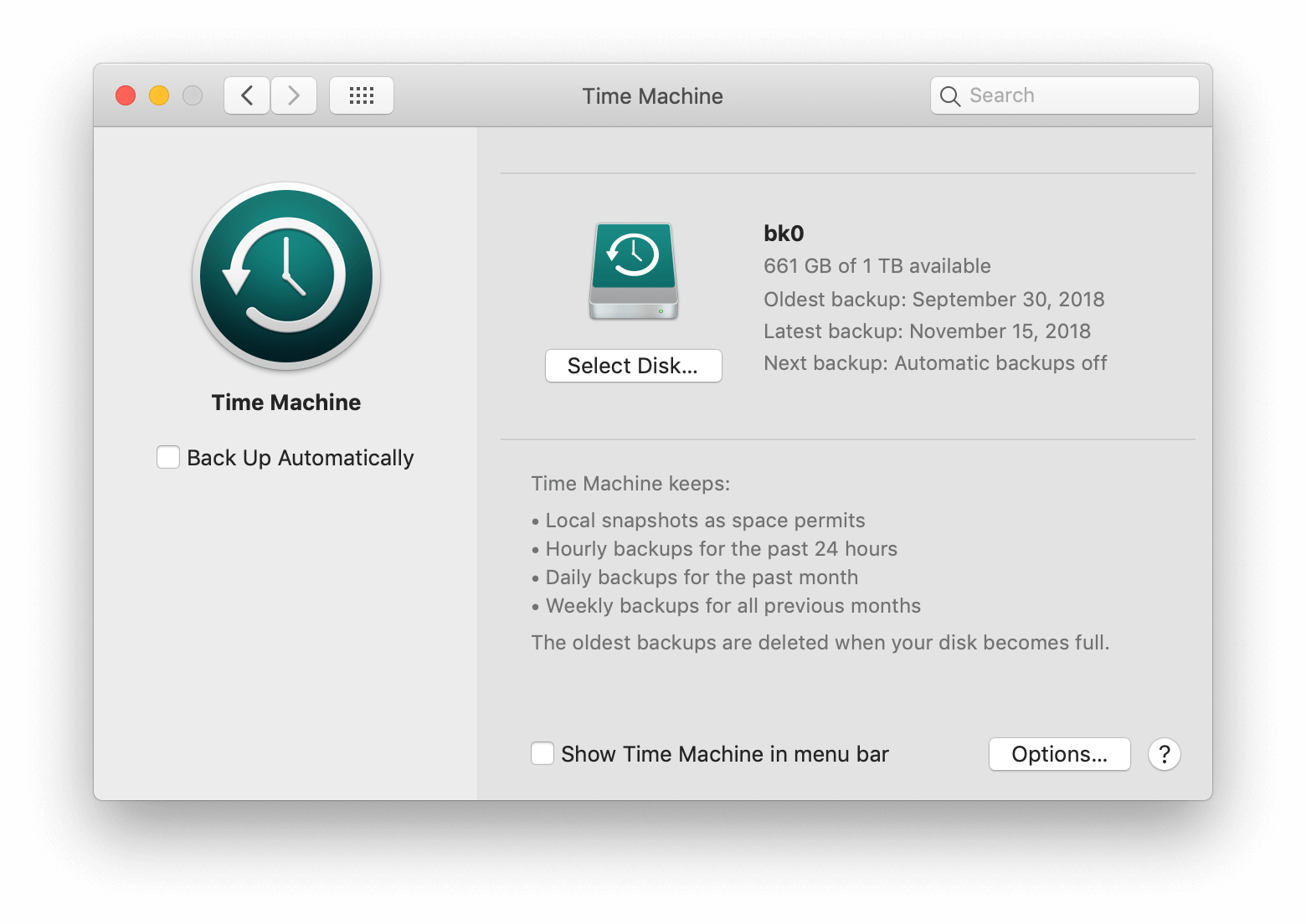 ---
Use two-factor authentication
Two-factor authentication is the next significant security measure step to take. This tool requires users to enter a numeric code in addition to their username and password. You can either receive it through the mobile app or as a text message. This system is hard to crack, as the only way someone would be able to bypass this is if they had access to your phone. But we won't talk about that now, as this is very rare. By setting up two-factor authentication using your Apple ID, you are taking a great step towards securing your Mac to the fullest extent possible.
In addition to setting up 2FA for Apple, we also recommend setting it up for other services like Google, Microsoft, Dropbox and any other platforms that allow it.
In order to set up Two-Factor Authentication, simply follow the instructions:
Go to
.
Proceed to log into your account with your Apple ID.
Then click on
and press Two-Factor Authentication.
Use your phone number to receive a text message from Apple.
Once you enter the code on the verification screen you are done.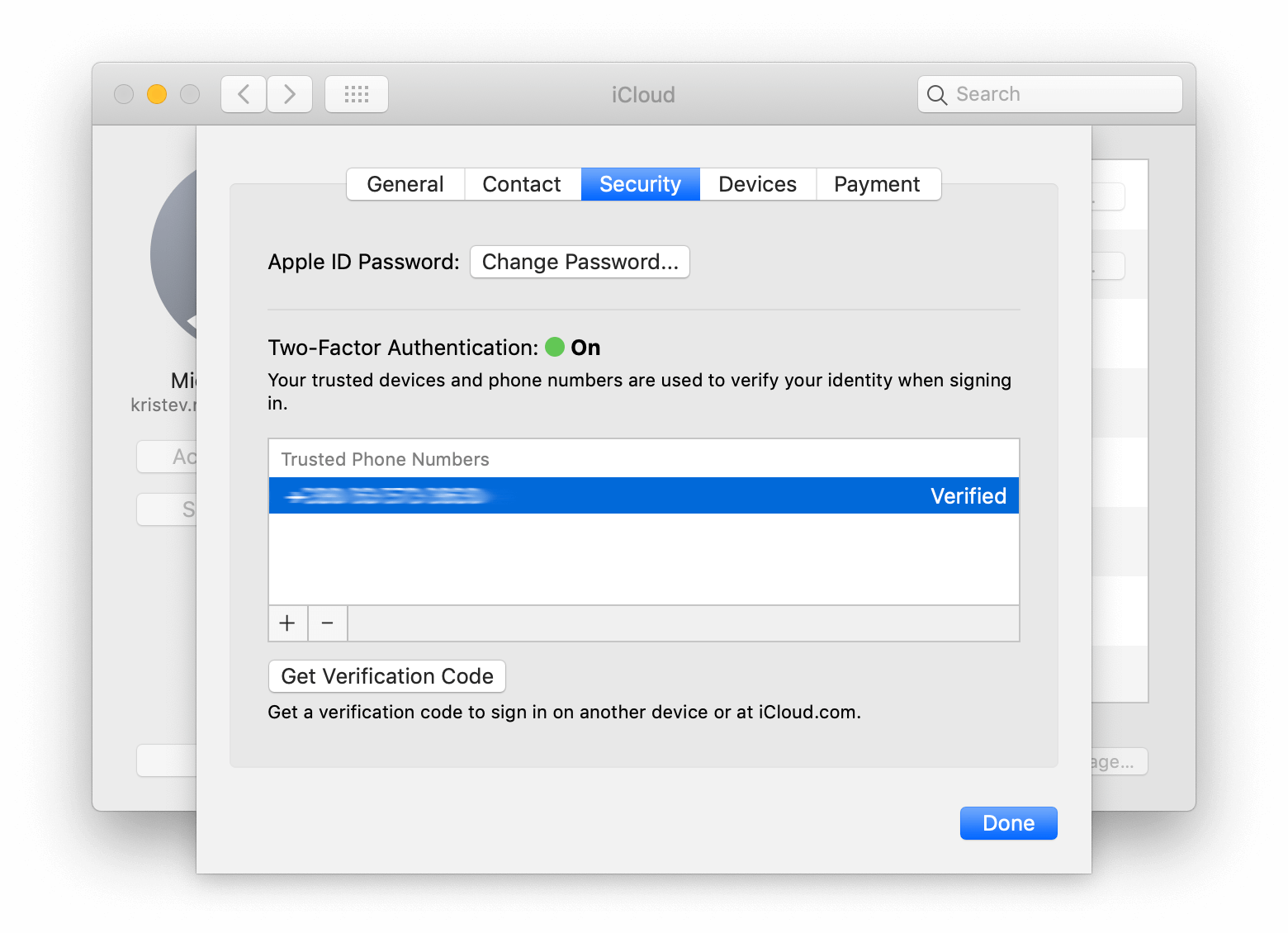 ---
Use a VPN to cover your tracks
Encrypting the traffic data you send over the web is equally important as password protecting the files on your Mac. Whether you are using public Wi-Fi or simply interacting with the internet on a daily basis, you can add an extra layer of security to your online activities by using a Virtual Private Network (VPN).
Another good reason to use a VPN is that data theft is on the rise and increasingly becoming more common every year. These days it's not rare for credit card credentials to be swiped without a card holder's authorization. If that does happen to you one day, the first few questions you should ask yourself are which websites you've last visited, which files you've recently downloaded, and where you last connected to Wi-Fi.
Although VPNs certainly won't prevent malicious trojan codes from being injected in the files that you download, they can do a lot to protect your online security. At the very least, VPNs will block other users in the same network, cover your tracks from your online provider, and bypass internet censorship in certain countries.
For a VPN, we would recommend using the VPN Client for macOS as it has over 60+ locations and 90+ servers to choose from. These features make it a great choice for speed, anonymity, accessing geo-blocked websites, and protecting your online identity.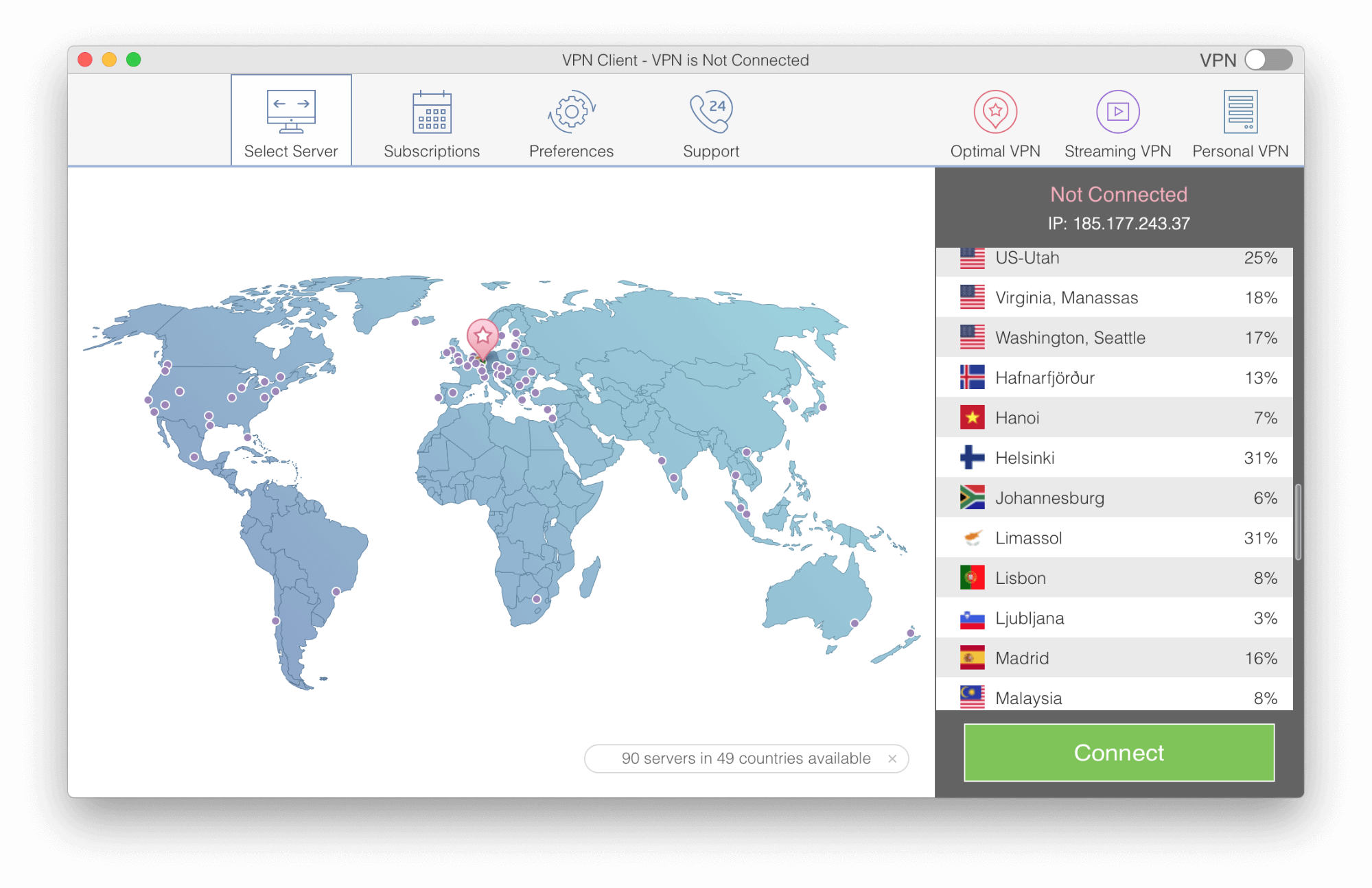 ---
Set up "Find My Mac" in case your Mac goes missing
With the Find My Mac utility, you will have a much higher chance of retrieving your Mac in case it's lost or stolen. Once Find My Mac is set up, you can find your Mac by using the app's map or playing sounds to locate it. You can also remotely lock it and even completely erase the contents of your disks. Even if your Mac is offline and not connected to the internet, you can ask to receive a notification once it does go online, as well as schedule the previously-mentioned actions to occur as soon as it's connected.
For you to be able to use Find My Mac, you have two options- get access to an iCloud account on a different machine or access the iOS app on your iPhone. To get started, go through the Apple menu to System Preferences → iCloud → enter your Apple ID credentials on the screen that follows → select Find My Mac → click Allow if it requests you to use the location of your Mac → turn on Location Services if needed.
We would still advise contacting law enforcement even if the app has helped you locate your Mac. You never know if a risky situation awaits you or whoever found it is friendly enough to give it back to you.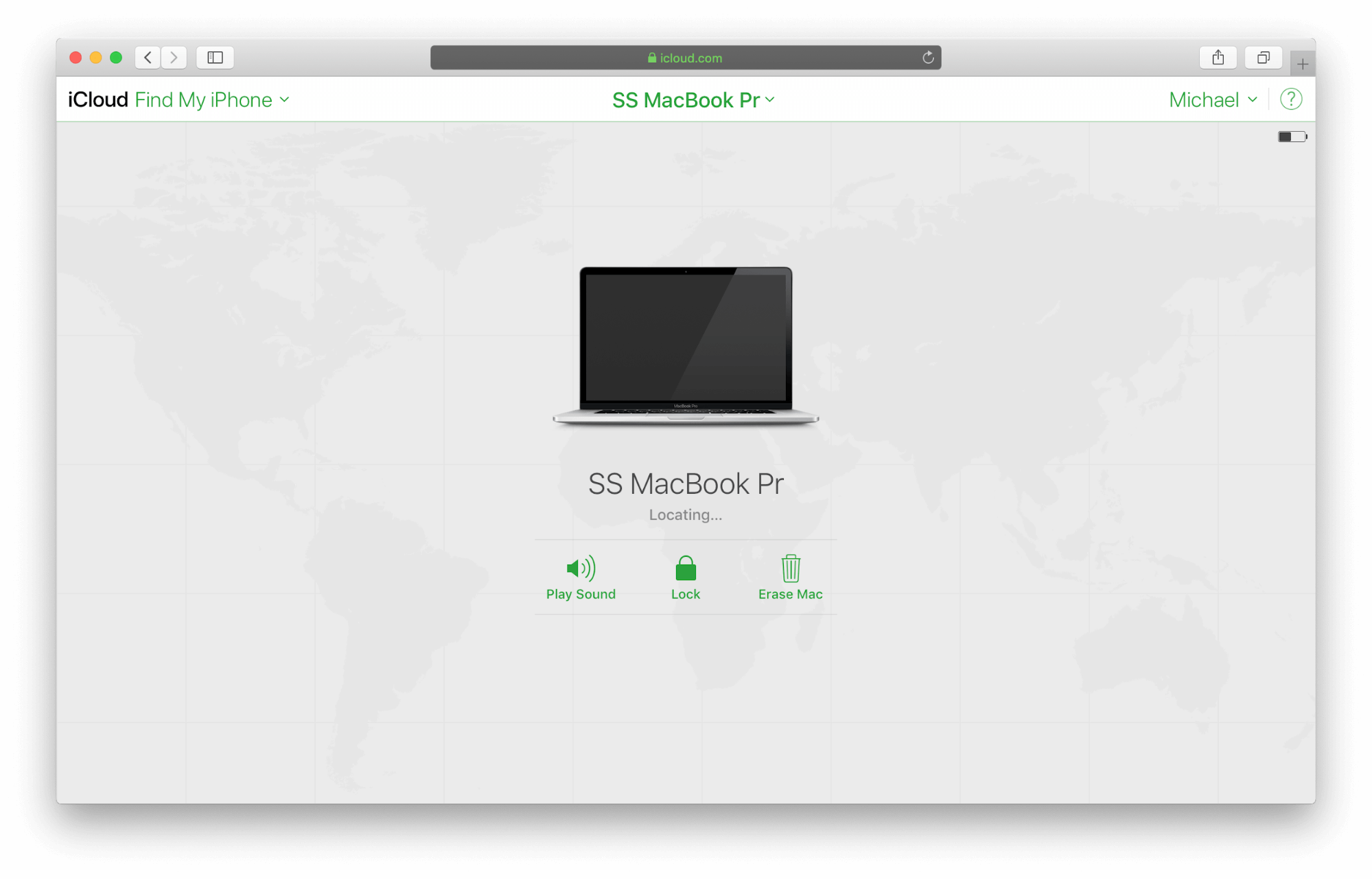 ---
Install antivirus software For Mac
Downloading files from the internet, especially when they are offered to you for free, is a high-risk activity. Some of the viruses have become so smart over the years that you won't be able to tell if your machine is infected. For instance, they will show advertisements on websites where you would've thought it is normal for them to appear. In other cases, they may slow your Mac down significantly by utilizing it as a crypto miner or remote desktop as part of a botnet. Worst of all, the viruses may lock down your macOS and demand a ransom to be paid in exchange for the file contents of your hard drive.
Although Apple's default anti malware software XProtect does try to prevent the startup of suspicious apps, it won't defend against more sophisticated trojans that are constantly being developed and improved. This is why two of the most important tasks on your Mac security checklist should be to install antivirus software and scan for malware on a regular basis. Luckily, with a little searching on Google you will find plenty of free antivirus software tools for Mac that can be downloaded and installed within minutes. To find out more about the different types of adware and threats, how they can affect your Mac's performance, and how to avoid and remove them, see our thorough article on Adware and Malware Removal on a Mac.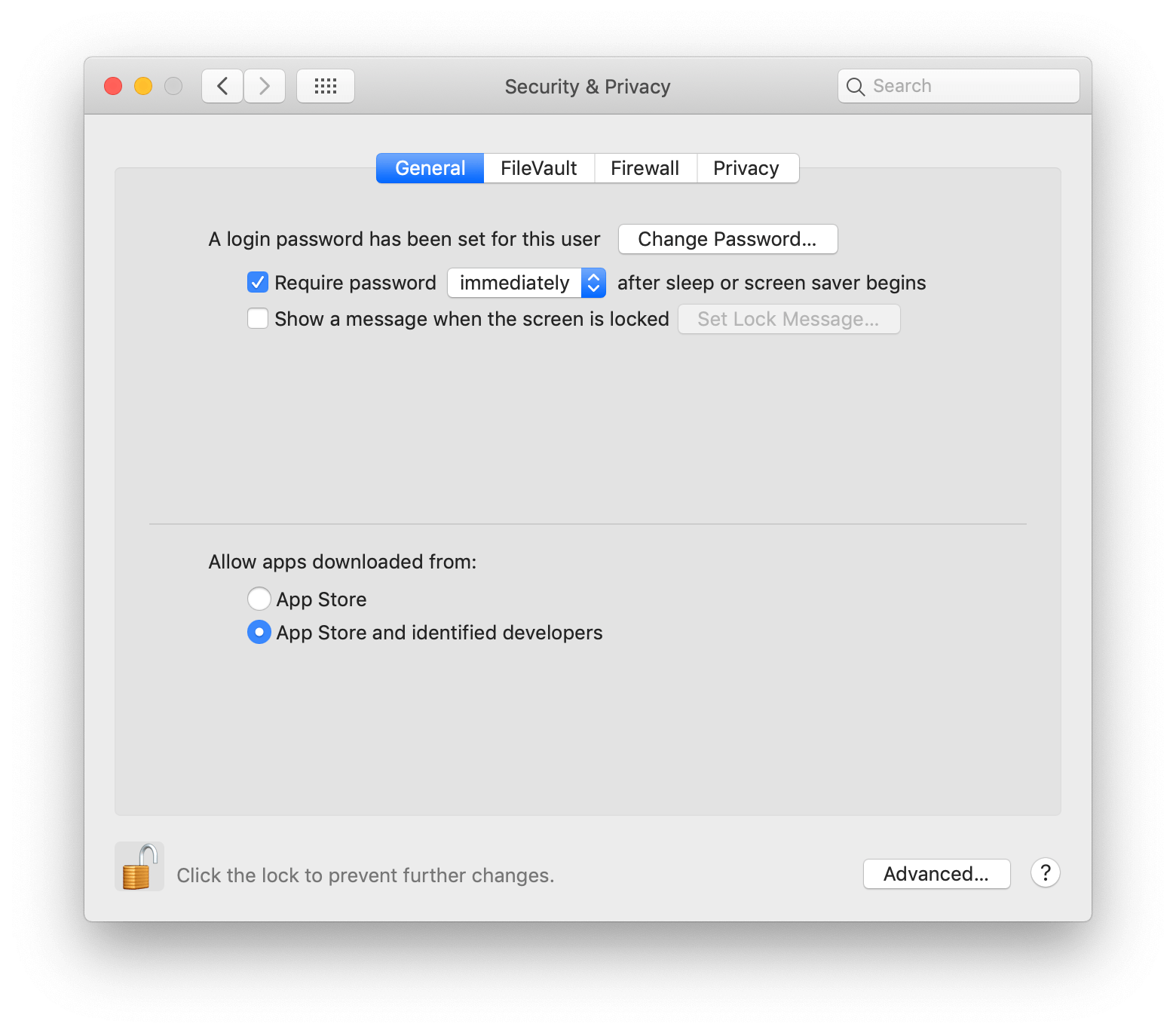 ---
Start using touch ID with your fingerprint
Touch ID is a fingerprint feature that was implemented by Apple in 2012, right after the acquisition of AuthenTec – a company that focused on fingerprint identification software. If you own a MacBook Pro 2016 and up or MacBook Air 2018 and up, then you can start using the function right away. You can use Apple's Touch ID to unlock your Mac, switch between users on your Mac, and force a shutdown. Additionally, you can make purchases on iTunes, App Store, and iBook stores via Apple Pay and even through the Safari browser, as long as the store you are buying from supports it.
To set up Touch ID on your Mac, go through the Apple menu to System Preferences → select Touch ID → click on the Plus icon in order to add a new fingerprint → follow the instructions through and be sure to enter your username and password when needed → check the boxes where you want the fingerprint to be used, such as with purchases or when unlocking on your Mac.
If you ever decide you want to use a new fingerprint, simply delete the original by moving your mouse over the fingerprint for the delete button to appear and go through the process of entering your login and password credentials.
---
Disable automatic login on a Mac
Although the automatic login feature does make accessing apps easier and quicker, it doesn't exactly strengthen the computer's security. If somebody was to get their hands on your Mac, they would have an easy time going through all your files and services because they are already unlocked. For this reason, we would recommend that you disable this feature by going through the Apple menu → System Preferences → Users & Groups → Login Options → click the Lock icon, and enter your credentials to make changes → click on Off in the Automatic login section.
From now on, you will be required to enter your password each time you start your Mac. This is a necessity in order to fully secure your Mac, and is especially helpful in situations when someone has access to your machine without your permission.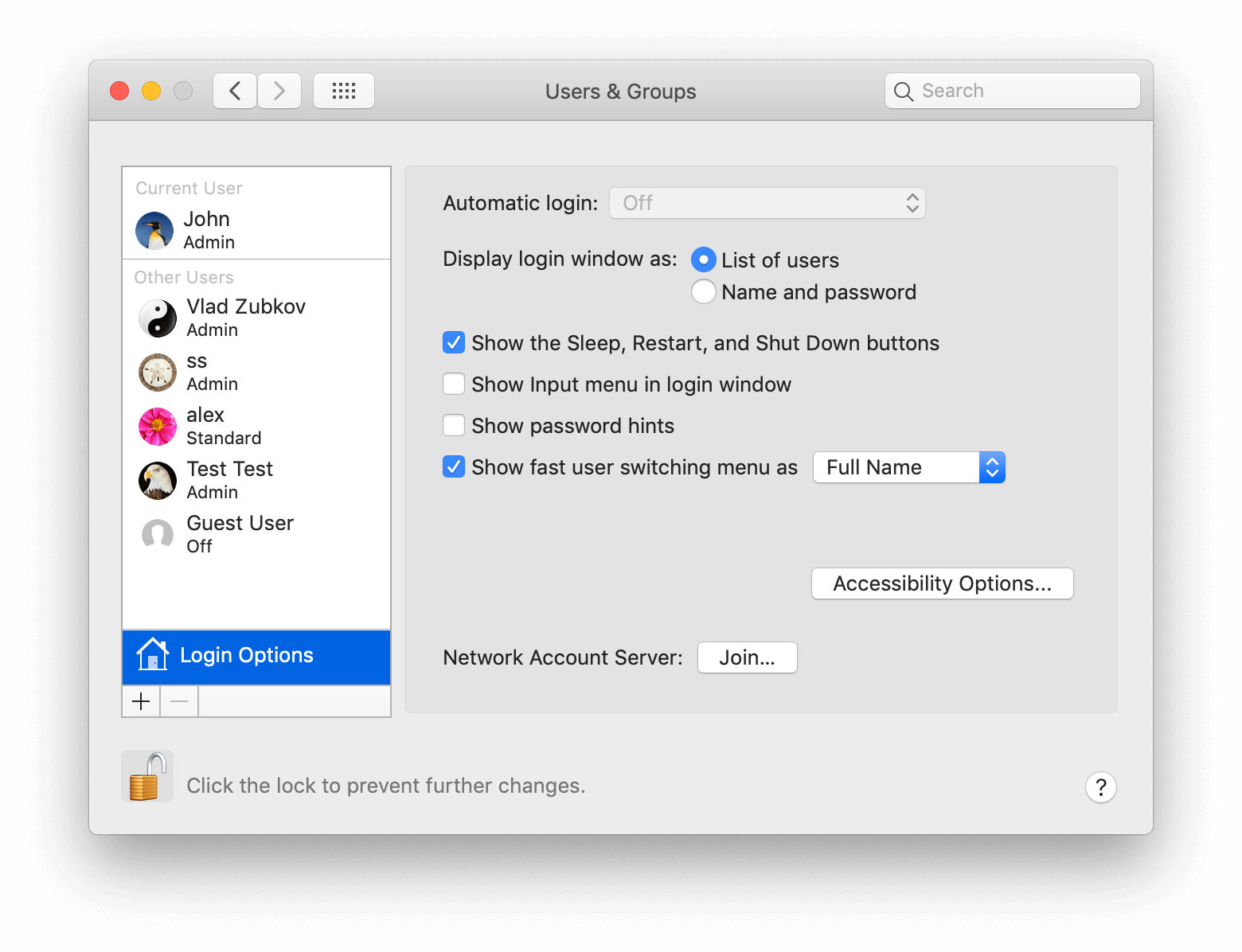 ---
Enable Mac Firewall
The first questions that you may be asking are, "What does the firewall actually do and is it worth turning on?" By enabling Firewall on your Mac, you will essentially be blocking incoming traffic from accessing specific applications. In other words, you are prohibiting apps from collecting information about you and your Mac. This can be useful if you are not a fan of tech companies spying on your personal details and reselling them to third-parties. If that's the case, follow the instructions to get started with Mac Firewall settings:
Go to
→ → go to the .
Click the
icon to make changes, follow it through with your login details.
Press on
→ start configuring the options by pressing on
You will see the full list of apps that you have and can simply start blocking inbound connections to them.
Keep in mind that inbound connections are not the same as outbound connections. If you think one of the apps is adware, blocking inbound traffic won't stop it from functioning.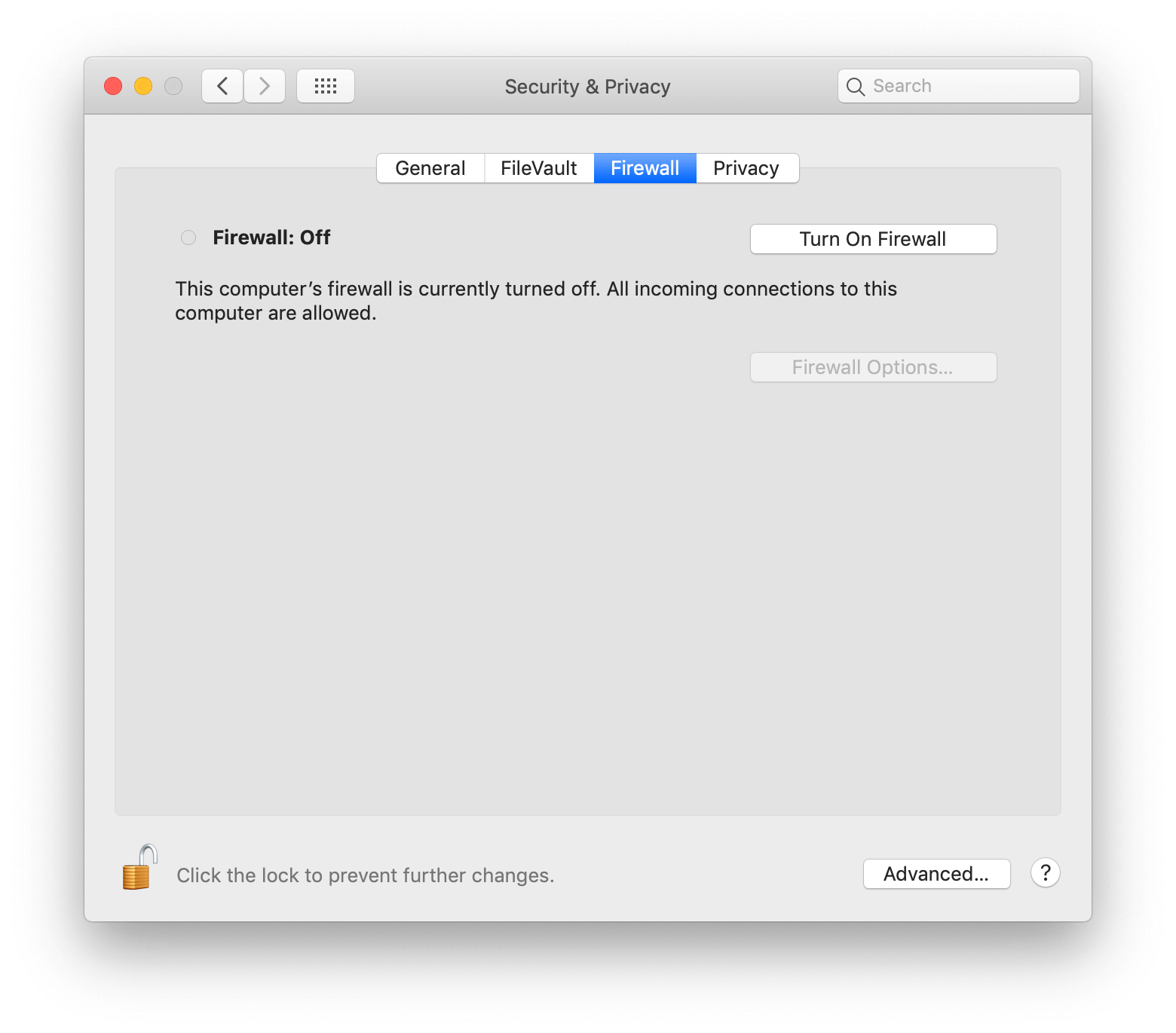 ---
Keep your Mac software updated
With Apple being on the constant lookout for new threats that may compromise the security of your Mac, you certainly shouldn't take lightly the Apple security updates they release. By keeping your software up-to-date, you will essentially protect your machine from any dangers out there. This is especially relevant if you aren't running macOS Mojave, since you will need to do that manually. With Mojave, however, you can adjust the settings so that the Mac updates are installed automatically. Simply go to System Preferences → Software Update and check the box where it says "Automatically keep my Mac up to date". You can also open Advanced and make sure that all of the boxes are checked, in particular "Install system data files and security updates."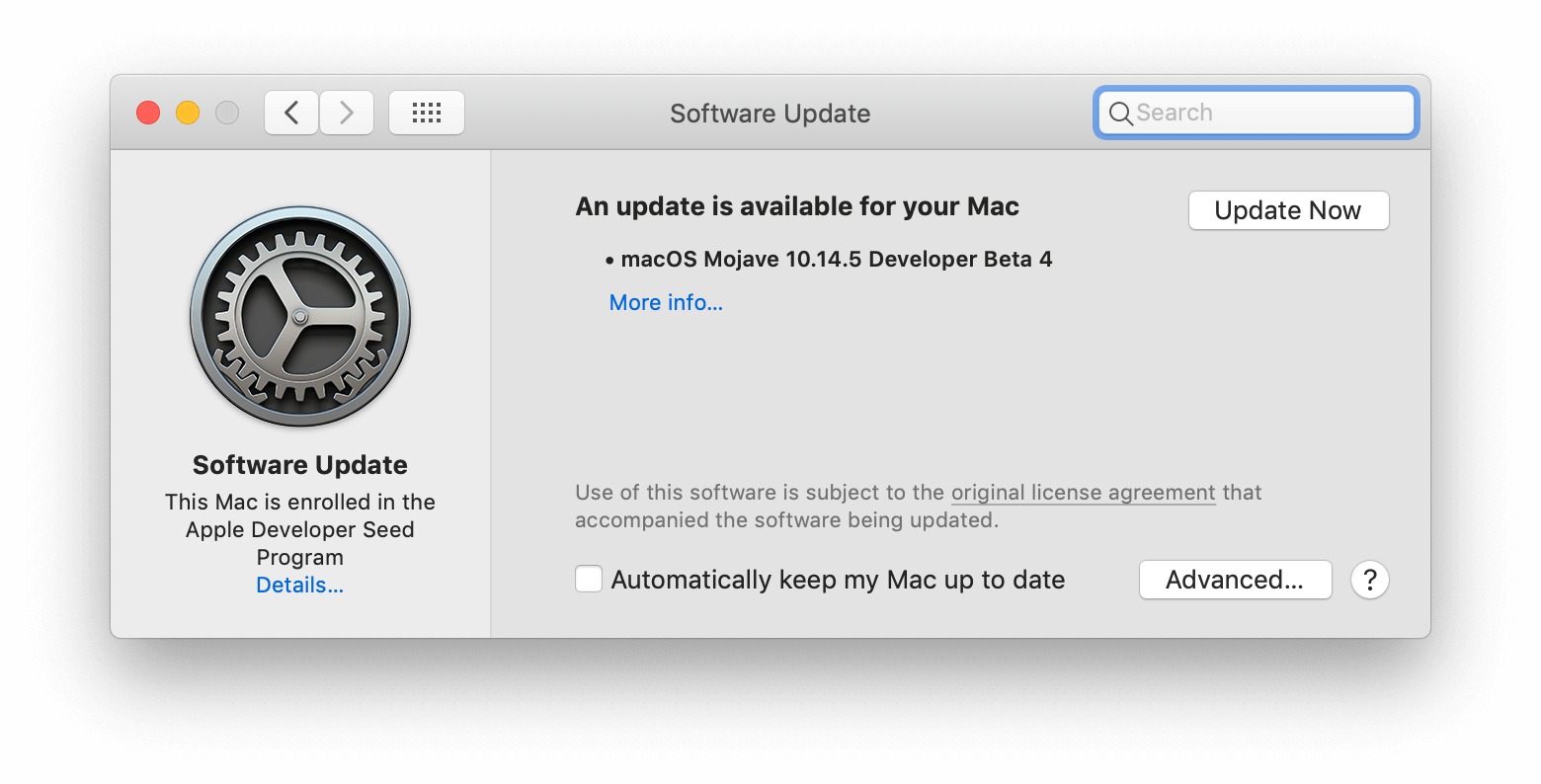 Conclusion
While these are all great security tips that attempt to protect you against malicious content, data theft and other dangers, you should still keep in mind that they are just tips. Use them if they make sense for you to use them, and most importantly, take your security seriously. Without careful attention, your computer could be compromised at the most inopportune time, causing irreversible damage.
---
Articles you may be interested in:
MacOS Catalina: get ready for the new Mac software update.
How to properly maintain your Mac with regular cleaning
How to start using FileVault on Mac for data protection
How to use Siri on a Mac