Travel is a part of life. We need to change the view from our windows to relax, refresh and experience something new. And it does not matter how far or for how long you are going to travel. I am not into extreme sports trips. I prefer visiting historical sights and sunny beaches. And most of all, I like to feel safe and comfortable while traveling. That is why I recently added a VPN to my "must have" list for travels.
In this article, I will share about a VPN, its importance in our lives, and its ease of use during a trip.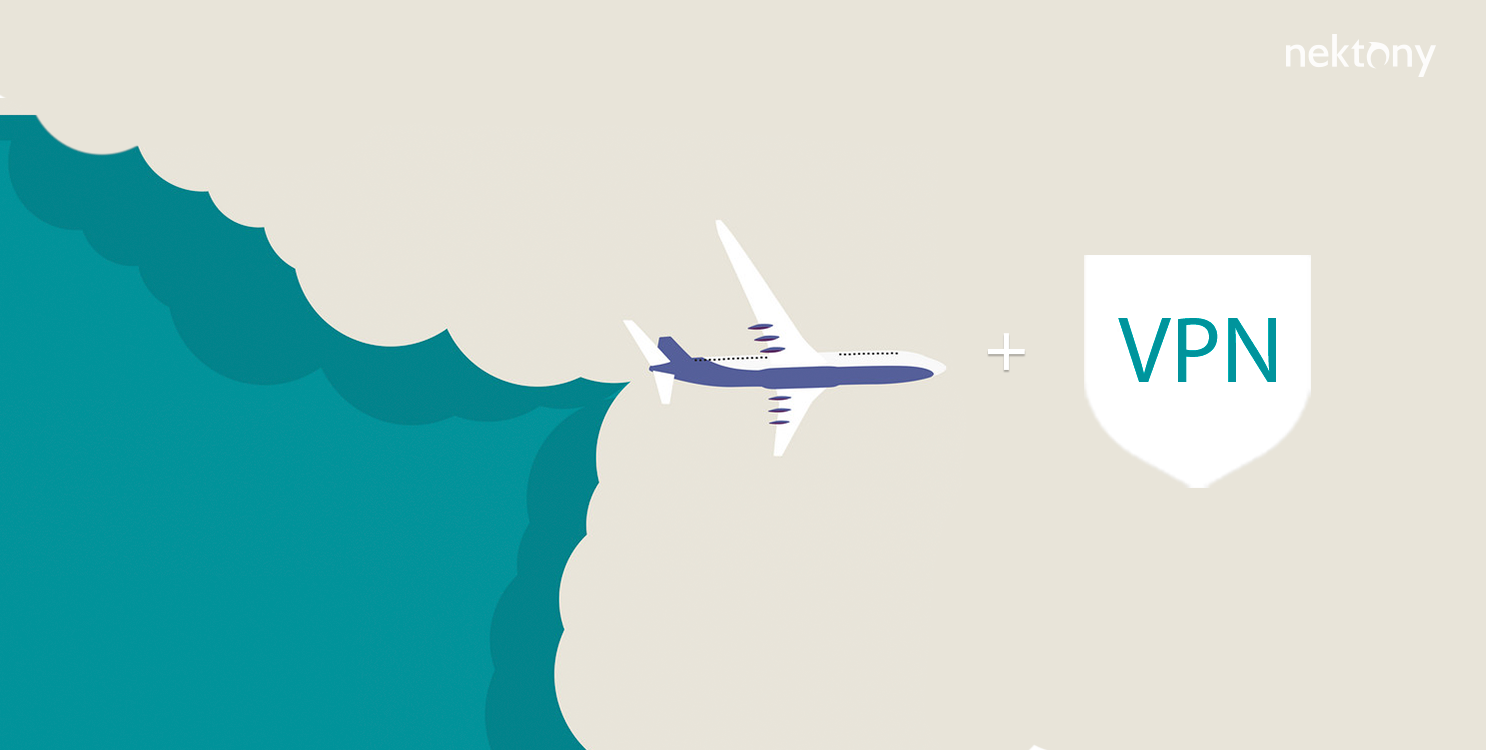 What Is a VPN?
A virtual private network (VPN) is a service that provides a secure connection between your device and the Internet. When you launch a VPN application on your device, it creates a secure VPN tunnel. Your data goes through this tunnel to a VPN server, and then to the Internet, and vice versa. It is possible, thanks to several technical features of the VPN.
The current technology of encryption ensures that all your transmitted data is unreadable for third parties. Most VPN providers use AES 256-bit key encryption. This level of encryption means that a hacker, for instance, has to choose one of more than 115 quattuorvigintillion possible combinations to crack your Internet connection.
Not only does encryption defend your data, but a VPN protocol also works to secure your information. Moreover, it handles the connection's speed, stability, and security. Most protocols used in VPN tunneling are Open VPN, IPSec, and IKEv2. You should pay attention to the type of protocol used within the VPN service you are going to use.
Equally important is that the VPN allows you to mask your real IP address. You can connect to the closest virtual location to you to obtain a more stable and faster connection. Or you can select a specific country whose IP address you want to receive.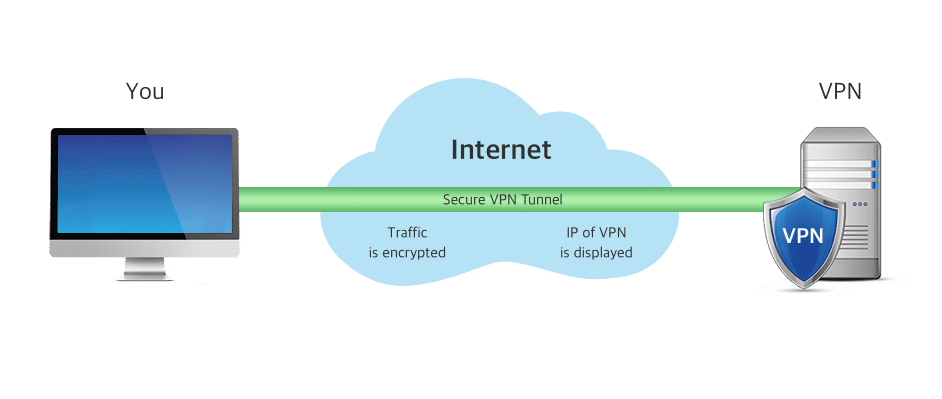 ---
Why Use a VPN?
With this in mind, it may be hard to understand all these terms. In short, when you use a VPN client on your device, all your online activity is unreadable, secure and hidden from third parties. Why is this important for a trip?
Online security
Usually, the first thought, once you travel abroad, is to tell your family that you are okay. If you are on roaming and have no local phone card, you are likely looking for a free WiFi hotspot. And then, with free WiFi you probably will tell everyone on social media that you have arrived, and so on. It could be a trap. Free WiFi hotspots in airports, cafes, hotels and in other public places are vulnerable. Hence, your data is not protected. Everybody who connects to the same WiFi hotspot can crack it and receive your credit card information, passwords, and other personal data. When I am on a vacation, I want to relax and feel safe. So, I simply enable a VPN on my devices and know that I am protected.
Online Censorship
Since you have a local phone card and use mobile Internet, you might encounter the problem that some content is being blocked in your host country. It happens due to Internet censorship in some regions. According to the current Freedom House report, among the 87 percent of the world's internet user population, 36 percent of users are not free, and 28 percent of users are partly free.

Source: https://freedomhouse.org/report/freedom-net/freedom-net-2017
The reasons why a certain website is being blocked may vary. They could be political reasons, religious beliefs or just torrent restrictions. Such social media sites as Facebook, Twitter and YouTube are banned in China, Iran, and North Korea. Even Google and all its services are blocked in China. In Mexico, Cuba, Saudi Arabia, Turkey, Thailand, Vietnam and some other countries, the Internet is under the government control. The connection is unstable, some websites are blocked permanently, and others may be blocked unexpectedly for several hours. These countries attract tourists to their beautiful nature and beaches. But if you want to keep abreast of the latest news, have access to familiar online services, and want to be in touch with your family and friends, you should use a VPN abroad.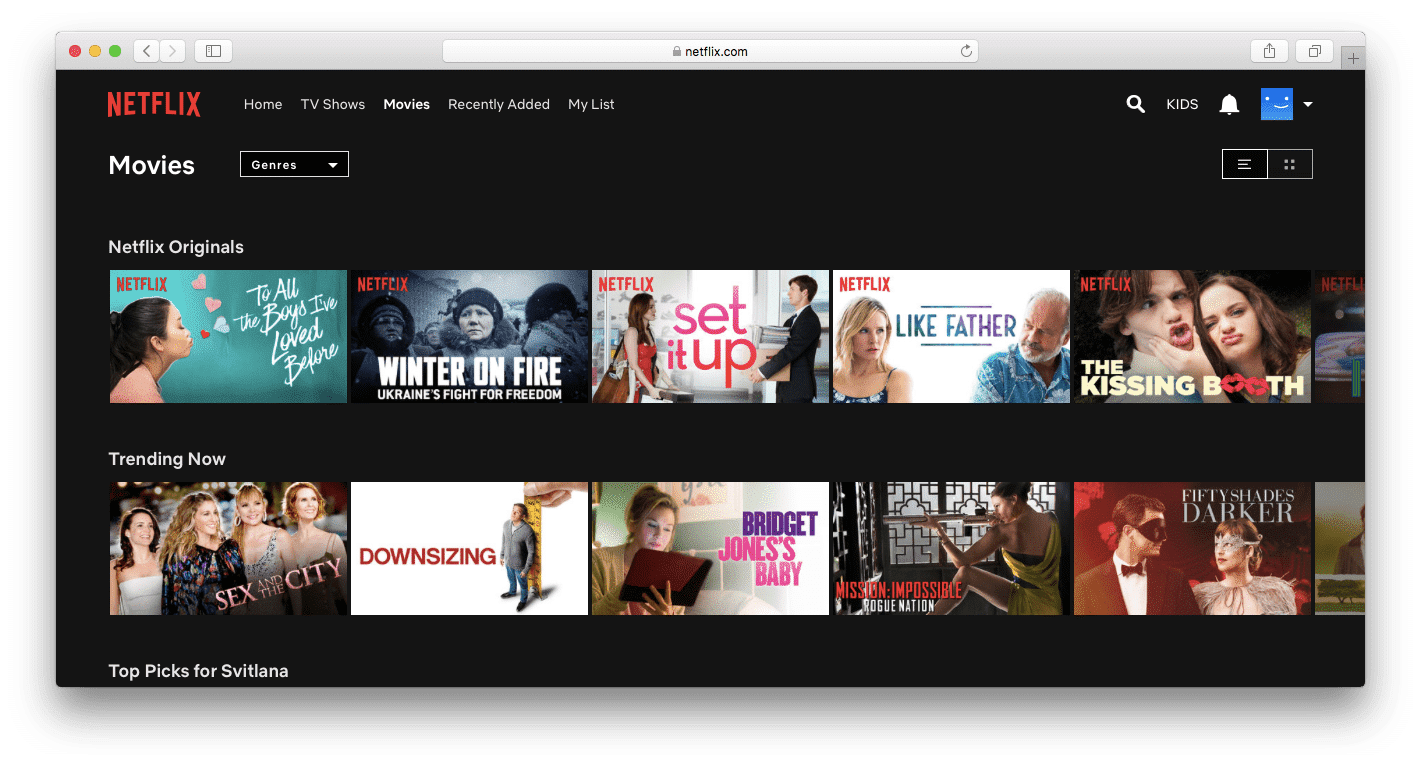 Furthermore, some streaming channels are available in specific locations only. For instance, BBC iPlayer is only available in the UK, and Hulu is only available in the USA. The VPN application enabled me to watch the next episode of my favorite TV series on Netflix abroad.
So, if you are planning a trip abroad, I strongly recommend downloading a VPN on your devices beforehand. You can simply launch a VPN on your device and select from any of the virtual locations to obtain access to blocked websites.
Book Cheap Flights and Hotels
Like most Internet users, it is convenient to book air tickets and hotels online. As you know, lots of websites use cookies. These small files help to match data of a specific website to a specific user's device. For example, airlines use cookies to promote the directions of flights that you are most interested in. Hotels, likewise, promote the hottest deals which would be most appealing to you.
All these marketing tricks can be useful if you are looking for the best deal right now. At the same time, depending on your location and recent search history, the cost of the services can vary significantly. I heard that the more interest you show to the direction, the higher the cost of the flight. Here are some examples of my recent research:
Flights
I was looking for a flight ticket from Frankfurt to New York, from 02nd to 12th of October 2018. I used one of the most popular services, Kayak, just because it picks various offers.
I decided to use a Private Window in Safari to hide my browser history and get the more fair price first.
Then, I decided to check what price I would get in the USA in regular Safari mode.
Next, I switched on a VPN and selected Germany as my virtual location, because of the country of origin.
Finally, I decided to check what price is available in France (because of the Air France airline operated the flight) and switched my virtual location to France in the VPN client. Here is the result:
As shown above, the highest price was in France – $965. Frankly, it was the same as on the Air France, KLM, and Delta websites (as they operated the flight). In Germany, as in the country of origin, the price was the lowest – $696. Given these points, you can save $269 on one flight ticket only!
Hotels
Almost the same thing happens with booking hotels, and I'll explain my experience. I decided to book a hotel for several nights for my parents in a hotel on Niagara Falls for Christmas. I made my search in Kayak, again.
I started my search with a Private Window in Safari.
Then, I looked in regular Safari mode within the USA.
Next, I switched on the VPN and selected Canada as my virtual location, as a country of the place of booking.
Finally, I was curious to check what price I would get in France. So, I switched my VPN on and chose France as my virtual location.
I was impressed. The difference between the price in France ($136) and the price in Canada ($91) was $45 per night. If you planned to stay for a week, you can save $315, which is equivalent to three more nights. By the way, if you noticed, the price without a discount in France was $213 per night, while on the Marriott hotel official website in Canada, the price was $101.
In short, if you are looking for a hotel or a domestic flight abroad, it is better to use a VPN and select a specific country. The search will give you a better price as if you a local. It takes some time but definitely saves money.
---
How Does a VPN Work?
It would be unfair if I did not tell you which VPN I use while traveling. My choice is VPN Client. It provides more than 90 VPN servers in 60 countries, which is very helpful while traveling. Besides, the application has a list of servers with its load, so you can select the least-loaded server for the fastest connection or even better – use the Optimal Server. Optimal Server provides the fastest VPN server for your location, which VPN Client finds automatically for you. Moreover, it supports streaming VPN servers in the USA.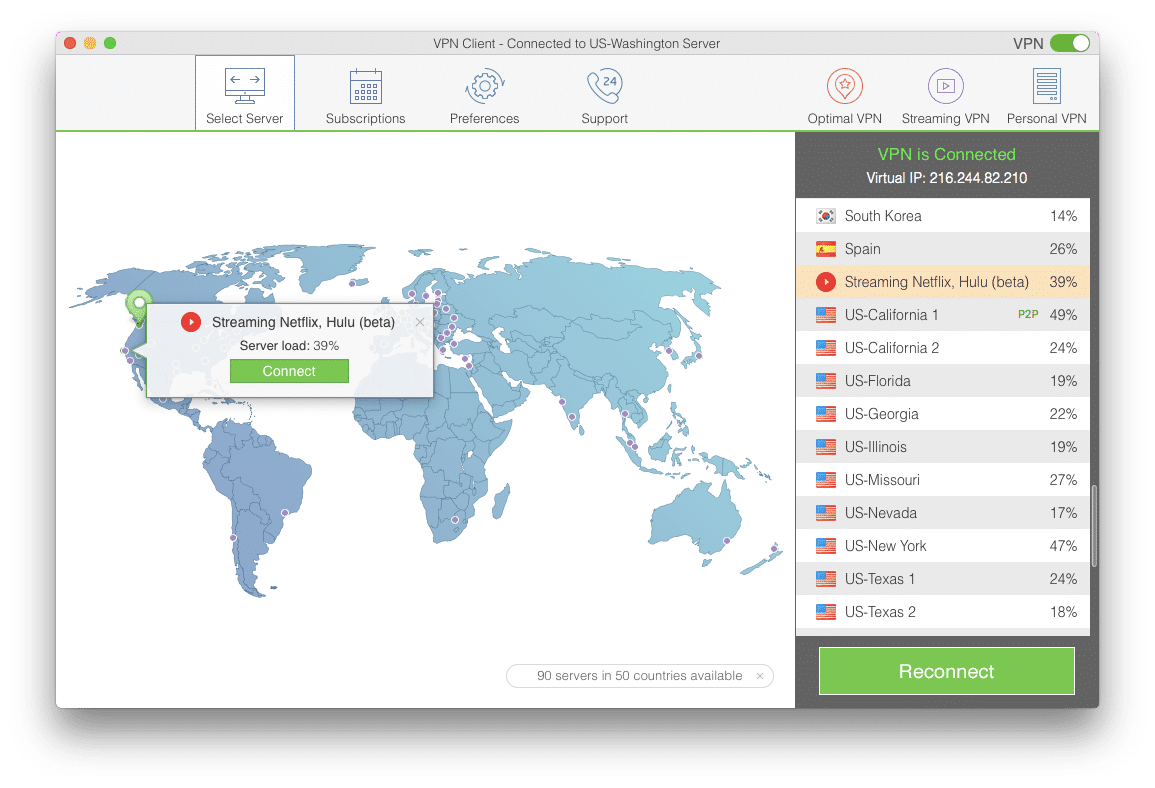 VPN Client is a trusted and secure VPN service. It ensures a stable, high-speed and safe connection, thanks to the AES 256-bit key encryption and IKEv2, iPSec, OpenVPN, Wise TCP and Wise UDP protocols.
The interface of VPN Client application is simple. You just launch the app, select the location on the interactive map from the list of servers, and click on the Connect button. The VPN Client app only takes up 18.6 MB. You can download it for free from the App Store and try it for seven days without payment.
This VPN for Mac offers several subscription plans:
Vacation for 7 days for $3.99
Economy for 1 month for $8.99
Standard for 3 months for $16.99
Professional for 1 year for $39.99
Premium for 3 years for $89.99
---
Conclusion
A VPN is a smart and user-friendly software, which gives you obvious advantages, not only in travel but also in everyday life. Your online privacy and protection are under control with a VPN. Since you know how to unblock websites abroad, you may explore the world without physical and virtual borders. Please note that it is better to download a VPN Client on your device in advance because in some countries, you will not be able to do so.