You asked for it, we've done this. Duplicate File Finder got a new update and the latest version 6.14 finds similar media files.
Duplicate File Finder is an application which finds all types of duplicate files and similar photos. After adding a feature to find similar photos on Mac, our support team began getting messages from the users, asking to find their similar music files as well. Since, our users' feedback always inspires us to make the application better and even more useful, we started working on this task. However, before providing the screenshots on how to use the new feature, let us explain what we call duplicate and similar files.
What are duplicate files?
Duplicate files are the copies of a file on your computer. These files have absolutely identical content, size and extensions. They can have different names and can be stored in different locations on your disk. Duplicate File Finder compares the files' content and meta-data and if they are identical, then they will be displayed as duplicates.
What are similar files?
Similar photos and similar music files in Duplicate File Finder are the files that can look as duplicates, however, their content slightly differs one from another. Imagine the Burst Photo mode on your iPhone. The series of these photos are similar but they are not duplicate. We call these series of similar-looking pics Similar Photos.
When it comes to similar music, make note, that we are not talking about similar songs by sound. Imagine you have two audio files of one song of a particular artist and particular album. The record time of these files might differ by several seconds or the record time and music track is the same, but some metadata is different, for example, one file contains a genre or comments. Due to this, even if it is the same song, we can't display them in the Duplicates section as they have different data. In this case, Duplicate File Finder will display them in the Similar Media section.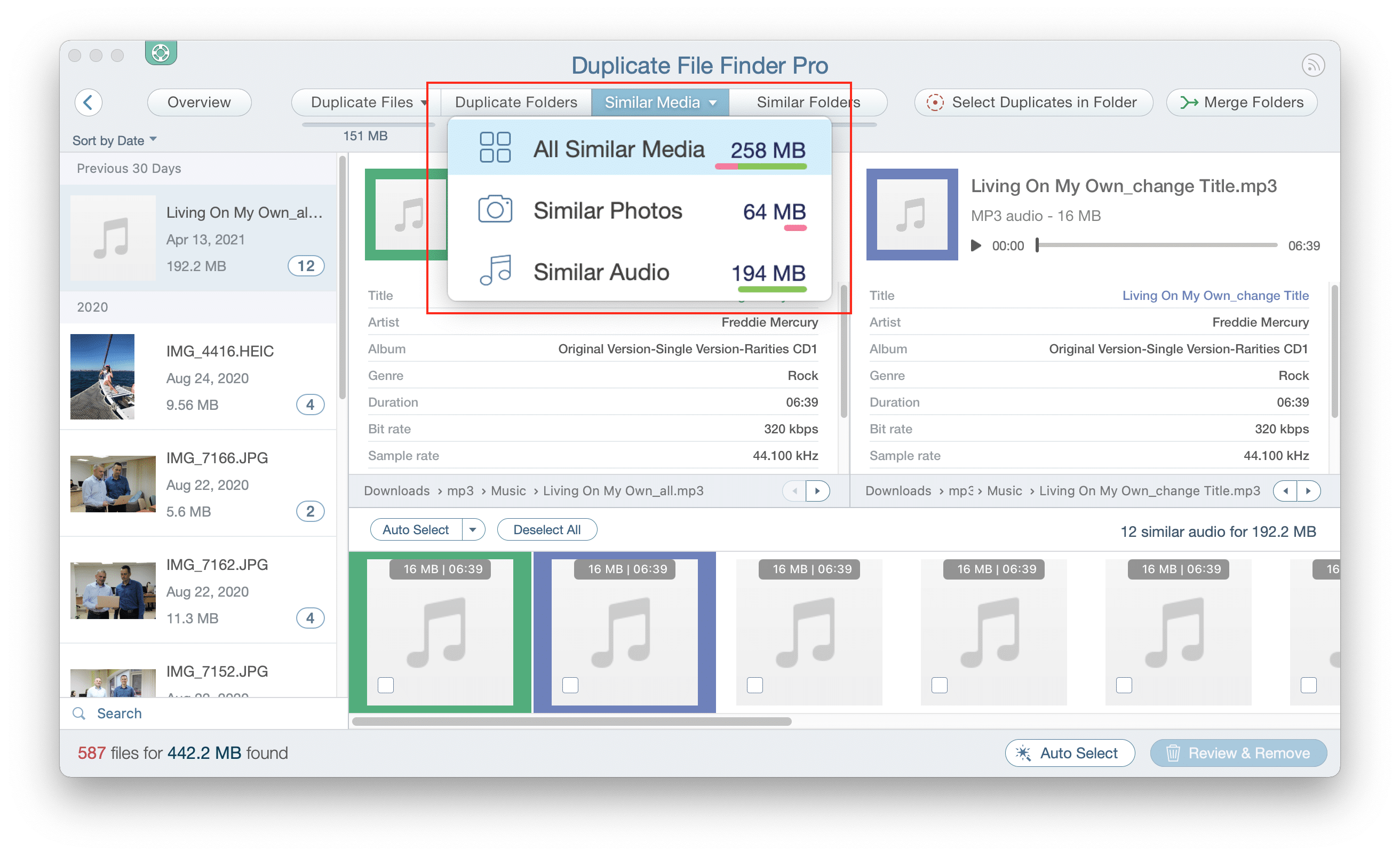 So how to find similar media files on Mac? Follow these steps:
Open Duplicate File Finder.
Add the folder you want to scan. You can add your Music and Photos Libraries as well.
Click the Scan button.
Switch to the Similar Media section.
Select the files you don't need and click Remove.
Confirm the action.
What are the benefits of Duplicate File Finder for Mac?
Duplicate File Finder from Nektony provides a set of unique features which you will not find in other applications. Here is a short list of them:
Similar Photos – find pictures that differ a bit, compare, and choose which one you want to keep and which one to delete.
Merge Folders – you can find Similar folders, compare their content and even merge them.
Restore removed files – in case, you removed some files by mistake, you can view the Removal History and restore files from the Trash.
Save and restore scan results – if you have not finished the current session and want to quit the app, enable this option to restore the scan results later.
The application is Apple-notarised, it is regularly updated for the latest macOS and supports M1 Macs. The application is free to find and remove duplicates. You can upgrade to the Pro mode if you need more features to organize your files. Let's make things perfectly clear and see what you get with Duplicate File Finder Free and Pro modes.
---
Free Mode Version
Detection and listing of all duplicate files and folders.
Support of any drive type. Can find duplicates in folders, hard drives, and even the network drive. Mounted cloud storages such as DropBox and Google Drive are supported as well.
Support of hidden files. Can find and remove hidden duplicate files and folders.
Searching for duplicate and similar pictures in Photos Library.
Searching for duplicate and similar audio, including in Music Library.
QuickLook option to preview duplicates.
Option to view the duplicate files directory and quickly open them in the Finder.
Auto Select feature to quickly select or keep duplicate files in specific folders.
Сapability to add any file, folder or file extension to the Skip List.
Sorting of duplicates by different categories (type, name, count, path and size) for fast and easy searches.
Tuning the speed of the duplicates search process by regulating the size of files that should be scanned.
Cleanup hints section which provides useful tips for quicker and smarter removal of duplicates.
Similar Folders Tab, where you can preview similar folders – folders that contain both duplicate and similar files.
Duplicates removal history.
---
Pro Mode Version – includes all the features of Free mode and even more:
Duplicate folders removal – removal of not only duplicate files but copies of folders as well.
Duplicates removal in Similar folders.
The Merge Folders option. Ability to merge the content of scanned folders.
Select Duplicates in Folder option – capability of selecting a bunch of duplicate files in particular folders.
Restoration of removed duplicates.
Premium support.