Removing or Disabling Extensions
Having too many browser or app extensions can slow down your Mac. Moreover, there may be some features that you don't use or plugins installed automatically that you even don't know about. App Cleaner & Uninstaller allows you to remove all these useless additions.
In the Extensions tab you will find the files of the following types:
User Extensions
Launch Agents – hidden or background programs that run on user login or system startup. You can disable the agents' auto-launch or delete the launch agents from the disk. App Cleaner displays agents stored in the current user and system folders and allows you to manage them.
Login Items – user-facing programs that run on user login. The app displays a list of installed applications that have special agents and you can disable their autolaunch. You can also manage login items accessible through System Preferences.
Installations – files that are used to set up programs. App Cleaner displays a list of installation files stored on the Startup disk. You can remove unneeded files to clean your disk space.
Web Browser Extensions – small software programs that can modify and enhance the functionality of a web browser. They can change the user interface of the web browser without directly affecting the viewable content of a web page. App Cleaner displays extensions for installed web browsers and allows to uninstall extensions.

Screen Savers – programs that fill the screen when the computer is not in use. App Uninstaller displays installed screen savers and allows you to remove them to free up disk space.
Core Extensions
Preference Panes – special dynamically loaded plugins to customize working of some installed services or applications. The app displays installed Preference Panes and allows you to completely remove them together with their service files.
Internet Plugins – program components that add specific features for Internet browsing. App Cleaner displays installed plugins and allows you to remove them. Please be careful when you remove system plugins because it may harm the system operations.
Widgets – simple and easy-to-use programs launched by the Dashboard app. Please be careful when removing core widgets because they do not spread separately and can only be installed with the system.
Follow these steps to remove unneeded extensions on your Mac:
Click the Extension panel (letter "E") to view them or use the Cmd+2 shortcut.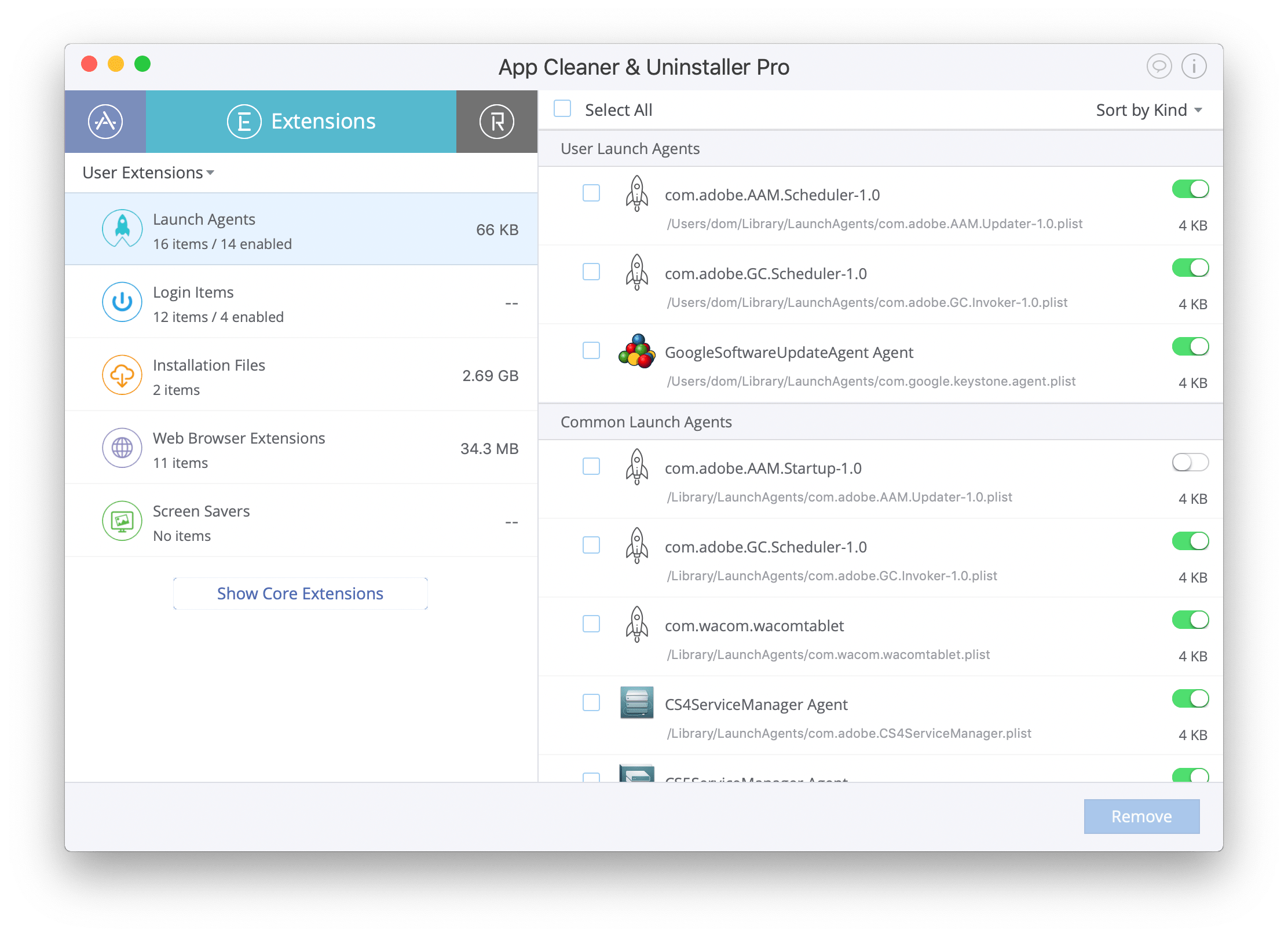 Select the unneeded extensions and click the Remove button to delete them completely. Next to the extension type you can see how many items you have selected – the number in the red circle.

If you want to disable extensions but not remove them, then do the following:
In the "Launch Agents" section switch the slider

 "Disable/Enable" next to the items to detach them from your Mac operating system.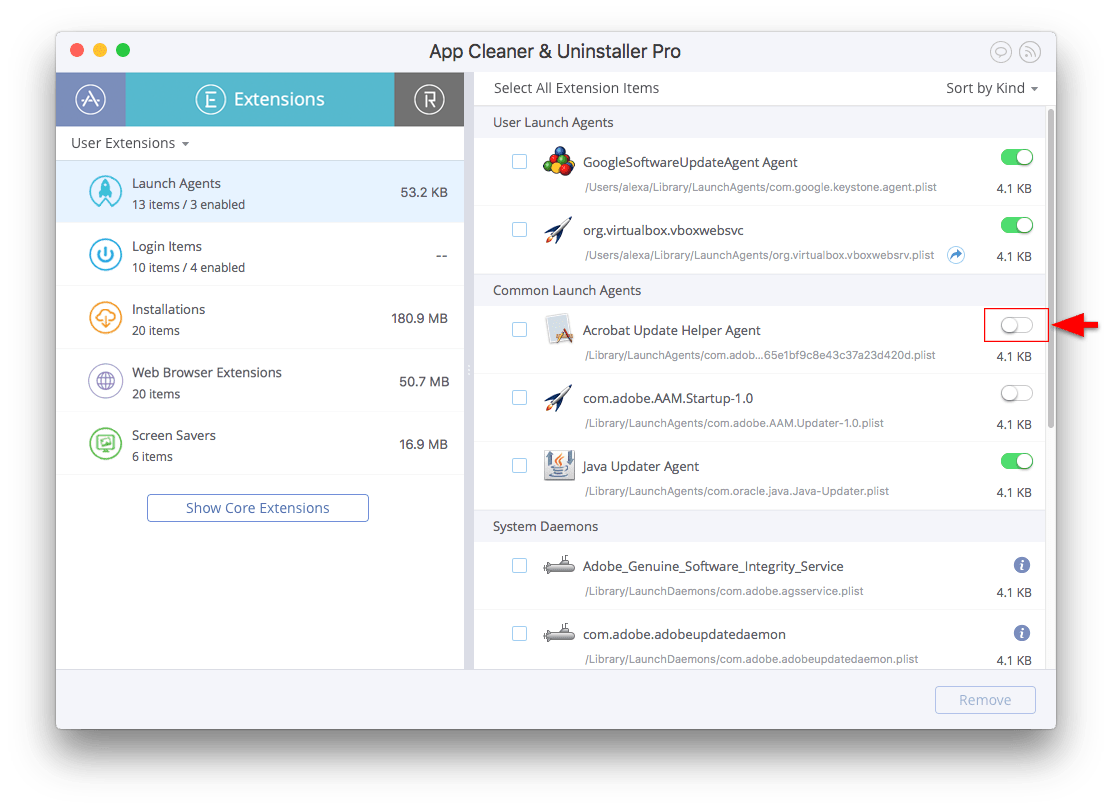 ---
Show Core Extensions
App Cleaner & Uninstaller also allows you to view and operate core extensions – just click the "Show Core Extensions" button. But, please be careful – removal of these files may harm your computer.

To hide core extensions click "All Extensions" and select "User Extensions."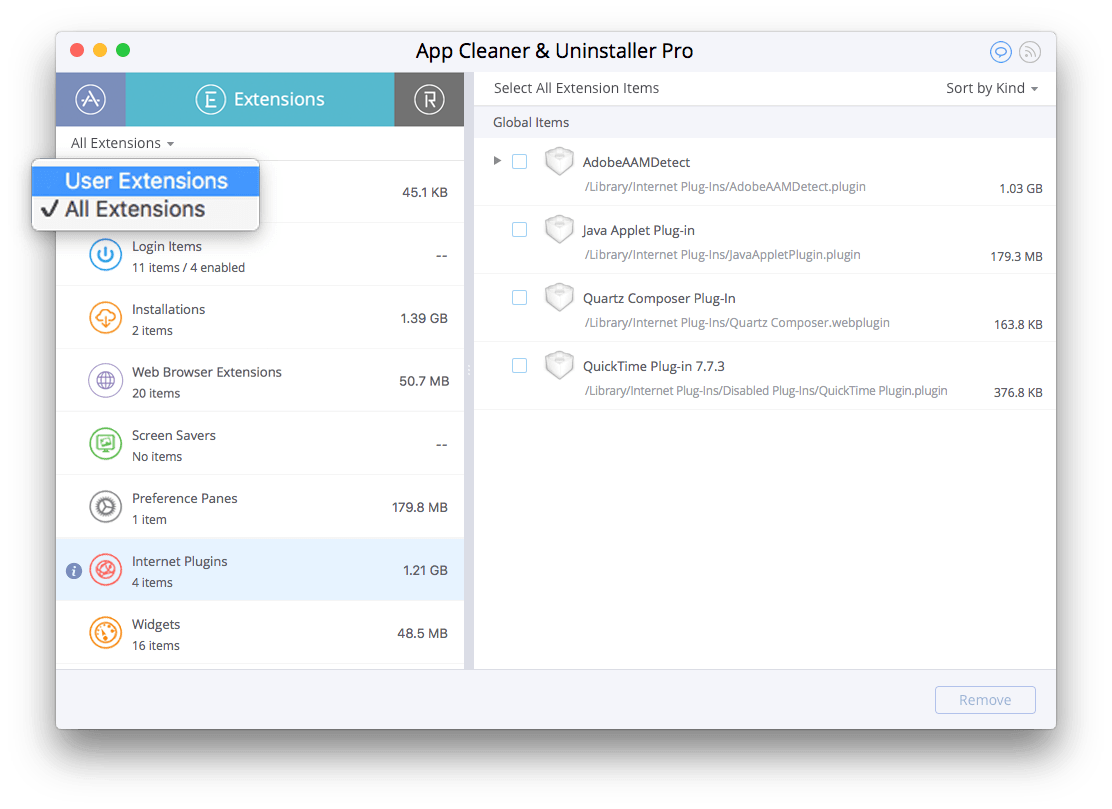 ---
Skip List
In addition, any of the listed items can be added to the "Skip List" so that they will not be shown in the scanned list. Make a right click on the file and click "Add to Skip List" or go to the "Preferences → Skip List" tab and there add your items.