Despite the fact that the Mac operating system is quite stable and responsive, over time you may find your Mac running slow. There may be various reasons for a decline in Mac's performance. In this article, we will help you to analyze why your Mac is running slow and explain how to improve Mac performance.
Why is my Mac running slow
The first step to diagnosing a system slowdown is to consider the most common reasons that may cause this. If you're working with macOS Mojave and macOS Catalina, the top reasons of slow Mac performance may include:
High CPU usage of apps. Using programs for video conversion, backup, 3D rendering, etc., require a large amount of processing power.
Insufficient RAM. Some applications require more RAM than is currently available on the system. When the required RAM is not available, the computer constantly saves some of the data from memory to disk.
Launching multiple applications simultaneously and having too many applications running in the background.
Unnecessary browser tabs left open. Websites with lots of media files and animations can slow down your computer.
Lack of free disk space. For normal operation, the system requires at least 20GB of free disk space to store temporary files.
Apps that aren't updated. Using outdated versions of applications may burden the system's CPU usage.
Not restarting regularly. A MacBook may run slowly if it has been running continuously for several weeks without rebooting.
The possible use of Mac resources by malware, such as crypto miners.
A damaged disk or using an outdated type of disk, for example, using HDD as a system one.
How to fix a slow Mac
When your Mac slows down, you should check the installed and running applications, the amount of RAM used, and the disk usage. If these steps do not help, check your Mac for malware and check the startup (system) disk. Follow our guide to learn what to do when your Mac is running slow.
Check apps to speed up your Mac
If your Mac is running slowly, the problem can be with a particular application.
Whether you want to send an email, play games, edit photos, or browse the web, you need to use a specific app. Every application utilizes system resources, so the more apps you have running, the slower your Mac becomes. Follow these steps to identify apps that are causing a system slowdown:
Step 1 – Quit unused apps
A specific app can require too much CPU and memory, making your Mac slow. To review all active applications on your Mac, do as follows:
Launch Activity Monitor.
Click View in the Menu Bar and select Windowed Processes.
Click the CPU tab within the Activity Monitor window.
Select the app that takes up most of the CPU usage.
Click the Close (X) button to stop it.
Check memory usage, then click the Memory tab.
Select the app that takes up most of the memory.
Click the X button to stop it.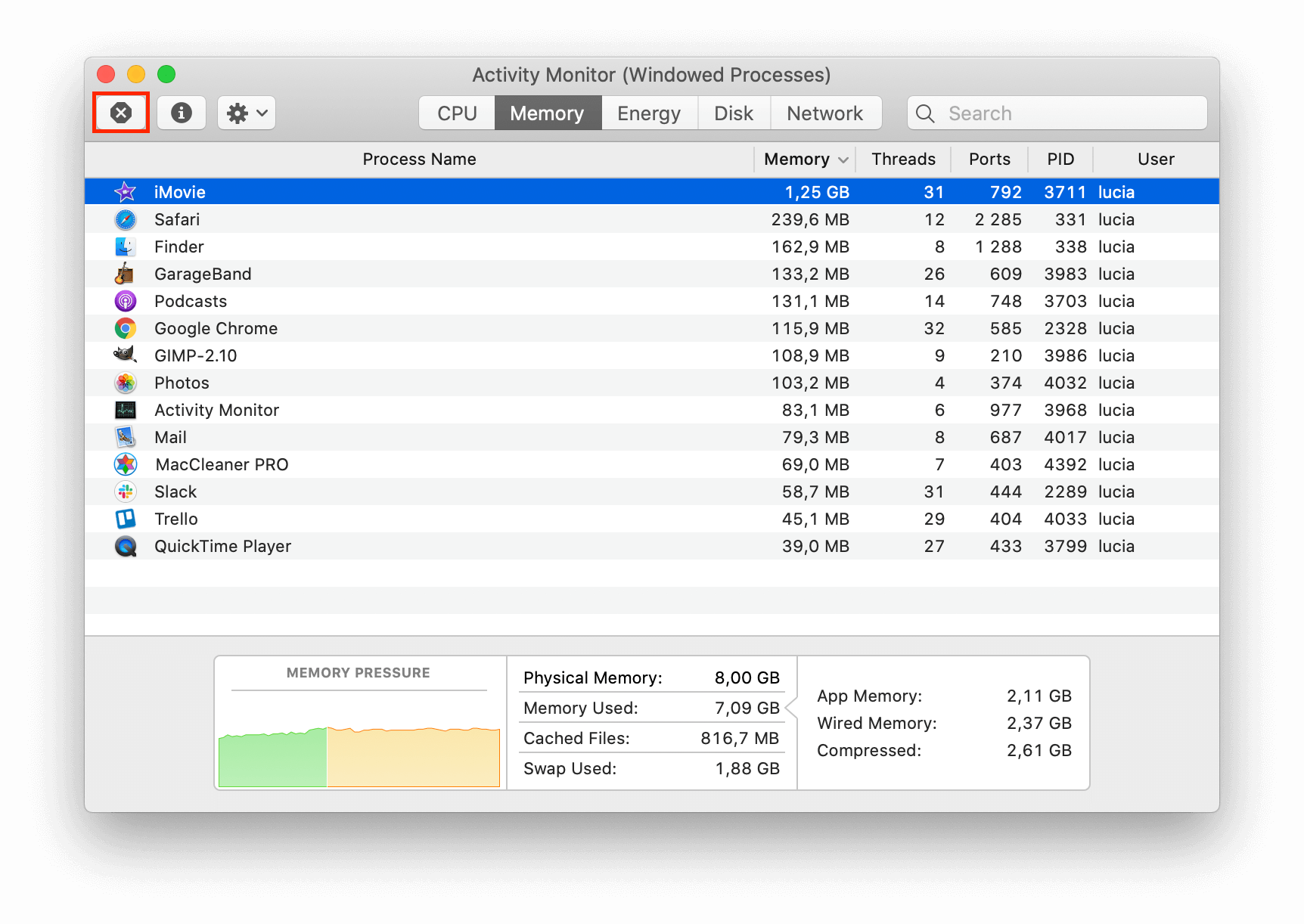 Step 2 – Clear RAM
If you notice that your Mac is slowing down when you launch several apps, it needs more free RAM to perform the tasks. In this case, use Memory Cleaner to clear inactive RAM and quickly improve your Mac's performance. This app monitors your memory usage and can clean up your Mac automatically, either when the memory is full or after the apps are closed.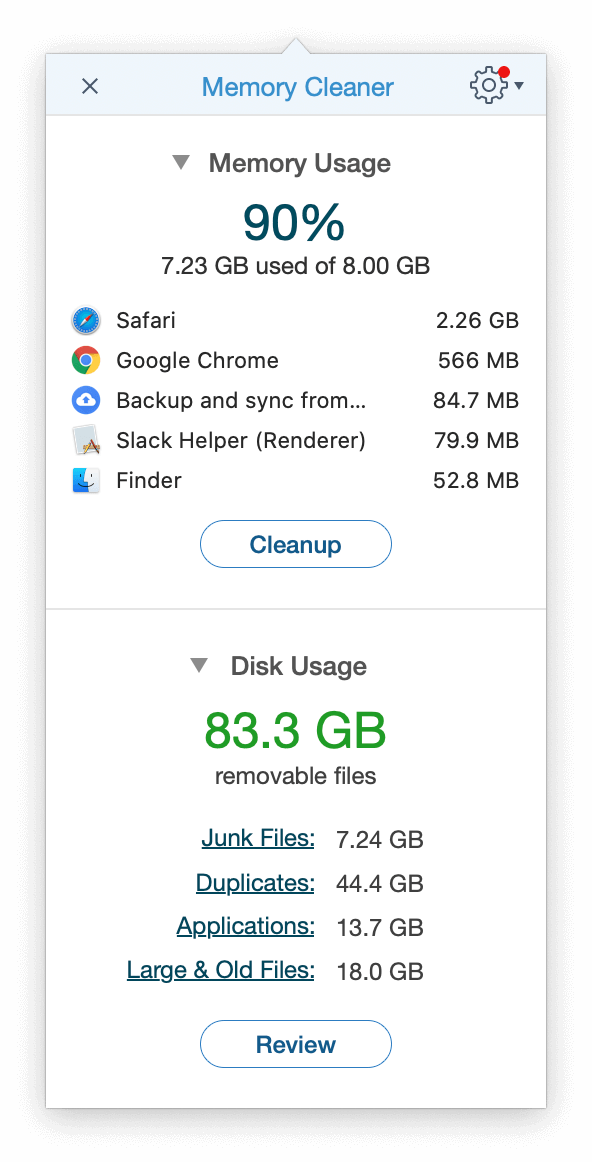 Step 3 – Add RAM
If you need to operate several programs on your Mac simultaneously but more memory space is needed, it may be possible to increase the RAM. To check if it is possible to add more RAM to your computer, go to the Apple Menu → About This Mac → Support → click Specifications. In the next moment, the Apple Support webpage opens. There, find the Memory section and see if it can be configured on your computer or not. You can use this guide to add more RAM to your MacBook Pro and this guide to install more RAM to your iMac.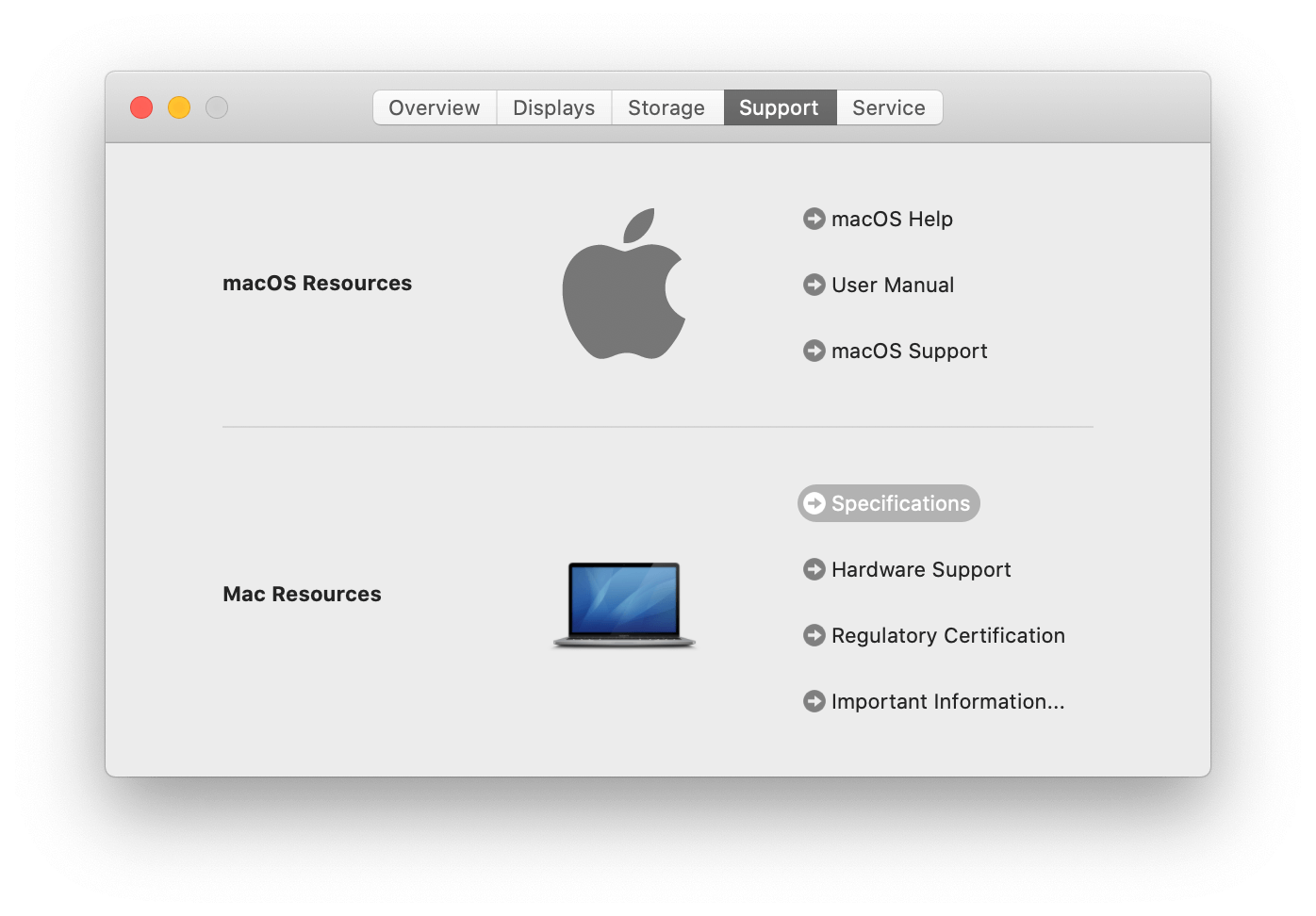 Step 4 – Uninstall apps
If your Mac starts to run very slowly when you launch a specific application, it's likely the app is not compatible with your system. Check the system requirements for the app, minimum processor speed, minimum RAM, recommended GPU card and so on. Uninstall the incompatible app and get an updated version that's compatible with your new OS. To quickly and completely remove apps from your Mac, use App Cleaner & Uninstaller. Just launch App Cleaner & Uninstaller, select unneeded apps and all their service files, and click Uninstall.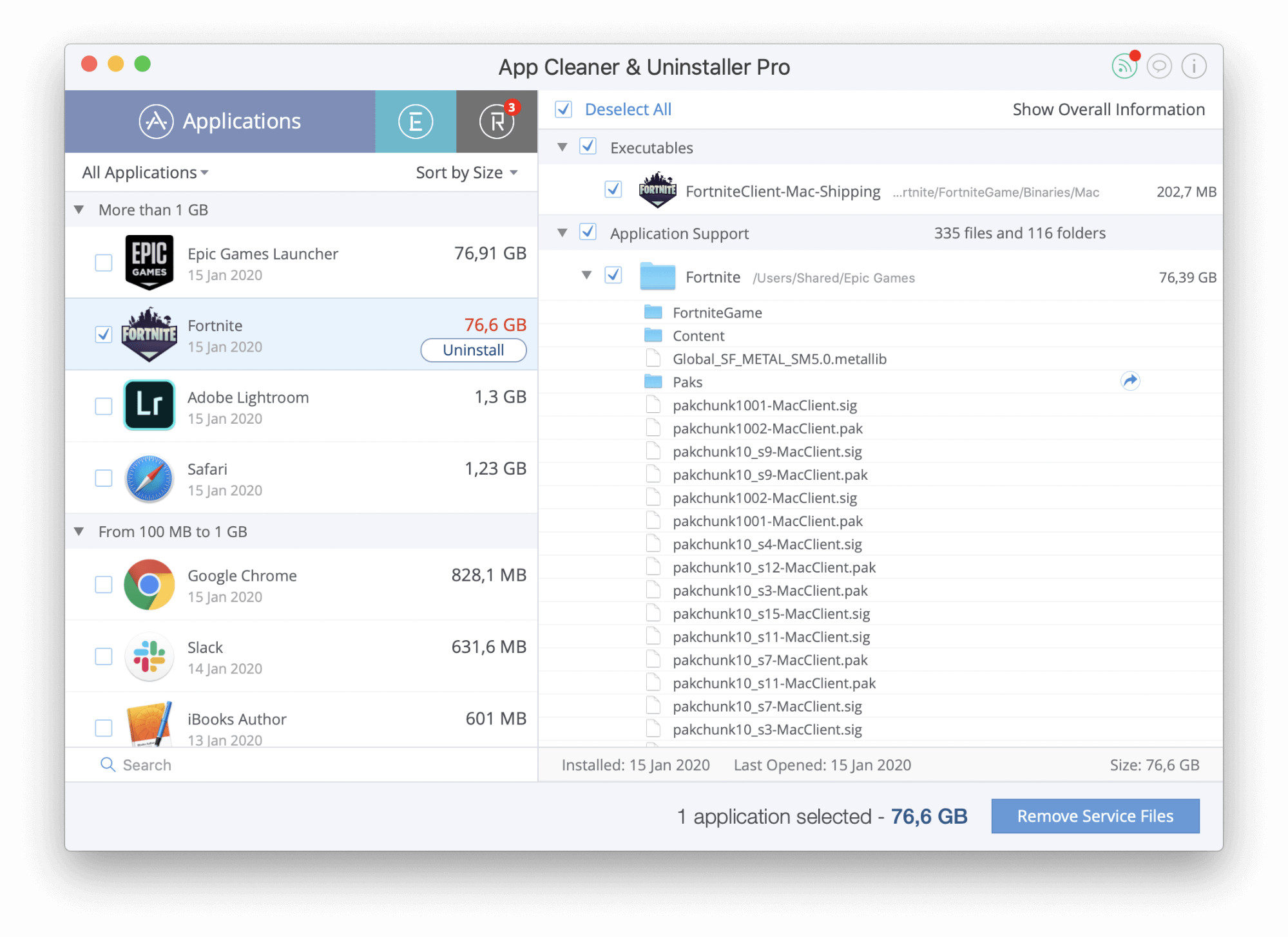 Step 5 – Disable startup programs
You can enable some programs to launch on startup, which is quite convenient. However, the more programs that activate all of their processes when the system starts will make performance slower.
Consider disabling all login items or all but necessary programs. For this, go to System Preferences → User & Groups → Login Items and hide unneeded apps at startup.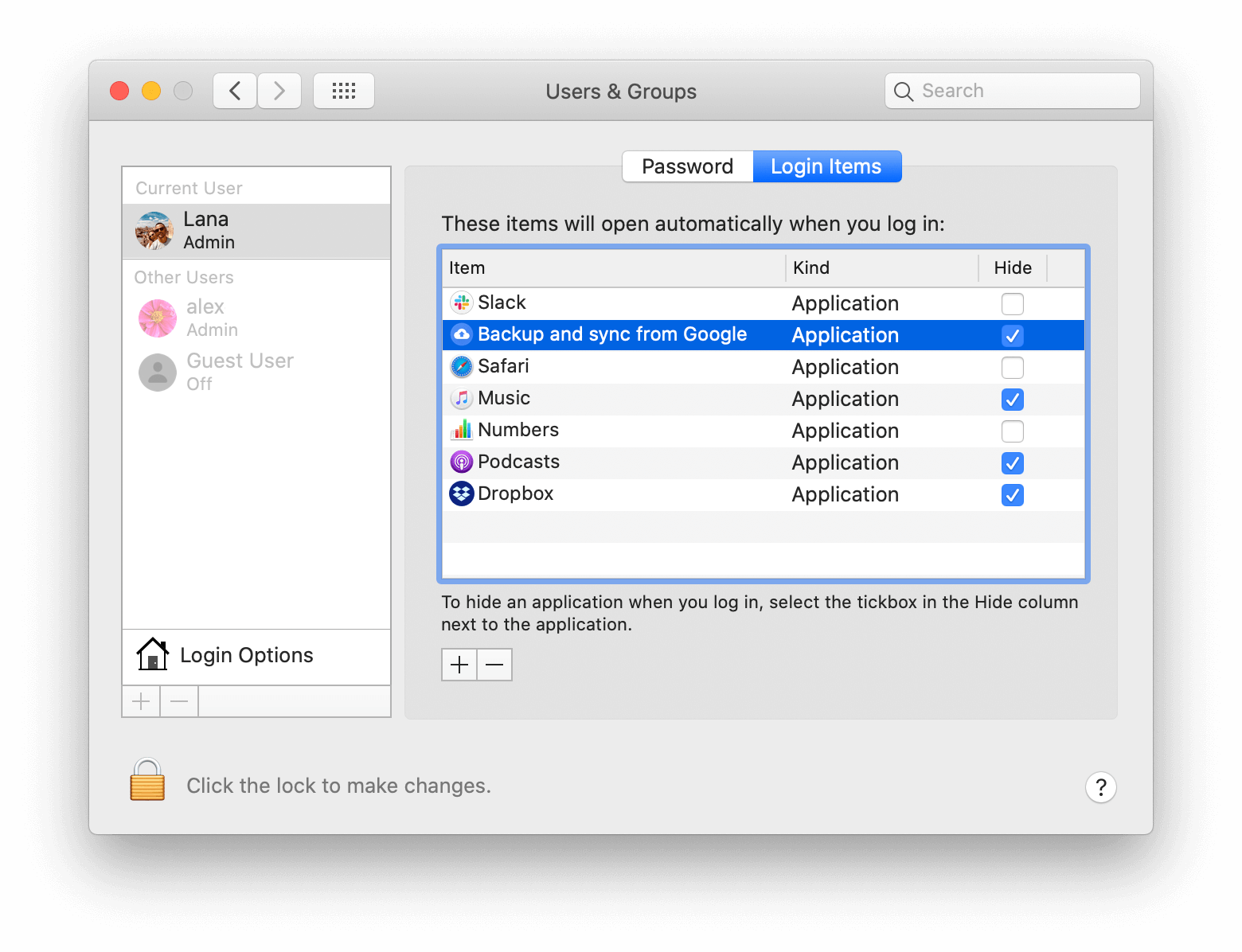 This solution does not disable application helpers, daemons and launch agents. So, use App Cleaner & Uninstaller to stop all the programs from launching on startup. App Cleaner & Uninstaller can disable all kinds of startup programs on a Mac.
Launch the app, switch to the Extensions tab, and preview all startup programs on your Mac, especially the Launch agents and Login items sections. Disable unneeded applications to prevent them from running automatically when you log in.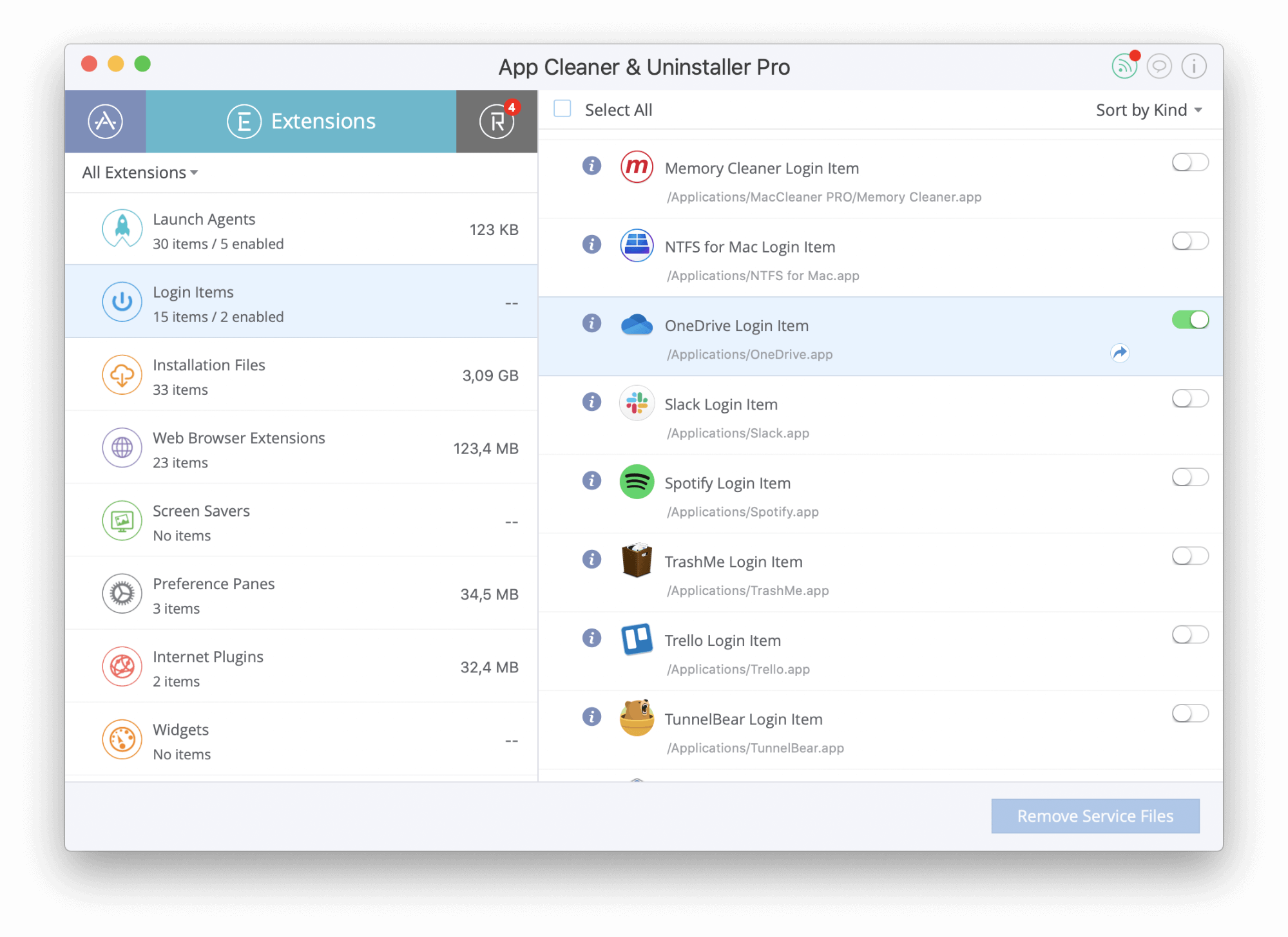 2. Optimize storage to make your Mac run faster
Often a MacBook or iMac will run slow because there is little to no free space on the startup disk. If there is a shortage, the system has nowhere to store the temporary files and operate correctly.
For stable Mac performance, at least 10% of free space is required. This means that you should clean up your Mac and free up more disk space.
To check how much storage space you have, go to the Apple Menu → About This Mac → Storage.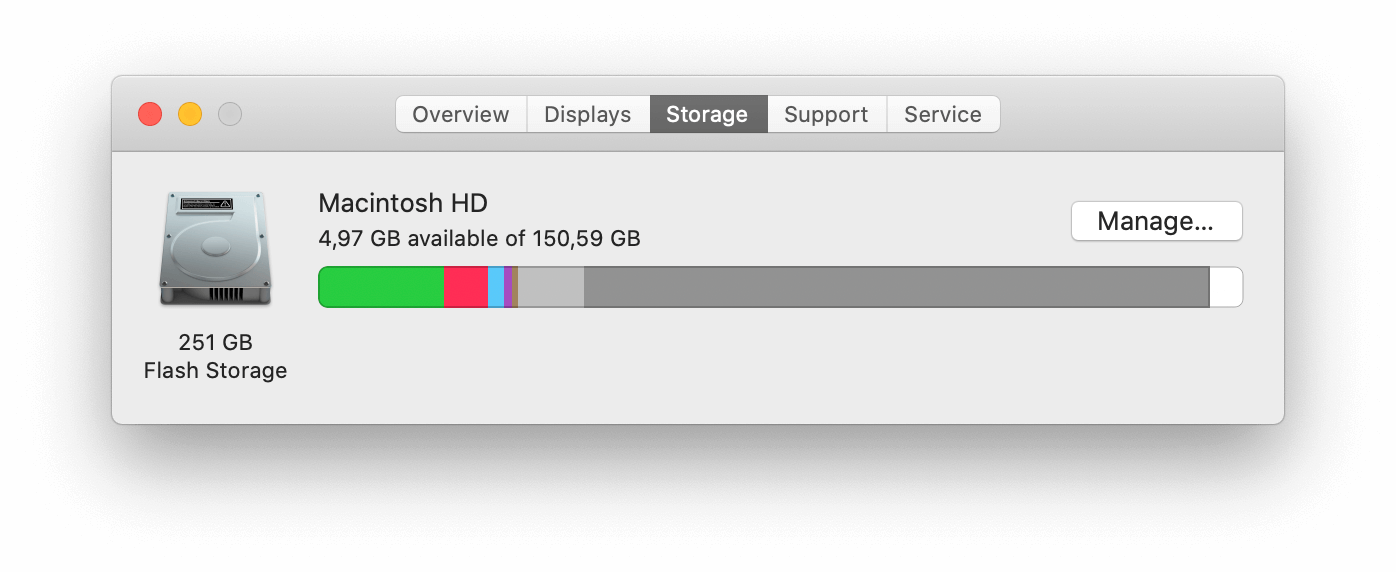 You can click Manage to see what type of data takes the most space and decide what to remove. However, this report is uninformative and suggests that you will have to free up disk space by deleting files manually, one by one.
We recommend using the MacCleaner PRO application, which provides a similar report on disk usage, and immediately provides tools for clearing each category of junk files.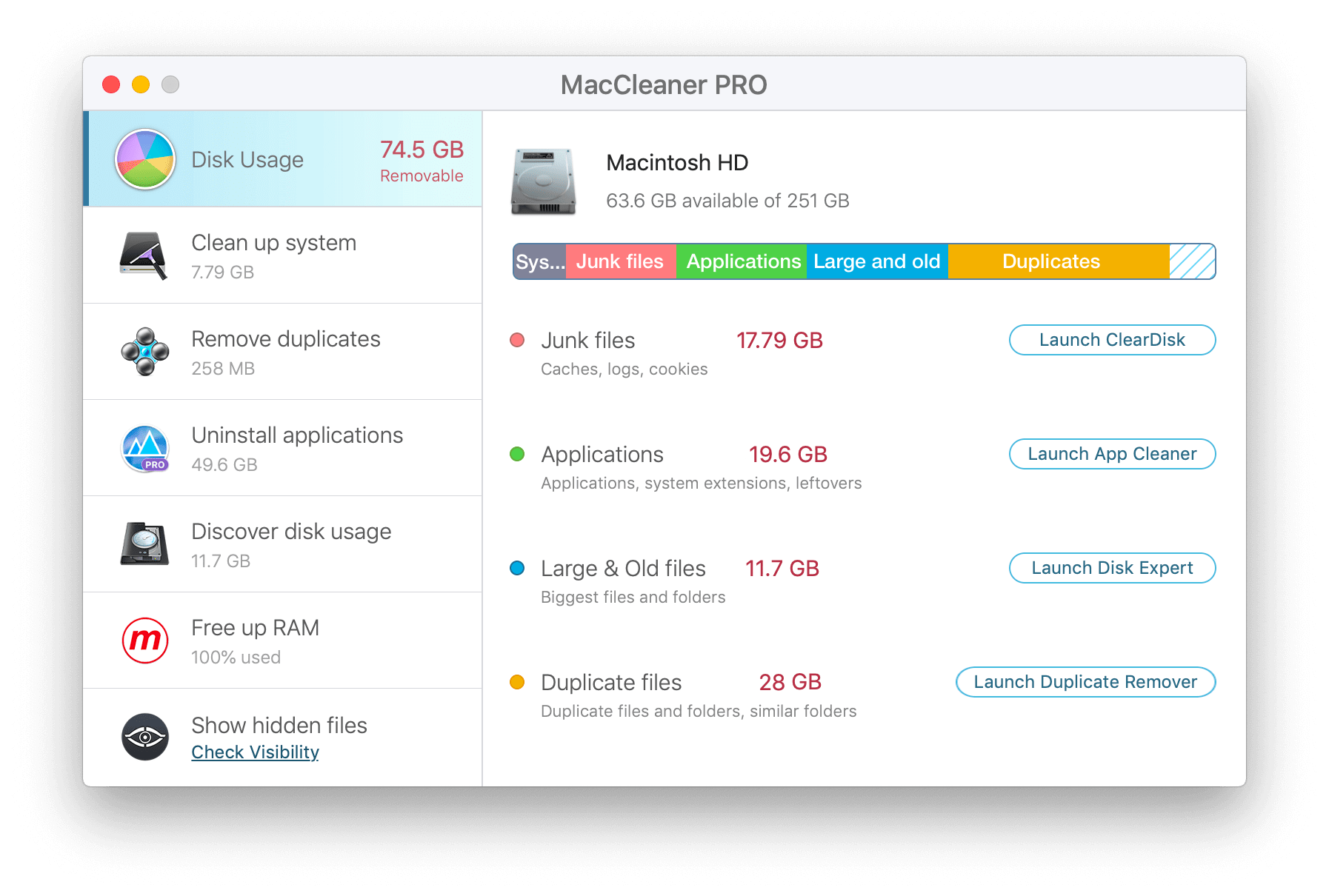 MacCleaner shows how your disk is used and allows you to quickly clean it.
Delete old and large files. Get rid of large, useless files to make your Mac run faster. Click on the Discover Disk Usage button and launch Disk Expert. The app will analyze your disk in a minute. Then you can review all your files, select the largest ones, and remove them.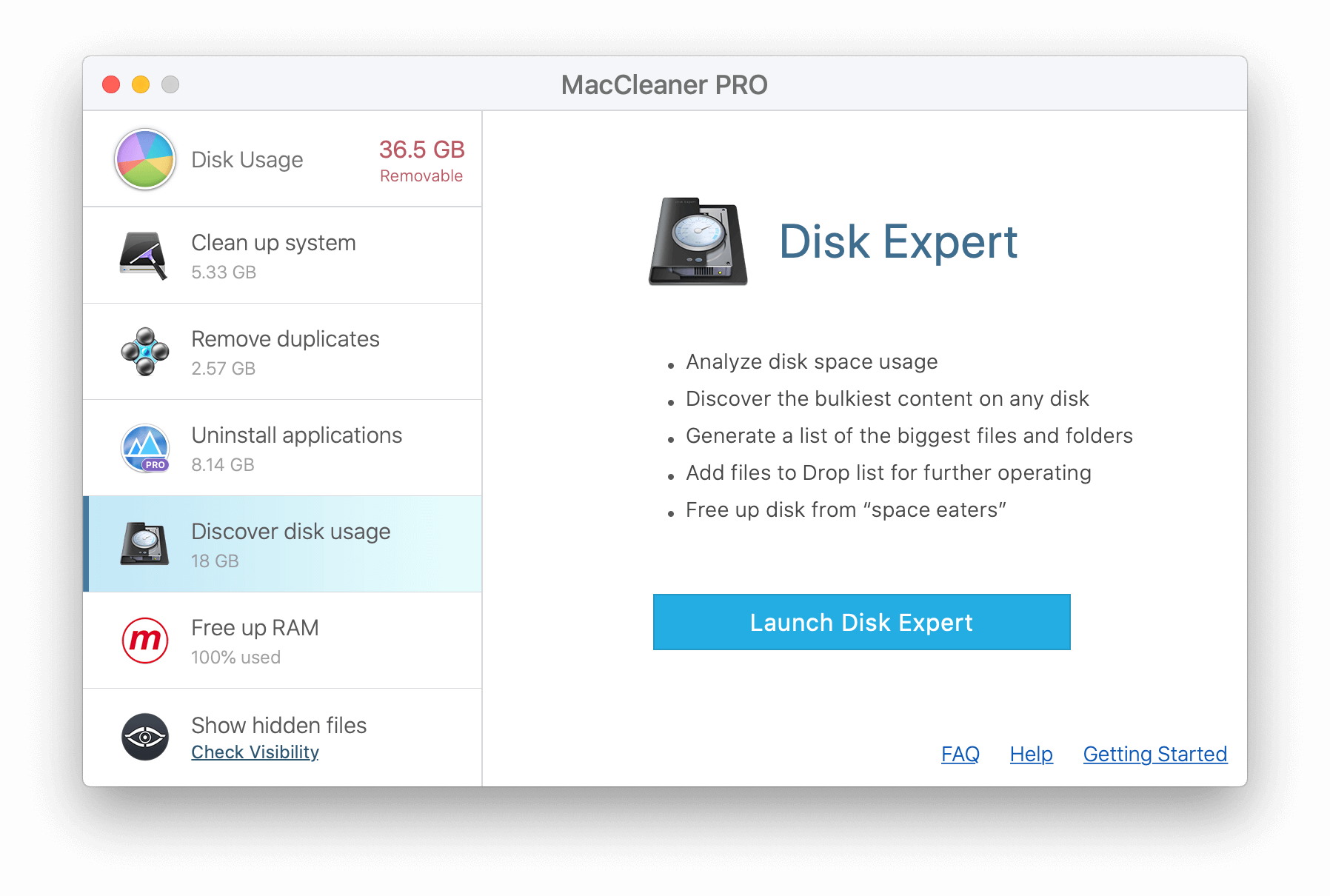 Clear Junk Files. Your Mac also stores junk files, such as application caches, logs, and language resources, which you can freely delete. To easily clean up space on your Mac, click Clean Up System and launch ClearDisk.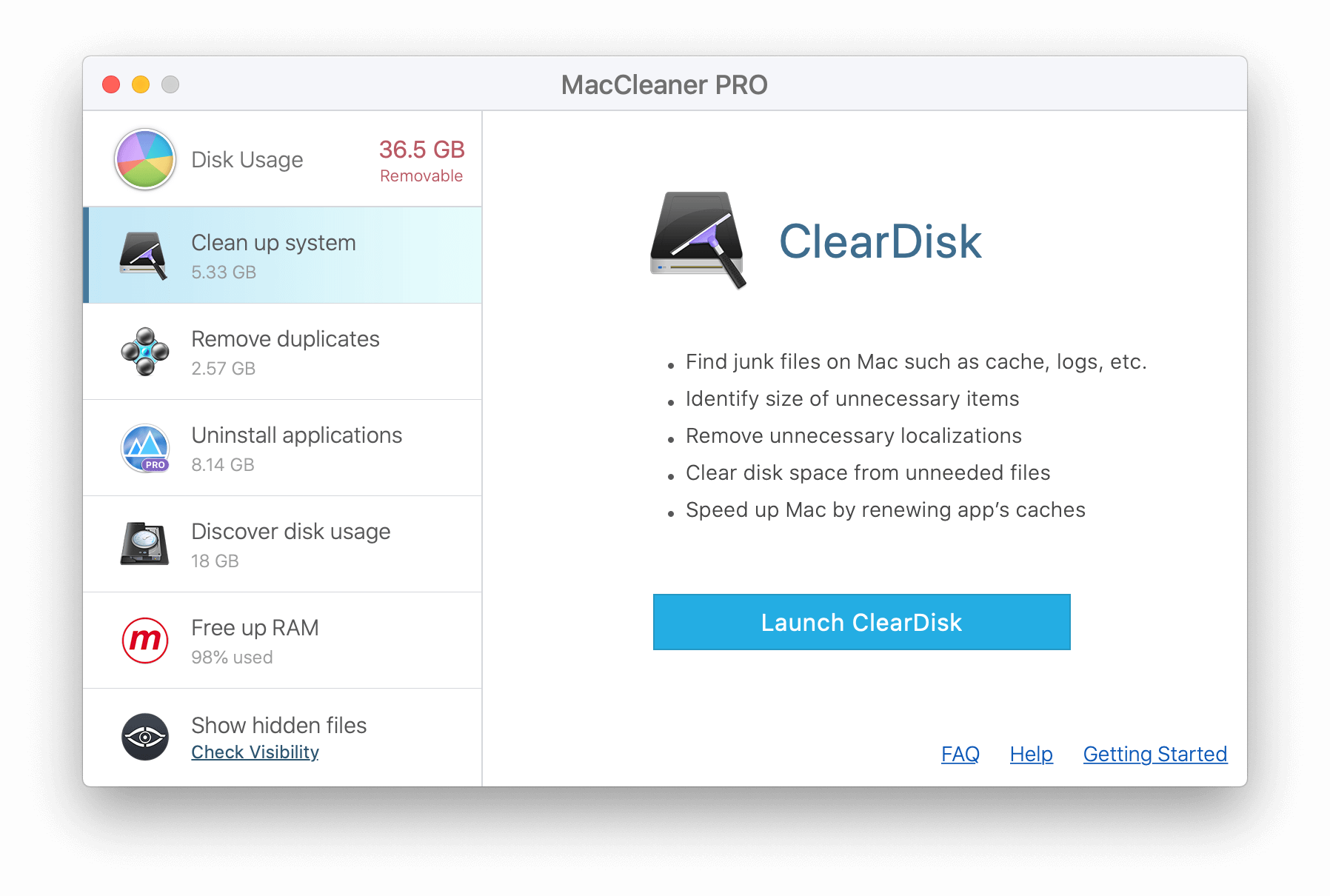 Remove photos. Most of us import images from cameras, smartphones, and tablets to Mac computers. As a result, we have tons of pictures that take a significant amount of disk space. Fortunately, you can transfer your pictures to external or cloud storage when your disk is full. But before moving all this data, we recommend checking if there are duplicate photos.
The best way to check for duplicates is to use Duplicate File Remover, which automatically finds duplicate and similar photos, and in turn frees up your Mac disk. So, select the Remove Duplicates section and use Duplicate File Remover.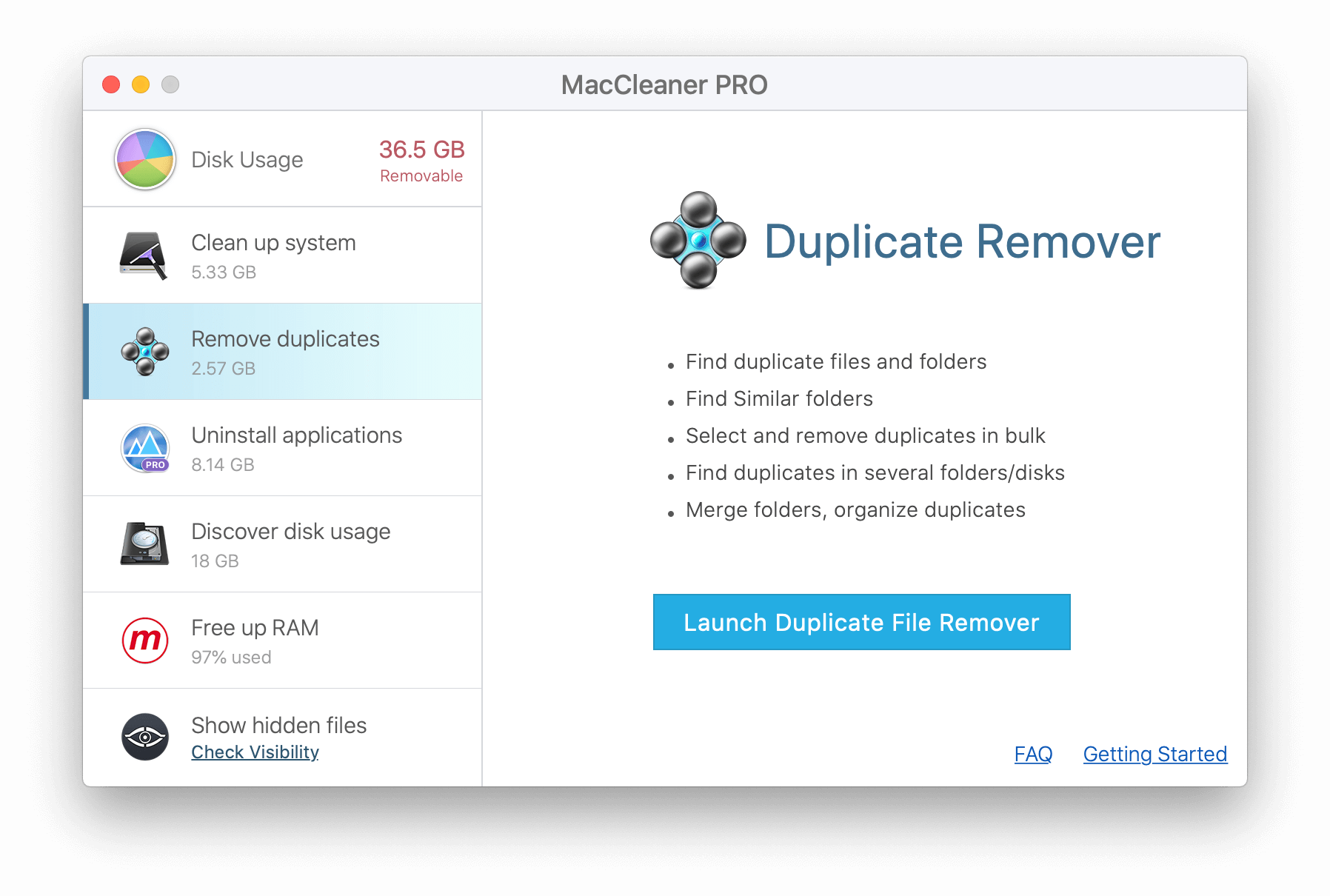 Besides that, Duplicate File Remover helps to find duplicate documents, music, videos, and even duplicate folders.
Empty Caches. These items are a type of temporary service files, which should be removed regularly. Individually they may only occupy a few kilobytes, but all together will consume gigabytes. However, removing caches on a Mac is not that easy. We recommend using ClearDisk, which helps to remove all unneeded caches from your Mac automatically. For this, launch the ClearDisk app, select caches, and other junk files, and click Clean.
3. Check for outdated Mac software
Update the macOS system and all used applications. As a rule, developers create and optimize their applications for the latest version of macOS. Follow the steps below to check for macOS updates:
Go to the Apple Menu.
Click System Preferences.
Select Software Update.
Click Update Now if a new update is available for your Mac.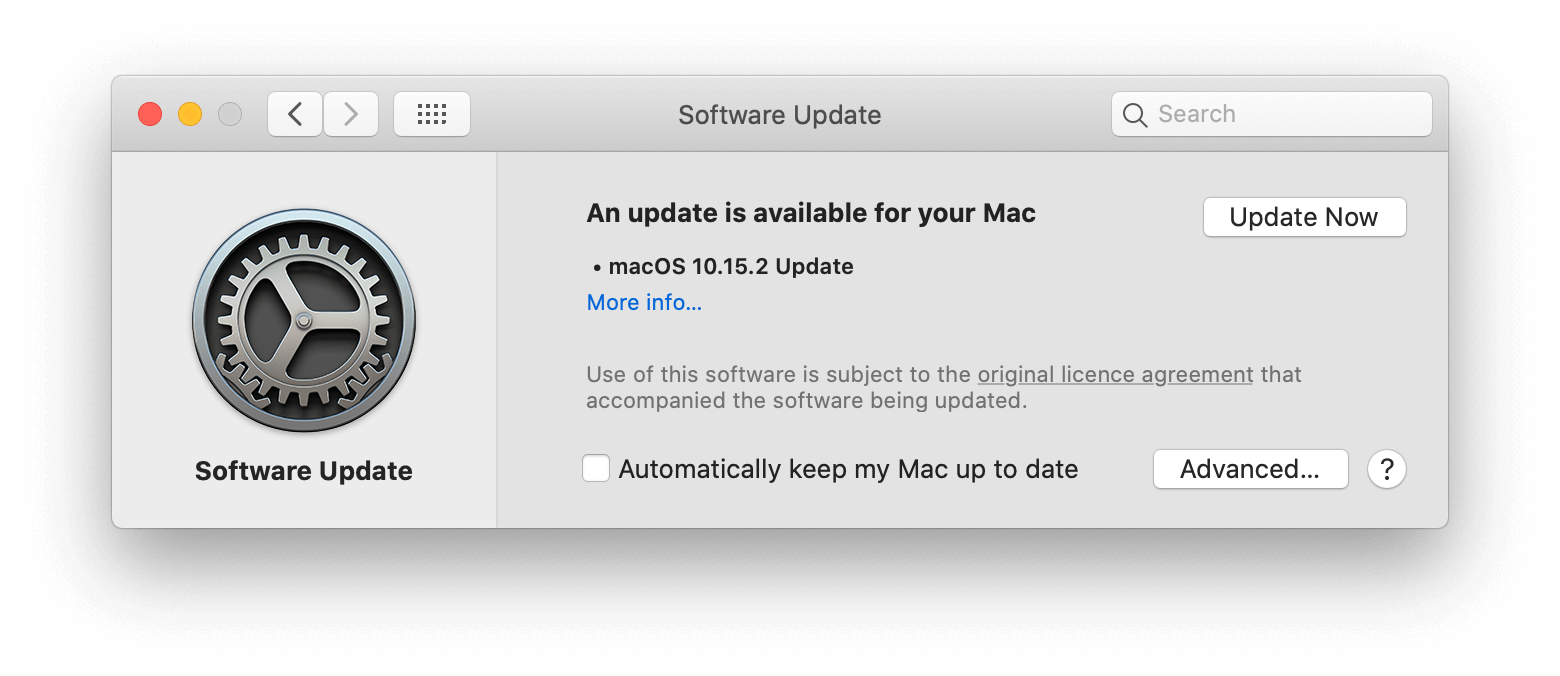 For older macOS, such as macOS High Sierra or earlier, go to the App Store → switch to the Updates tab and click the Update for all required apps and the operating system.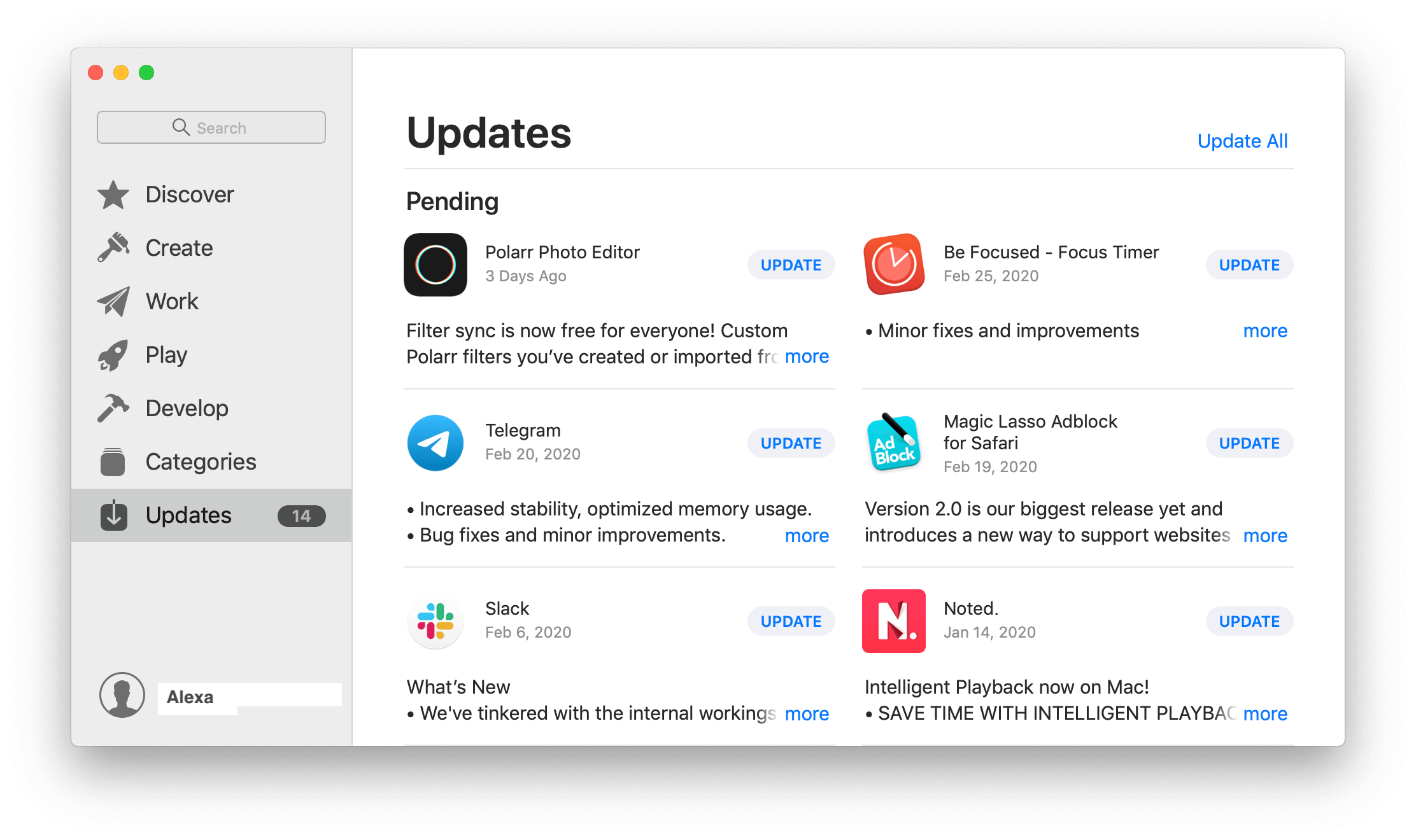 General recommendation to avoid Mac getting slow
We recommend restarting your Mac regularly. Many users do not finish work on their Mac every day, but just put it into Sleep Mode. In this case, huge temporary files are created.
Restart your Mac to finish all system processes correctly, flush RAM, and clear temporary files. We advise shutting down your Mac if you do not plan to use it for several days or restart it once a week.
4. Check your Mac for malware apps
It may happen that your Mac is working slowly because it is being affected by malicious software. Your Mac can get malware when you download email attachments from unfamiliar senders or apps from untrusted websites.
To protect your Mac from malware, first check your security settings:
Go to the Apple menu.
Select System Preferences.
Choose Security & Privacy.
Click on the General tab.
Click the lock to make changes and enter an administrator password and click Unlock.
Select App Store to allow your Mac to install apps only from the Mac App Store.
Select App Store and identified developers to allow your Mac to install apps from the Mac App Store and identified developers' websites.
Click the lock to save changes.
Then you can use an antivirus software like Avast to detect and remove malware from your Mac.
Also, you can read our article to learn more about malware on a Mac and how to remove malware from a Mac.
5. Check hardware when Mac is slow
Another possible reason for a Mac slowdown is damage to or malfunction of the system drive. Use the Disk Utility app to find and solve possible storage issues.
How to check the Mac startup disk
To check the system drive, you need to restart your Mac in Recovery mode. Here is how to check the Mac startup disk:
Turn on or restart your Mac and instantly press and hold the Command+R keys.
Release the keys as soon as you see a startup window.
Enter your password if needed and click Continue.
Select the Disk Utility section to repair errors on your startup disk in the Utilities window that appears.
Click on the First Aid button and click Run to check your disk for errors.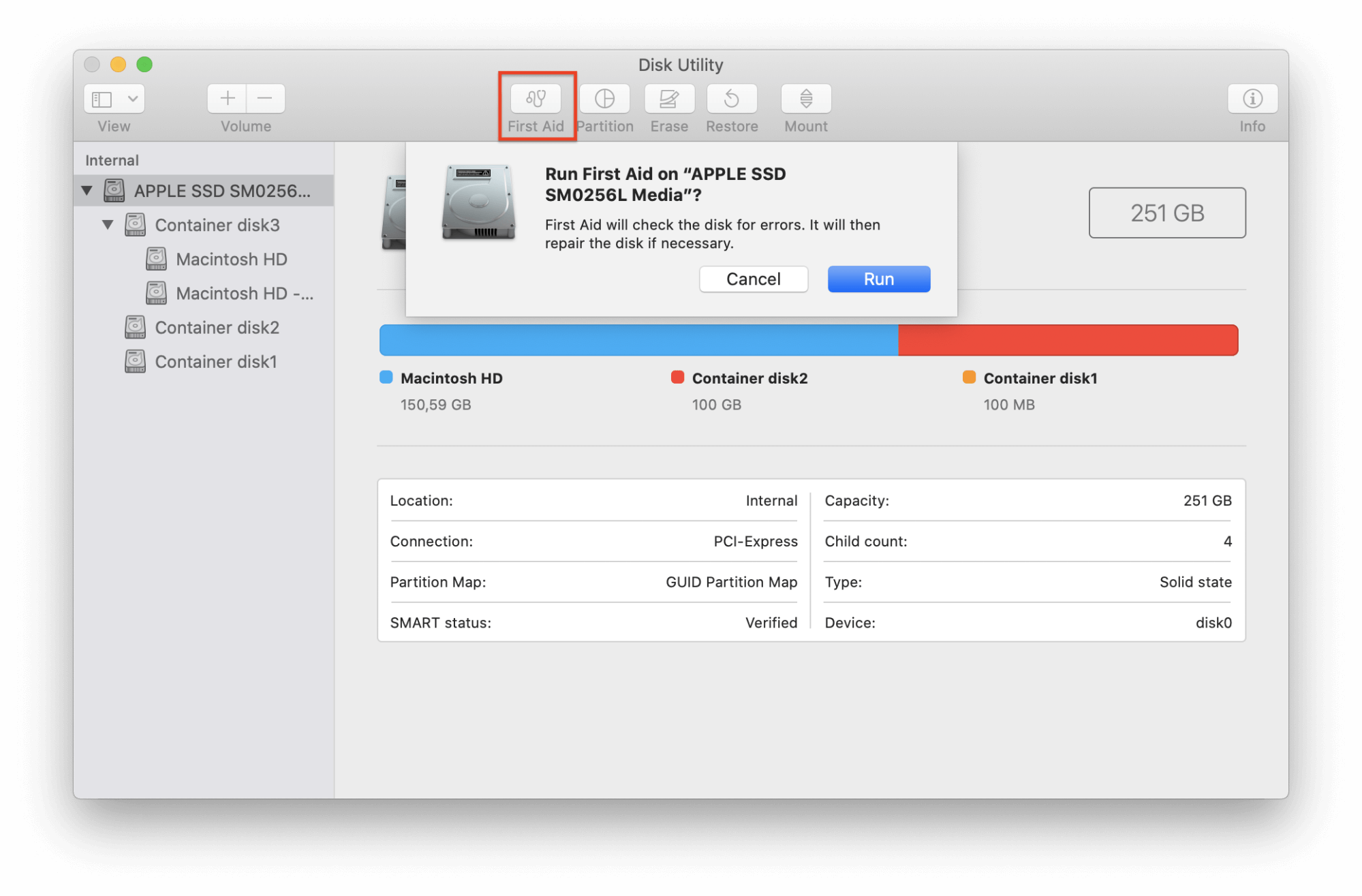 If everything is okay, you will see the message that the process is complete, and some errors are fixed. If the operation failed, your disk probably has physical damage and needs to be replaced. Use this information to know how to repair your Mac.
The all-in-one solution for speeding up a Mac
Now you know all the reasons why your Mac may be running slowly and how to optimize its performance. You can fix these issues manually or use MacCleaner Pro, which will keep your Mac clean and free from unneeded apps, extensions, duplicates and malware files.
The MacCleaner Pro software is an all-in-one solution that can fix most of the issues mentioned in this article. With MacCleaner Pro, you can clean and speed up your Mac, both quickly and safely. Use this software solution to:
✓

Disable programs that run at system startup

✓

Remove applications that overload RAM

✓

Get rid of junk files, primarily caches

✓

Delete the largest files that take up significant disk space

✓

Get rid of duplicate files

✓

Find and remove problem applications