Duplicate File Finder is designed to help you quickly clean up your Mac of useless duplicate files and folders. Duplicate File Finder is an essential tool that allows you to find all dupe files and remove them in a few clicks. However, sometimes it may happen that you remove copies of your files by accident and need to retrieve them.
In this article we are going to show you all the possible ways to restore accidentally deleted duplicates with Duplicate File Finder and find the original file of the previously removed copies:
How to find the original files of the previously removed duplicates
Usually, we have a lot of duplicates in different folders. That is why it can be challenging to remember where the original file is located. Fortunately, the Duplicate File Finder application can show you the original data of the previously deleted duplicate.
To manage this, you should launch the Duplicate File Finder application and use Command+Y shortcut to preview the Duplicate File Finder removal history. The app will display the list of all deleted files grouped by date of removal. Select the necessary file in your list and click on the icon called "Show Original file in Finder".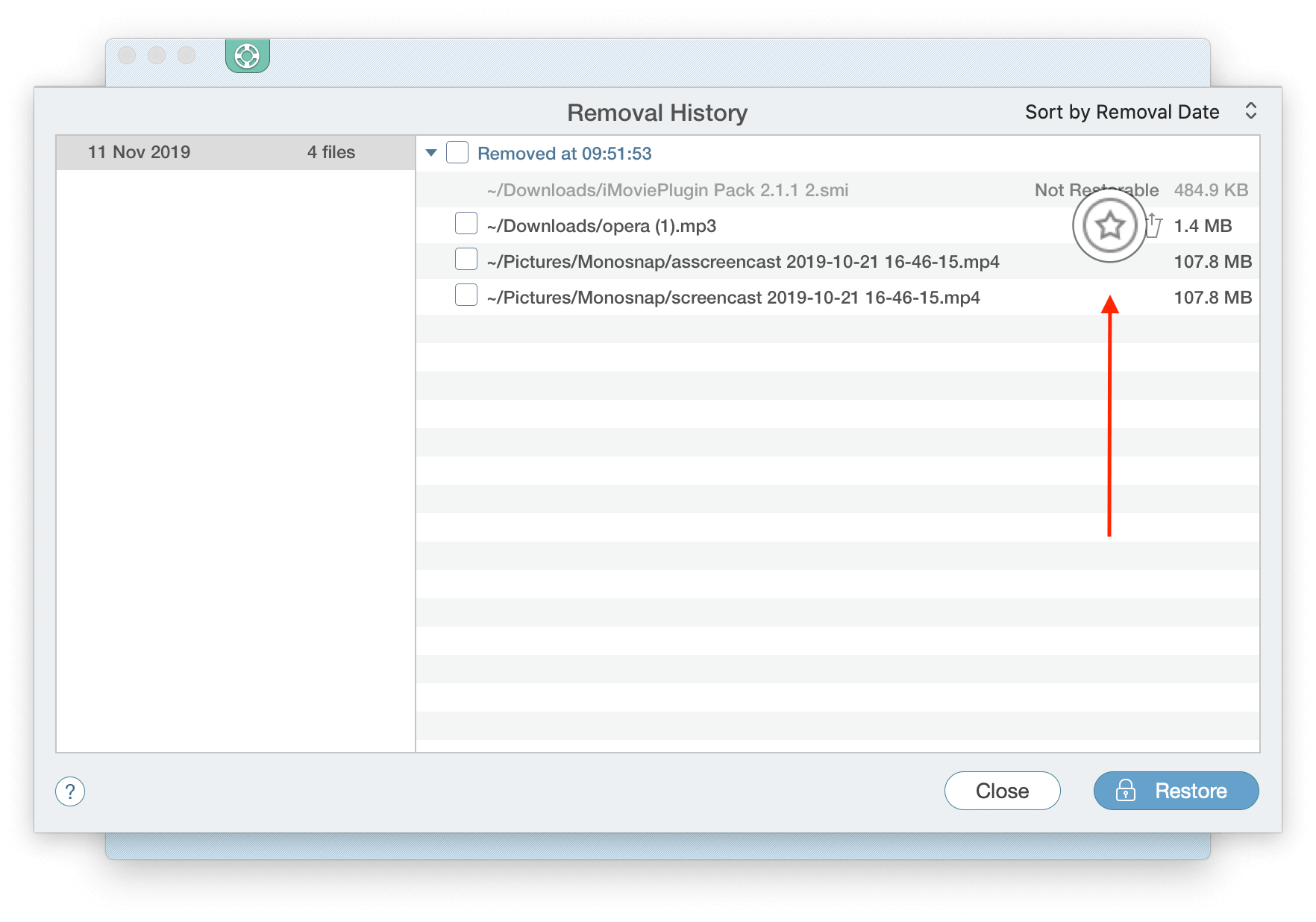 This option will open the Finder window with the path to where the original file was stored.
How to restore removed duplicates
Sometimes you may use the Duplicate File Finder for clearing your Mac of unneeded copies. However, over time, you may realize that some of them are still relevant. To reclaim such files is not a big deal. First of all, you should know that, when you remove your copies with Duplicate File Finder, the application moves them to Trash by default. To recover such files from your Bin, simply complete the following steps:
Find the Trash icon in the Dock panel and click on it.
When the Trash window is opened, you should find and select the duplicate files you want to recover.
Press
on your keyboard. This secret keyboard shortcut will restore all the selected files into the folders from where they came. Or you can simply drag and drop those files in any other folder where you want them to appear.
How to restore files, accidentally removed by Duplicate File Finder
If you removed duplicates with Duplicate File Finder by mistake, here is the simple way to get them back:
Launch the Duplicate File Finder application
Select the
section in the Menu Bar → choose button.

The application will display a list of removed duplicates. All files are grouped by deletion date. Choose any group and preview which files were deleted on this date. If the files are in the Trash folder, you will be able to restore them. Just select the files you want to recover and click the
button.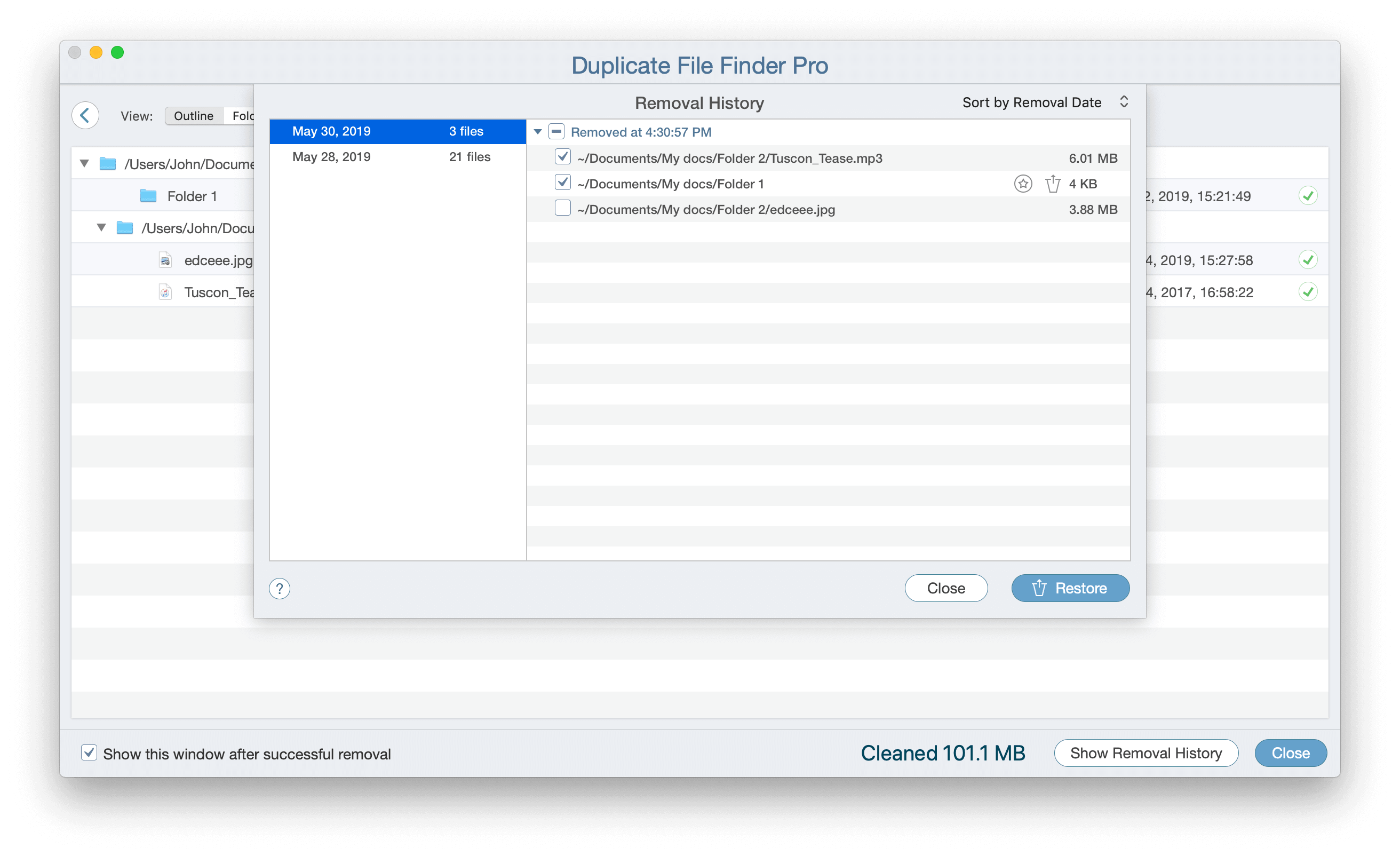 How to restore accidentally deleted copies after emptying Trash
It is common for Duplicate File Finder users to clear their Macs of unnecessary copies and then habitually empty their Trash bin. Time passes, and it suddenly dawns on them that they have deleted some relevant files. To restore such files after emptying Trash, follow the solution given below:
Note! The instructions below will help you recover necessary copies only if their original files are still stored on your computer.
To restore duplicates, first of all, you should open the removal history window. For this, launch the Duplicate File Finder application. Then you should click on the Duplicate section in the Menu Bar and select Restore Removed Duplicates there.

Preview the list of deleted files and select the files you want to recover. Then click the Restore button.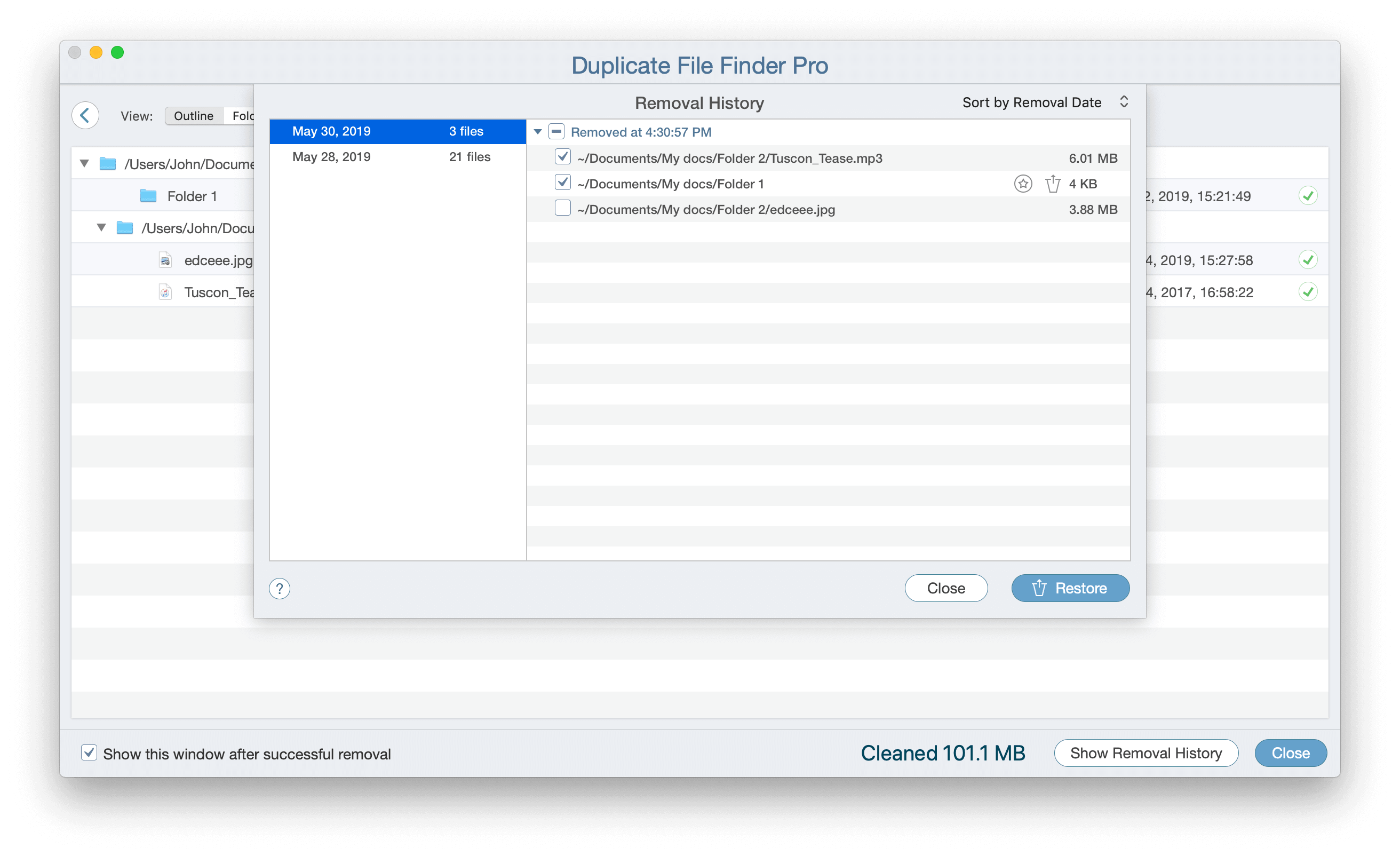 Isn't it awesome? With Duplicate File Finder you no more have to worry about deleting important files by mistake. You can quickly restore any removed file with just one click.
---
Articles you may be interested in:
How to find duplicate files on external hard drive
How to find and delete duplicate photos on Mac
Clean up Similars – folders with duplicate and unique files
How to find and remove duplicates in cloud storages