Cleanup Hints

Duplicate File Finder provides a Cleanup Hints option for better user experience – for example, to remove the largest duplicates, remove duplicates in Similar folders, and remove duplicates that  have the most copies. You can find them in the Overview tab. They show which files are better to remove to free up as much disk space as possible quickly and easily.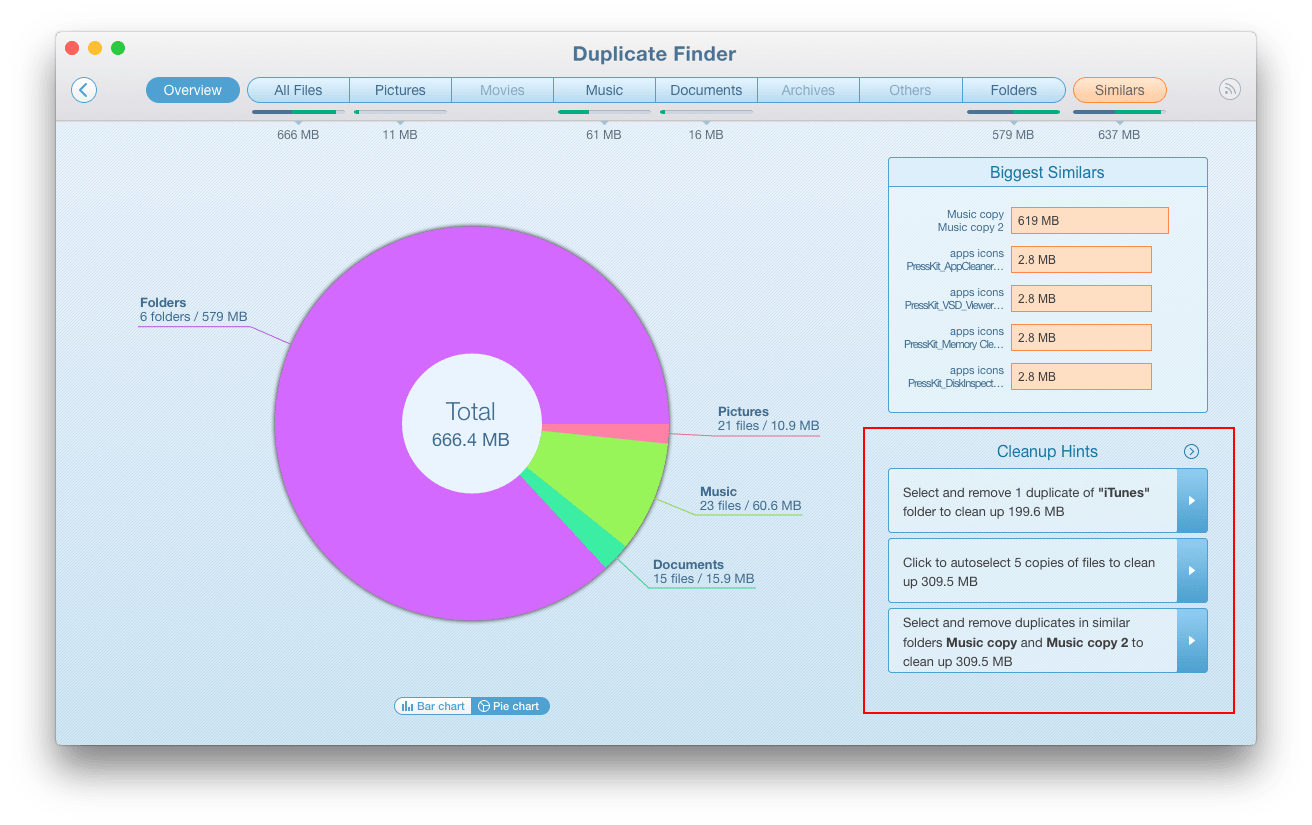 There are three hints at a time. Each time you click the Pointer button, you get new tips.  On the screenshot below, you can see three types of tips for a fast and deep cleanup.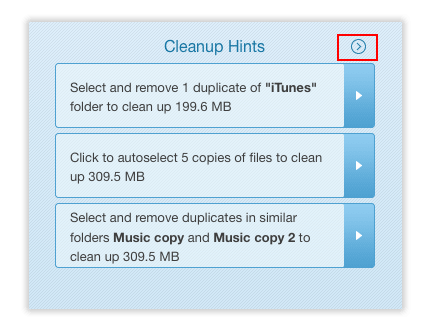 If you want to use the hint*, click it and you will automatically be switched to the appropriate section which has suggested items that have already been selected. Preview the details and confirm removal.
*Note, the use of CleanUp Hints is available in the Pro mode only.
---
Shortcuts
There are quick navigational shortcuts provided in the app that would help make your duplicate cleanup process even faster and easier.
General Navigation
⌘+⬇ (⬆) – navigate through duplicate groups
Enter – select the checkbox
Space – quickLook preview of the selected file (press arrow down or up to switch to the next file preview).
⌥+⬇(⬆) – select the last (first)  item in the current list.
⌘+N – new scan
⌘+⌥+O – open the Finder window to select the folders for scanning
⌘+R – rescan the current folder
⌘+O – switch to Overview tab
⌘+1 – switch to All files tab
⌘+2 – switch to Pictures tab
⌘+3 – switch to Movies tab
⌘+4 – switch to Music tab
⌘+5 – switch to Documents tab
⌘+6 – switch to Archives tab
⌘+7 – switch to Others tab
⌘+8 – switch to Folders tab
⌘+⬆ – switch to upper file group
Shortcuts for Similars tab:
In the Similars you can see 3 sections:
A list of all similar folders.

A list of similar folders to a folder you have selected from the first section.

Comparison between two file lists of folders selected from the first and second panels.
Here are the shortcuts for these panels:
Tab – switch from one panel to the next
Tab+⬆ – return to the previous panel
Command+⬇(⬆) – switch between similar folders
Selecting the files
↵ – select (deselect) file or folder
1…9 – select items for removal by a number
⬆+1…9 – select all items except one with a number
⌘+A – select all duplicates
⌘+E – select newest duplicates
⌘+L – select oldest duplicates
⌘+K – select any duplicates
⌘+D – deselect all duplicates
⌘+A+⬆ – select the duplicates in active group
⌘+E+⬆ – select newest duplicates in active group
⌘+L+⬆ – select oldest copies for removal in active group
⌘+K+⬆ – select any copies in active group
⌘+D+⬆ – deselect duplicates in active group
⌘+S – show a list of selected duplicates
Other Shortcuts
⌘+O+⬆ – reveal file in the Finder
⌘+I – show file information
⌘+O – open the file
Space – preview the file
⬇ or ⬆ – preview the next file from the list
⌘+, – open Preferences window
⌘+W – close Preferences window
⌘+M – minimize the application window
⌘+F+^ – enter fullscreen mode
⌘+/ – show the context hints