Duplicate File Finder can be finely-tuned for a quicker and more efficient duplicate search process by adjusting its settings or by using its helpful options.
To open Preferences, use the Command(⌘) + Comma sign (,) key shortcut or go to the Menu bar → select Duplicate File Finder → click Preferences.
Here you will find six tabs:
General
Skip list
Auto Select
Let's take a closer look at each section of the settings.
---
General Tab
The application allows you to even scan hidden folders. To enable this option, just tick the Scan Hidden Folders checkbox. Please note that this option may slow down the scanning speed, depending on how many hidden files you have.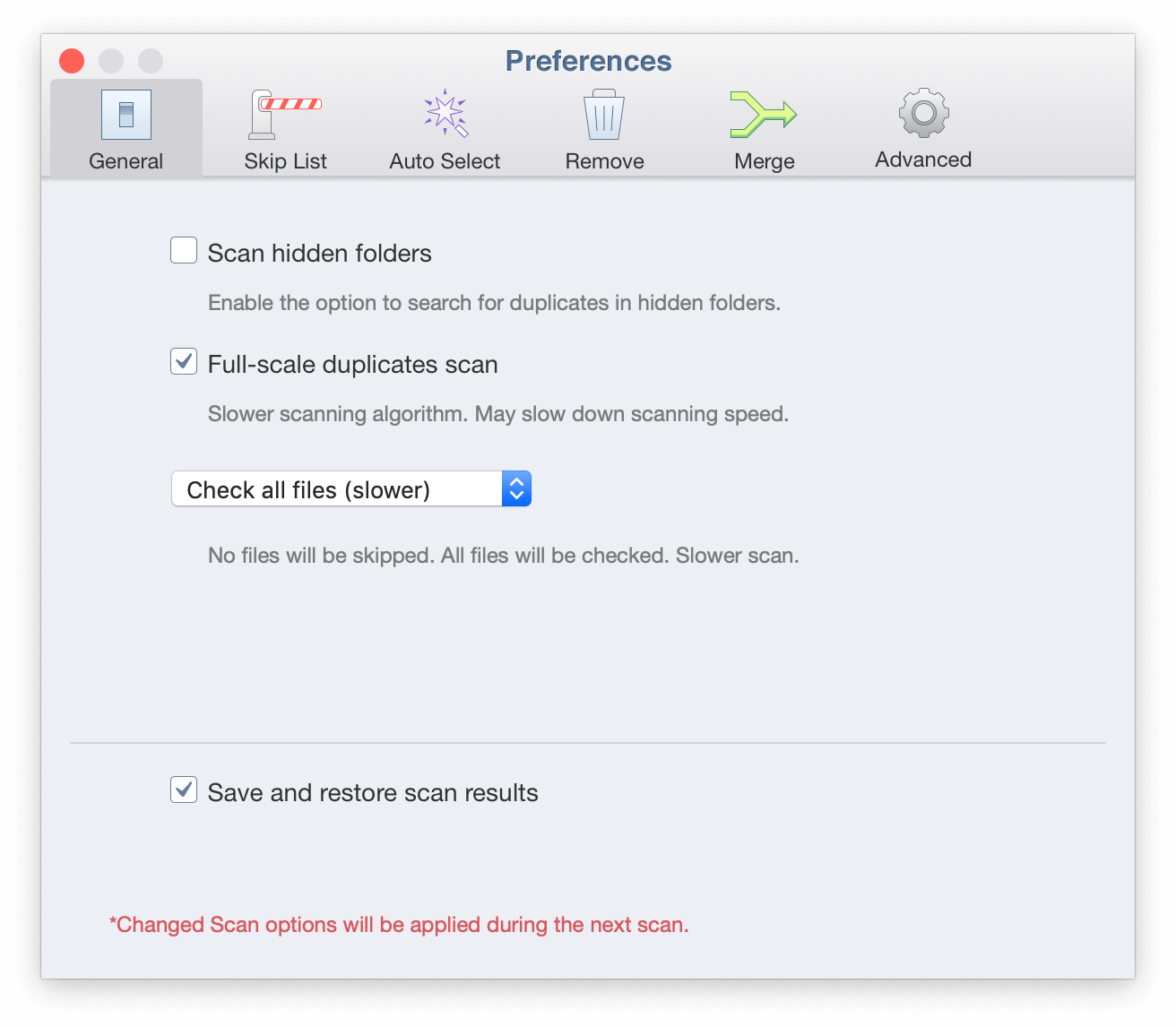 The Full-scale duplicates scan option means that the application will perform an extra check when comparing duplicate files.
By default, Duplicate File Finder skips scanning small files.This helps to speed up the scanning process by finding only the largest duplicates. However, you can set the minimal file size you want to be scanned. Choose from the options in the General tab, depending on your needs:
Skip small files
Skip files smaller than… and select the file size on the size line.
Check all files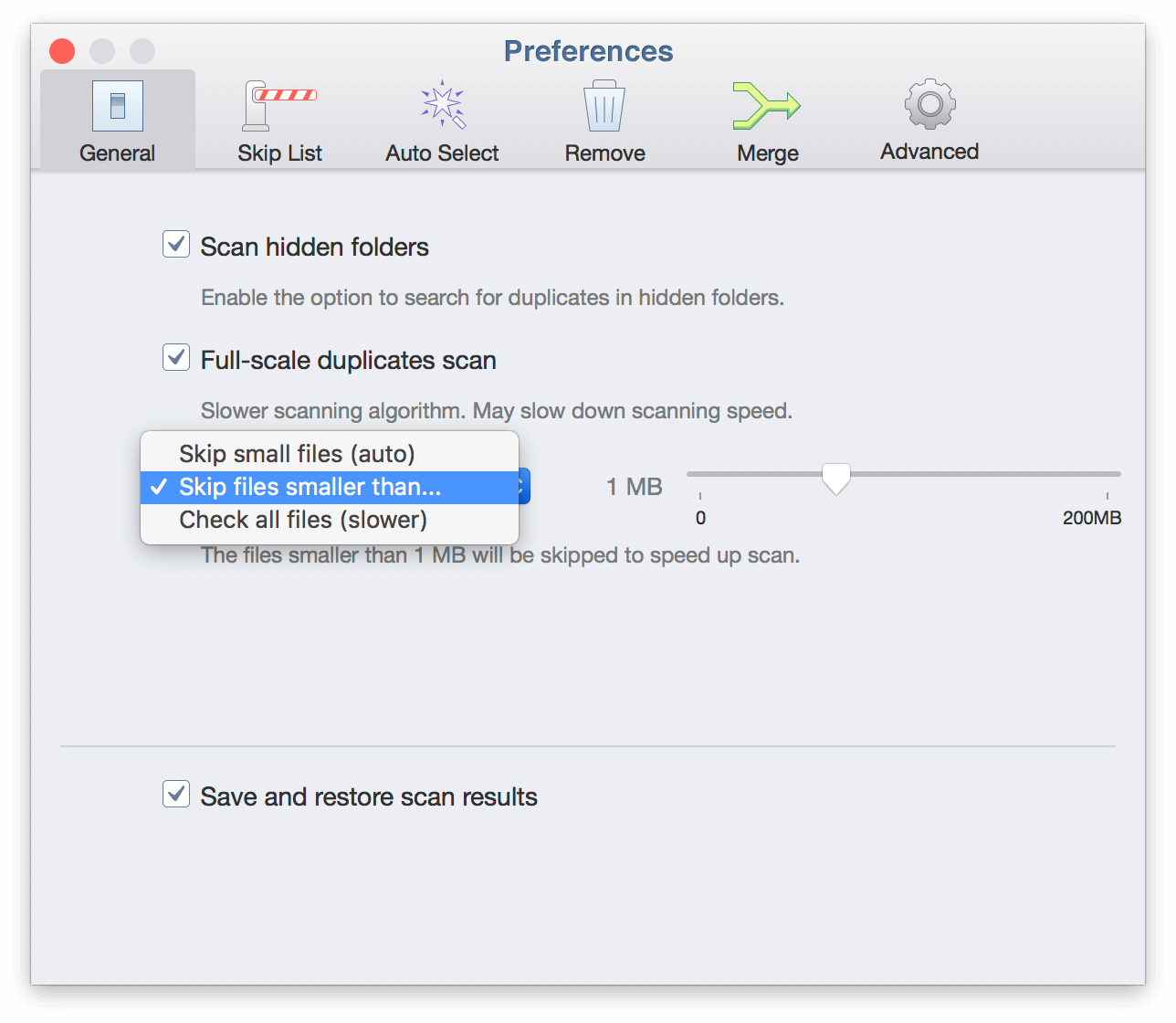 The last option in this tab is Save and Restore Scan Results. This means that if you close the application, the history of scanned folders will be saved. When you run the app the next time, you can quickly view the results of the previous scan.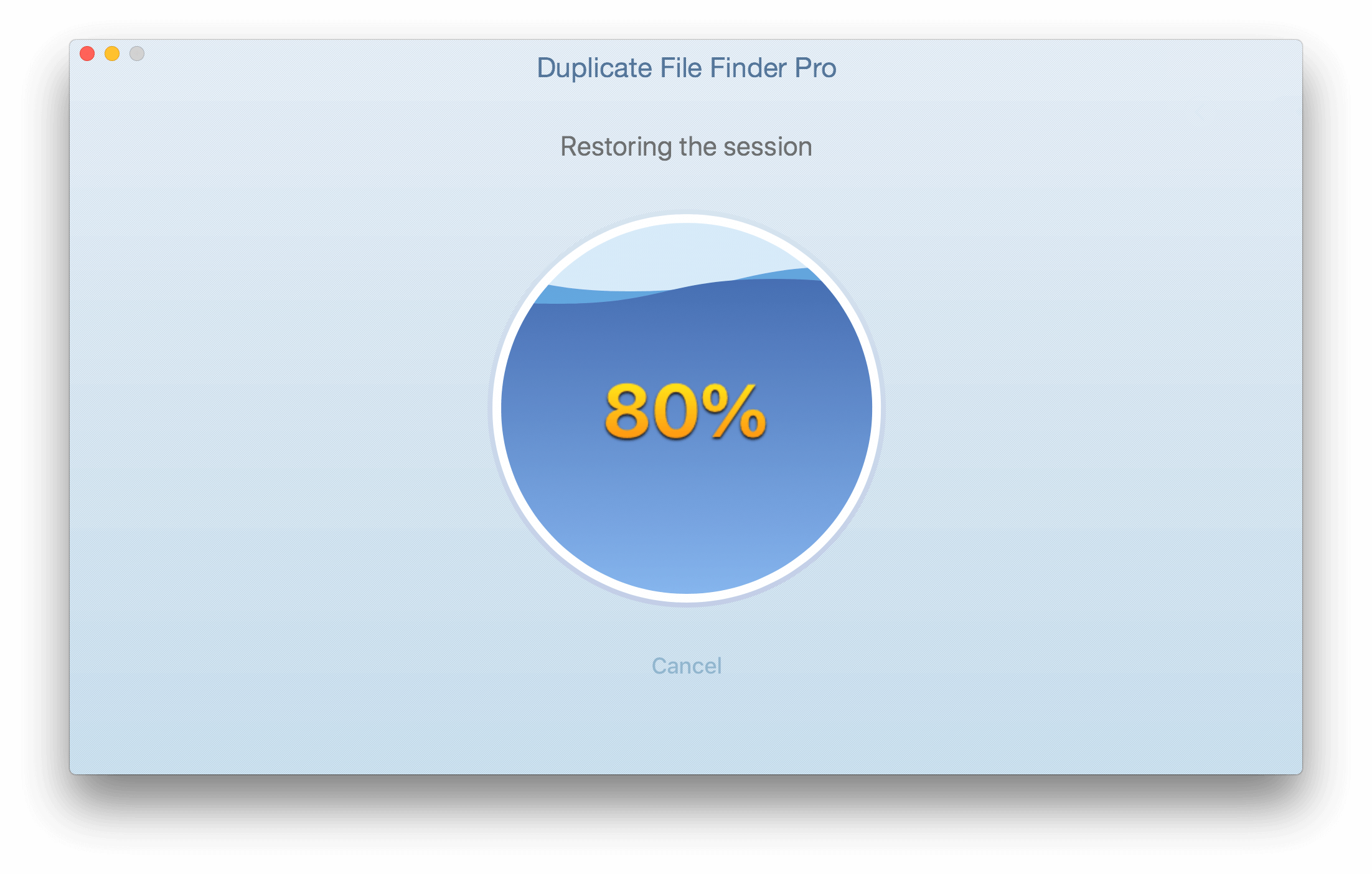 ---
Skip List Tab
In this section you can select the folders, files or extension types to be skipped from the scan. Click the Plus button to add items or use the Minus button to remove items from Skip list.
---
Auto Select Tab
Using the Auto Select button, you can define folder settings to be selected or never selected. It's a convenient option when you need to remove duplicates from particular folders. In this case, add the folders you want to the Never Select list to exclude them from selection, and add the folders to the Always Select list to remove them when the Auto Select button is used.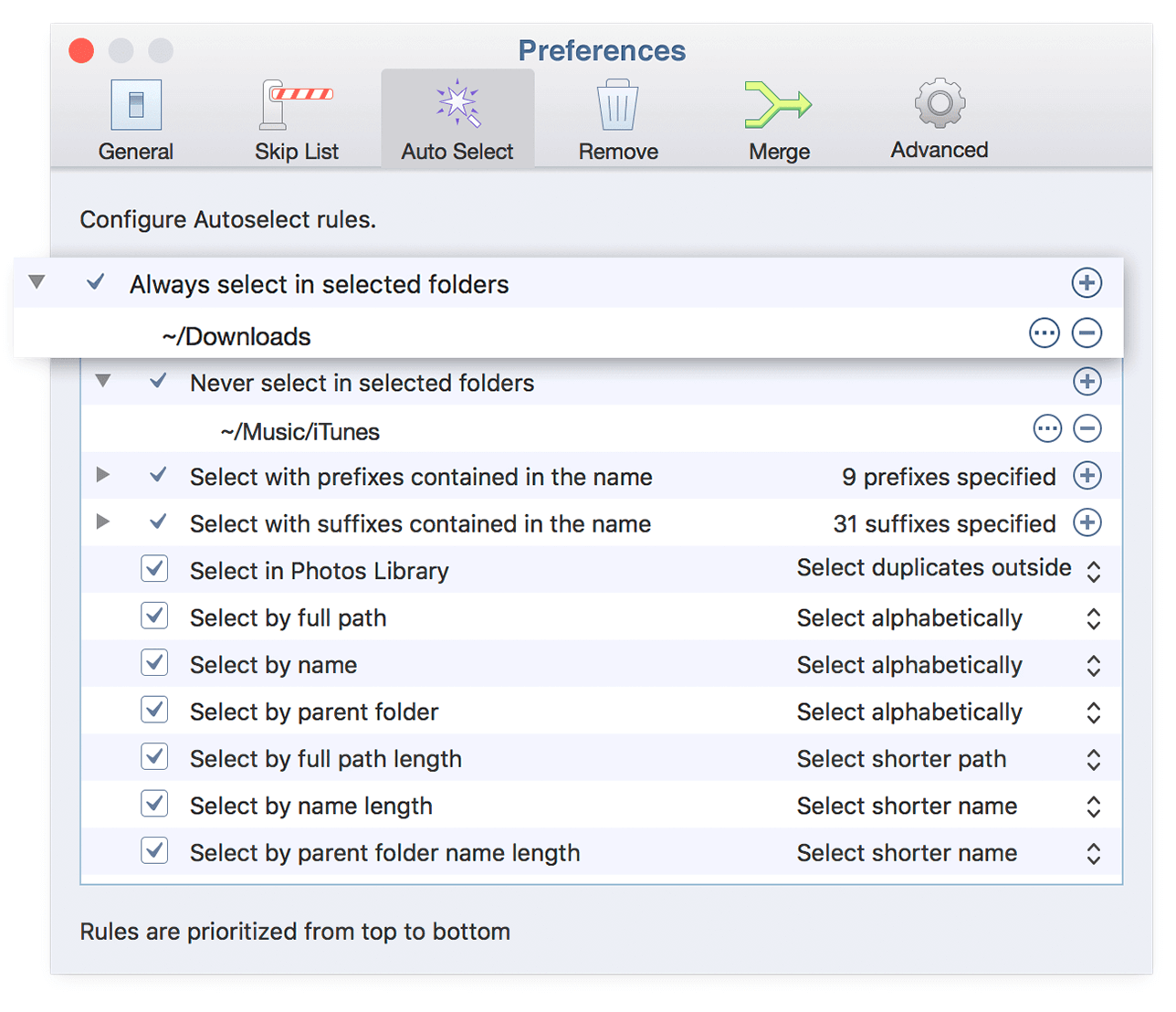 Also, you can add prefixes and suffixes used in the file name.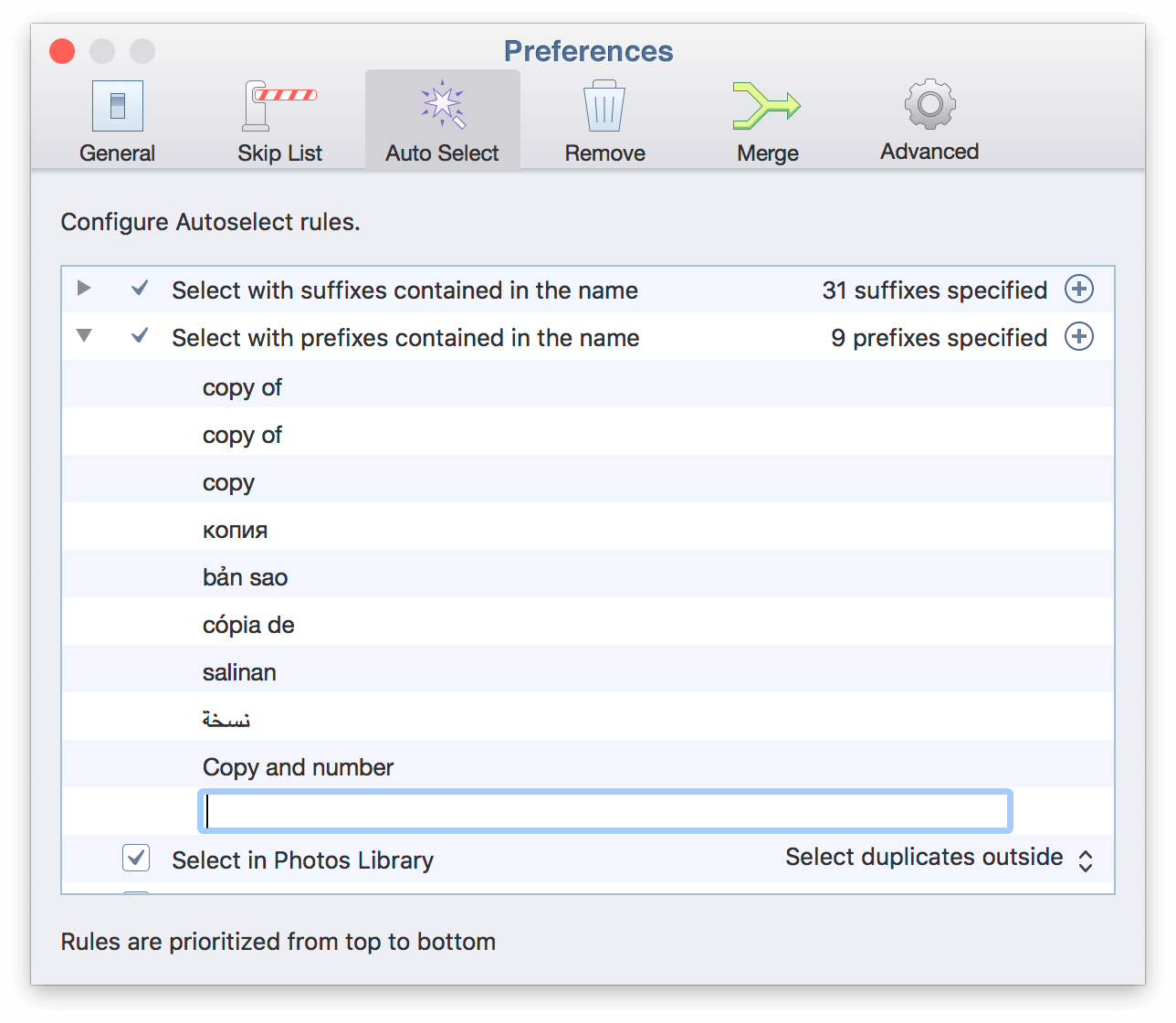 And finally, you can enable or disable other rules for the Auto Select option by marking the appropriate checkboxes and by choosing the preferred option for each.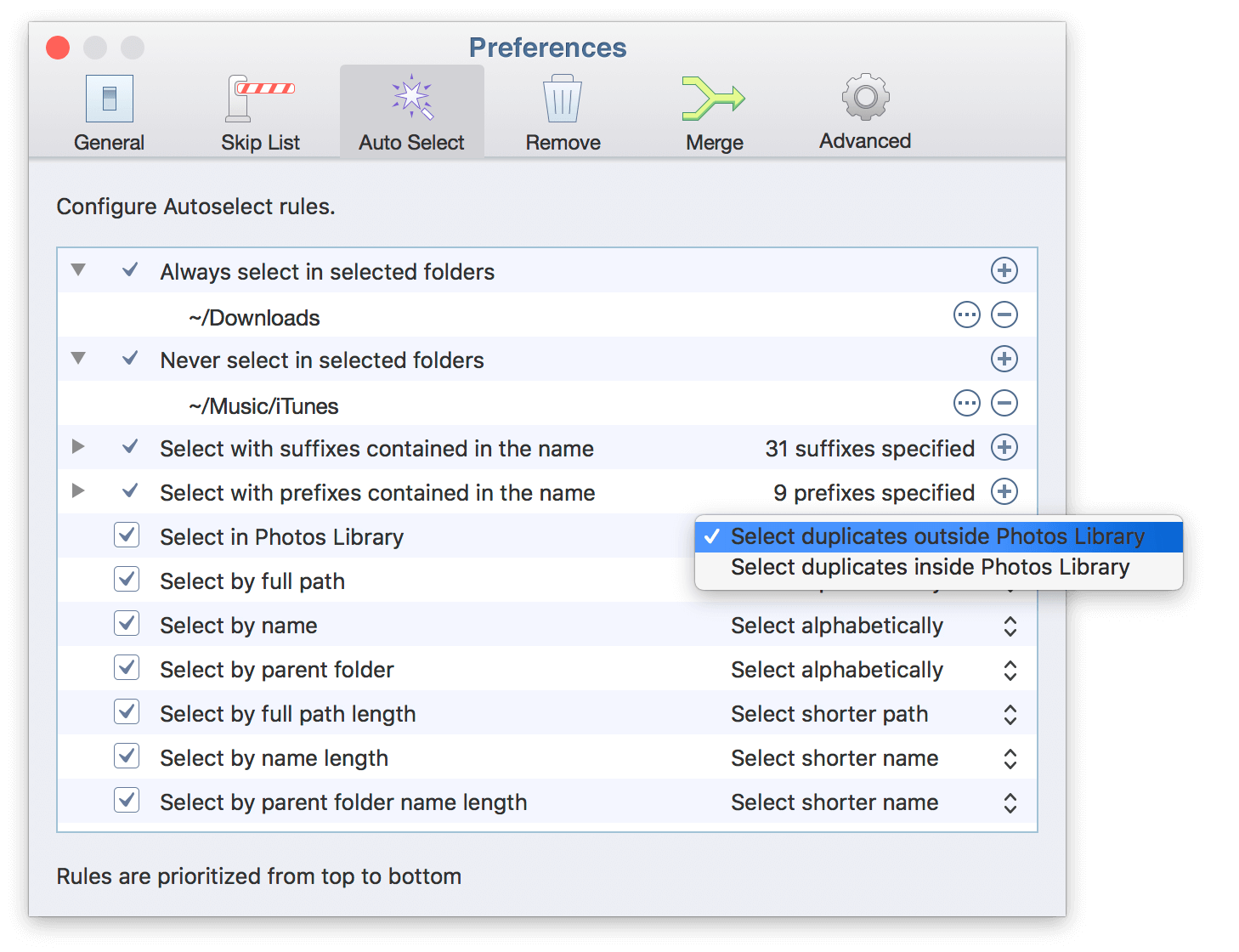 ---
Remove Tab
It may happen that when you remove copies of files, some folders may become empty. So if you want to remove the empty folders automatically, enable the option Remove empty folders.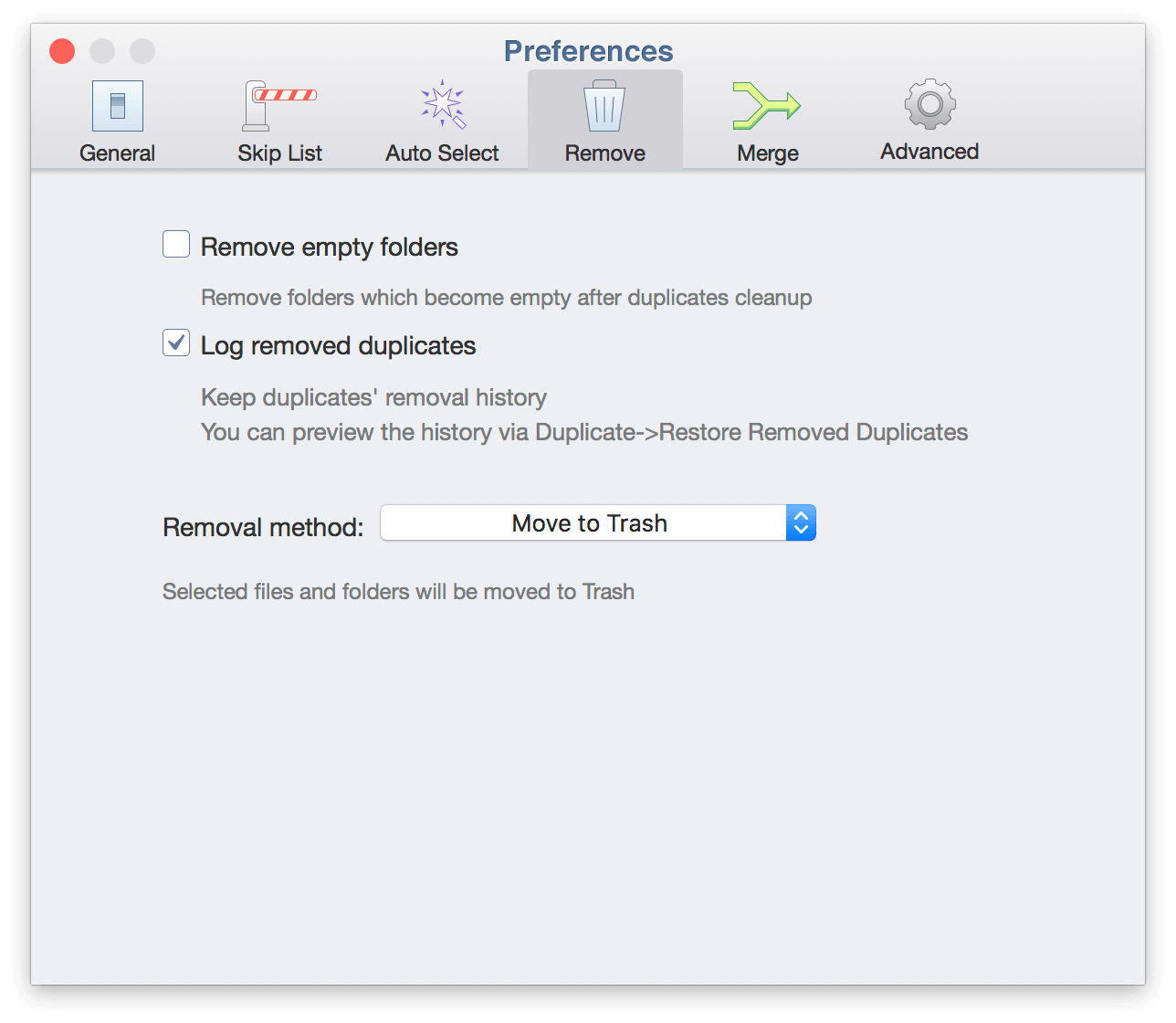 By default, when you remove files with Duplicate File Finder, they are sent to the Trash. Here you can enable the option to remove your files permanently without moving them to Trash. Generally, you can select one of the following options:
Move to Trash
Remove
Move duplicates to a folder
If you select the third option, you will be asked to choose the folder from Finder.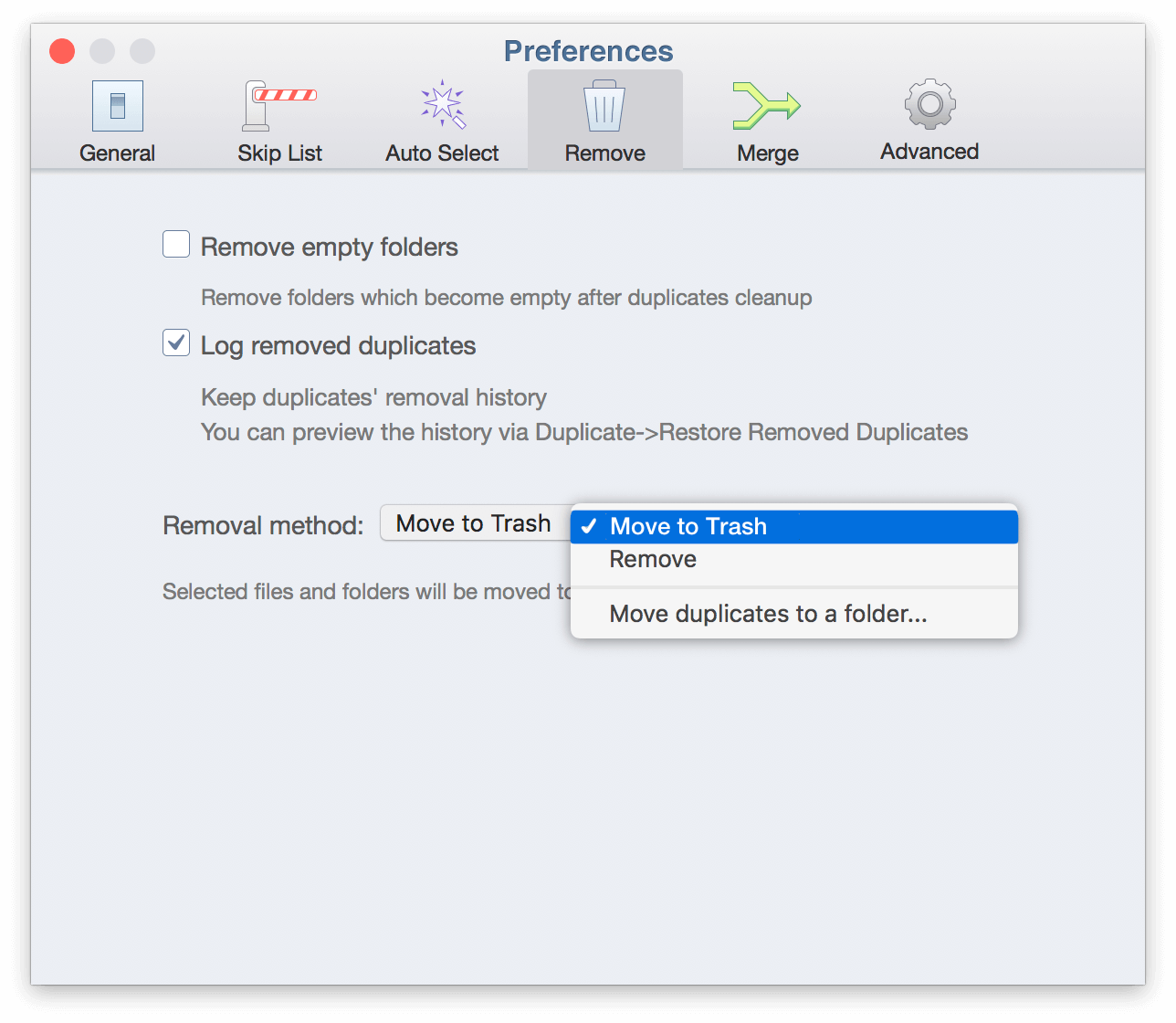 ---
Merge Tab
Besides finding and deleting duplicates, the application allows you to merge the scanned folders. In the Merge tab you can set up the preferences for this option:
Move unique files when you merge Similar folders
Copy unique files when you merge Similar folders (in this case the source folder will automatically be removed)
Set Finder color tag to merged files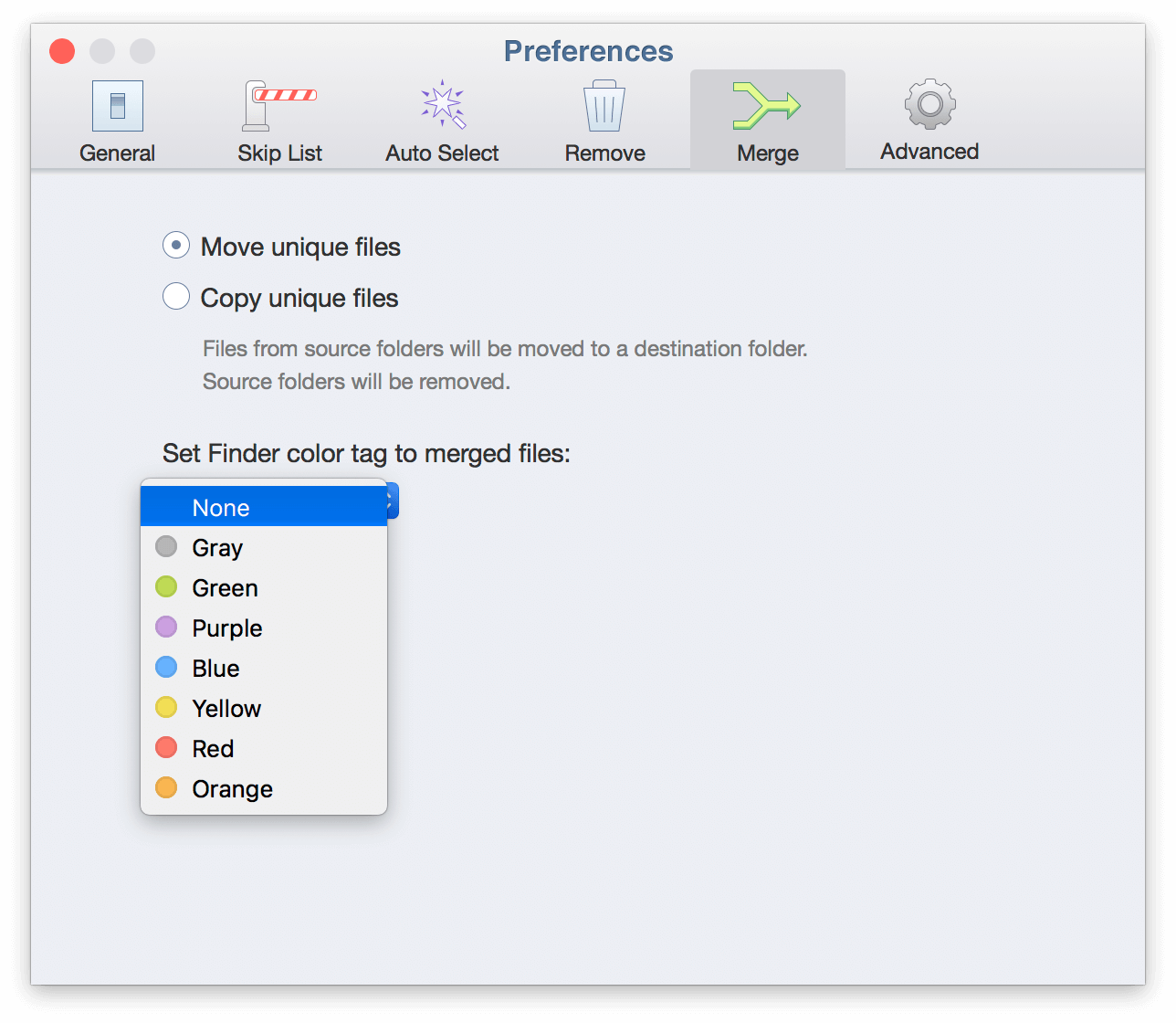 ---
Advanced Tab
If you have used Duplicate File Finder and know all the app's options quite well, you may wish to disable some confirmation messages in order to make the duplicate cleanup process quicker. In the Advanced tab of the Preferences window, you can enable or disable the following messages and options:
Show the Overview tab after scanning
Show confirmation window when using the Auto Select option
Show confirmation window after successful removal
Allow removal of all duplicates (if you enable this option, you allow the app to remove both the duplicate copy and the original file)