Duplicate File Finder is free to download from the App Store and allows you to find and remove duplicate files. It also has a PRO mode that is available with in-App Purchase and provides even more features. Let's take a look at them.
Free mode
Pro mode

Find all duplicate files and folders

Delete duplicate files

Scan all drive types

Have a QuickLook of duplicates

Search quickly among duplicates by category

Skip scanning certain folders, files, files with specified extensions

Use Autoselect option

Quickly open duplicates in Finder

Regulate minimal and maximum size of files for scanning

Provide Smart Cleanup hints

Includes all the features of free mode and even more:

Remove duplicate folders

Remove duplicates in Similar folders

Find duplicates in hidden folders

Merge Similar folders
Use Select Duplicates in Folder option
Restore removed duplicates
Thus, if you want to do a deep cleanup, you should upgrade to Pro. And here is what possibilities you get:
remove duplicate folders;

view Similar folders;

use cleanup hints
  Let's learn how to upgrade:
Click the green

Upgrade to Po

button from the top right corner of the app's window.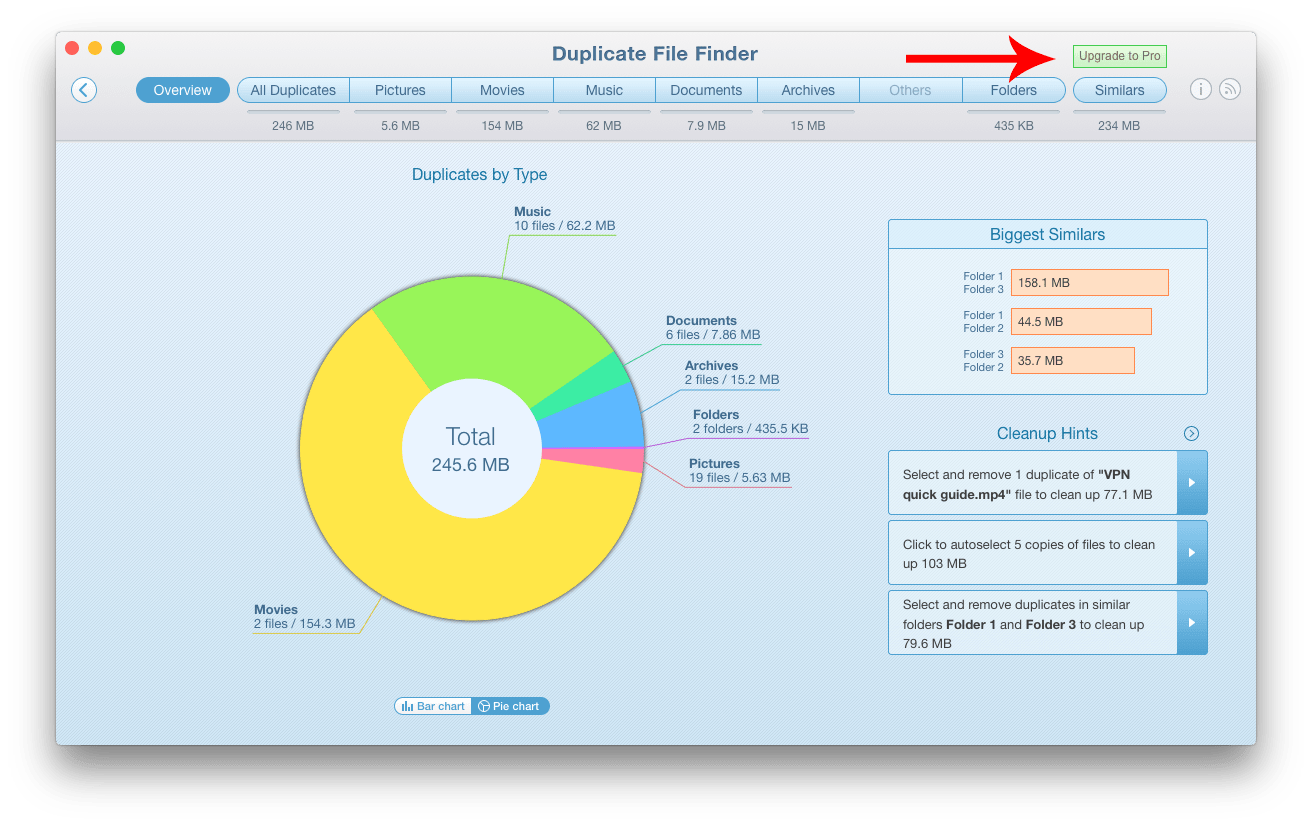 You will see a pop-up window. Click the button with the price $9.99.

In the window that appears, enter your Apple ID username and password, and click

Sign in.
That's all. You will understand that the in-app purchase is completed as soon as the green button and lock icons next to the features disappear. If, after this action, nothing has been changed, then reboot your Mac → launch the app → click again Upgrade to Pro → click Restore.
---
If you still have questions, read the article "How to upgrade to Pro" or ask us at [email protected]. We are here to help you.