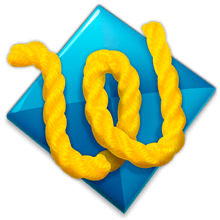 The TextWrangler application is a text and code editor for Mac. But ever since TextWrangler became part of the BBEdit program, the developers have been encouraging users to download and use BBEdit instead. Therefore, if you decide to switch to the BBEdit app and need to remove the TextWrangler Mac version from your computer, please read on.
Today, we will share with you two ways to completely and safely uninstall TextWrangler on Mac.
Contents:
---
Uninstall TextWrangler Manually
When it comes to removing an app, you should remember that it is a complex software tool, which has a large number of support files. This is important because we usually delete a certain program by dragging and dropping its icon to Trash.
However, this action does not completely uninstall the program from your Mac. Lots of service files will still be stored on your disk. Therefore, you would need to get rid of all the files related to the TextWrangler app, so as not to clutter up your Mac.
To completely uninstall TextWrangler from your Mac, take the following steps:
Quit the TextWrangler program and make sure that none of its components are running in the background.
Open the
folder → select the file → drag and drop it to the bin.

Open the hidden Library folder, where the service files are mainly stored. For this, launch → click in the menu bar → select from the drop-down menu → type

~/Library

in the window that appears → click .

Within the Library folder, you can remove all the unneeded files and folders related to the TextWrangler application. For this, find and delete files in the following directories of the Library folder:

~/Library/Application Support/TextWrangler


~/Library/TextWrangler

~/Library/Caches/com.apple.helpd/Generated/TextWrangler Help*5.5.2

~/Library/Application Support/com.apple.sharedfilelist/
com.apple.LSSharedFileList.ApplicationrecentDocuments/com.barebones.textwrangler.sfl2

~/Library/Preferences/com.barebones.textwrangler.plist


Empty the
bin to complete the entire deletion of the TextWrangler Mac OS X version from your computer.
---
Uninstall TextWrangler Automatically
While the manual uninstallation method is time-consuming, you can save precious minutes by using the automatic method. It's easy to implement via App Cleaner & Uninstaller. This uninstaller app helps to remove more than 1000 applications on Mac.
App Cleaner & Uninstaller completely and safely deletes programs from your device in less than a minute. To remove the TextWrangler Mac version from your computer, using App Cleaner & Uninstaller, complete the following steps:
Launch App Cleaner & Uninstaller.
You will see all your programs in the Applications tab. Choose TextWrangler. App Cleaner & Uninstaller will automatically select all the unnecessary TextWrangler service files for removal. Then just click the Uninstall button.

Review the files and folders you want to delete and click on the Remove button.

Then, empty the Trash bin to completely uninstall TextWrangler on your Mac.

---

Conclusion

Now you know two ways to uninstall TextWrangler on your Mac. It's up to you which method to choose. Like more than 1000 users, we also recommend you to use App Cleaner & Uninstaller to remove programs from Mac. This application entirely, safely and quickly removes programs from your computer. Download a free trial of App Cleaner & Uninstaller or purchase it for only $19.90.

Related Entries