On November 12, 2020, Apple released a new macOS v.11.0 named Big Sur. Perhaps the main feature in the new system is the overall design comparable with other iOS and iPadOS systems. They changed the icons, dock, added the "Control Point," and more for use on your iPhone. There are other great improvements that will please Mac users and leave no question of not updating to version 11.0. Keep on reading to learn what's new on macOS Big Sur. We will also share important tips on how to prepare your Mac for the new operating system and how to install the new macOS Big Sur.
Contents:
---
What's new in macOS Big Sur
The new version of macOS Big Sur brings valuable new features and improvements to existing applications. The Big Sur platform now looks like an iOS system and borrows a number of elements from there. There is a Control Center now on macOS v.11.0, where you can change the brightness, enable the Do Not Disturb mode, and more. The notification center now can display groups of related notifications. The buttons on the Dock panel have also been redesigned. Now they look similar to the iOS platform.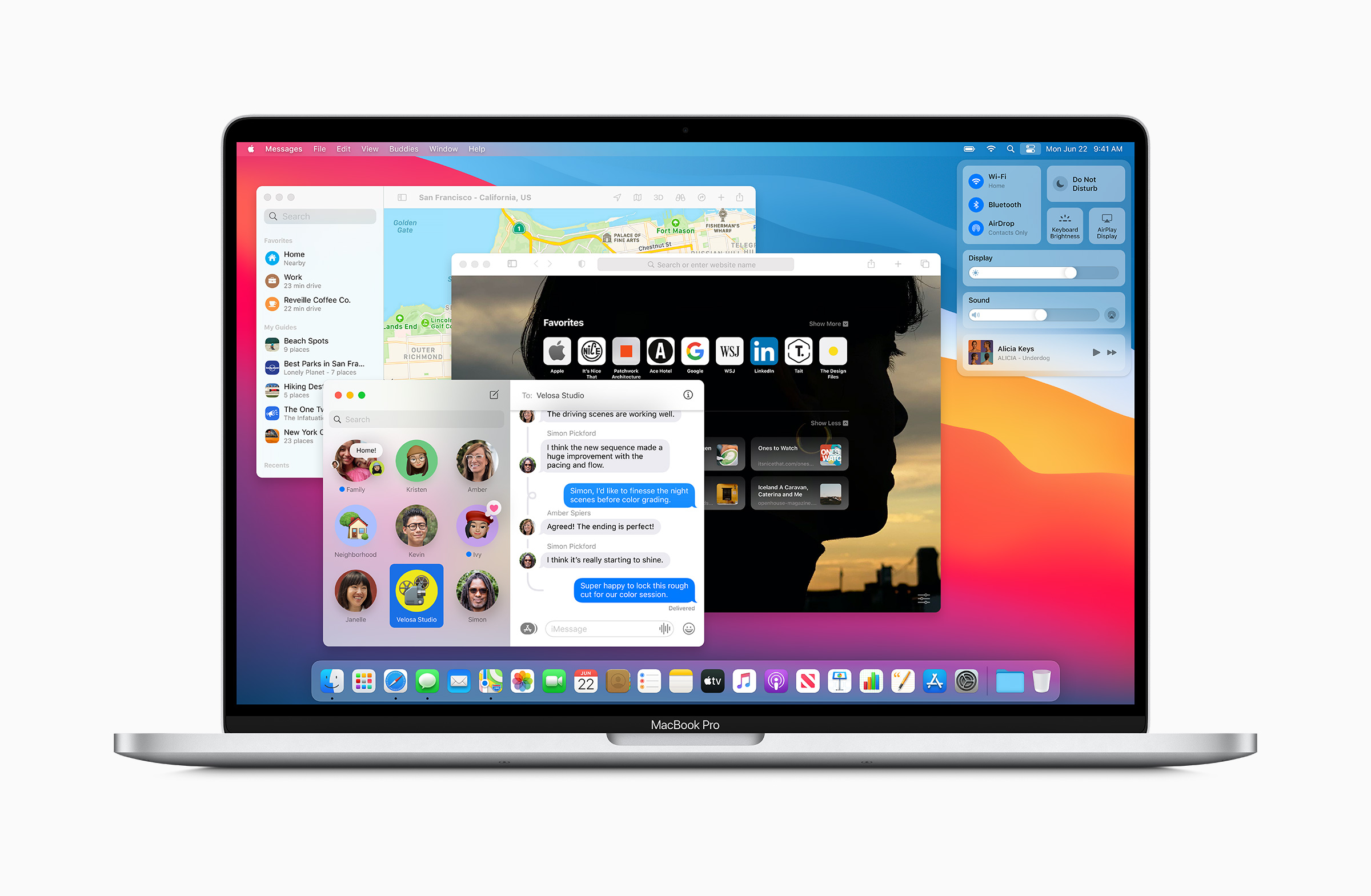 In macOS Big Sur Safari got a major update and is now faster, more secure, and more energy-efficient. Apple says that Safari now is 50% faster than Google Chrome! Well, it's worth checking. Despite the speed, now you can set the wallpaper, bookmarks and a reading list right on the start page. And the best thing about new Safari is that a built-in translator is now available in Safari on macOS.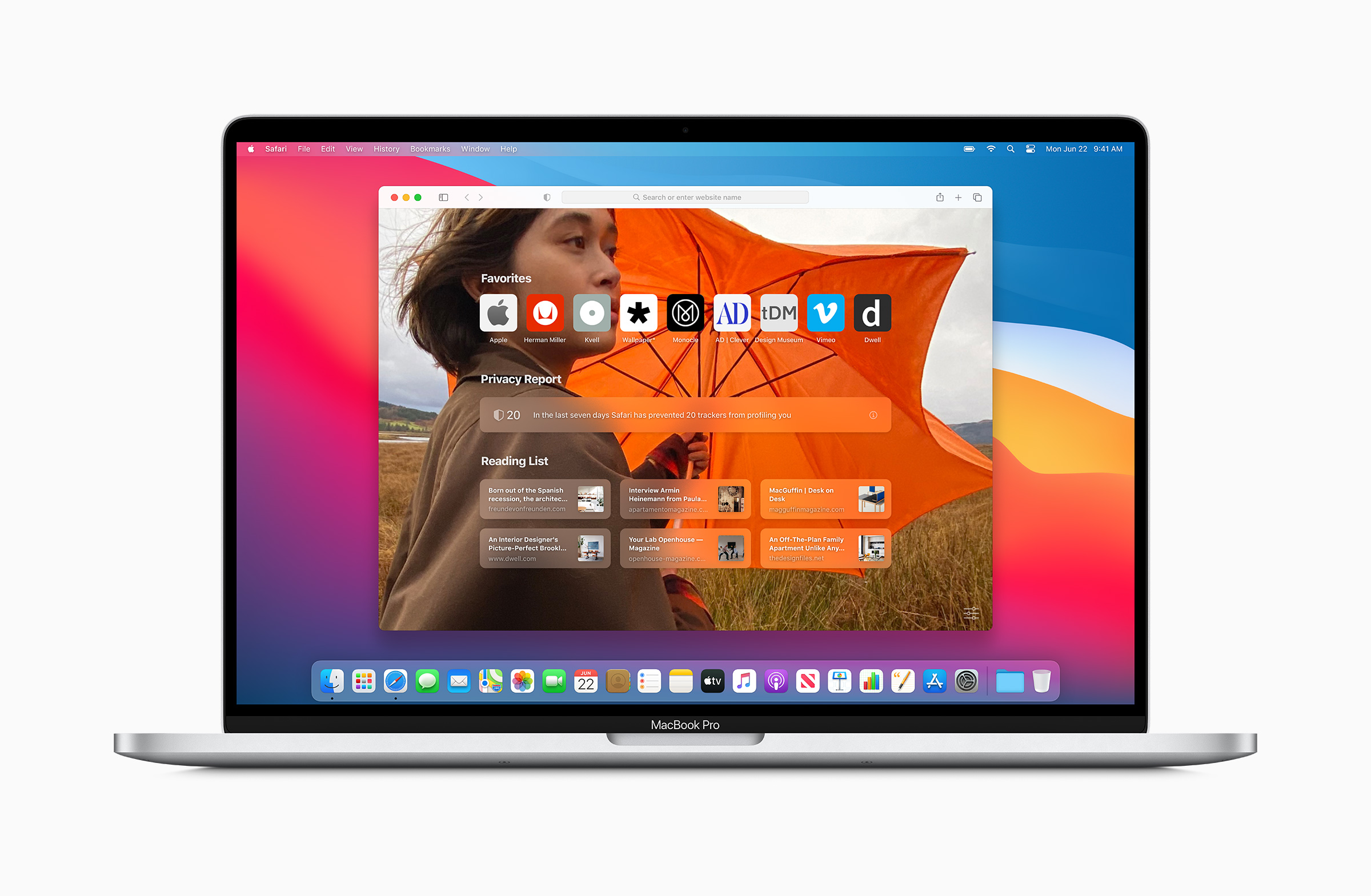 A number of Apple default applications have been redesigned, including Mail, Photos, Notes, and iWork. A new search function for Messages is now available, including a new photo selection interface. The default Messages and Apple Music apps have become Catalyst apps and now have significant interface changes.
The iCloud Keychain utility also has important improvements, making your Mac even more secure.
Thus, macOS Big Sur brings a number of fairly significant changes to the Apple desktop operating system. When the time comes to update to the new operating system, please keep in mind that you should prepare your Mac properly for this big update in order to avoid any issues. Keep on reading. We will explain how to prepare your Mac for the macOS Big Sur update.
---
Should you upgrade to macOS Big Sur
Even if you are satisfied with your current macOS, you should be mindful of the fact that updates are important to your operating system. They fix bugs, provide new features, and improve the productivity of a Mac. Updating to the latest versions of macOS systems and the apps you use are important to keep your Mac working fast and smoothly. However, before updating, you should check your Mac for macOS Big Sur сompatibility.
Read more "MacOS Big Sur vs. Catalina."
---
macOS Big Sur requirements
Some Mac users will not be able to install macOS Big Sur due to potential incompatibility with existing hardware. Here is a list of Macintosh computers that meet the new macOS compatibility requirements:
MacBook (2015 and later)
MacBook Air (2013 and later)
MacBook Pro (2013 and later)
Mac mini (2014 and later)
iMac (2014 and later)
iMac Pro (2017)
Mac Pro (2013 and later)
Before you begin updating to macOS Big Sur, make sure that you have enough free space on your Mac. The macOS Big Sur installation requires at least 8.95 GB of available storage and 2 GB of memory.
---
How to prepare a Mac for macOS Big Sur
Below, we will share tips on how to clean up and prepare your Mac for the macOS Big Sur update. You can follow the manual guides for each step, or use a special all-in-one software solution MacCleaner Pro.
#1 Tip to quickly clean up Mac before the system update
MacCleaner Pro
is a special app to clean up all types of junk files and perform special tasks to make Mac run faster. This app will greatly help you to quickly recover valuable disk space and clear all unnecessary data for a clean new macOS Big Sur update
Before the Software Update
If you decide to install macOS Big Sur on your computer, we advise using these five helpful tips:
Back up your Mac. Launch the Time Machine app and follow the onscreen instructions to save your data to an external drive. If you have no external drives, you can use iCloud to save your photos, calendars, contacts, notes, and passwords. Follow our guide on how to make a back up with Time Machine.
Clean up your Mac from all types of junk files, such as cache, logs, Trash, downloads, Mail attachments and so on. Follow the guide on how to manually clear cache on Mac.
Note, with MacCleaner Pro you can clear cache and other junk files with a few clicks. Just launch the app, click on the Clean Up button in the Junk Files section, select unneeded files and click to remove them.
Uninstall all unused apps that take up useless space on your disk. Here is how to correctly and completely remove apps from Mac. This can also be successfully done with a special tool from the MacCleaner Pro bundle. Just launch the uninstaller, select the apps in question, and click to remove them.

Delete duplicate files. Identical files, like duplicate photos, take gigabytes of storage space on your Mac. Preparing your Mac for a new update is a convenient time to clean up your computer of unneeded equal files. Learn how to manually find and remove duplicate on Mac. And again, with MacCleaner Pro, you can quickly detect and remove all types of duplicate files and similar photos. Just launch the appropriate tool Duplicate File Finder, scan your Home folder, select and remove duplicates.

Delete large media files. It's likely that you have lots of old and large files stored on your Mac. Generally, the largest portion of them is media files. Analyze your disk space usage and find what is taking the most space. Then, you can move large and rarely used files to external or cloud storage. Here is how to manually find the largest files on your disk. And even this task can be easily done with MacCleaner Pro. For this, launch the disk analyzing tool and scan your Macintosh HD. You will see your disk space usage in a convenient sunburst diagram, as well as the list of the biggest files and folders.

As a result, this proper clearing of your Mac's storage will help prevent problems with your transition to the new macOS Big Sur. We highly recommend correctly cleaning up your Mac using these helpful apps by Nektony. They completely remove unneeded programs, as well as old and junk files, from your disk.
Once you've cleaned up your Mac and created a backup of your data, you can freely update your system to the newest macOS.
If you want to learn how to improve the performance of your Mac, check out our article "How to speed up a Mac."
Video Guide
---
How to install macOS Big Sur
Here are the steps to update macOS to the latest version Big Sur:
If you are using a Mac laptop, plug it into AC power.
Make sure that you have a stable internet connection.
Go to the Apple menu → select System Preferences → click on Software Update.
Click on the Update Now button next to the macOS [your version] Update.
The next moment, the installer will automatically open. Click Continue to proceed and follow the onscreen instructions. Do not put your Mac to sleep or close its lid so that the computer can complete the macOS update.
How long does it take to update to macOS Big Sur?
It may take different lengths of time for users to install macOS Big Sur. This depends on many factors, such as the internet connection speed, the version of the system you use, RAM memory and more. Here is just an approximate calculation of how long you can expect the Big Sur update to take.
Time to prepare your Mac for update 10-50 minutes (depending on the data volume of your backup and the way you choose to clean up your Mac)
Time to download macOS Big Sur 15-60 minutes
Time to install macOS Big Sur 20-50 minutes
---
Conclusion
With the new macOS Big Sur update you can be assured of the following benefits:
Increased security
Faster performance and reduced power consumption for Macbooks
Improved default Apple apps
New interface design.
Please feel free to share your experience using the new macOS Big Sur in the comments.