At WWDC21, Apple released a new macOS (version 12) called Monterey. In this article, you will learn what's new in the macOS Monterey, how to prepare your Mac for a software update and how to upgrade your Mac to macOS Monterey.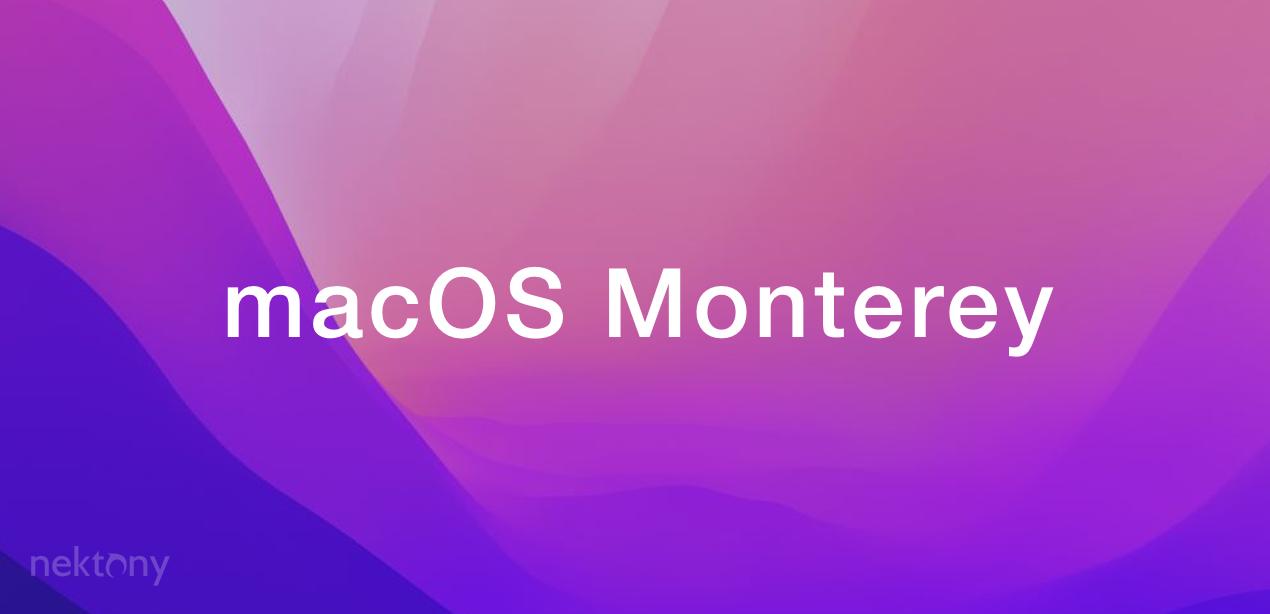 Contents
---
What's new in macOS Monterey
A new feature in FaceTime, a major update of Safari, Universal Control and focus mode for more convenient ways to work across Apple devices – it's all about macOS Monterey. Monterey is the first major update to macOS after Big Sur. Below we will share the key features you should know that are coming with the Monterey update.
Universal Control
With Universal Control your Mac keyboard and mouse now work with iPad. The same with a MacBook keyboard. The magic is that you can just drag files between your devices. Now you don't even need an AirDrop to transfer your files. Universal Control uses WiFi connection or USB. All you need to do is to keep your devices close to each other and their Bluetooth modules will automatically synchronize them. Of course, you need to use the same iCloud account on both your Mac and iPad to be able to use Universal Control.
With Universal Control you can even navigate between three devices: Mac, MacBook and iPad.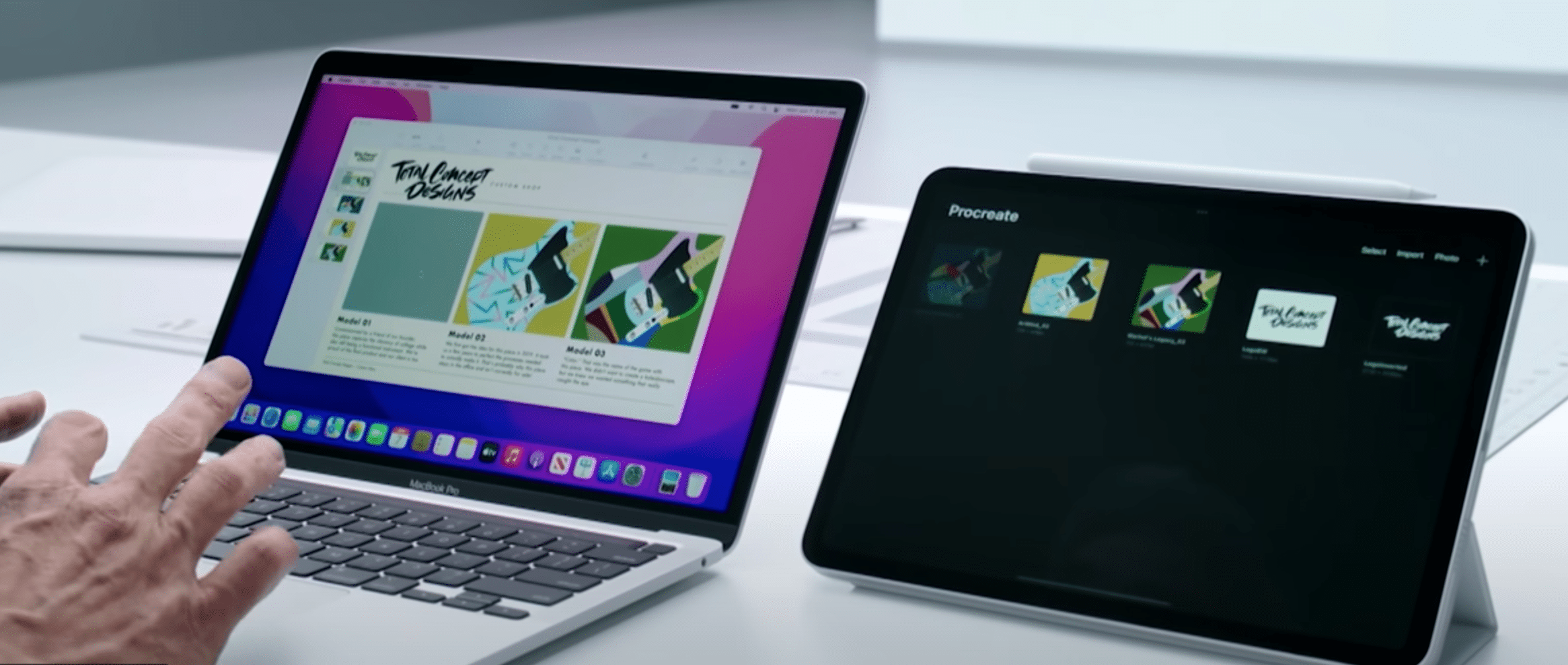 Shortcuts on macOS Monterey
Like in iOS and iPadOS, the Shortcuts application arrived with the new macOS. Now the users can create automations for most used applications also on a Mac. It's possible to customize shortcuts and make them system-wide. This means that you can run shortcuts from anywhere on your Mac and sync them with your iPhone and iPad if they are compatible. Shortcuts on macOS are integrated with Finder, Spotlight, menu bar, and even with Siri.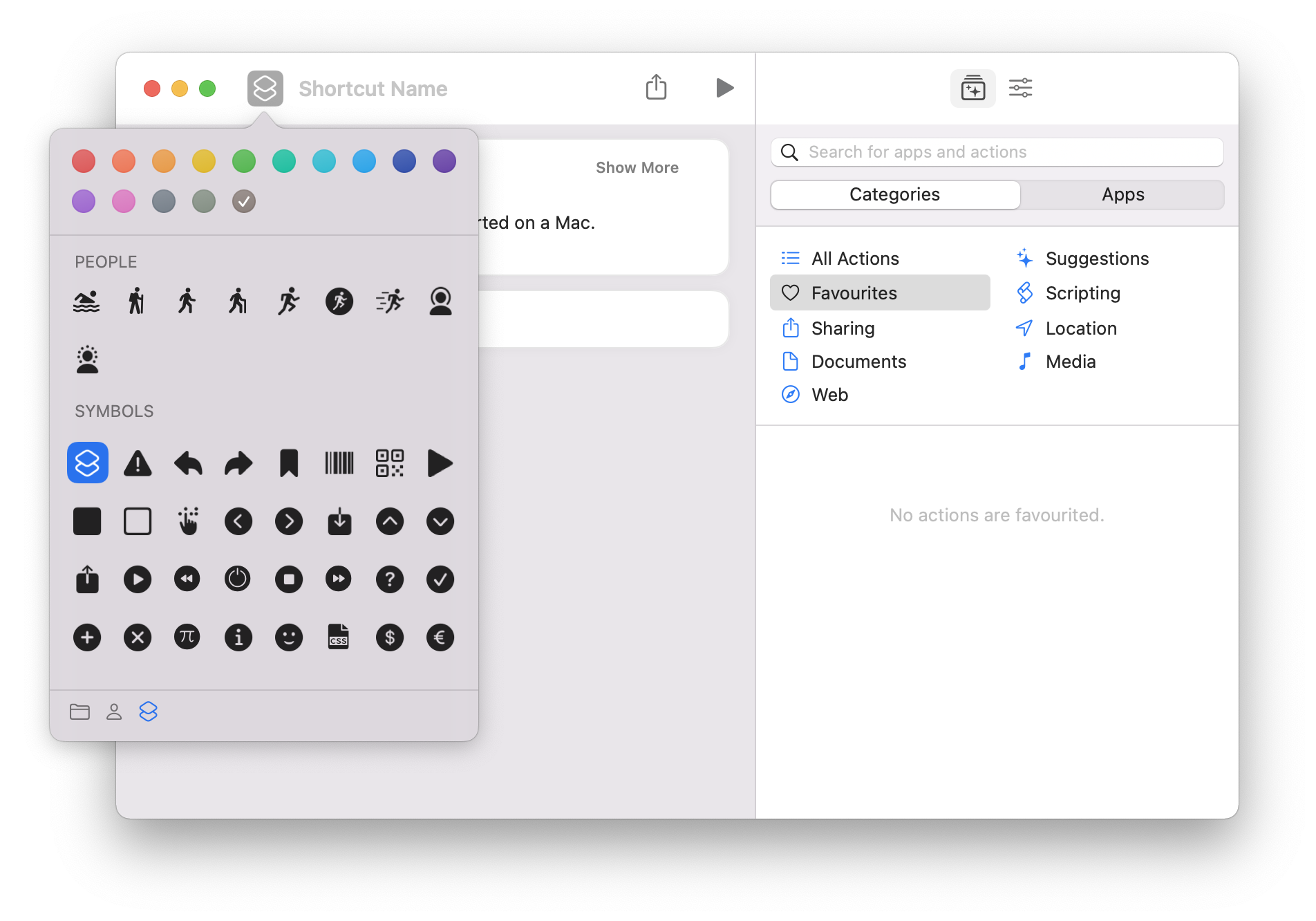 AirPlay to Mac
With AirPlay to Mac, you can now share any content from your iPhone and iPad to your Mac's screen. For example, if you want to listen to your podcasts on your Mac, just turn on AirPlay and play them on another Apple device. Another great example: you can draw something on your iPad and then, using AirPlay, view the picture on your Mac.
The AirPlay option works wirelessly or over a USB connection.
Safari improvements
The Safari browser gets a new design supporting Tab Groups. Tab Groups allow the users to easily save and manage tabs, grouping them in different categories depending on the theme, task field, or daily visits. Also, Tab Groups synchronize across Apple devices, which means that you can start working on your Mac and then continue your project on your iPhone or iPad.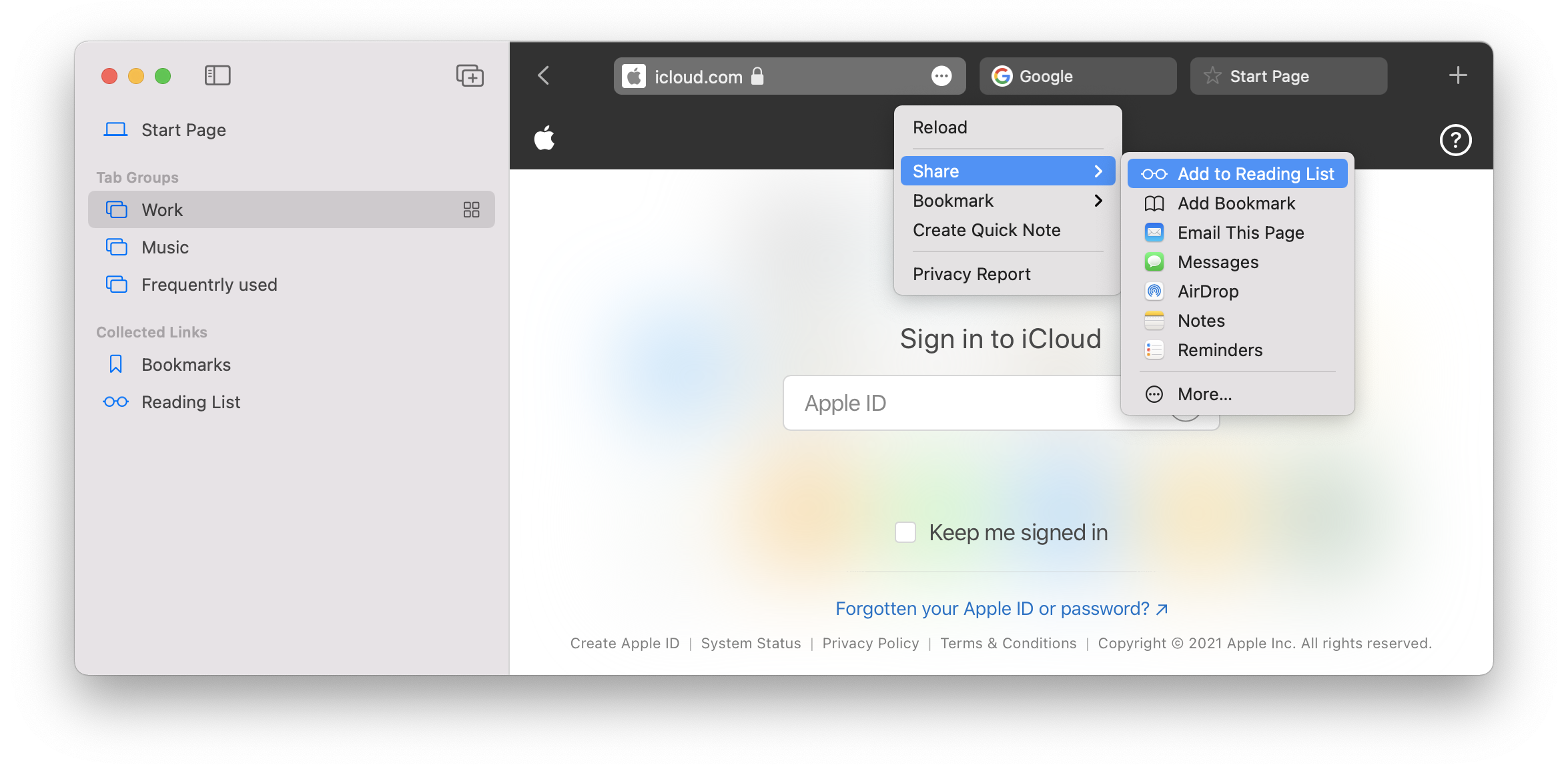 SharePlay
SharePlay is a new feature in FaceTime allowing users to share media in real-time. In iOS, Share Play will be supported in version 15. While on a FaceTime call, the users can share the videos they watch, the music they listen to, the application they like. What is the most amazing thing is that the callers can create playlists in Apple TV and Apple Music.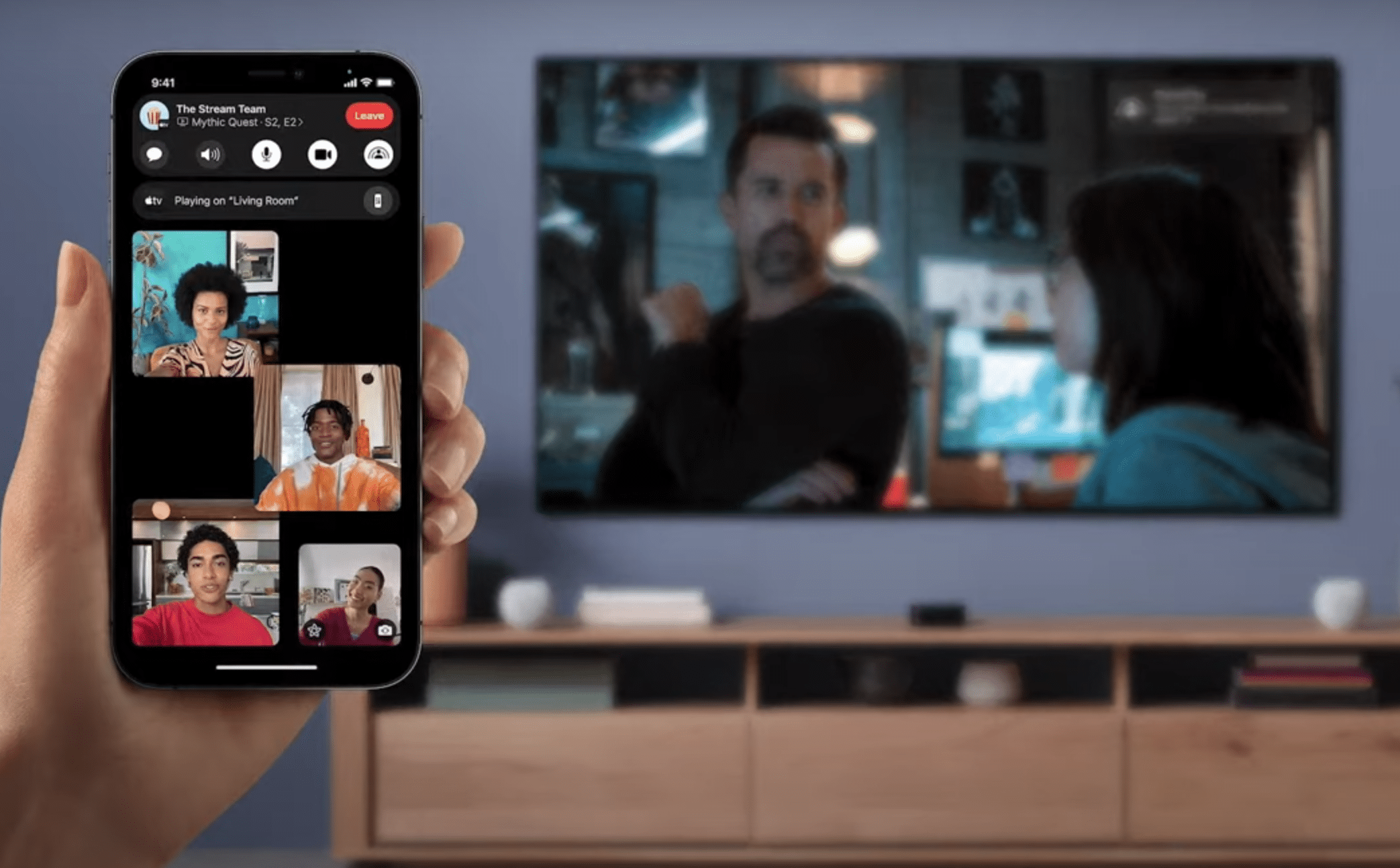 Focus
This feature will be loved by those who want to stay focused during the work and stop receiving any notifications during this period of time. With the Focus feature, you can even filter types of notifications you want to receive. For example, you set up a Work mode and allow showing only work-related notifications, or you want to have a rest and block work messages for a while. Apple will provide default modes, but you can create your own modes.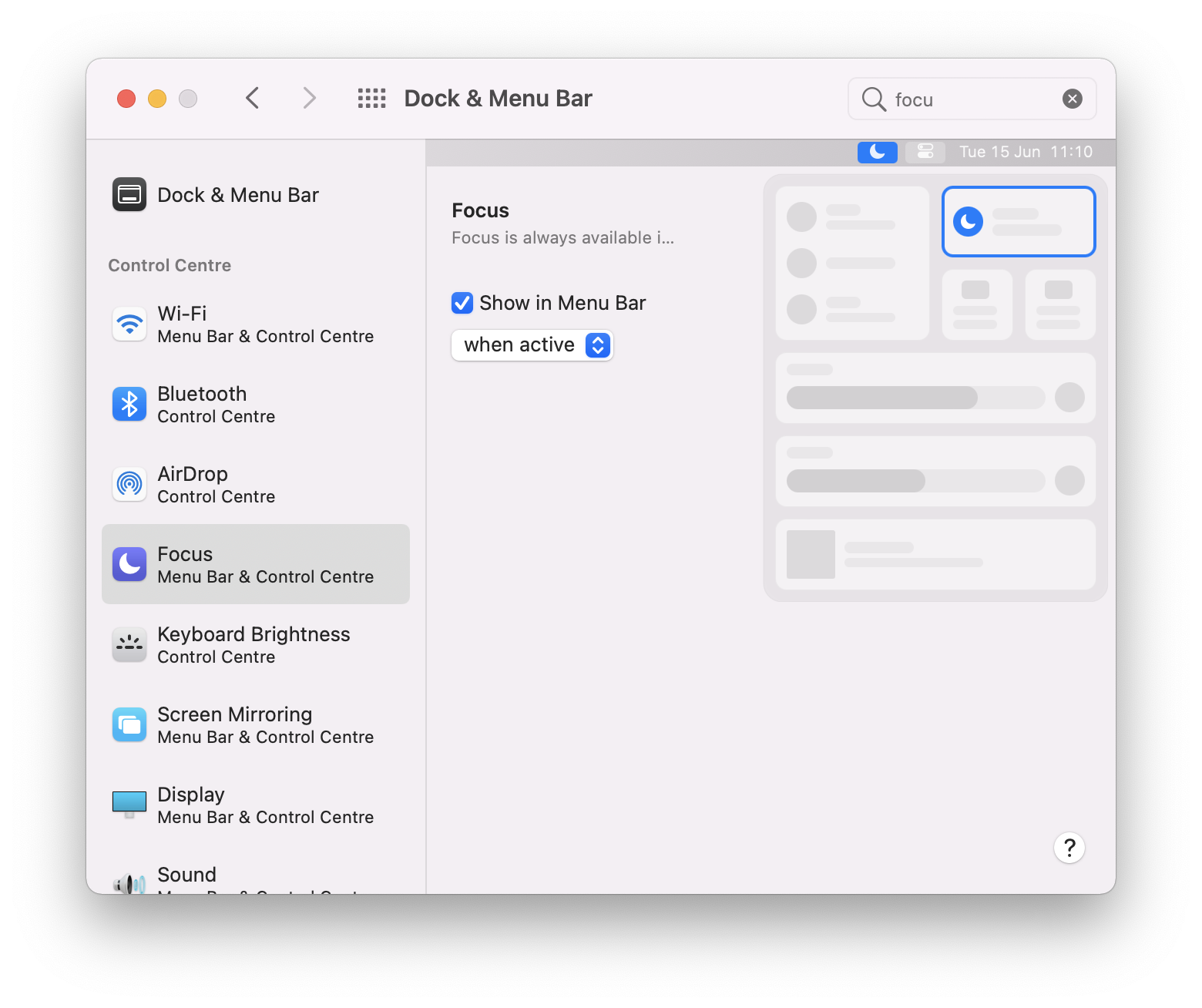 Other features in macOS Monterey
Finder improvements. In macOS Monterey, the Go to the Folder search panel has a new design, the progress window is now displayed as a pie chart and it's possible to pause and resume long files copies.
Resetting Mac. The new macOS allows the users to reset a Mac without reinstalling the system. There is a new option in System Preferences to erase all user data on his Mac.
Live text. The new operating system can detect text in photos, allowing the users to copy the text, make a call if it's a mobile number, open links in Safari, etc. Live text works in Safari, Photos, Messages, and other apps across macOS.
Maps improvements, bringing a detailed experience and new ways to navigate the map.
Memoji. In macOS Monterey, there are more options for Memoji and a possibility to use them when you log in on your Mac.
Privacy. The users can now see which apps are accessing the Mac's microphone.
New design for notifications, the Books app, News feed and some other default apps.
A built-in authenticator for websites with two-factor authentication and some more features.
---
Which Mac can run macOS Monterey
When each new macOS version comes out, every user is interested whether his Mac will support it. So which Macs do support macOS Monterey? Here is the answer.
MacOS Monterey requirements:
MacBook (Early 2016 and later)
‌MacBook Air‌ (Early 2015 and later)
MacBook Pro (Early 2015 and later)
‌iMac‌ (Late 2015 and later)
‌iMac‌ Pro (2017 and later)
Mac mini (Late 2014 and later)
Mac Pro (Late 2013 and later)
Unfortunately, all other Mac computers will not be able to install and support macOS Monterey. Also, Apple will no longer provide updates for old versions of macOS.
---
Should I install macOS Monterey?
The public beta of macoS Monterey will be available to Mac users in July, 2021. If you are not a developer, there is no point in installing the developer beta version of macOS Monterey.
Besides the fact that macOS is considered to be the most stable and safest operating system, any bugs are always possible when it comes to upgrading to any new and developing macOS version. Due to this, many users prefer to wait a couple of months or two revision updates (whichever comes first) before upgrading. At least, you aren't missing any features by waiting to upgrade to macOS Monterey.
Also, you should be sure that there are no "hidden" new features in the new macOS and Apple applications that can unexpectedly appear. It's especially important if your Mac is critical for you and you use it for financial transactions, business communications, and so on.
---
How to prepare a Mac for macOS Monterey update
Before you update your Mac to macOS Monterey, we recommend that you clean up your disk. This will help to prevent any issues with your transition to the newest macOS Monterey. You can clean up your Mac manually or use a special all-in-one software solution MacCleaner Pro from Nektony.
#1 Tip to quickly clean up Mac before the system update
Video Guide
Watch the video to see how easy it is to prepare a Mac for macOS Monterey.
Steps on how to prepare a Mac for macOS Monterey update:
Back up your Mac. Before the upgrade, it's always recommended to make a backup. You can do this with the help of the Mac Time Machine. Just launch the Time Machine app and follow the onscreen instructions to save your data to an external drive. Also, you can use iCloud to save some types of data, such as your photos, calendars, contacts, notes, and passwords.
Clean up your Mac.Clear all types of junk files, such as cache, logs, Trash, downloads, Mail attachments and so on. Follow each link below to find detailed guides:
– How to manually clear cache on Mac.
– How to correctly and completely remove apps from Mac.
– How to manually find and remove duplicates on Mac.
– How to manually find the largest files on your disk.
Once again, if you find the manual ways of clearing junk files complicated, you can complete this task easily and safely with the help of MacCleaner Pro. Click here for a Free Download.
Once you've cleaned up your Mac and created a backup of your data, you can freely update your system to the newest macOS.
---
How do I update my Mac to macOS Monterey
Before you begin upgrading to macOS Monterey, make sure that you have enough free space on your Mac. The macOS Monterey installation requires at least 12 GB of available storage and 2 GB of memory.
Follow the steps below to install Monterey on your Mac:
If you have a MacBook, plug it into AC power and make sure that you have a stable internet connection.
Open System Preferences and go to the Software Update option.
Click to download macOS Monterey. The system will start downloading the new version of macOS.

Once the downloading is finished, you will see the Upgrade Now button. Click on it.

In the window that appears, click on Continue.

It will require your administartor password to allow installing the new system.

Note, you will have to close all of your apps and running processes before the installation starts.

Follow the onscreen instructions to complete the Monterey installation. It might take some time to finish the installation.


Note, do not put your Mac to sleep or close until the upgrading is completed.

Once the installation is finished, your Mac will restart. You will see a black screen showing the progress bar of starting the macOS Monterey. When you log in, you can check that your software is now up to date.
---
Frequently asked questions about macOS Monterey
Will macOS Monterey slow down my Mac?

Any macOS can slow down your Mac, if you have too many junk files and lack of free disk space. Also, old incompatible macOS Monterey applications can slow down your Mac. If you regularly clean up your Mac and update your applications, macOS Monterey shouldn't slow down your Mac.
What is the oldest Mac that can run macOS Monterey?

The oldest Mac that supports macOS Monterey is Mac Pro (Late 2013). Other Macs compatible with Monterey are: MacBook Pro and Air (Early 2015 and later), Mac mini (Late 2014 and later), iMac (Late 2015 and later) and iMac Pro (Late 2017 and later.)
Is macOS Monterey free?

MacOS Monterey is free for all Mac users, however, it's possible to install only on compatible Macs.
Does macOS Monterey drain the battery on MacBook?

The new macOS shouldn't drain the battery on the MacBook. However, after the update, the MacBook's battery can drain faster because of the need to re-index the Spotlight, Photos Library and some other data. All these processes are CPU-consuming and might cause draining battery. Also, you can use Memory Cleaner from Nektony to find heavy applications and close them.
How do I free up space on my Mac to install Monterey?

The quickest and fastest way to clean up a Mac before the Monterey update is to use MacCleaner Pro. This is an all-in-one software solution to clear all types of junk files and speed up a Mac.